Habring▓
There is a small little company in the middle of Austria in V÷lkermarkt that made their own watches. Habring▓ is the name and it might have been the 2 Habrings as well.
The company runs by the married couple Richard & Maria Habring since 2004. Richard has a past at the IWC where he was involved in the development of their
movements and worked at A Lange & S÷hne until he took the full step and became an independent watchmaker who had goal to make their own watches.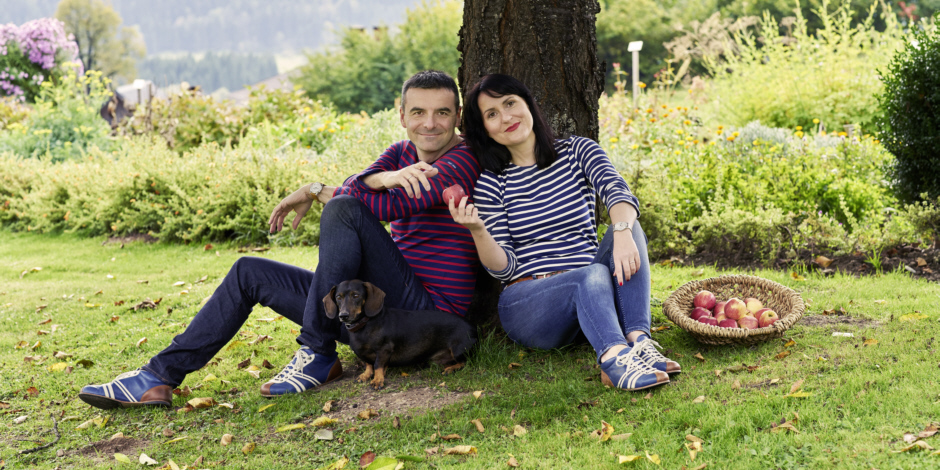 In the early years, they worked with ETA & Valjoux movements as a base and made their own unique solutions. In 2011, the start of the in-house movement
A11B began, meaning A = Austria, 11 = 2011 start of development, B = Basis, later complications were added as A11D = Date, A11S = Jumping second,
A11SD = Jumping second with date. On the 10th anniversary of the company September 16, 2014, the first inhouse movements were ready and then the A11B
was presented in the Felix model with a sub second.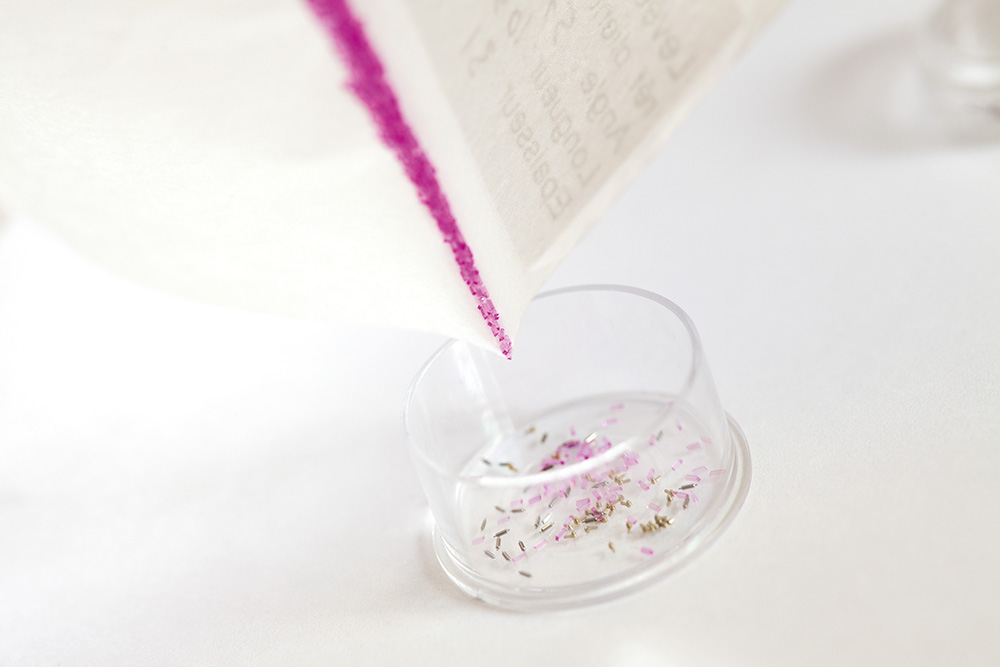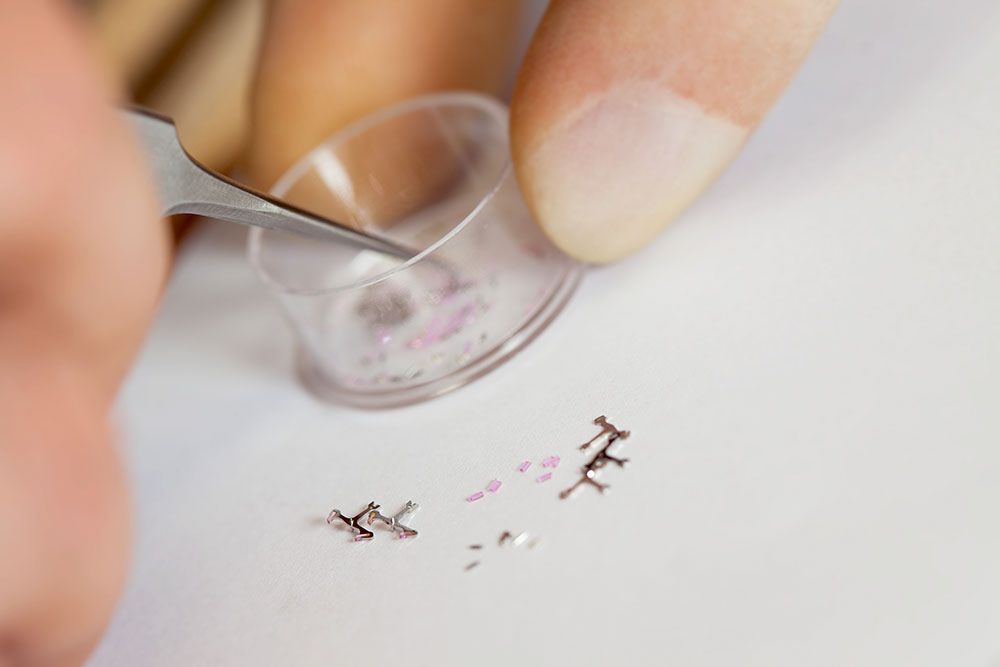 It's really nice to see how they put things together.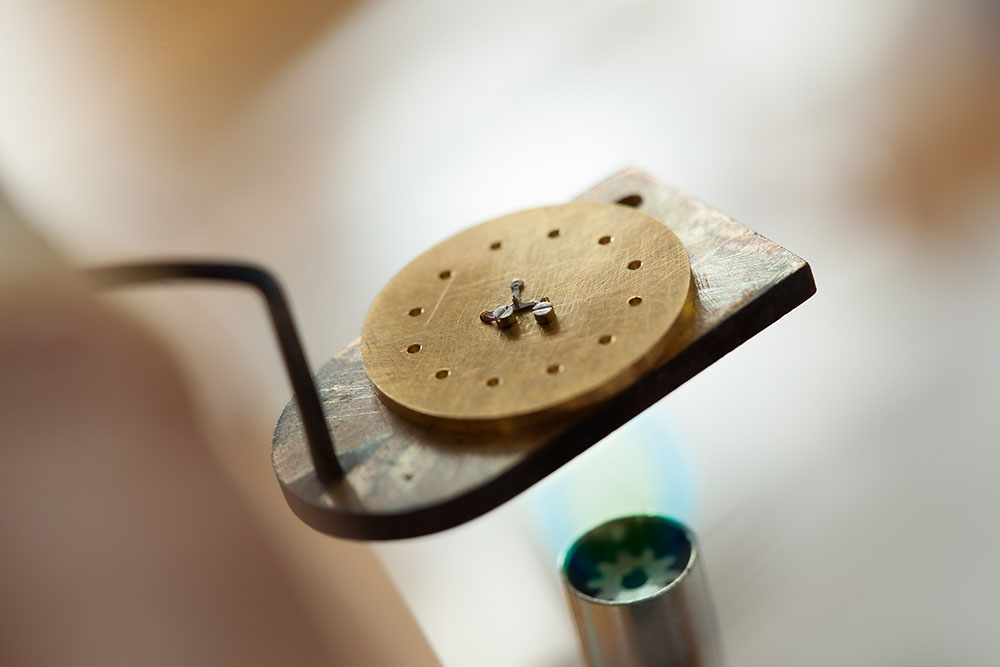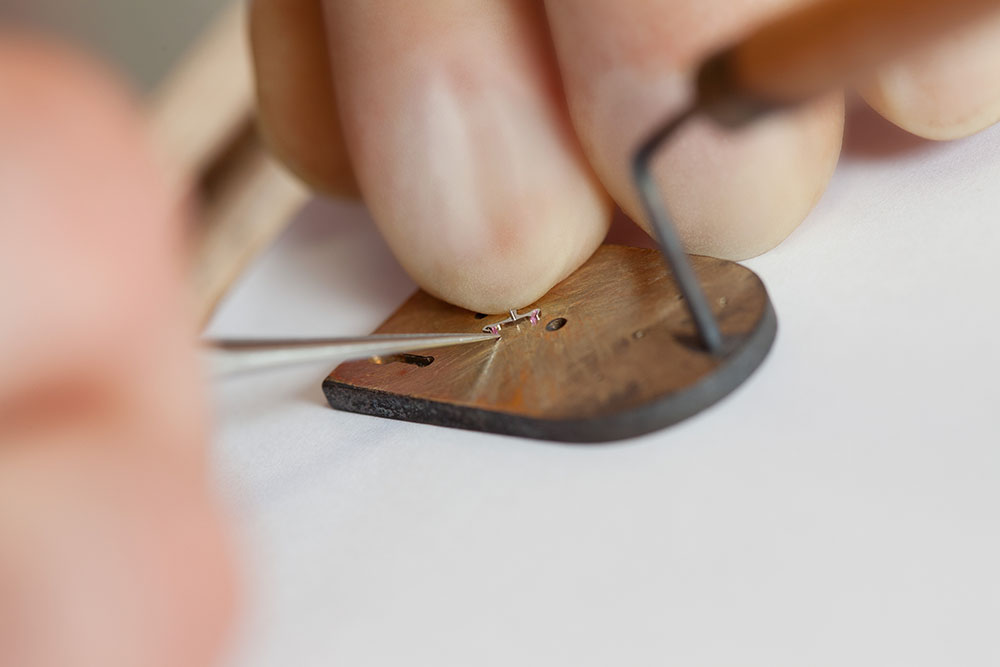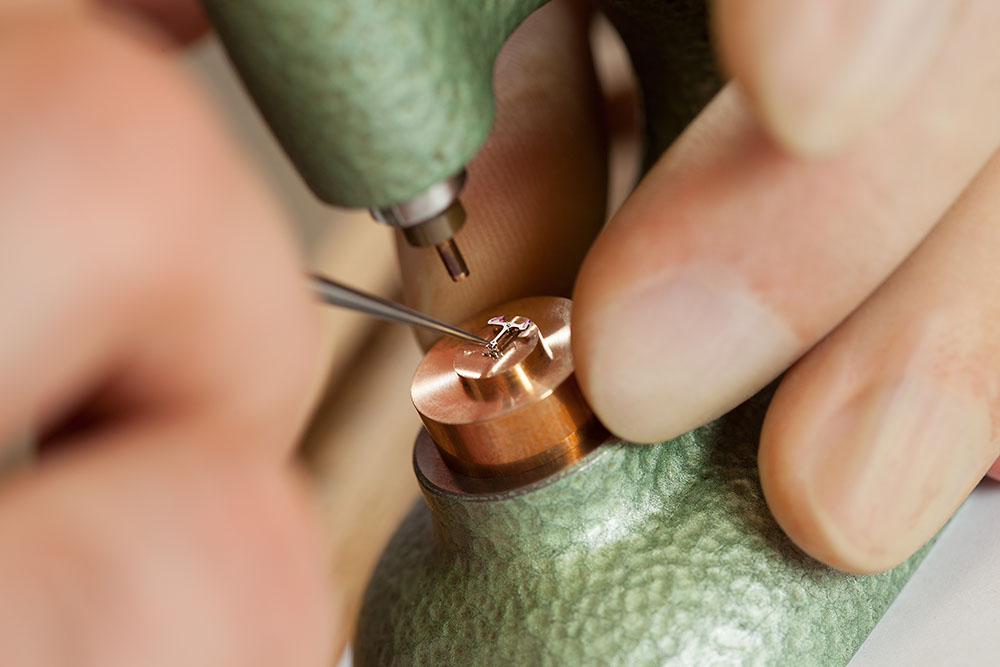 Handmade when it's at its best, they produce around 200 watches each year.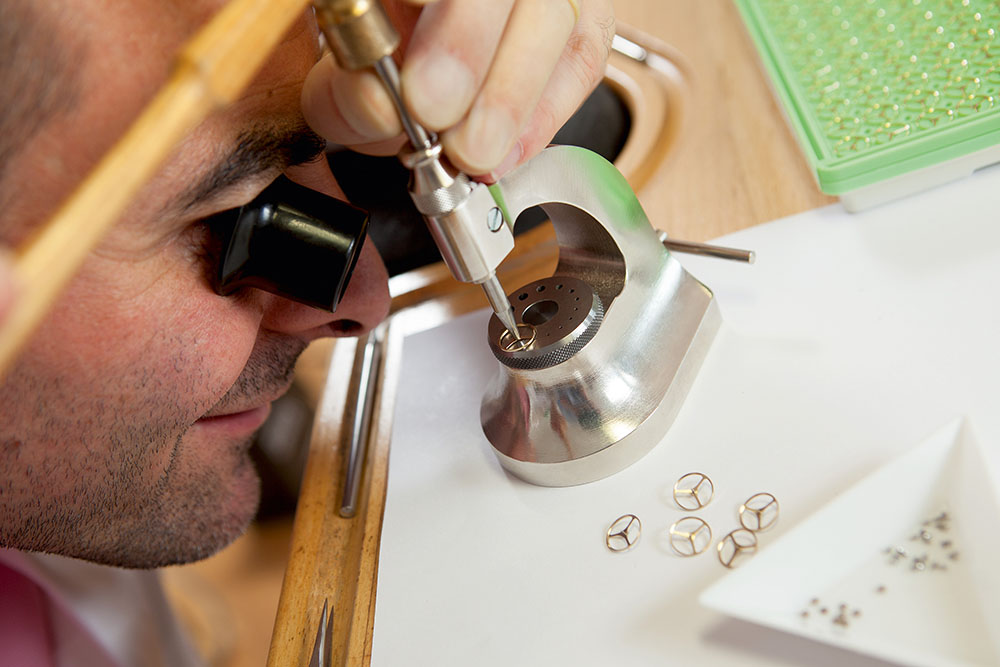 They even cut the hairspring too.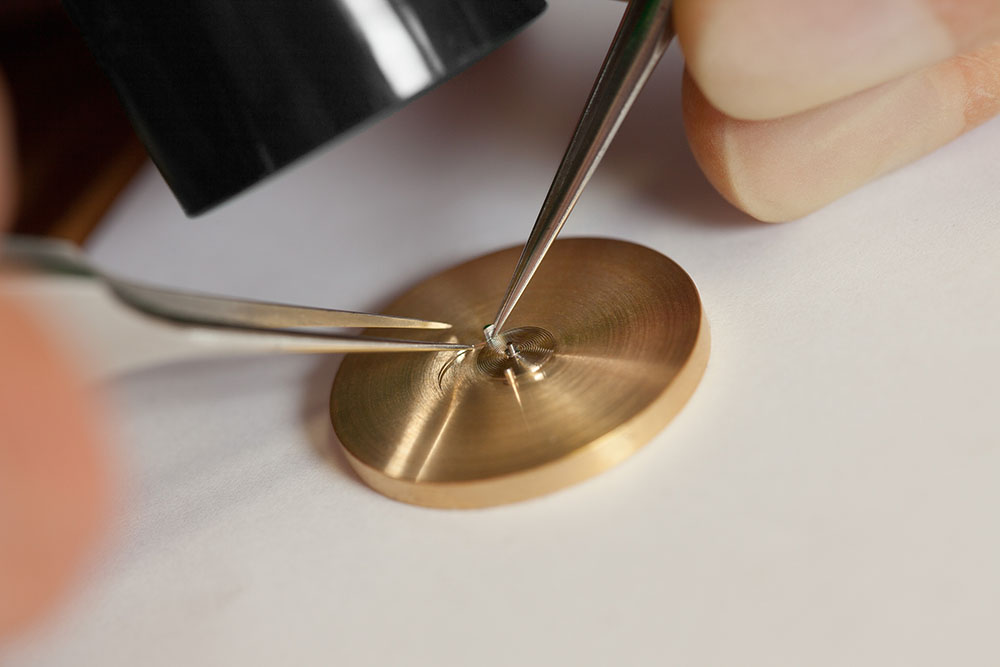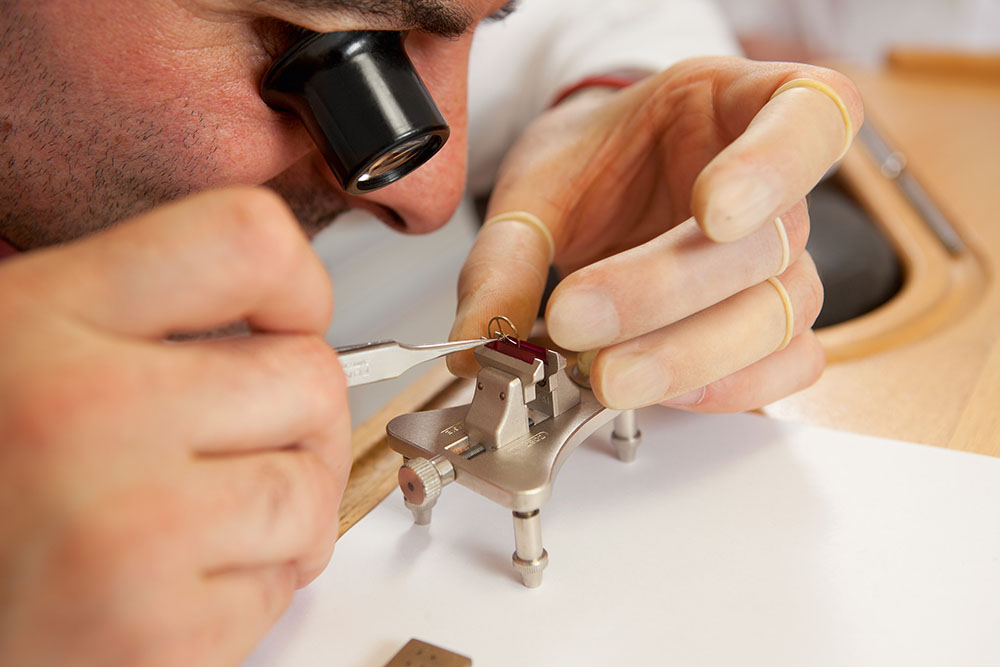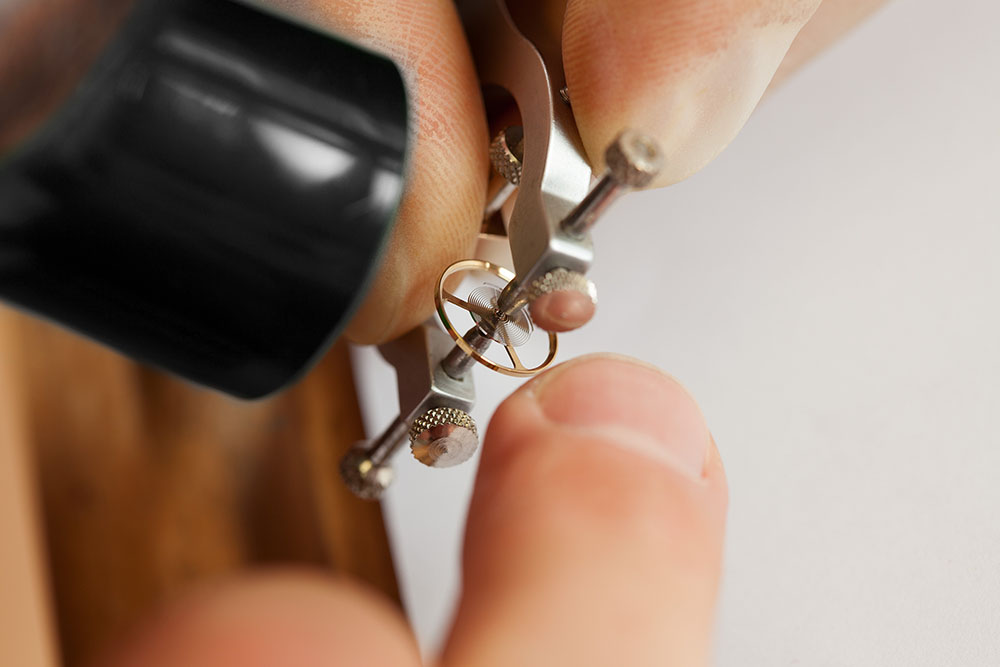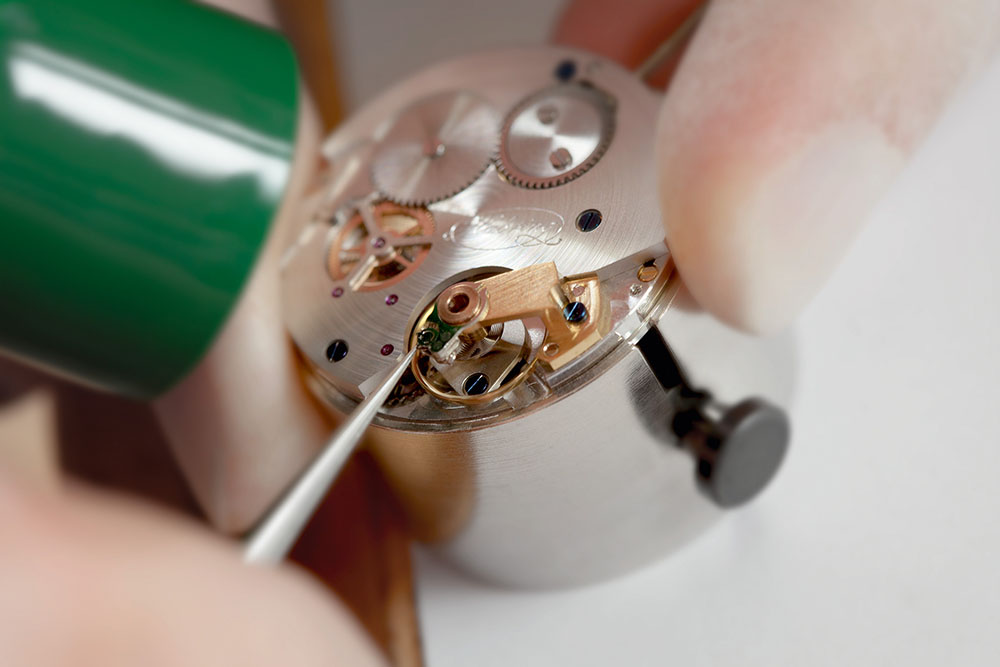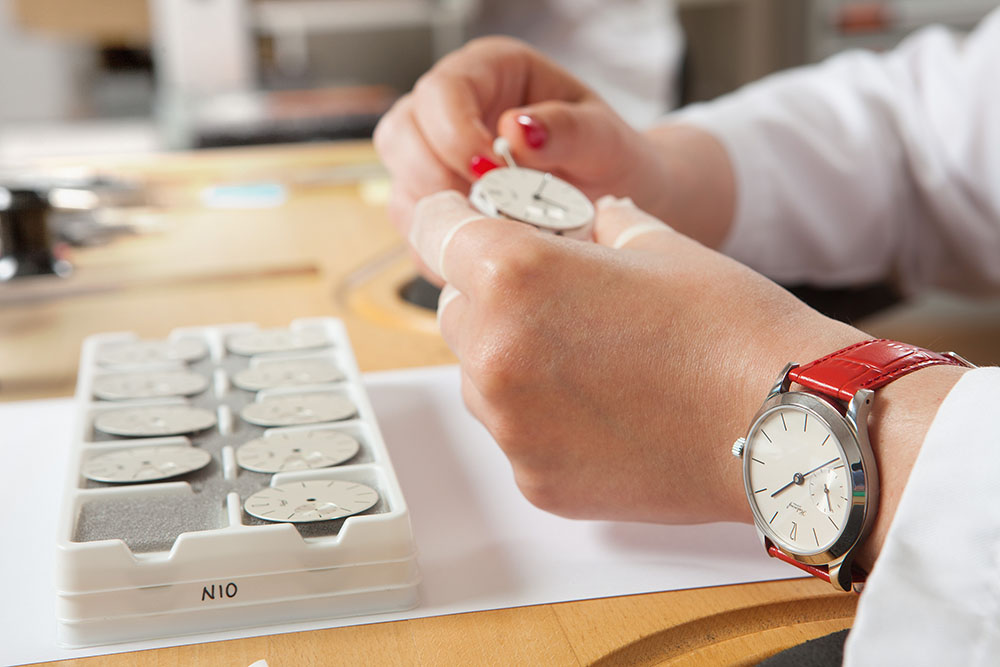 And finally I'm ready to show what I've got, a Habring▓ Felix and here is the models to choose on.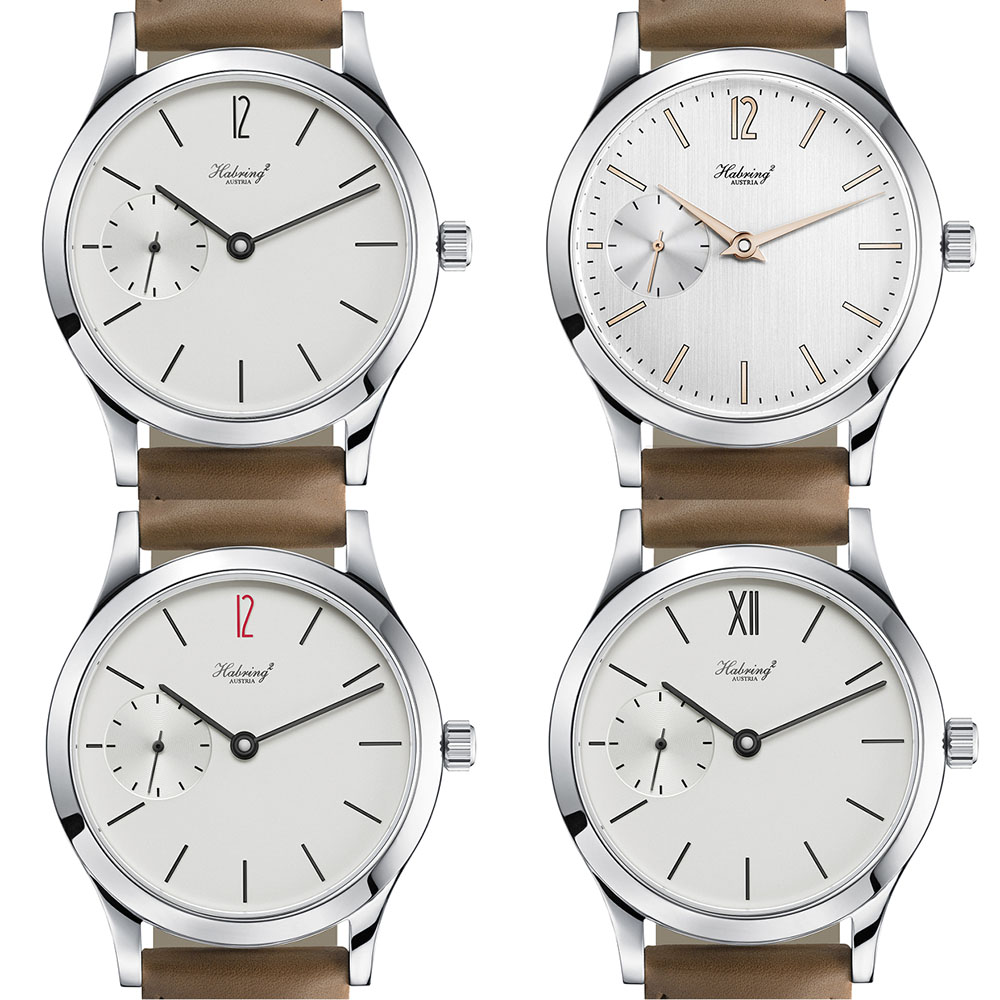 All those pics you have seen until now belongs to Habring▓ and a huge thanks to you that allow me to use them.
Now it's time for me to bring out the camera bacause it is unboxing time.
It comes wrapped in plain white paper.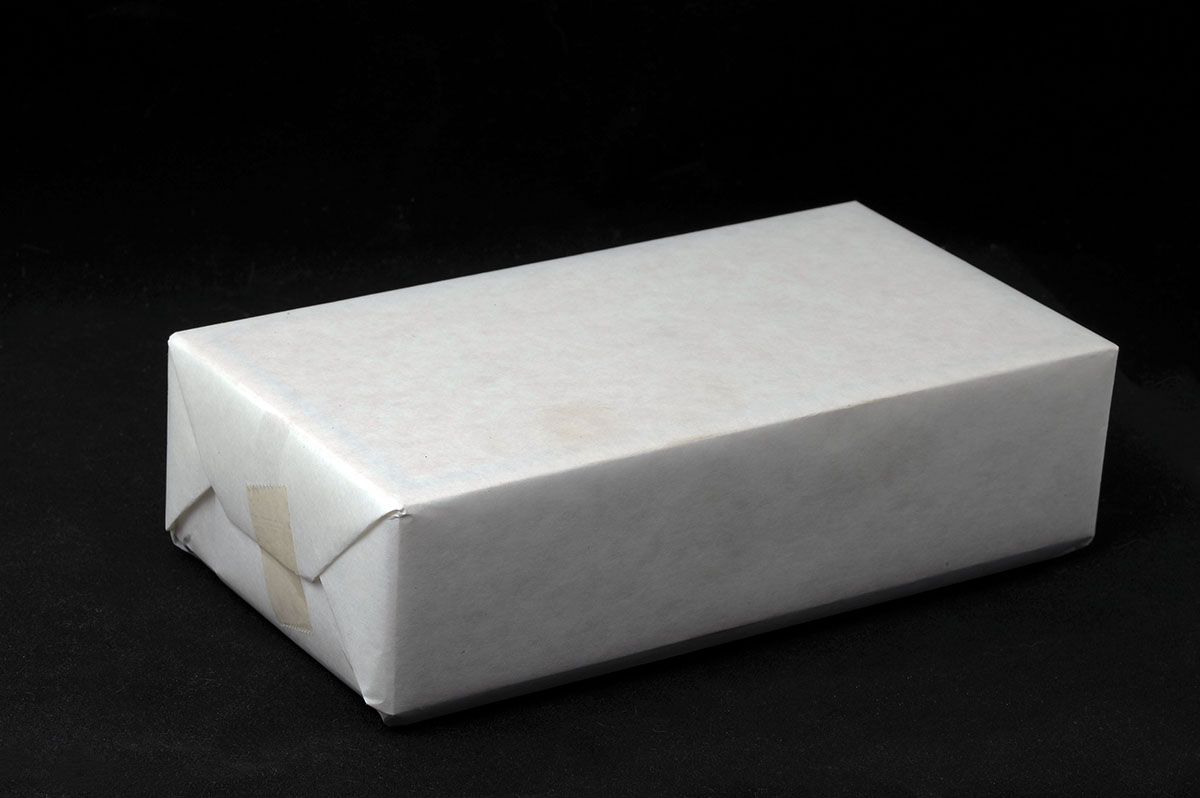 That contains a wooden box.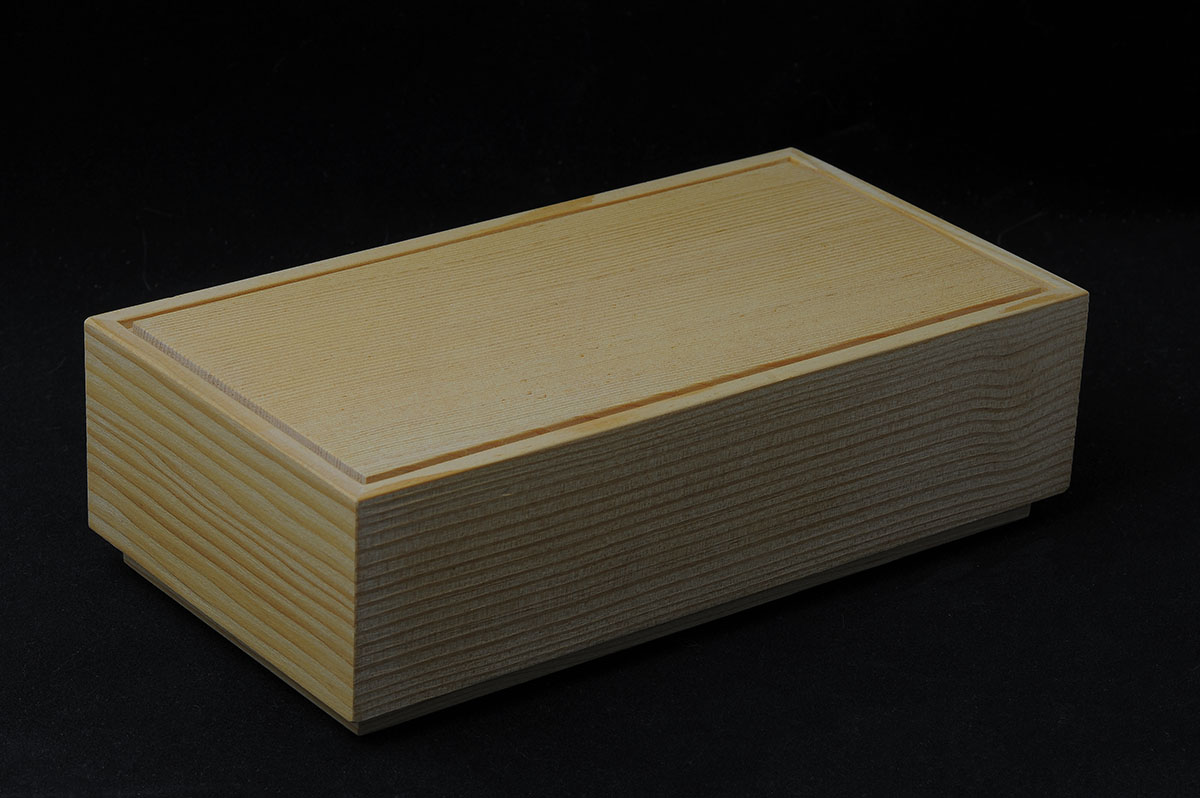 The first I find is a nice notebook.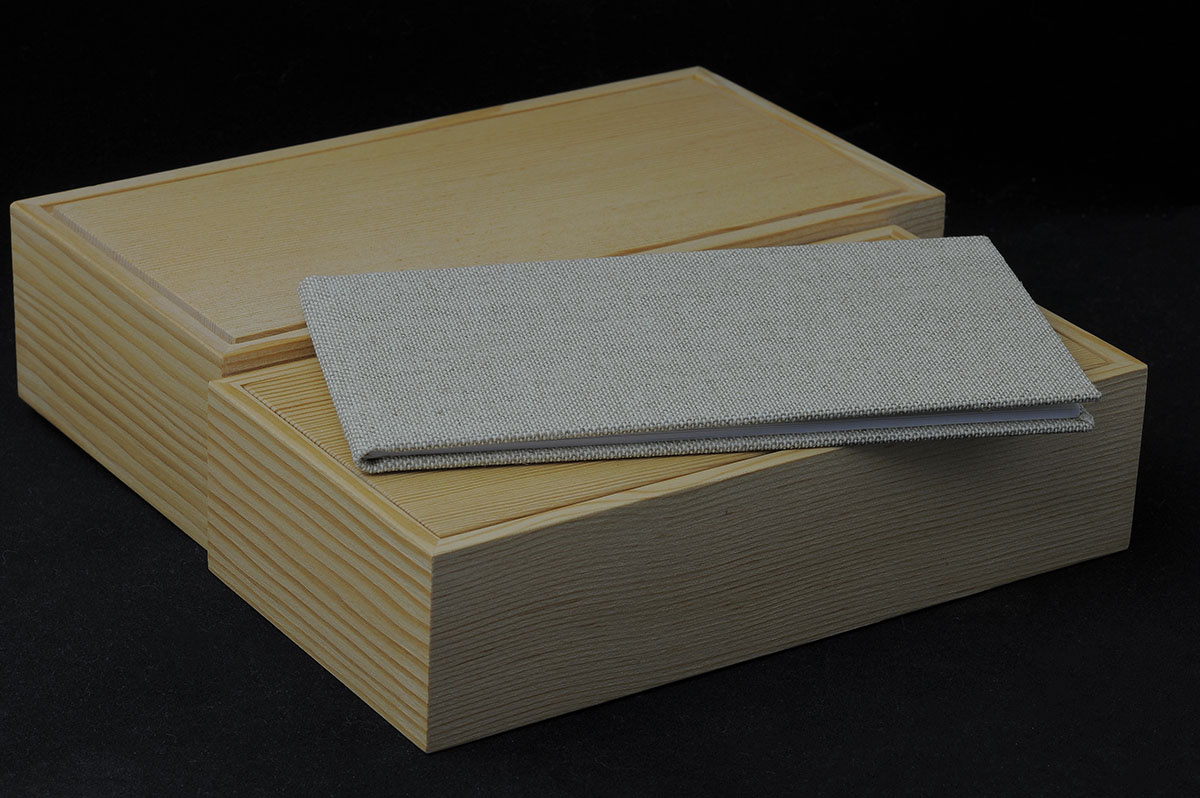 And below the book there it is.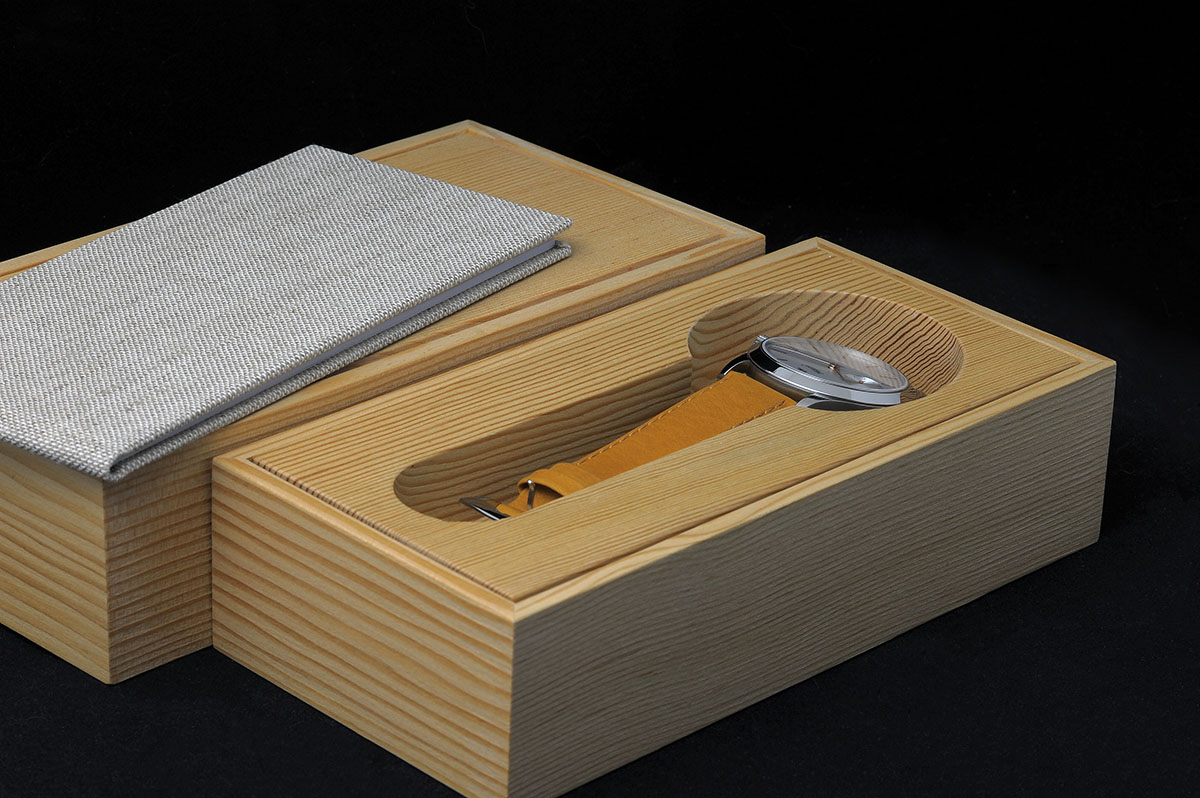 When I lift up the first wooden section did I find some spareparts like hands, crown, gaskets and springbars.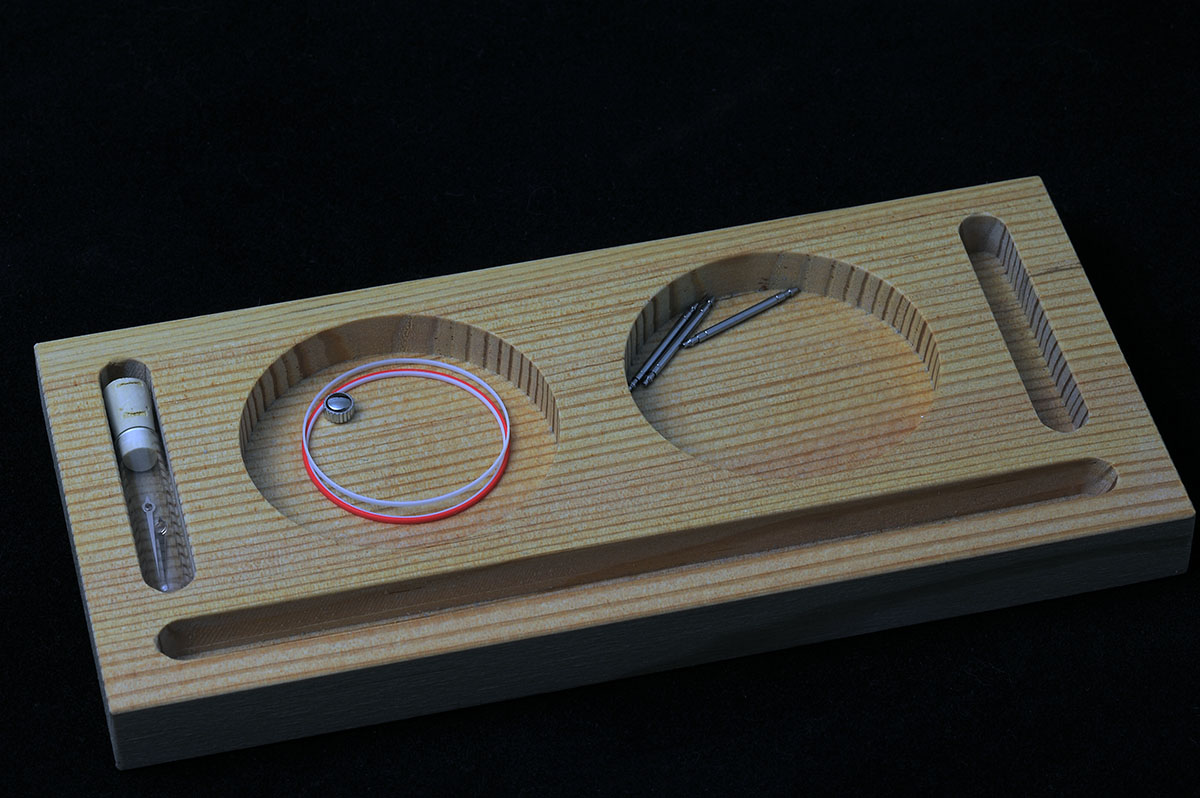 The logo at the dial is nice and clear.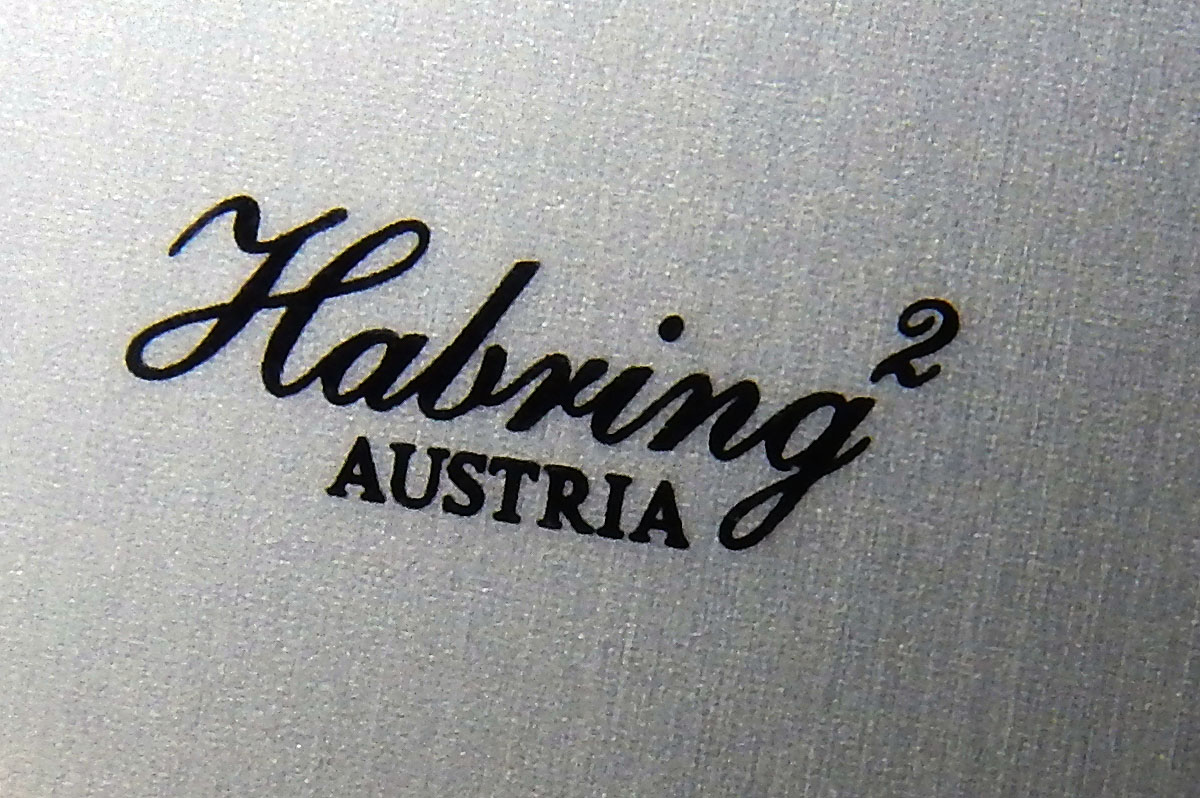 So now we take a look at the watch.
It's a Habring▓ Felix with silver-white satinated metal dial with red gold plated hour bars/digits and black print & polished red gold plated hands.?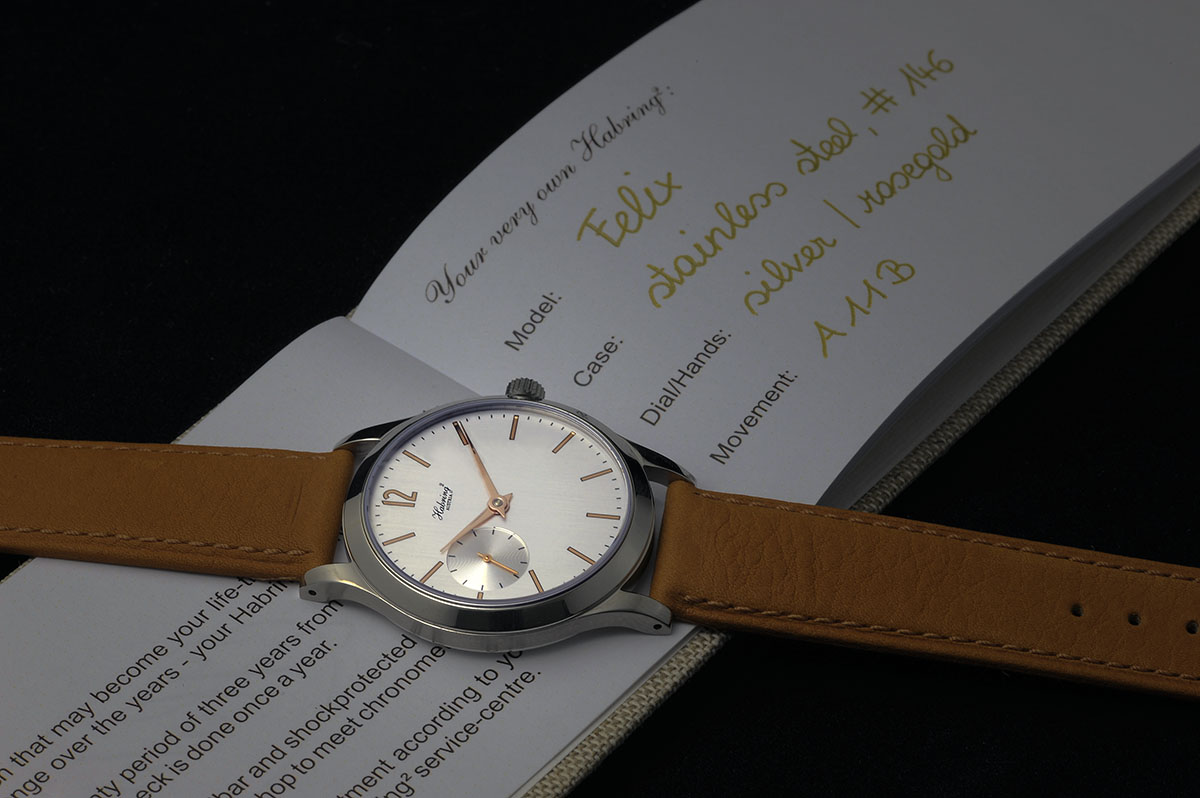 When the watch was ready Maria ask what strap I want, I choose the bright brown strap and Maria try to convince me to go for the darker one that make the watch more powerful in her opinion.
Nope, I say: I want the bright one that match the color of the numbers better.As a suprise she add the darker brown in the package as a gift to me.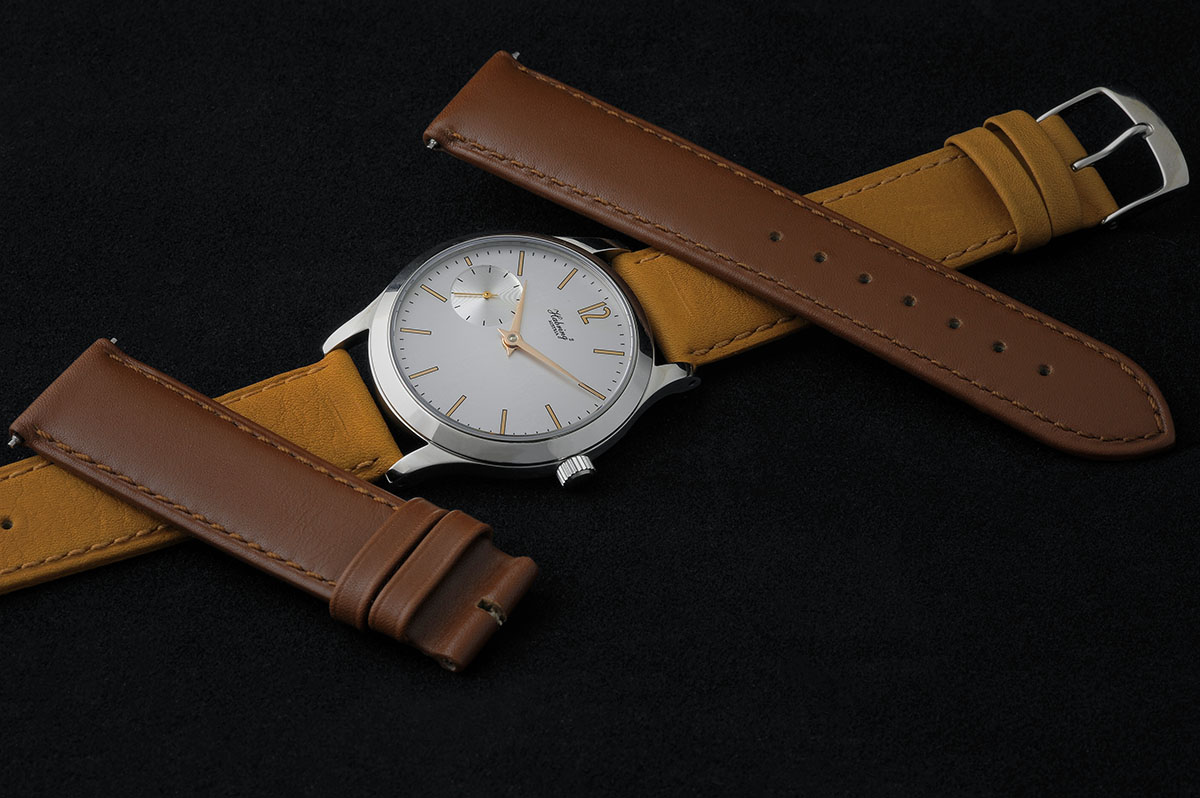 The case is 38,5mm, around 8mm thick include the spherical sapphire crystal which make it very comfortable on the wrist.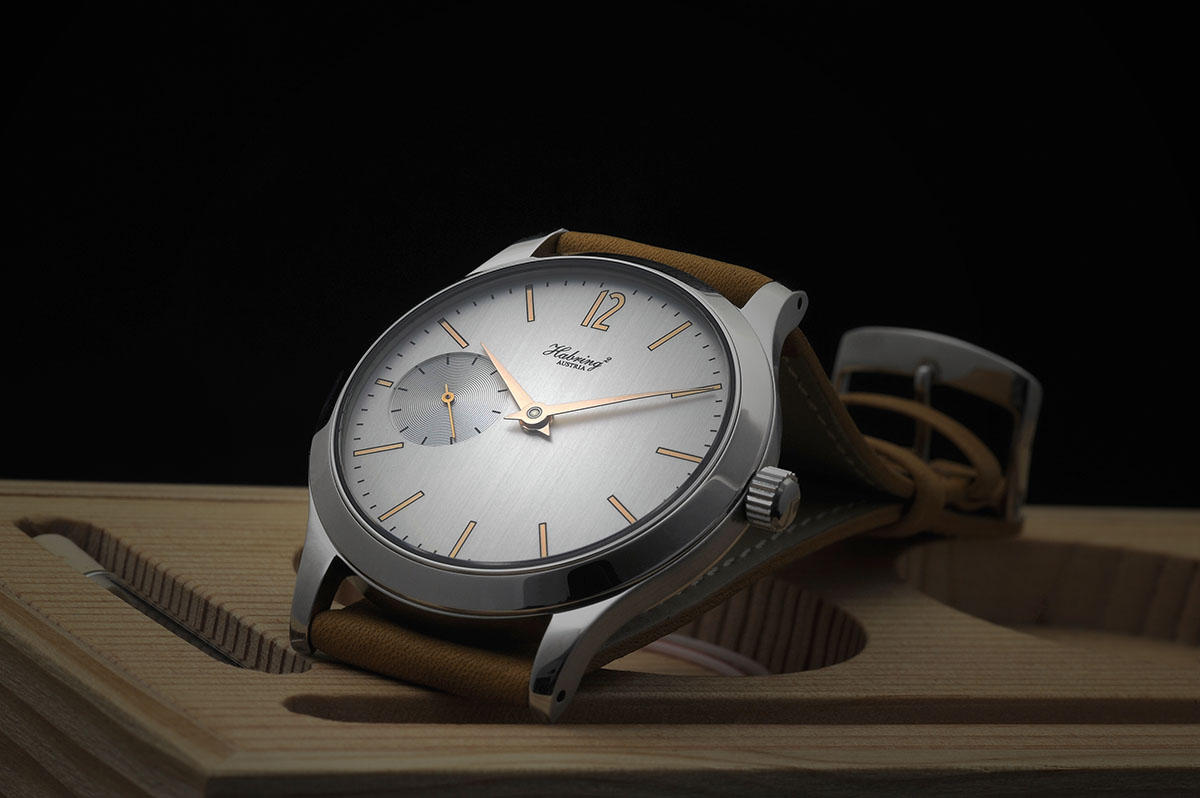 This dial have a brushed look surface that give a sober impression.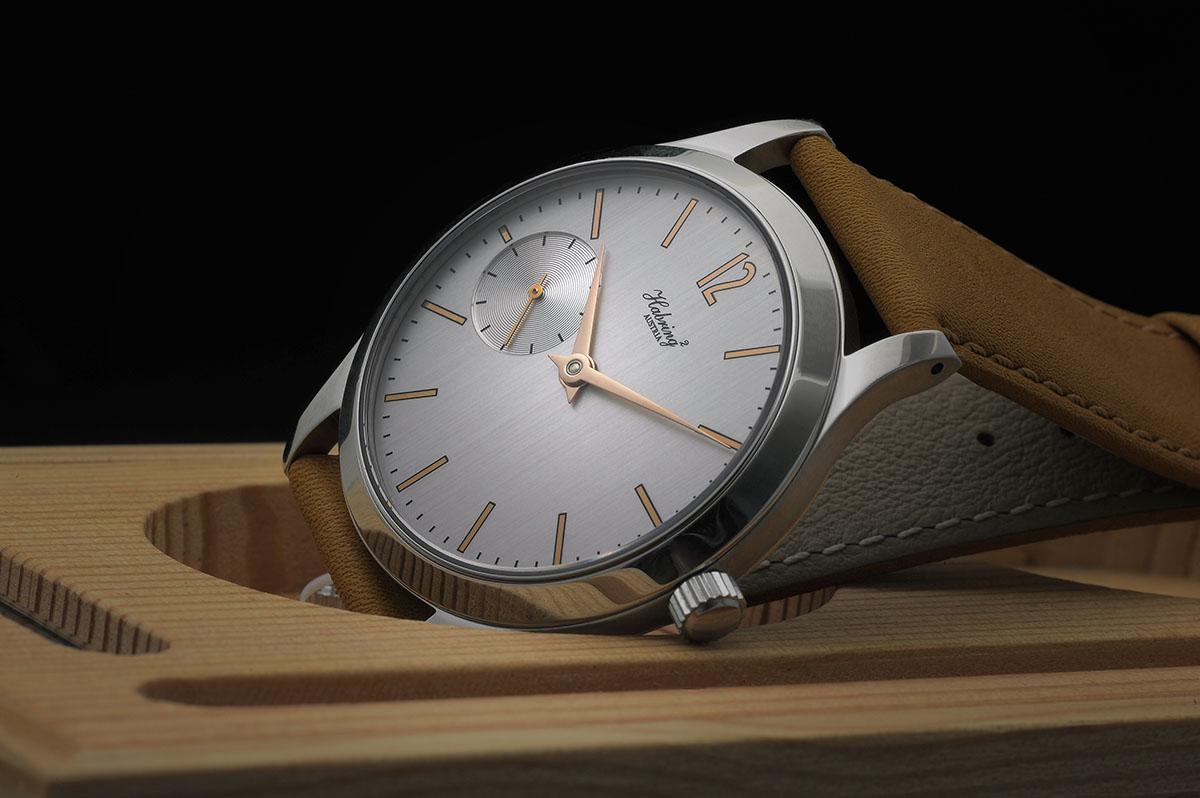 A oversized crown that I really like that is easy to handle for a guy with clumsy fingers that not work at a office.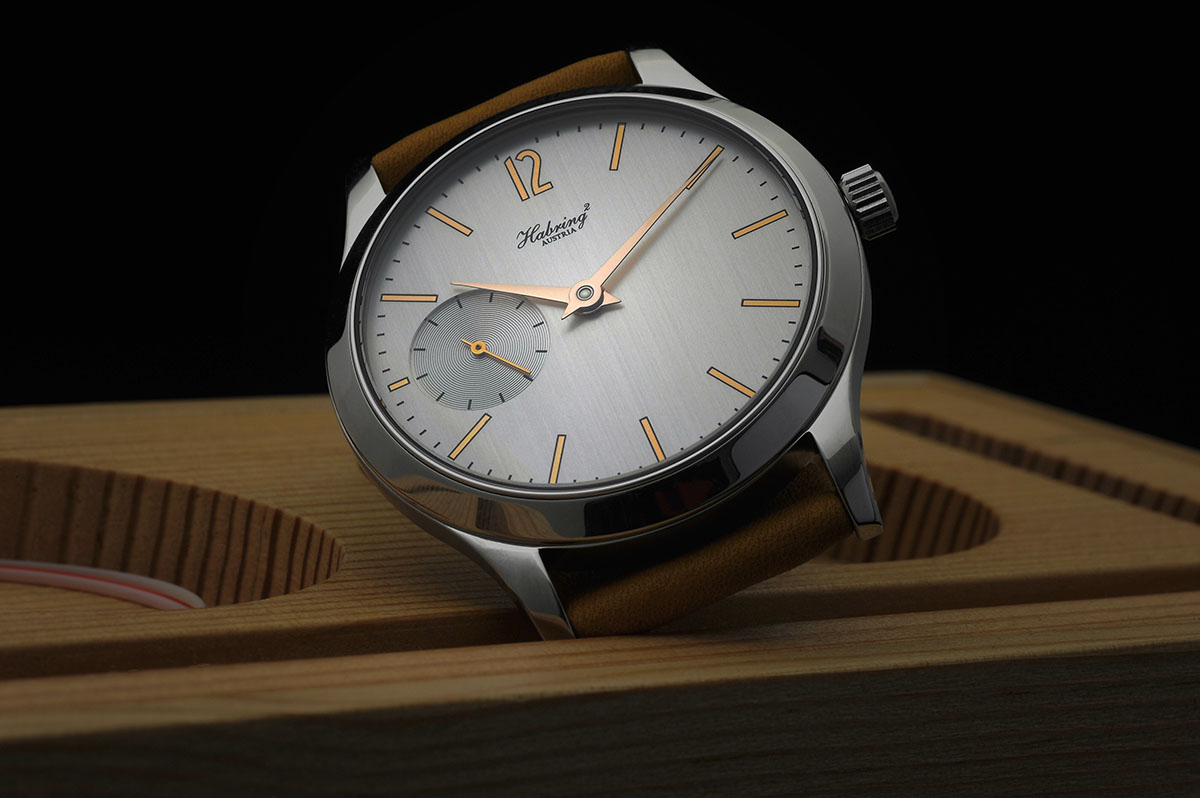 The small second at 9 o'clock is not so common, the rings at the dial frame the second hand in a nice way.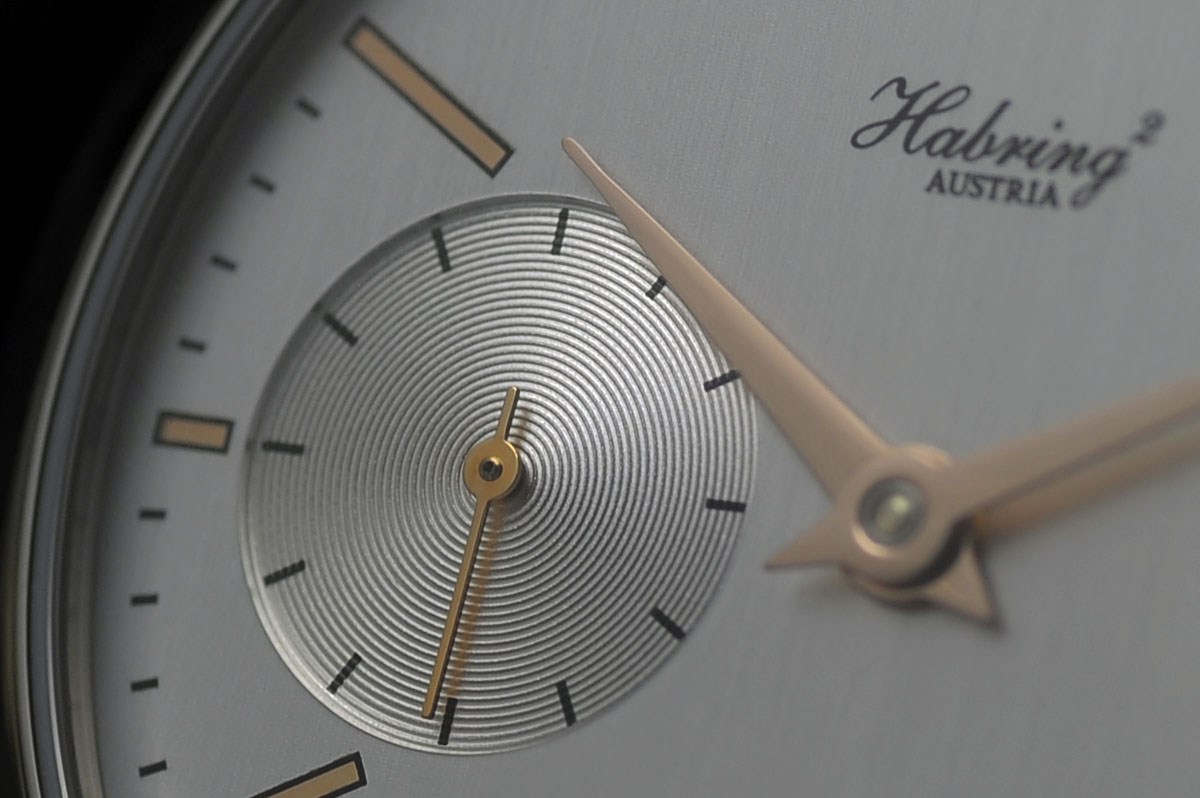 Here is how the current movement looks today with the Habring▓ logo at the backplate .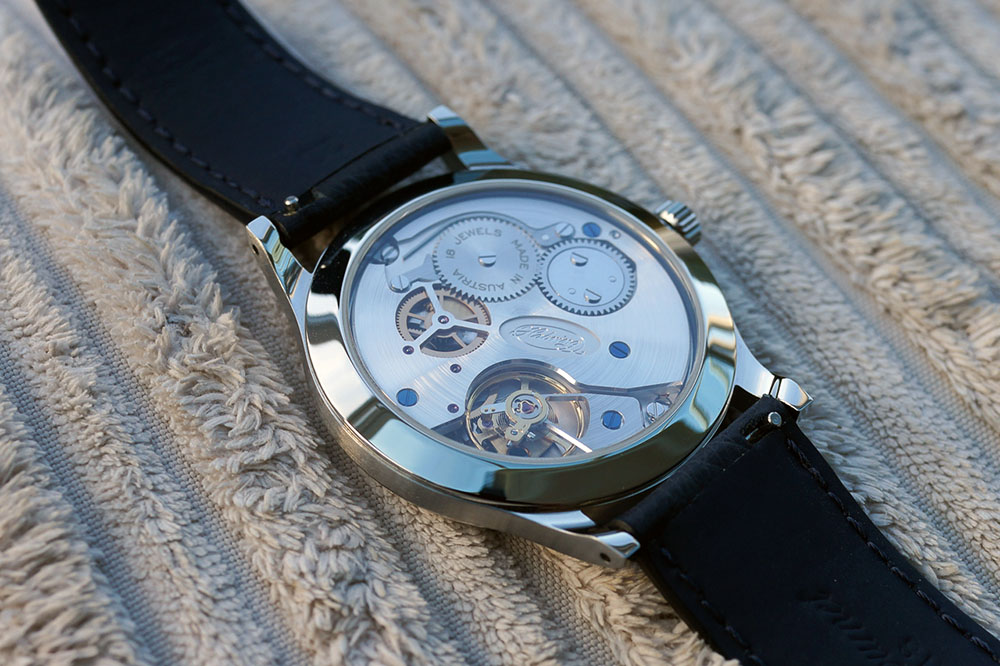 Photo credit: Andy Garton
I like the "original" look better with the Habring▓ logo at the gear and a clean backplate that I guess was the first idea with this movement.
.
Photo credit: Habring▓
So I was rude to ask Maria if I can get a backplate without the logo and I prepare for a lesson in behaivour.
Maria reply to me: We have ratchet wheels with the logo still in stock, but all plates have the engraved Habring▓ logo meanwhile. I can offer both together.
I was not ready to give up yet and say: Are you really sure? I'm ready to wait if you can to make one for me.
Then Maria says: Please let me check our stock. Maybe there is a little chance.
So my reply was: Just let me know when you have found it. :-)))
The next day I got a pling in my mailbox with this message from Maria:
I have a wonderful message for you!
We have one bright (movement) without engraving left.
It is the last one really.
I think that it was waiting for you 😉
Do you want it?
Please find a picture attached.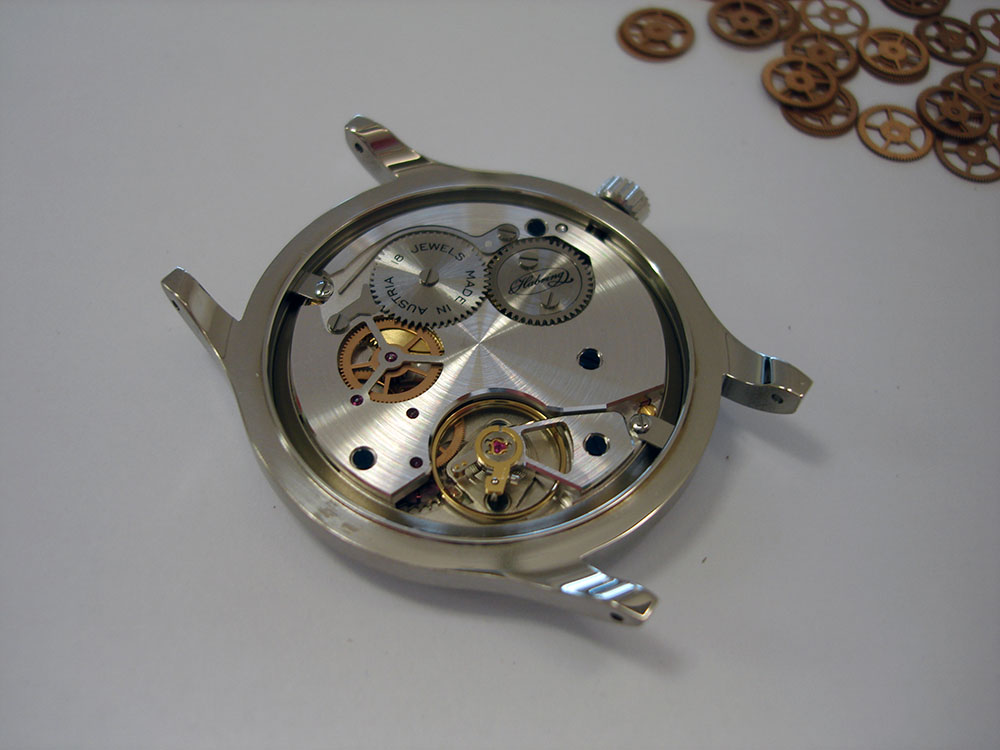 Now we talking, a big smile on my face when I place the order.
And this is just what I like with the independent manufacturers, if they can made something special for the customer they do it.
And here is the lovely backside that have a really clean look but a lot of nice details that you can see against the sapphire crystal.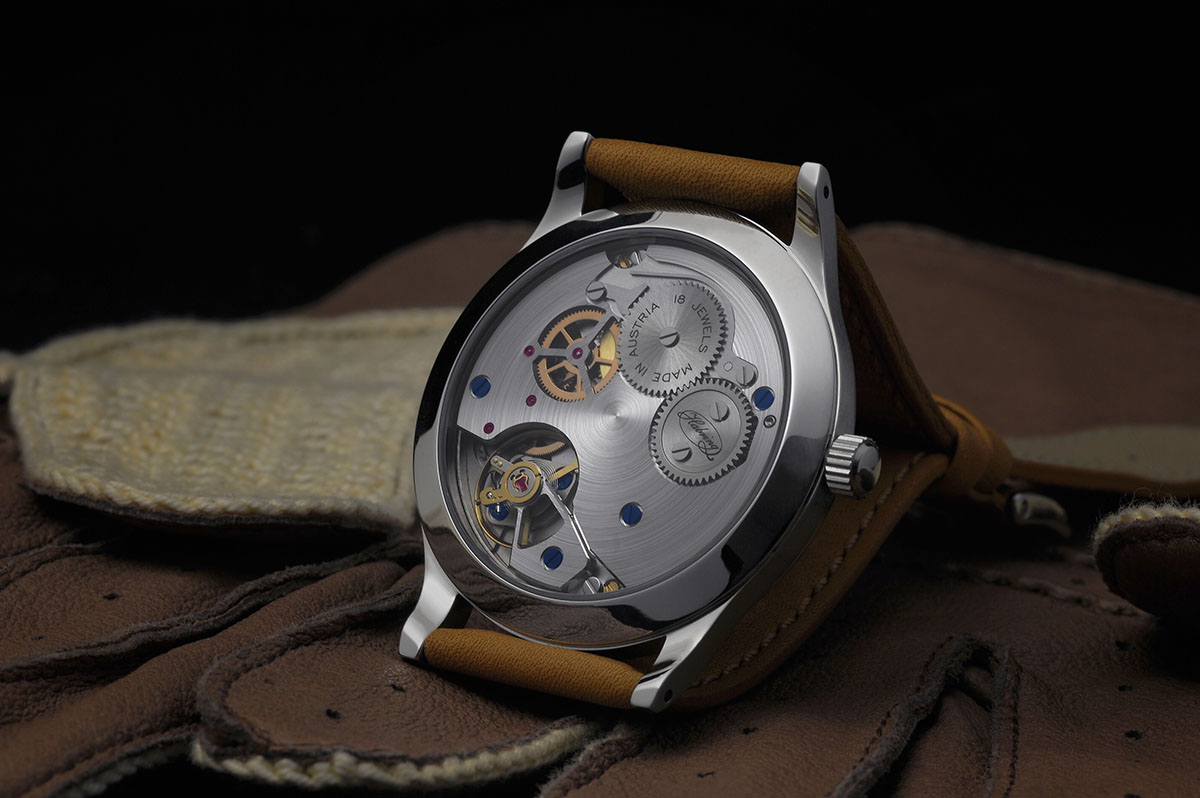 The movement is hand-wound with 48 hours' power reserve, 28.800 alternates per hour (4Hz), anti-magnetic escapement with a Carl Haas hairspring in chronometer quality and 18 jewels.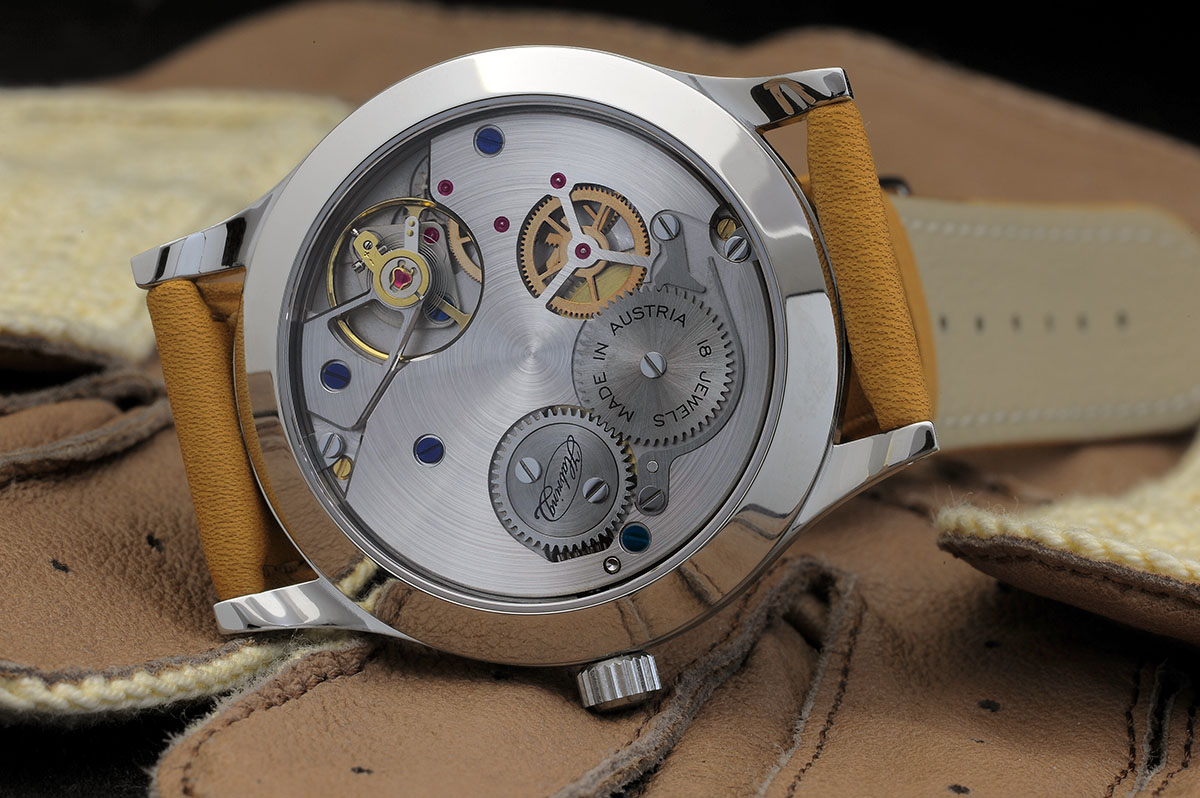 50 service-relevant single components (99 parts in total).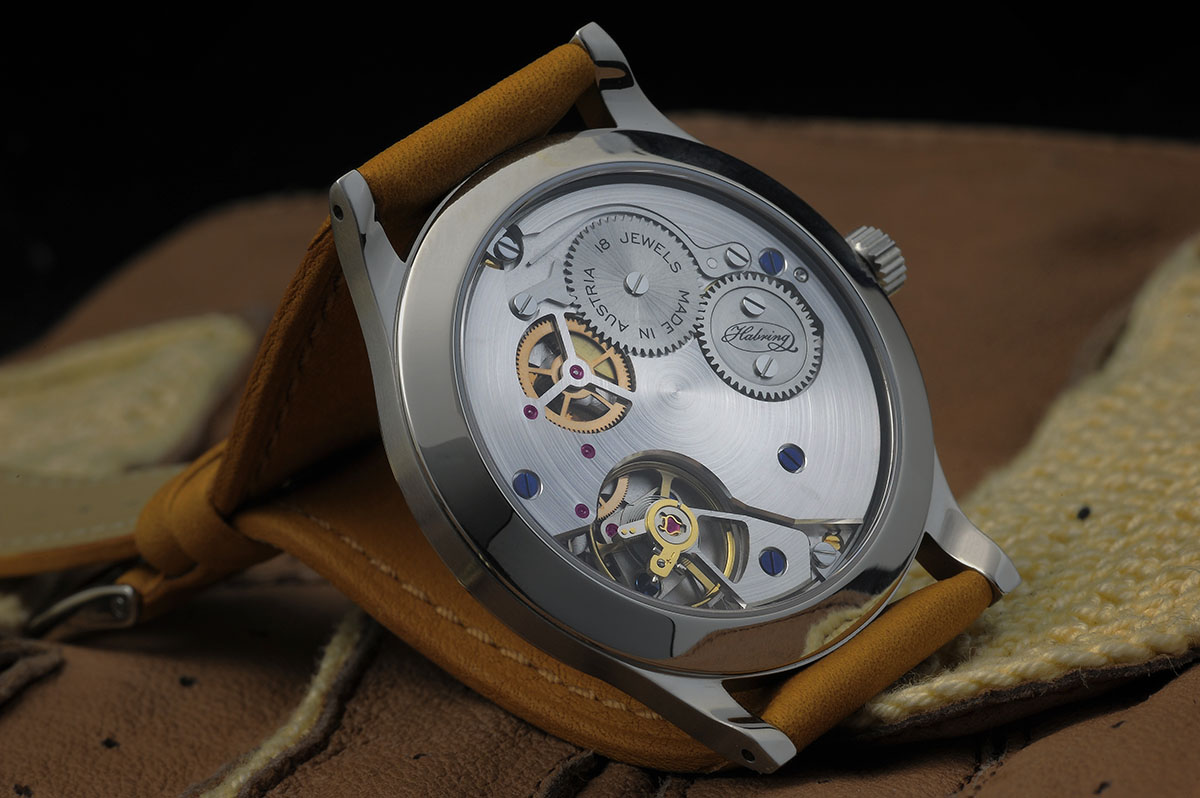 The tangential screw for fine adjustment is so cool.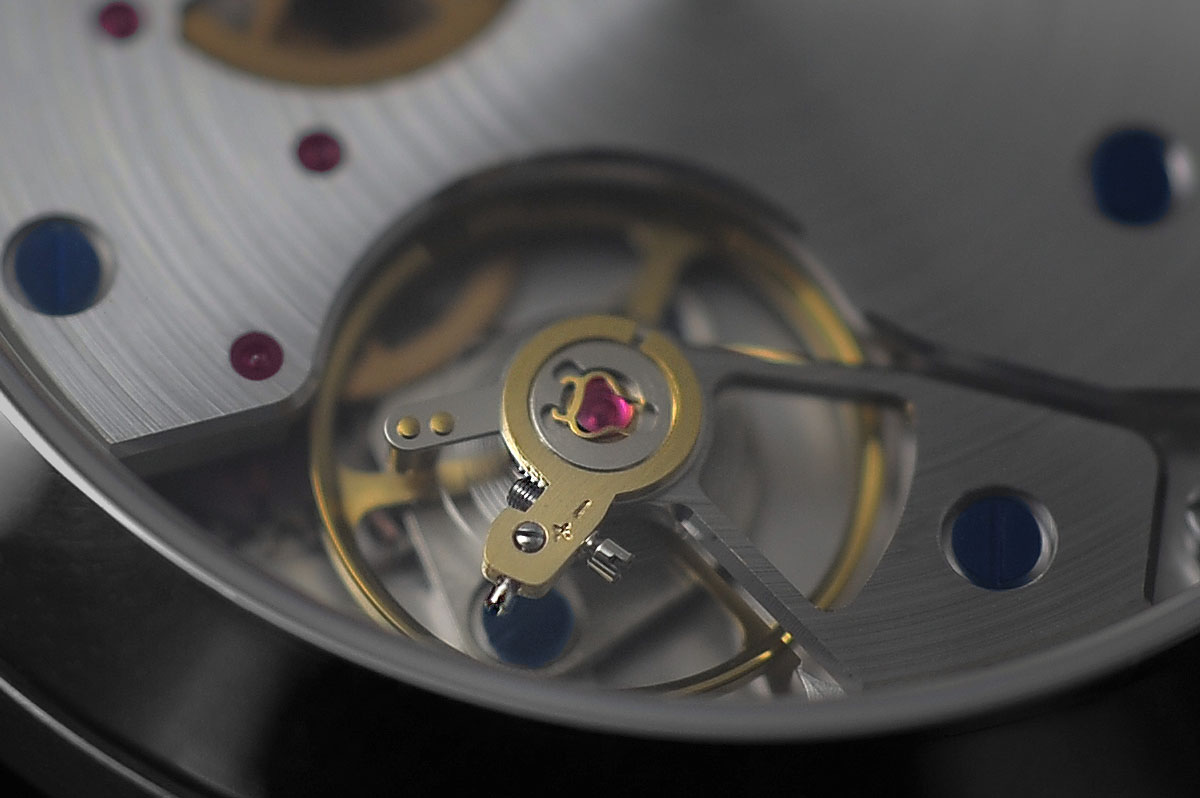 Here is a short video how the click spring works.