After 3 years of waiting, it's finally time.
After 20 years of visiting Baselworld, which is now closed, it is off to Geneva for the first time in beautiful weather.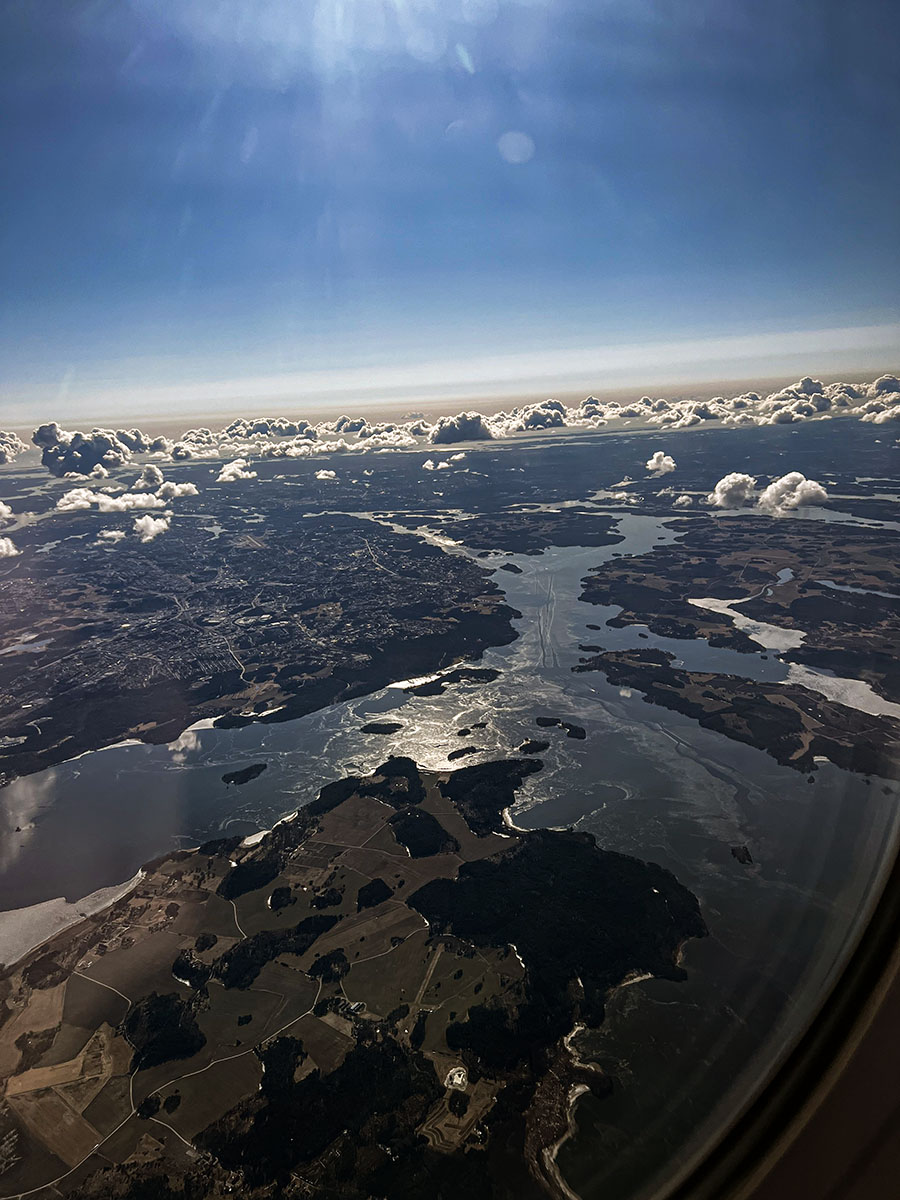 Unfortunately, W&W is only for industry people and strictly invited guests and we have to focus on other brands instead.
So we focus instead on smaller brands and independent manufacturers that are a little more interesting when you get to see creations that you do not normally come across.
Time to watches is probably the largest fair after W&W which is run at the same time and we found a few more places to visit.
That said, we start with Time to watches.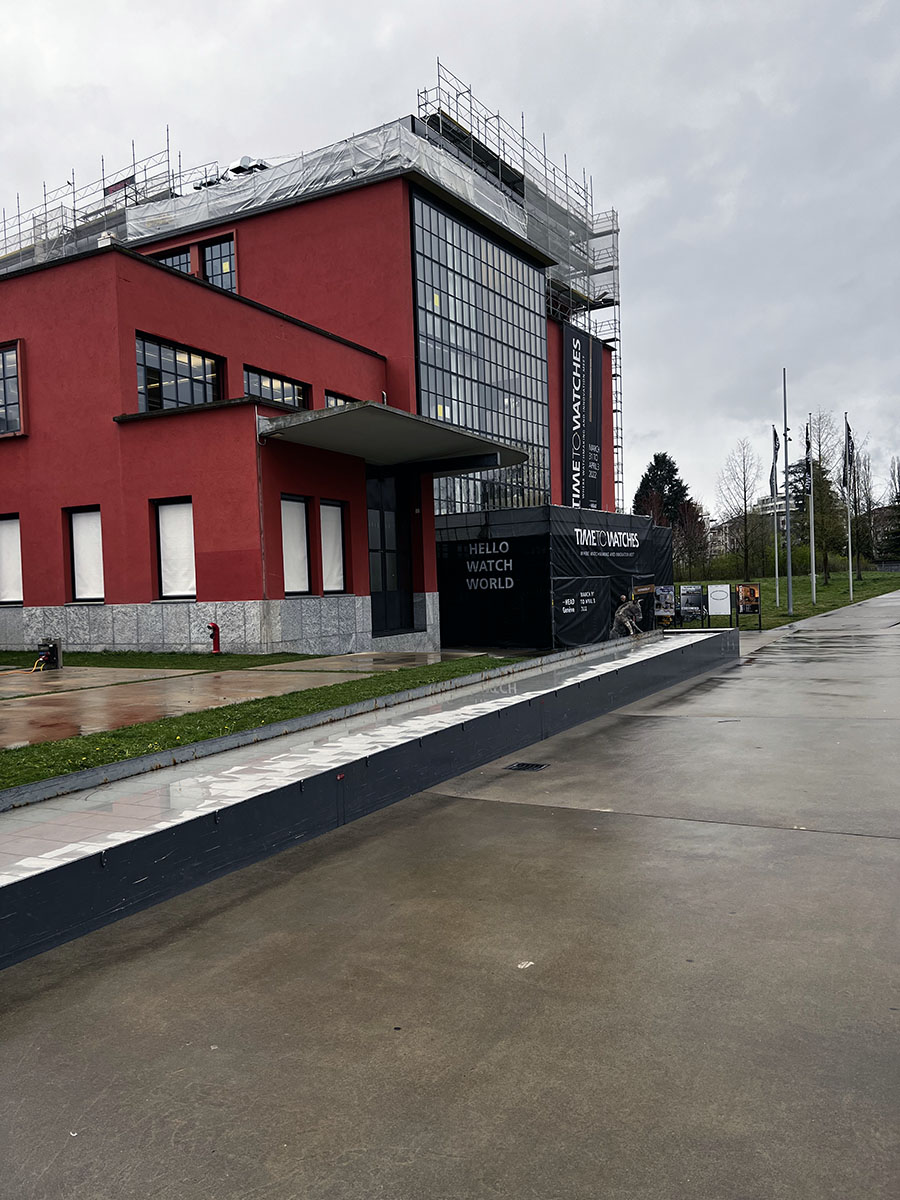 Here we have a brand that is new to me, Doppelganger.
Tourbillon, 5 main spring houses and chain drive are not to be despised.
H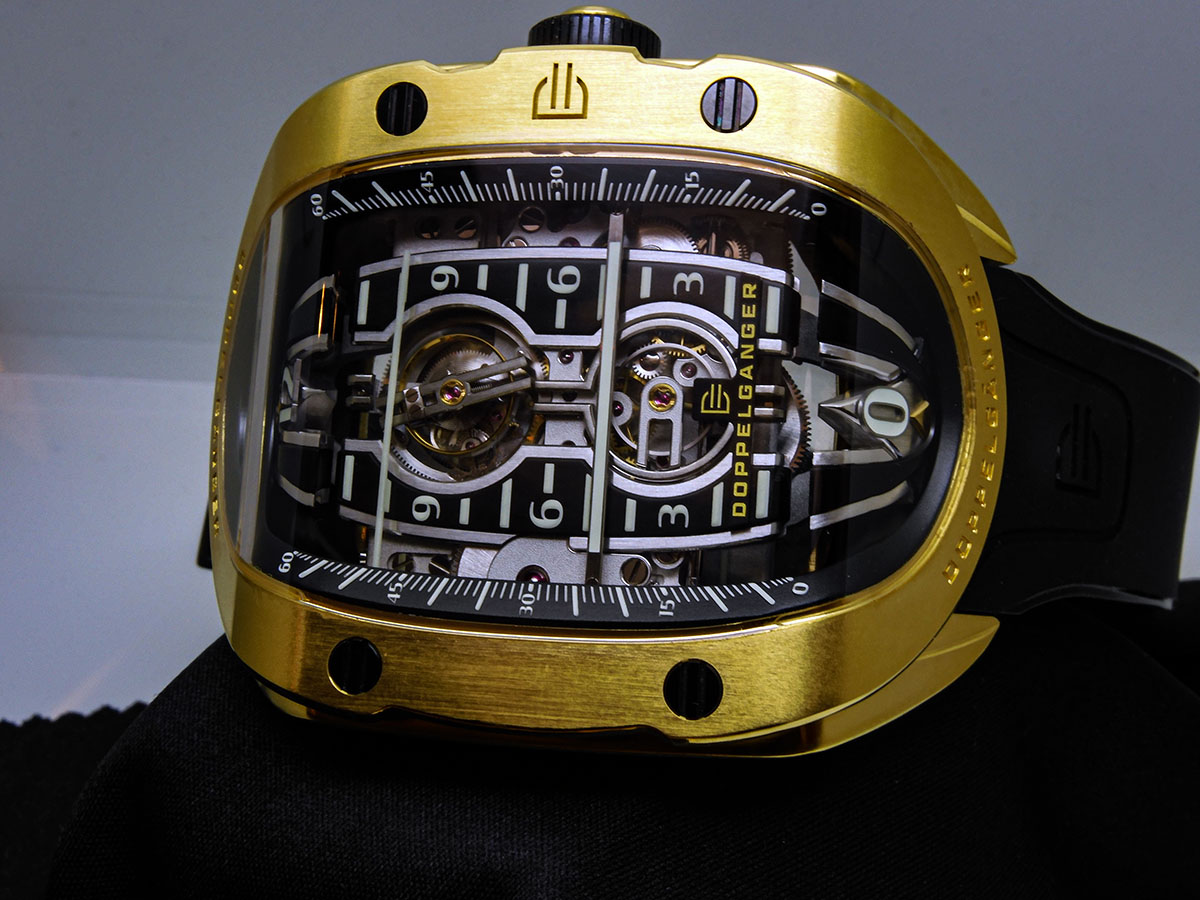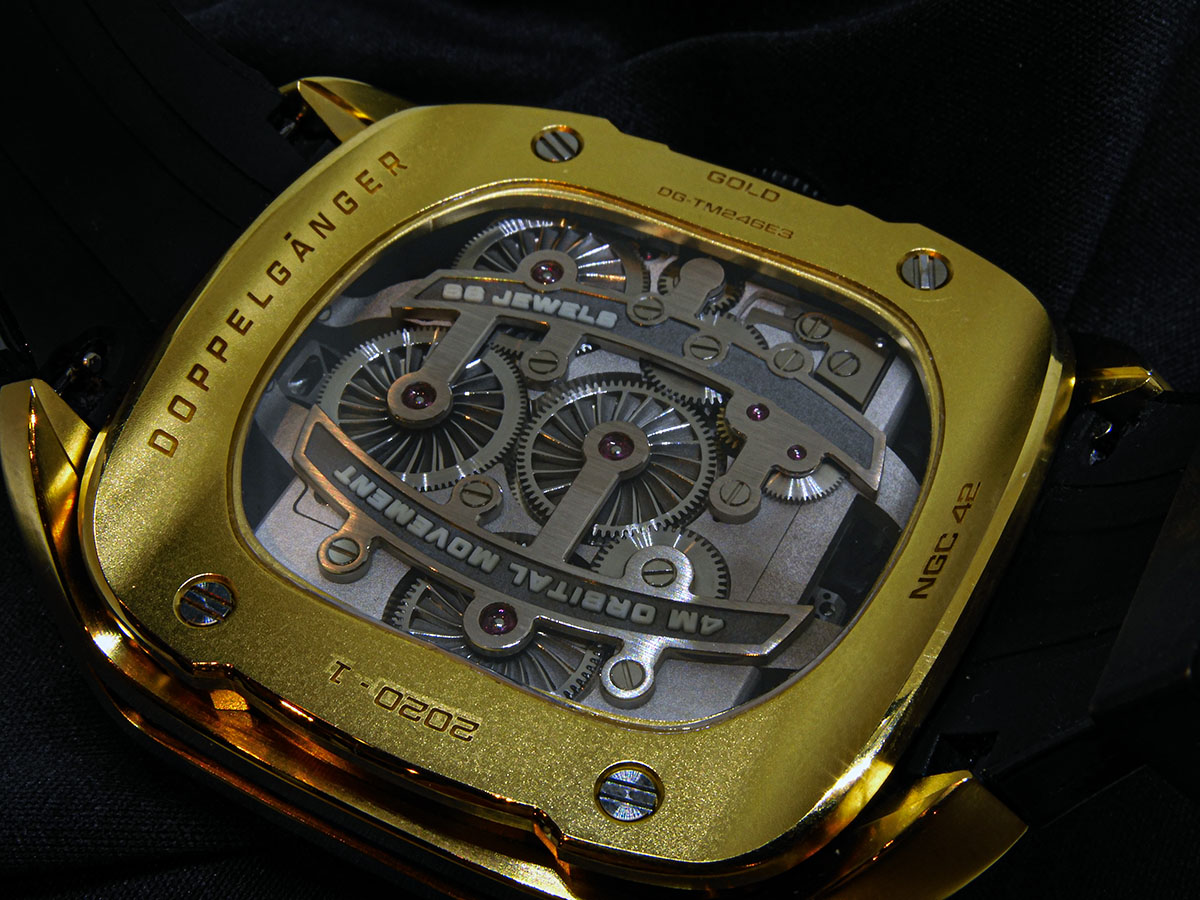 The chain.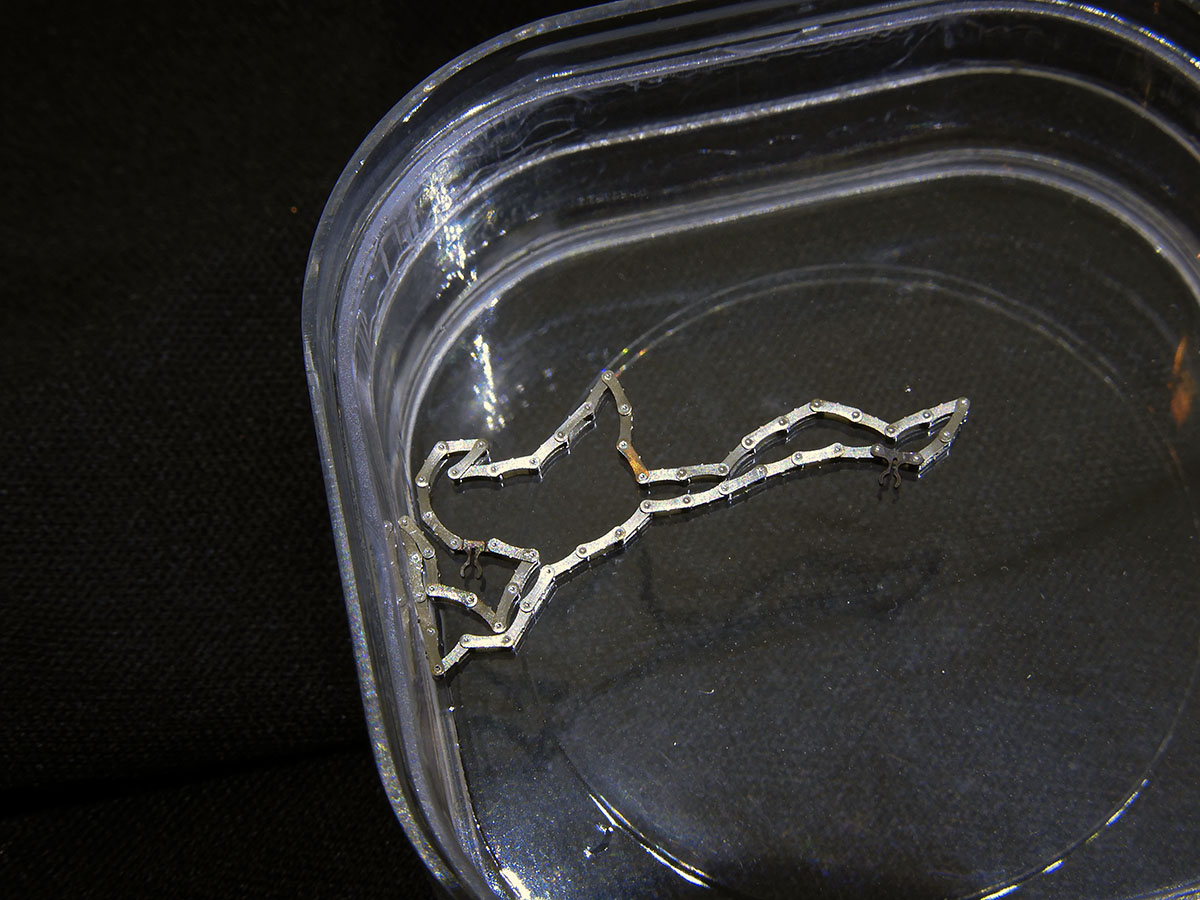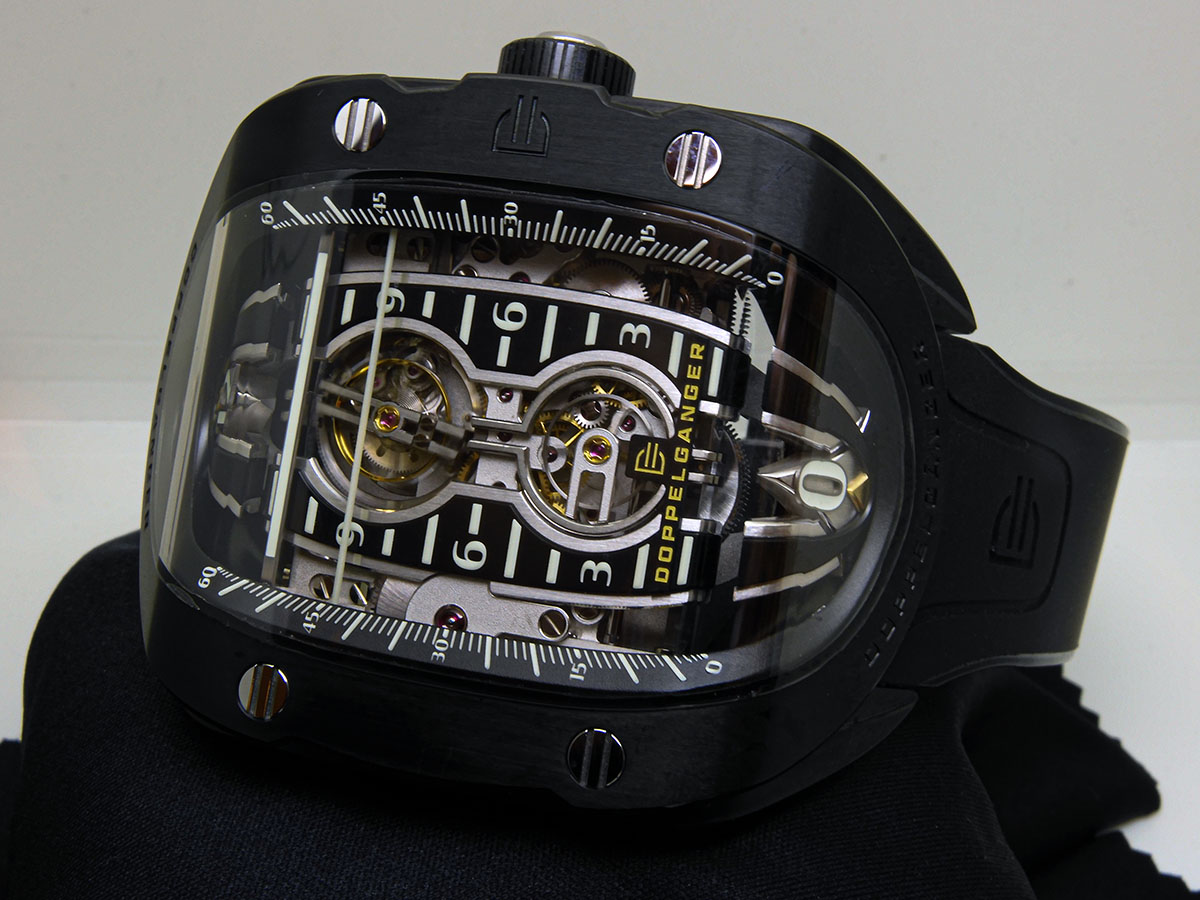 It is glowing in the dark too.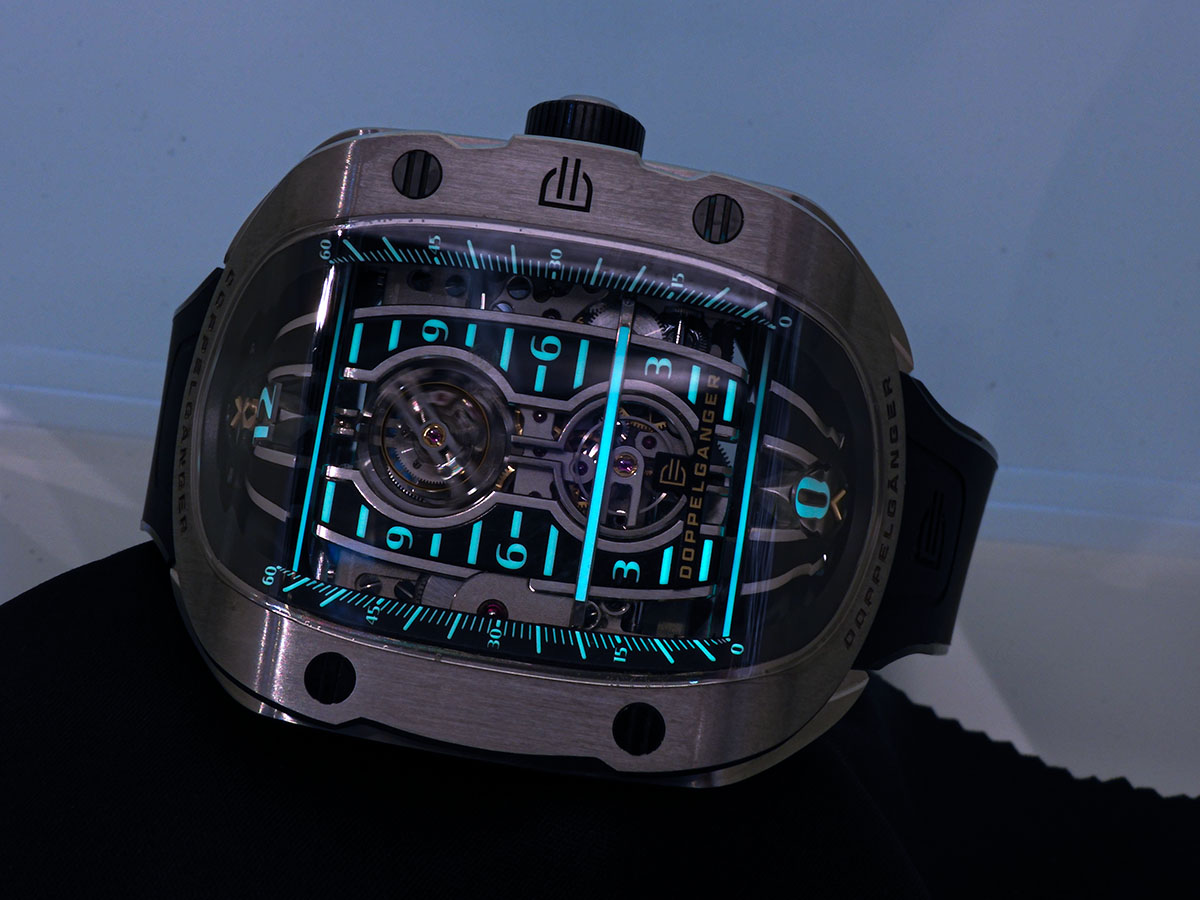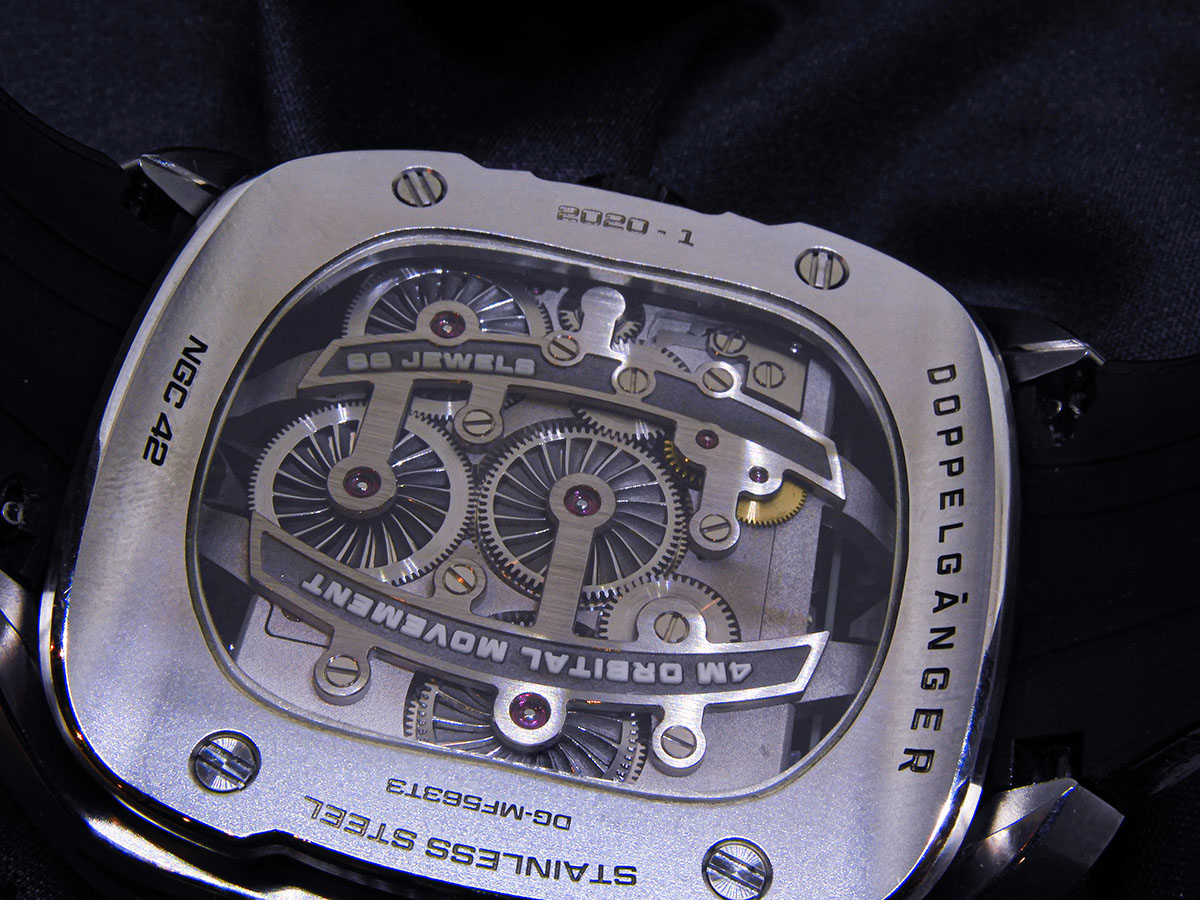 The next stop will be with Frederic Jouvenot, who has his own solutions for the time display.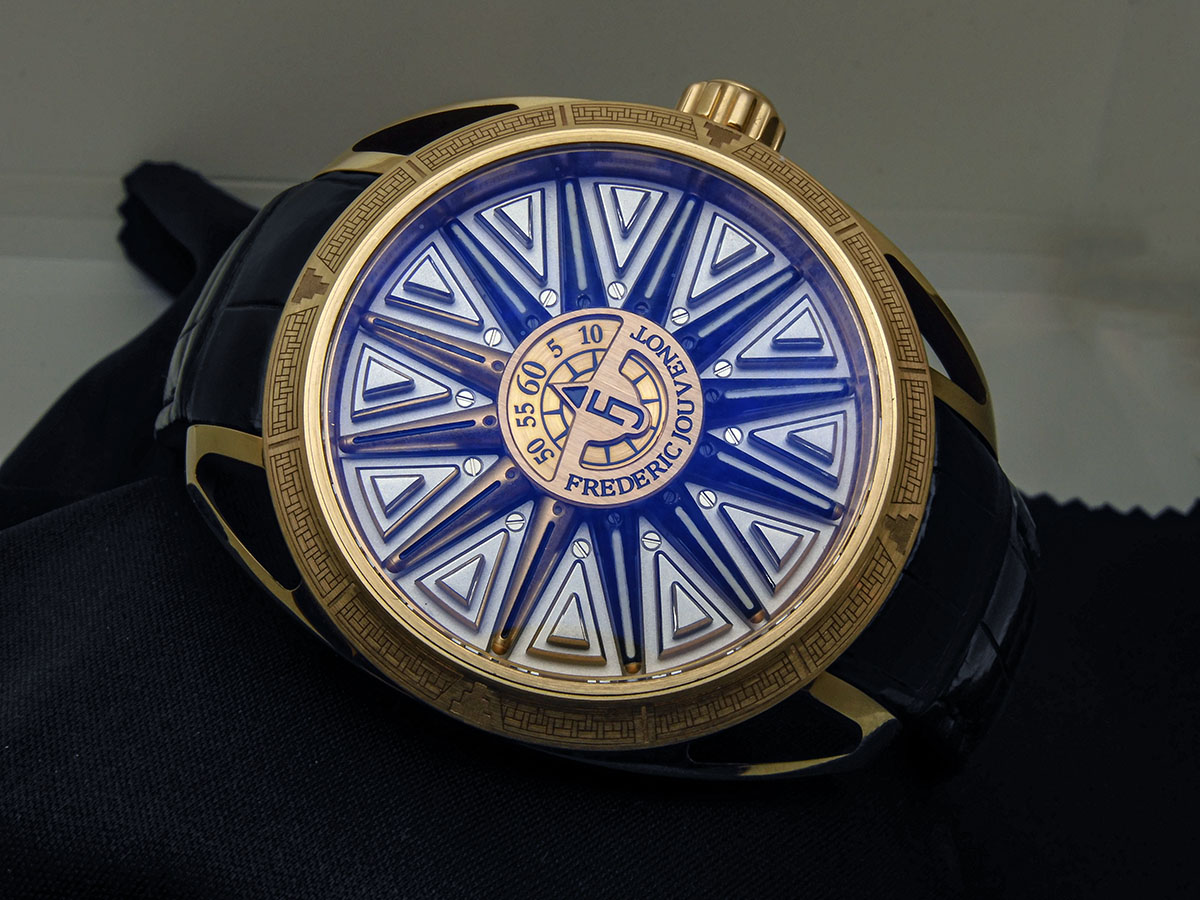 In house movement.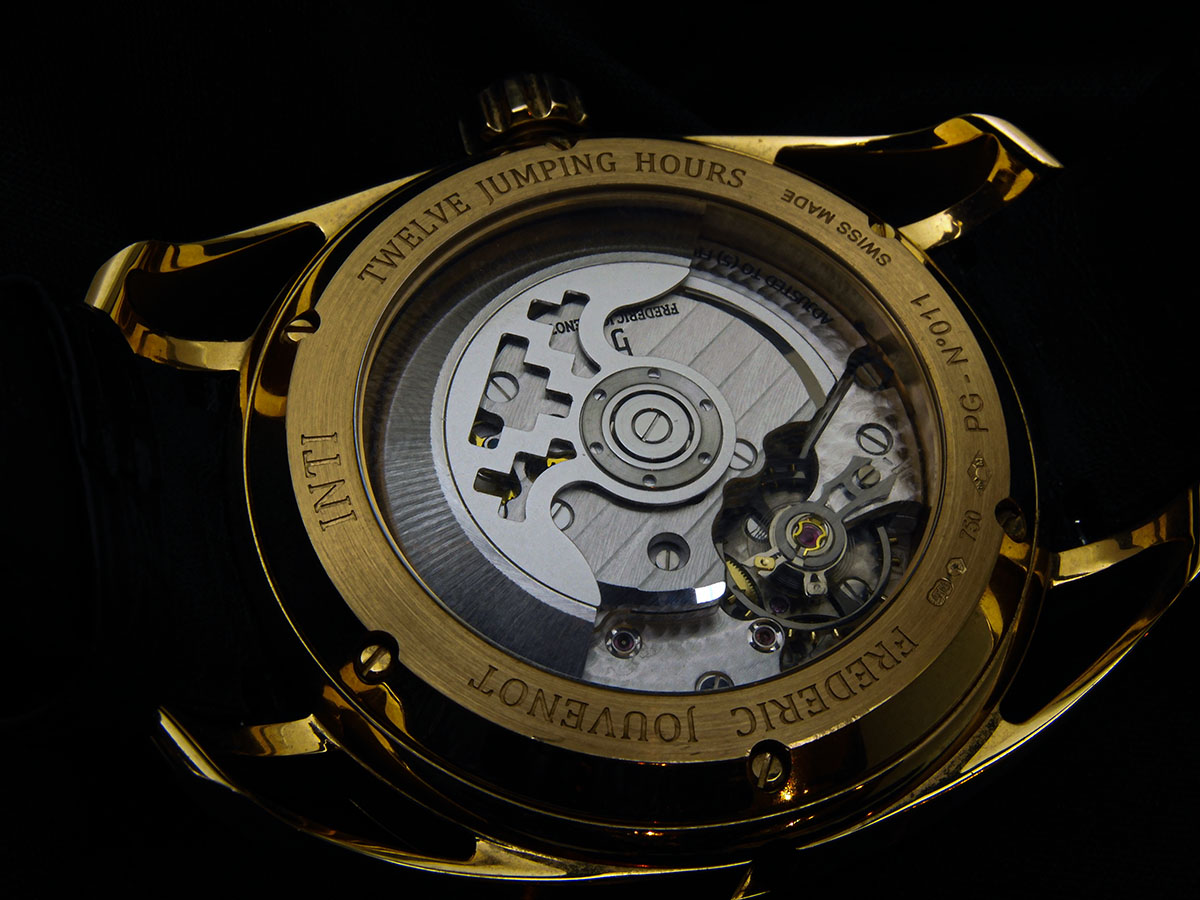 The minutes are displayed on a rotating disk in the middle and the twelve cones turn one at a time every hour here it is 10:52.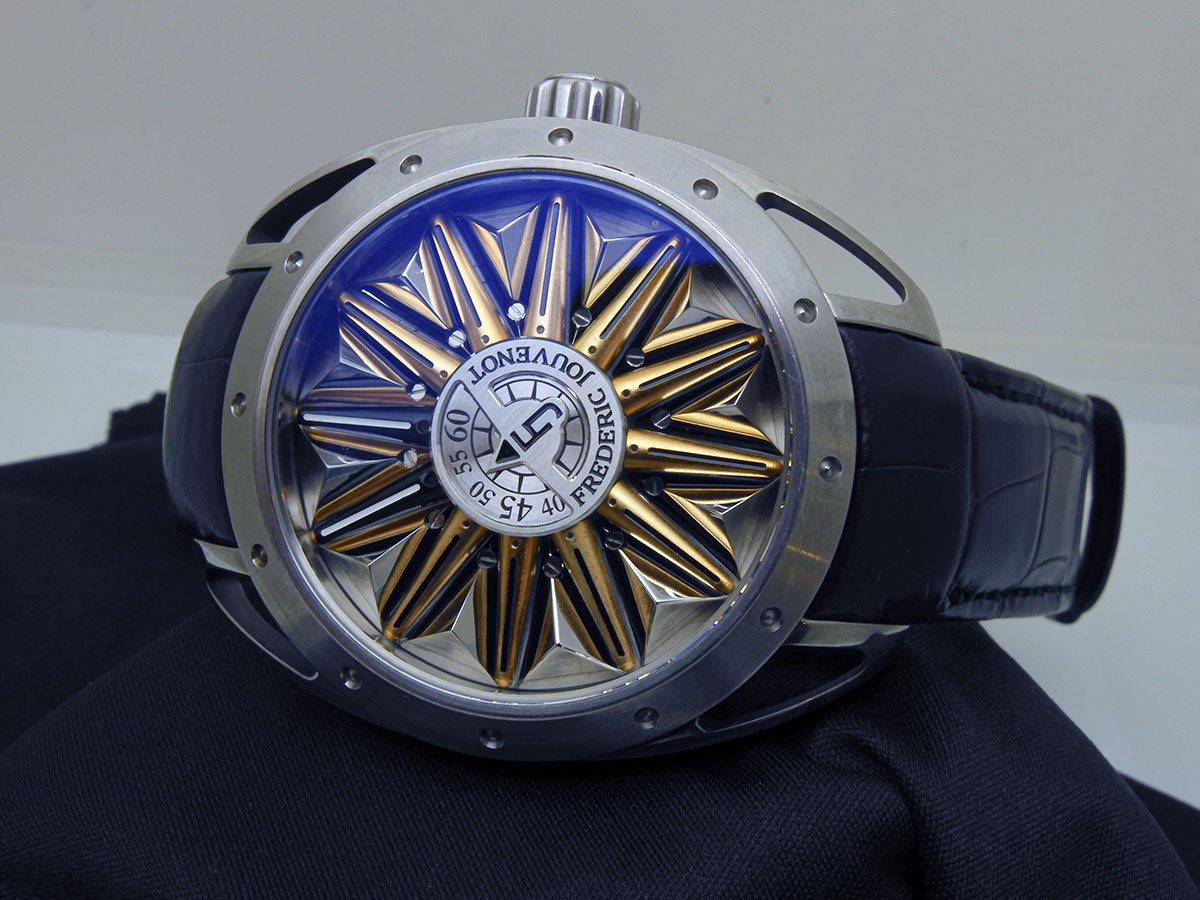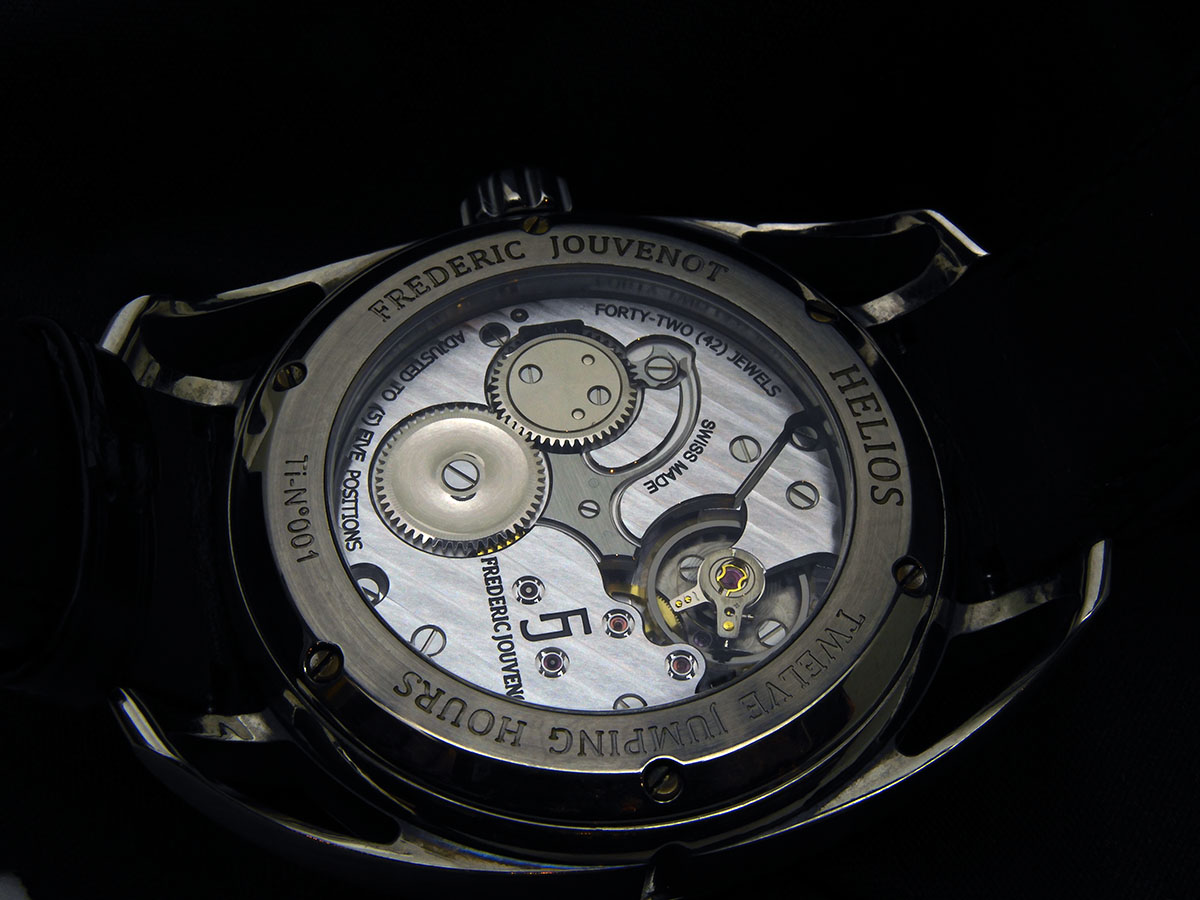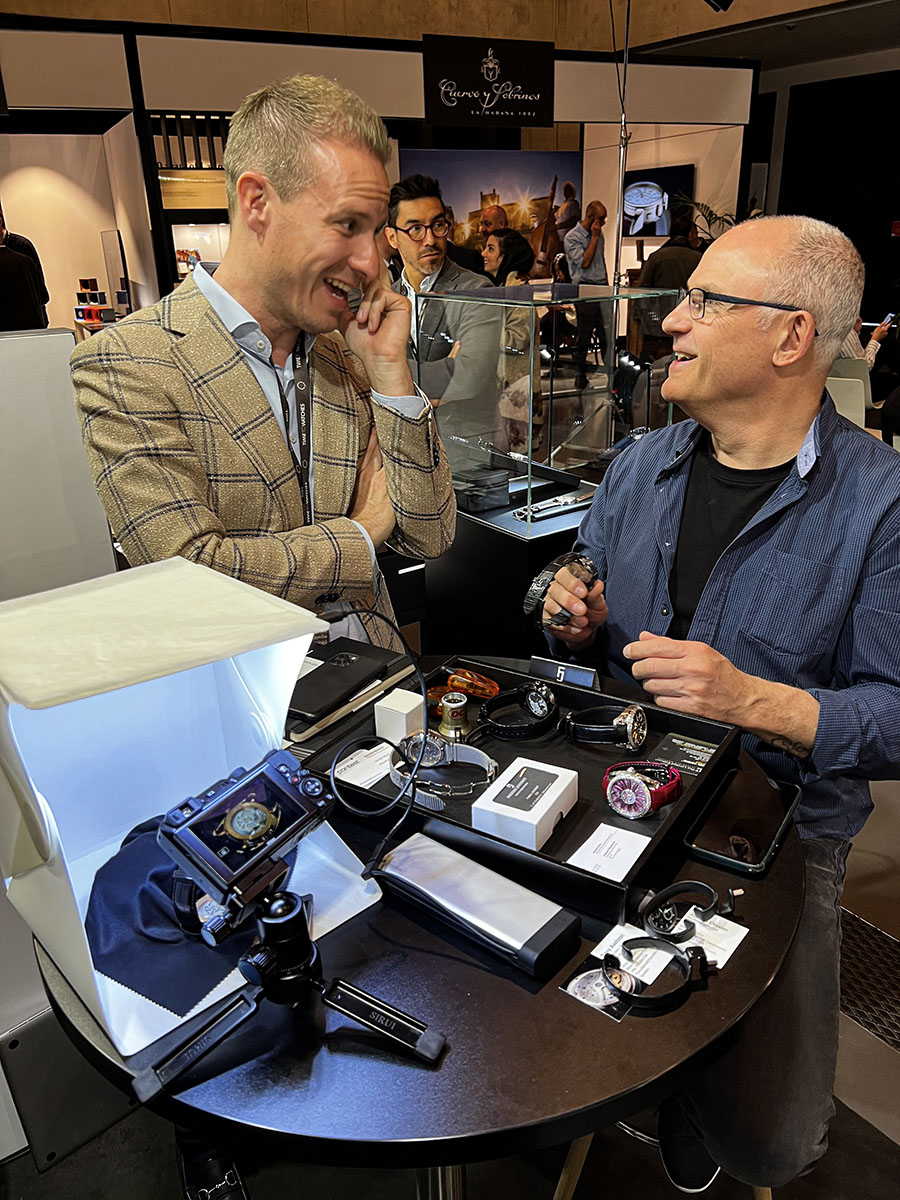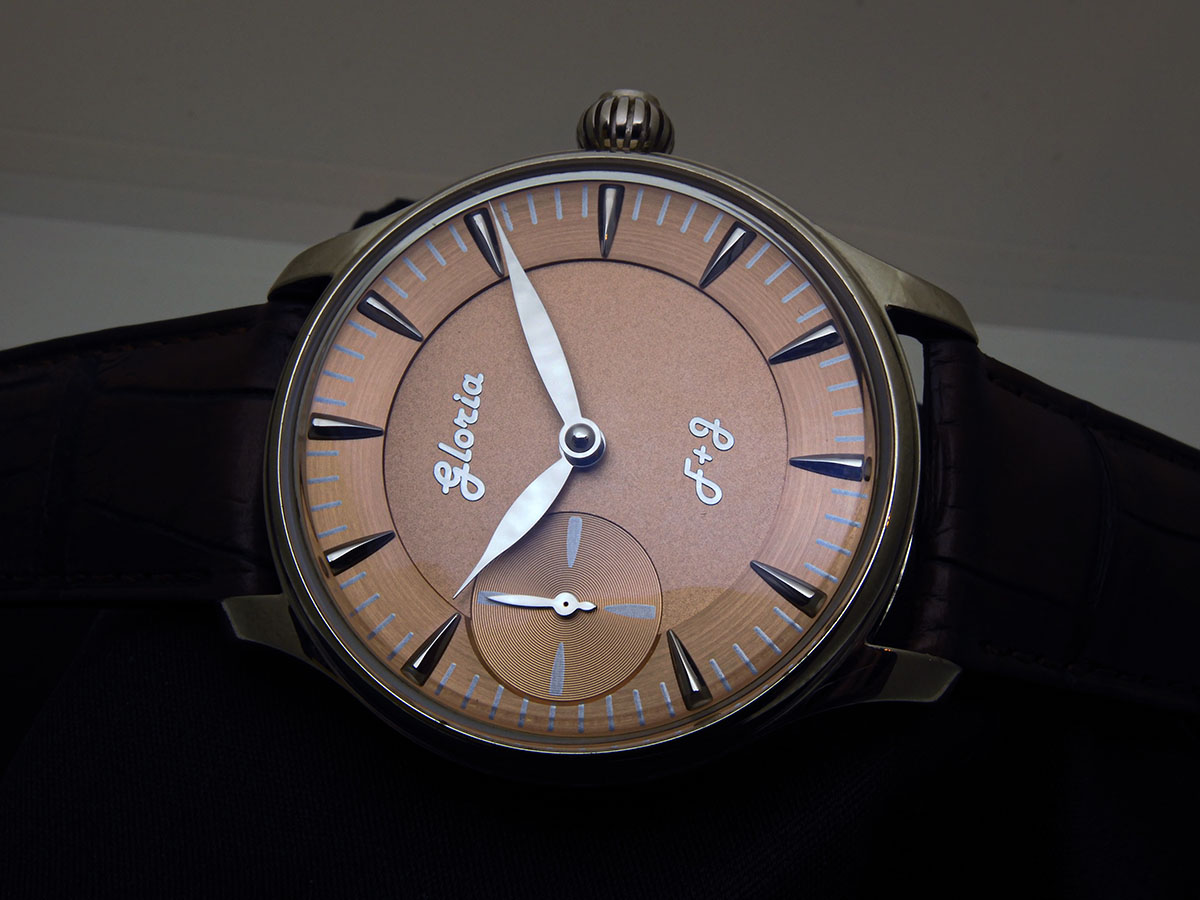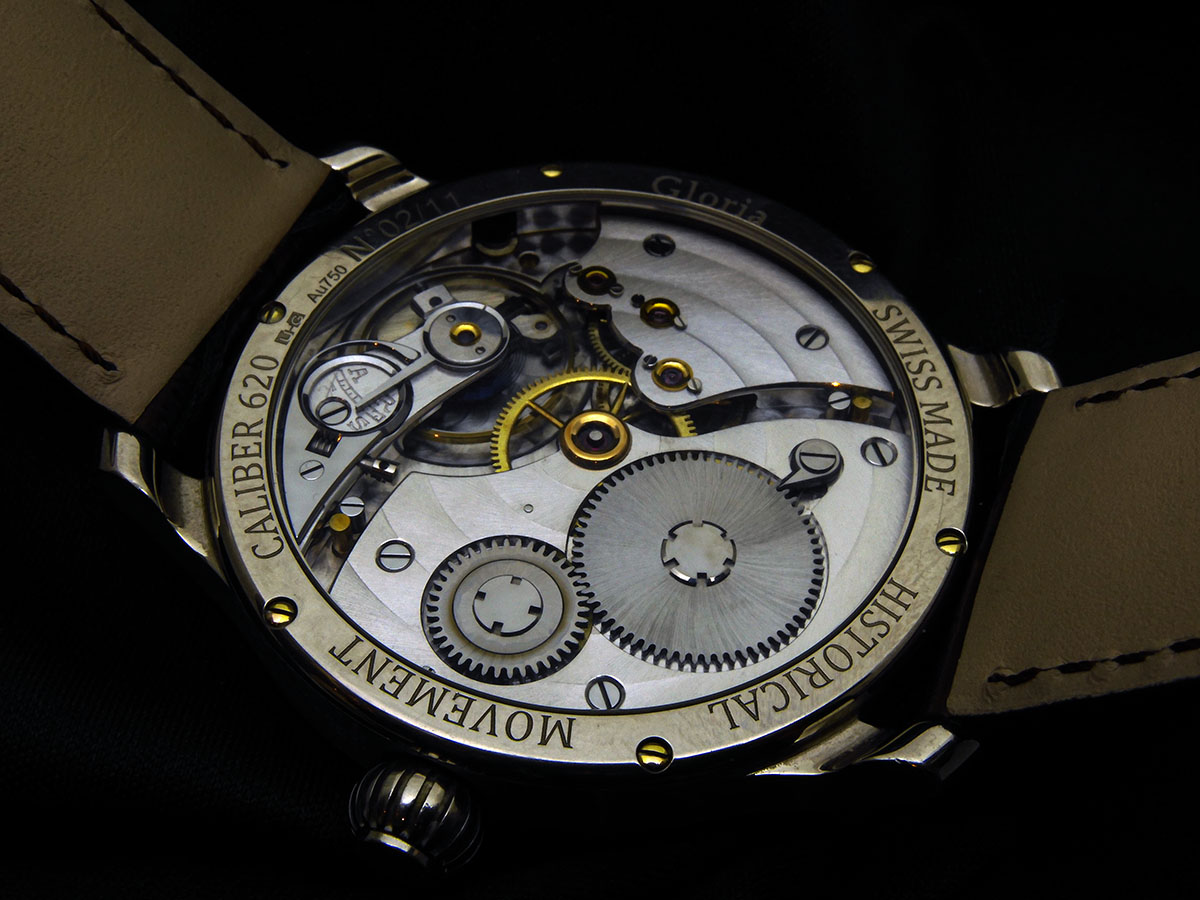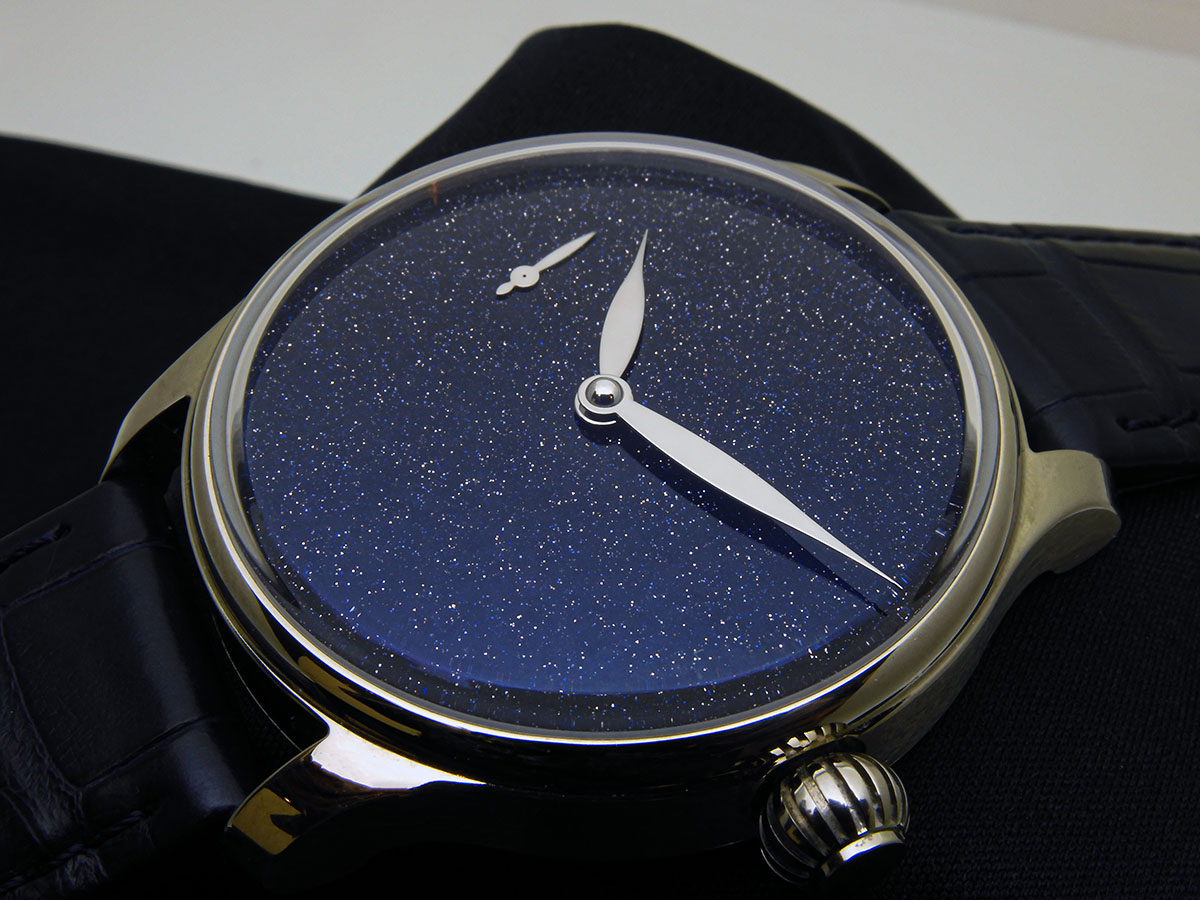 Then we have to do something else.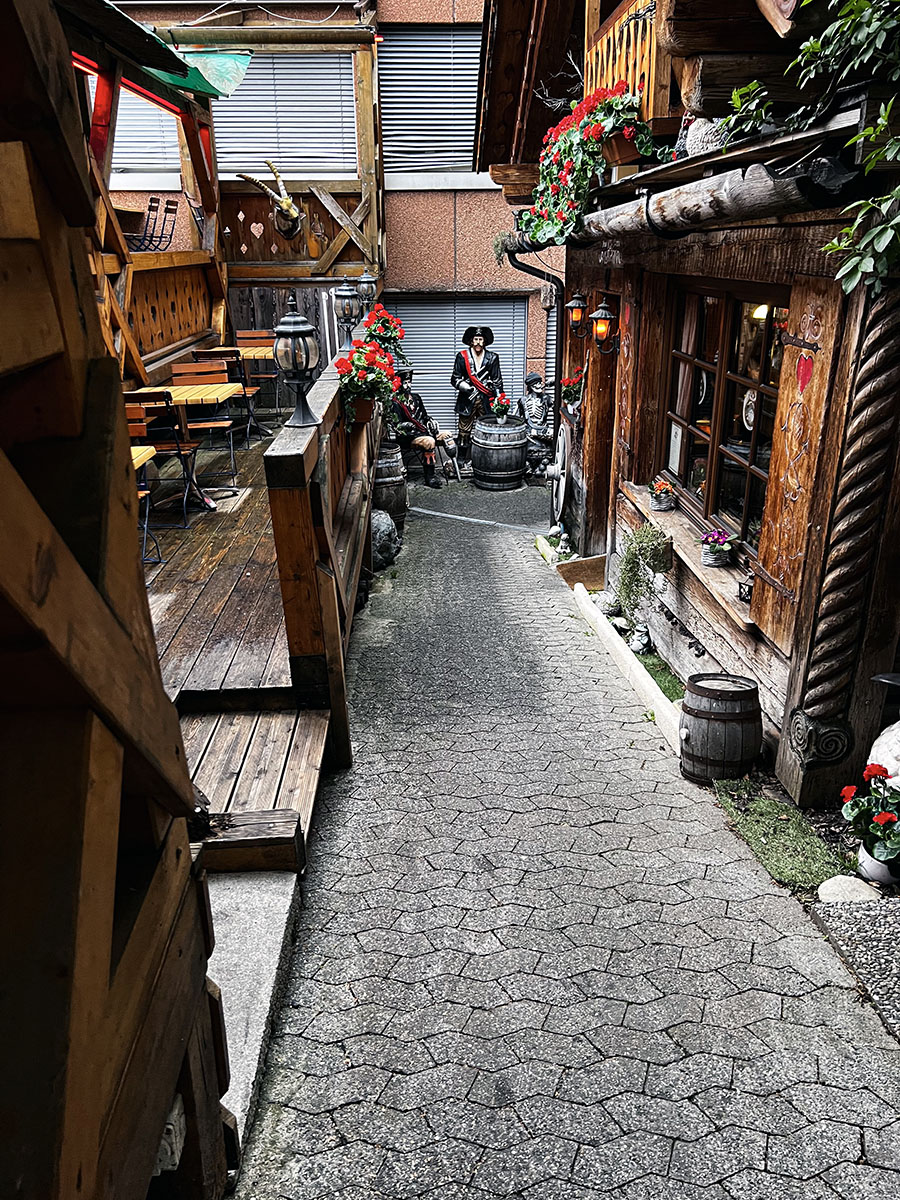 Fun interior, the place is located in a slightly rough industrial area.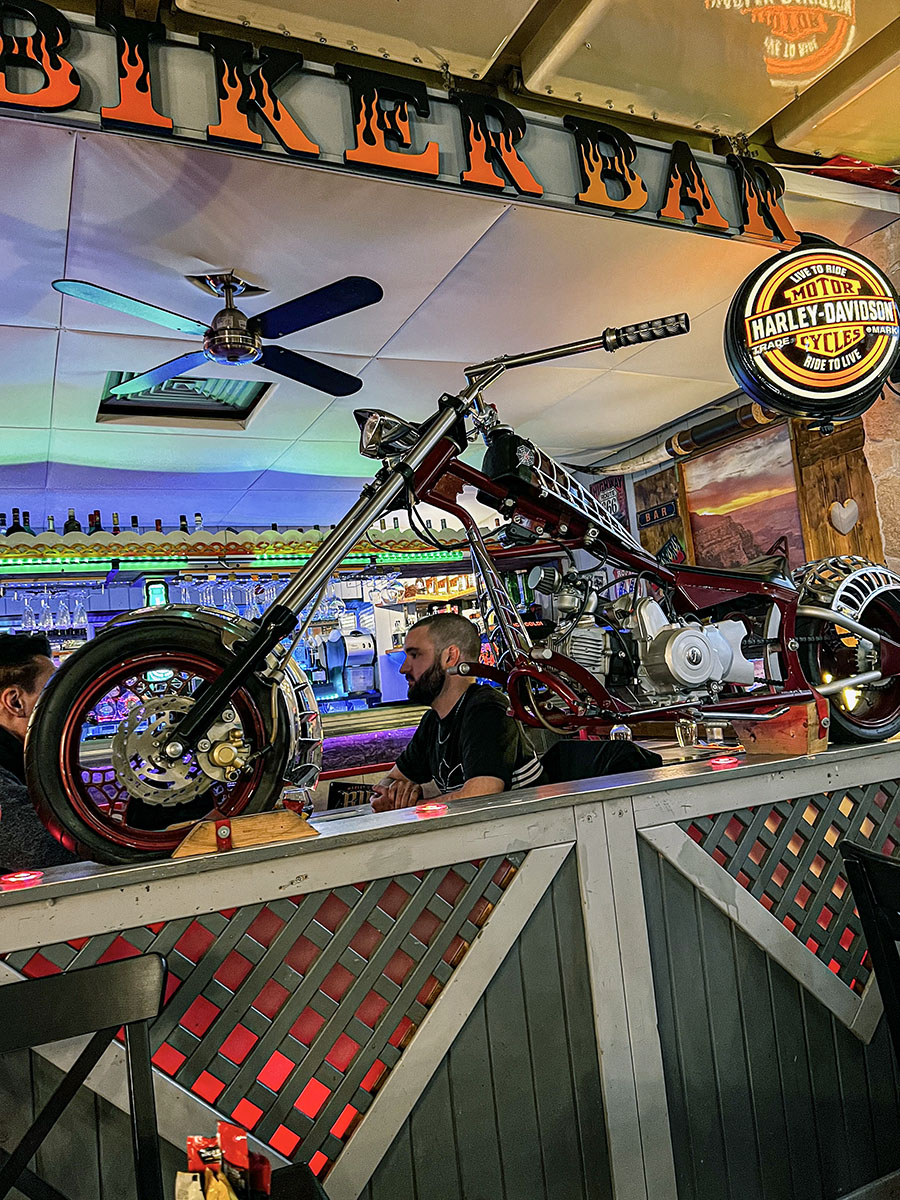 Of course, I had done a thorough research where to find the best Cordon Bleu in Geneva.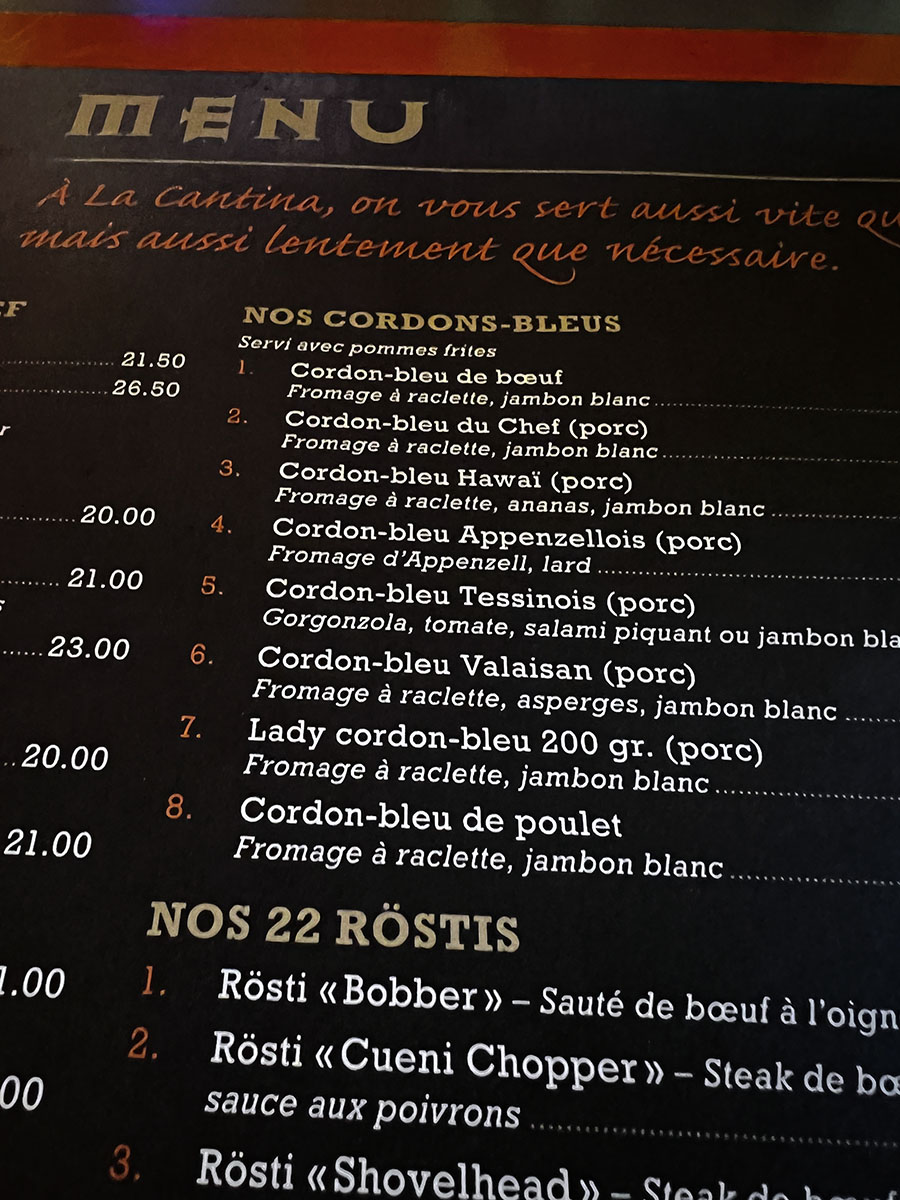 I had succeeded well with the choice of restaurant as this was something I had never been near before.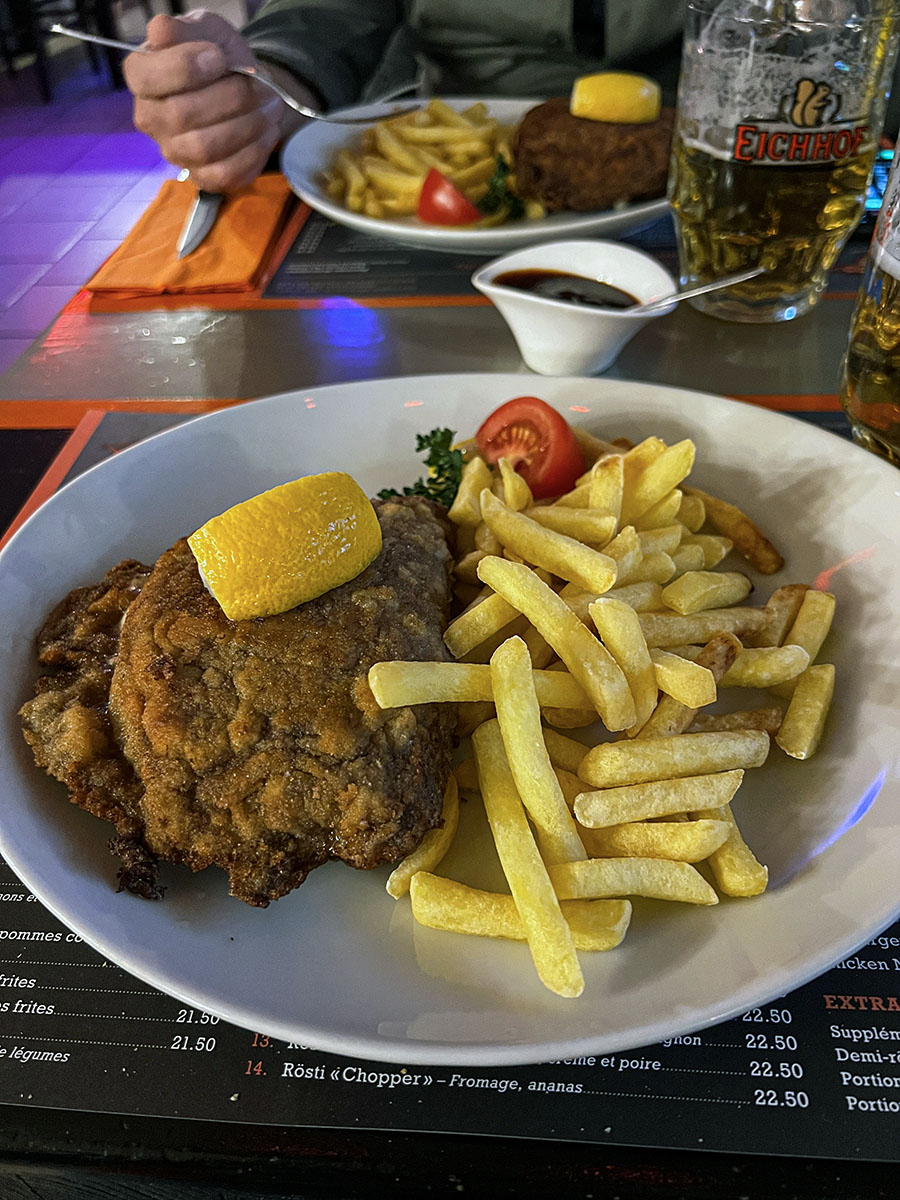 I was tempted to take one more but realized that it was probably more appropriate with a dessert.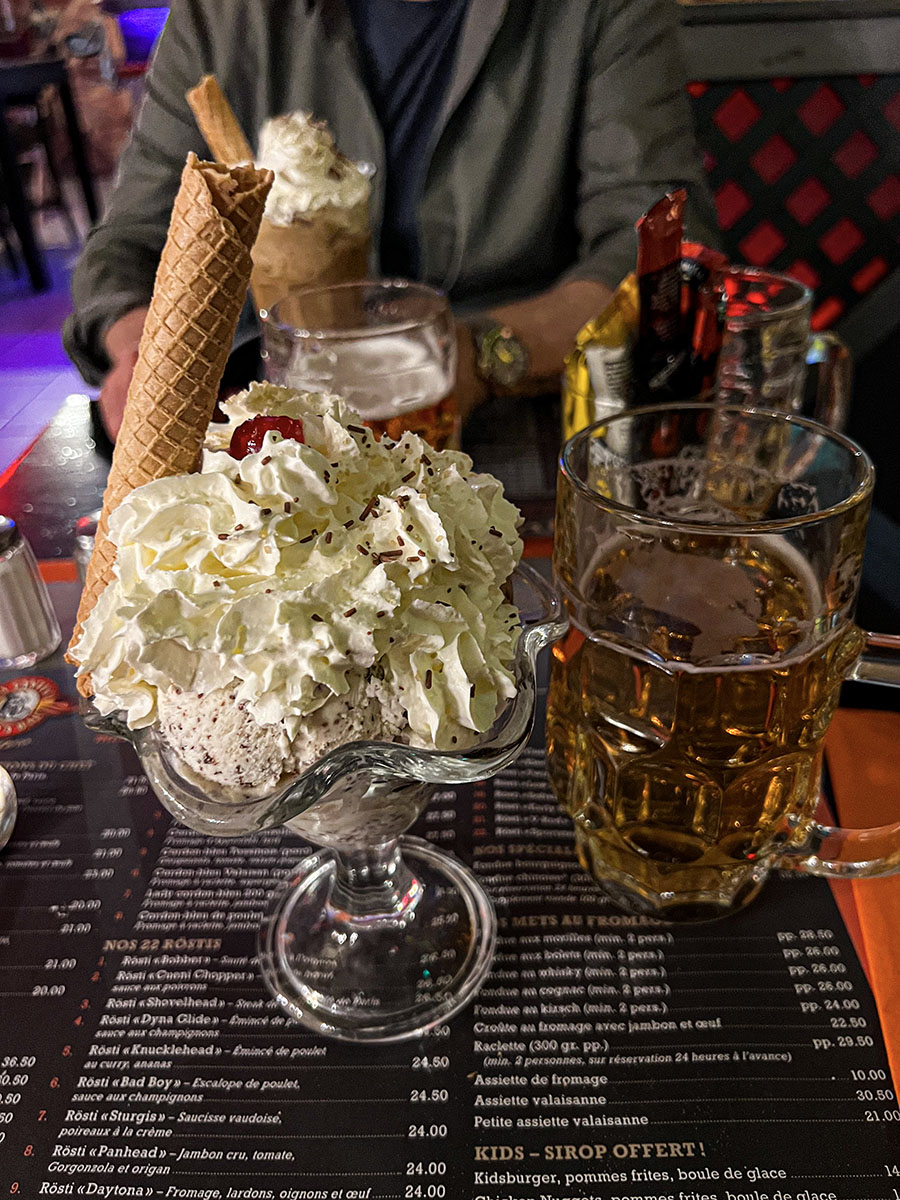 Now we quickly move on to Pierre DeRoche who has some fun to show.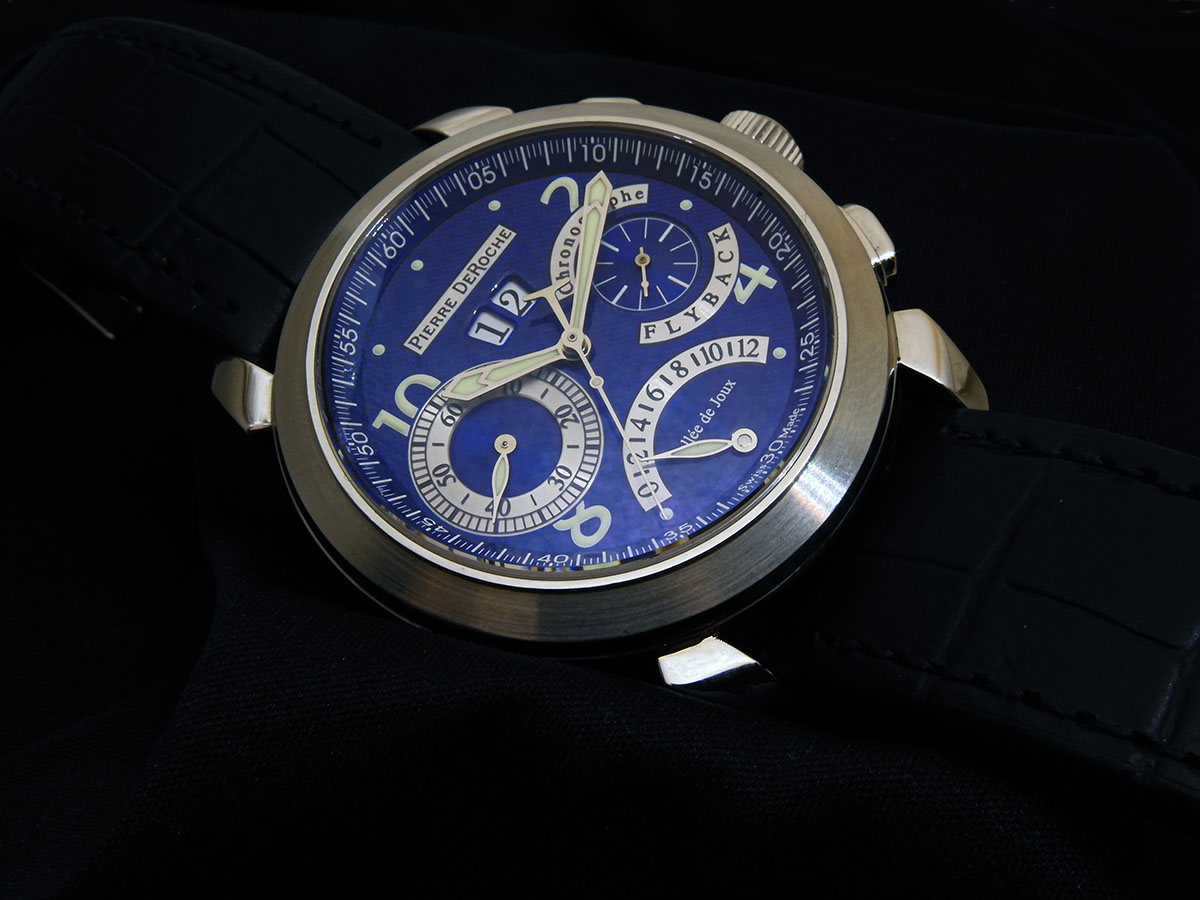 This one I had really looked forward to getting a closer look at, is so clean & stylish but still loaded with features.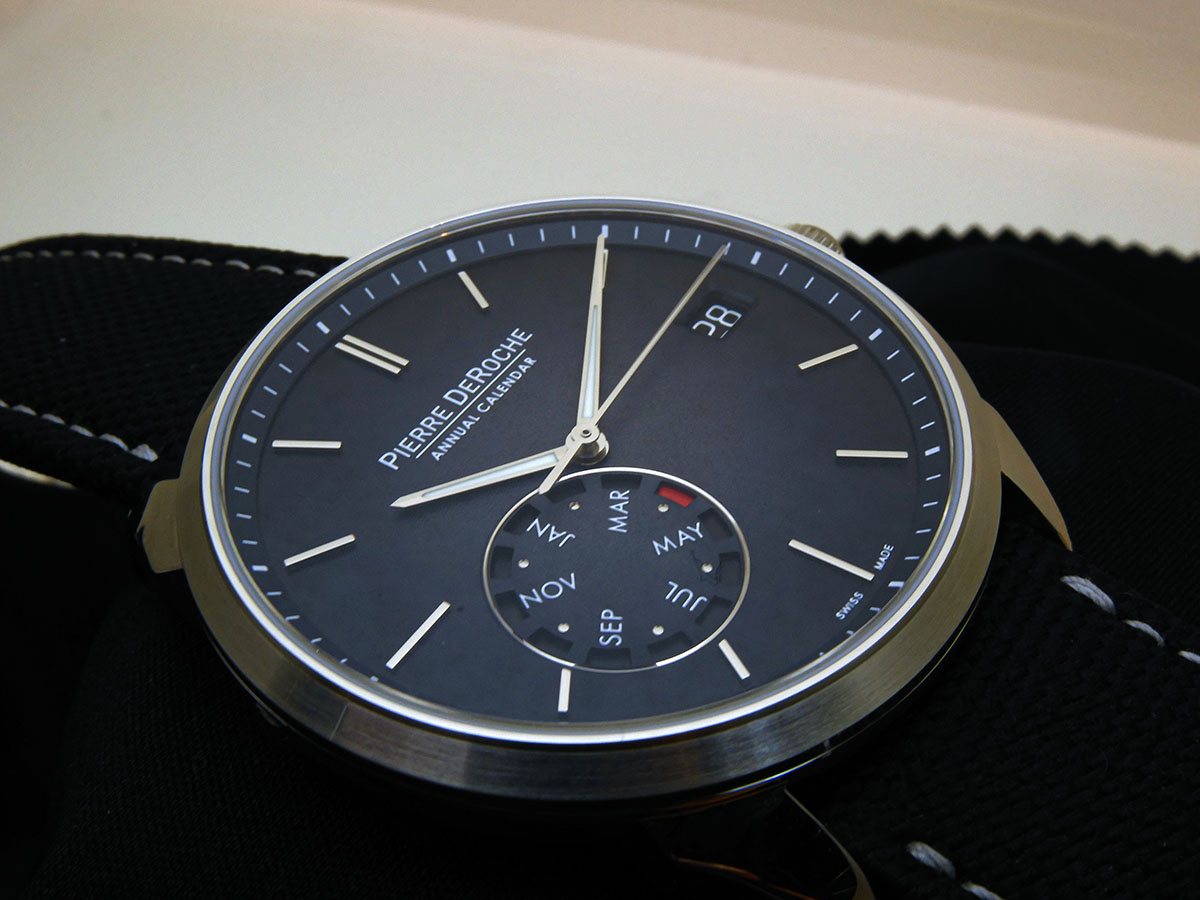 Even for the ladies.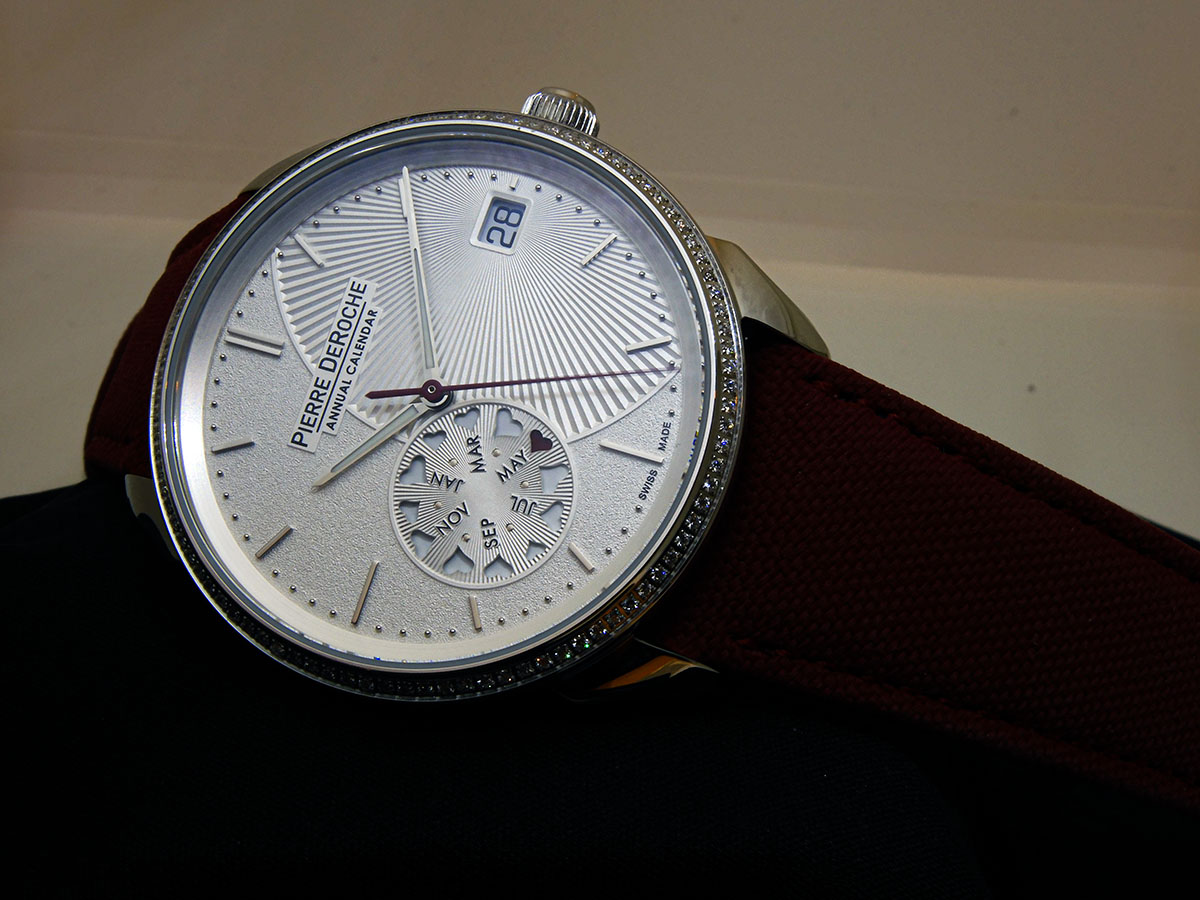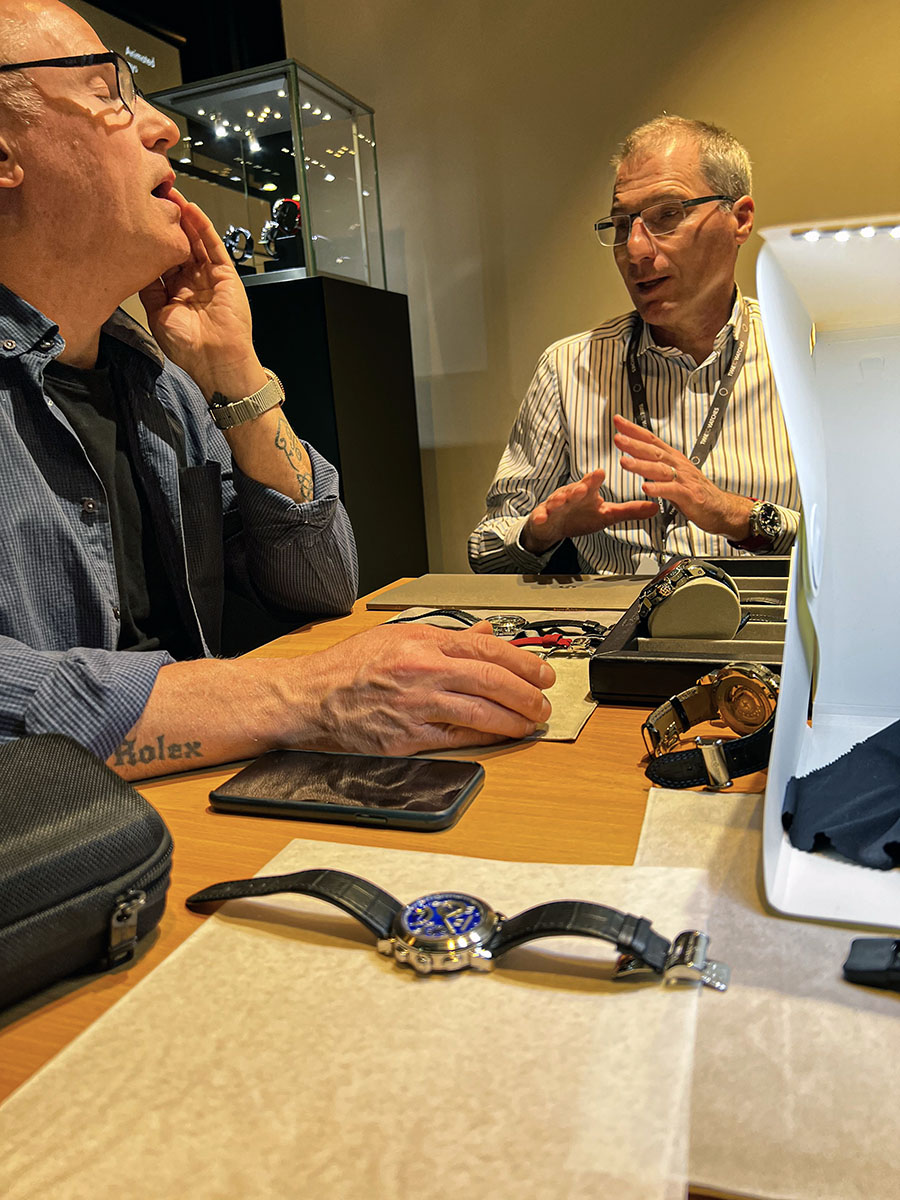 An odd creation with a second display you do not have much use for, 6 second hands that go one at a time and count 10 seconds.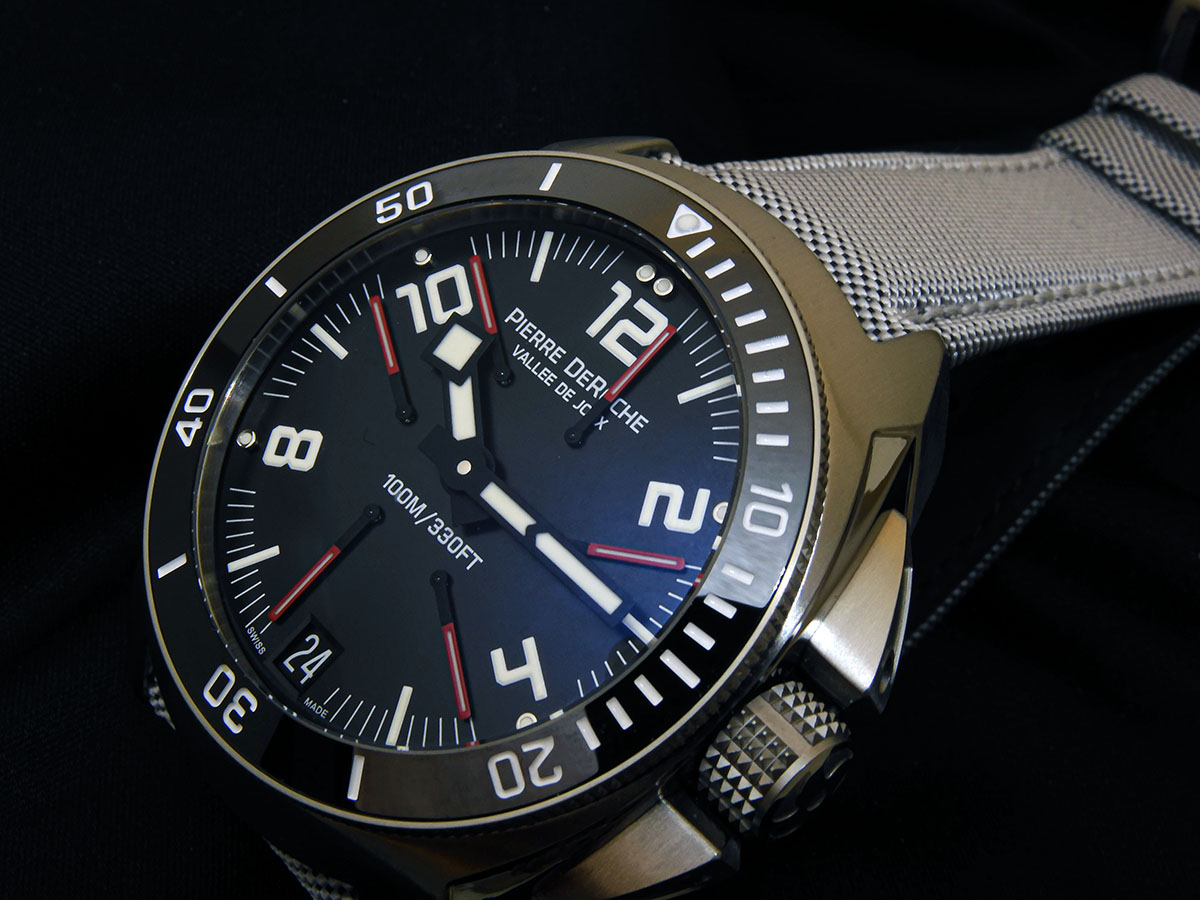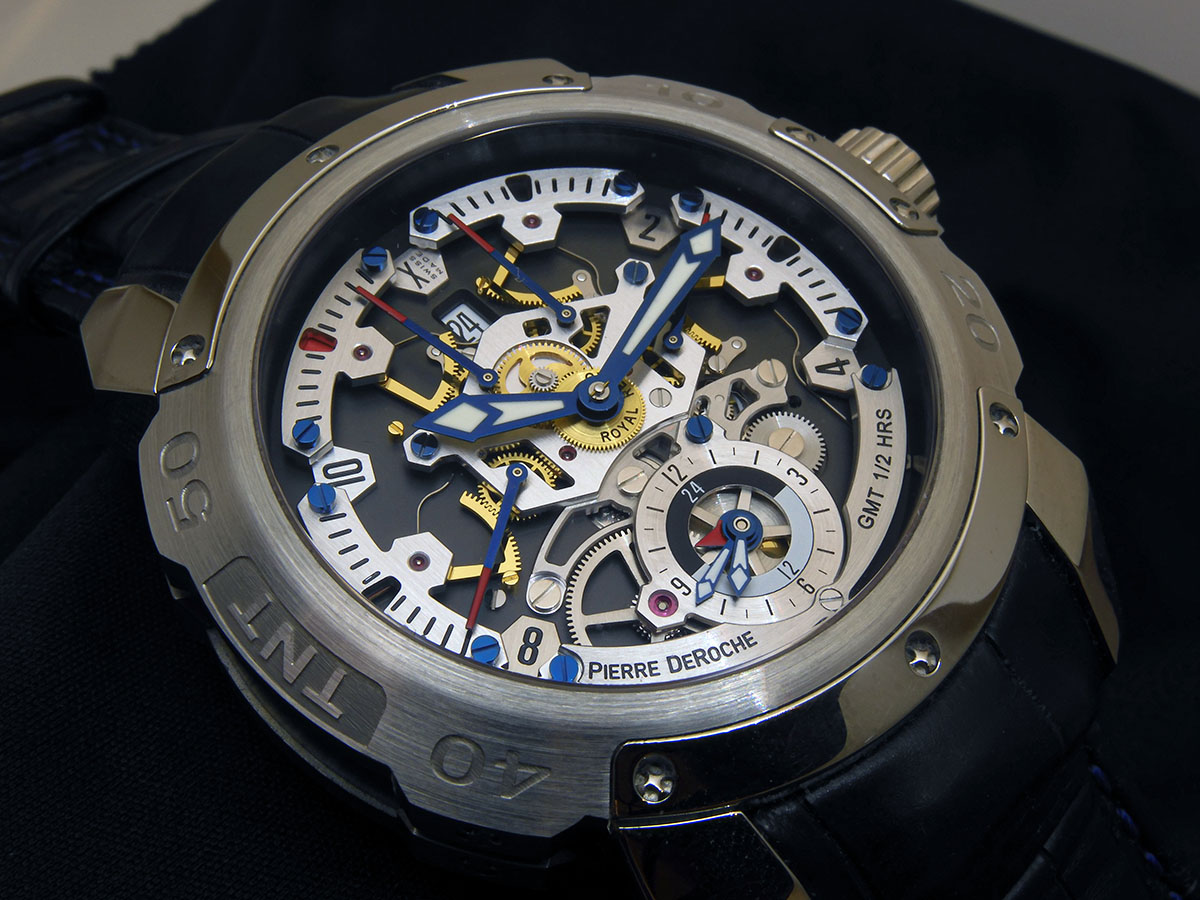 Now it is time for a beer.
A great concept, configure your watch yourself and get it home with a kit of tools & everything you need to put it together.
Delivered in parts but with the complete movement without dial & hands mounted. So you do not have to be a watchmaker to get it together.
There is also an instruction video so you can get help if there are problems during assembly.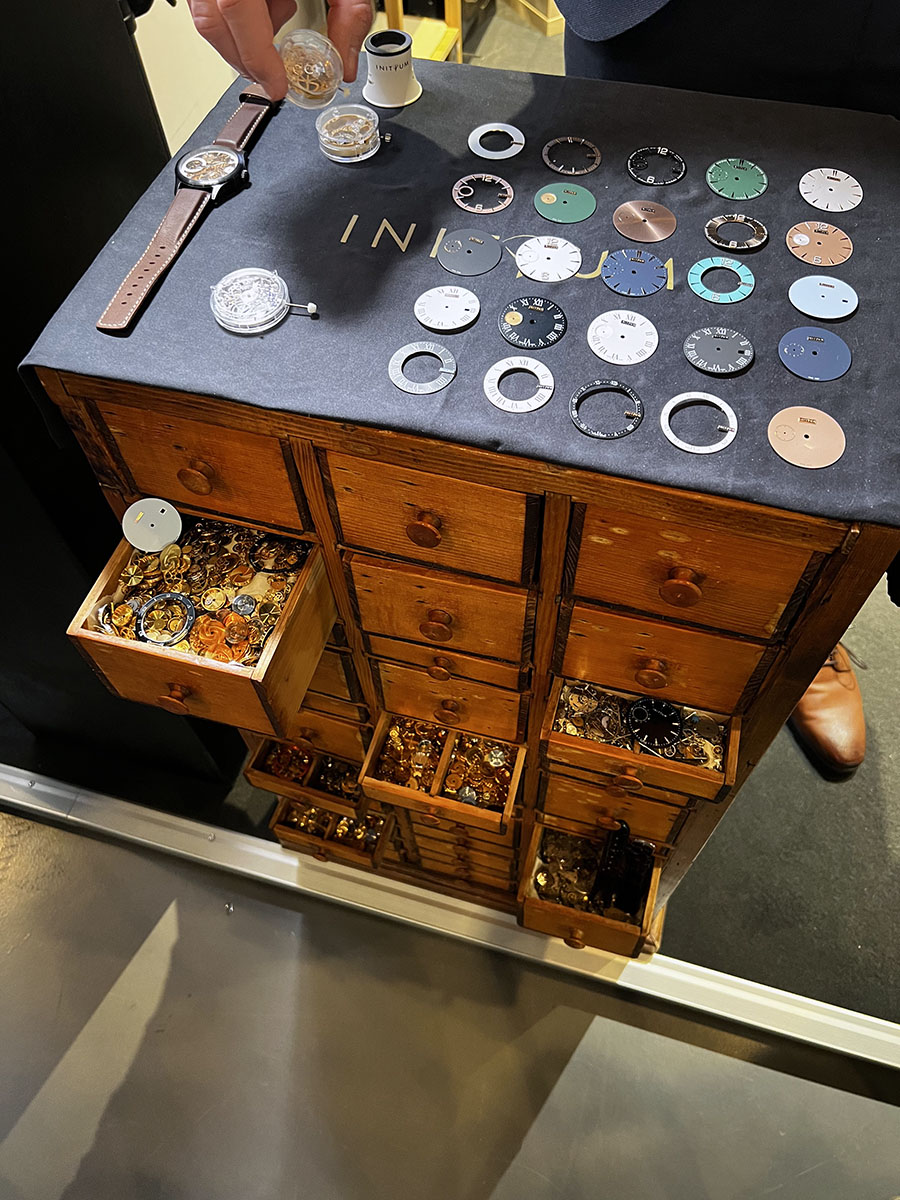 Le Rhöne, a Geneva based manufacturer.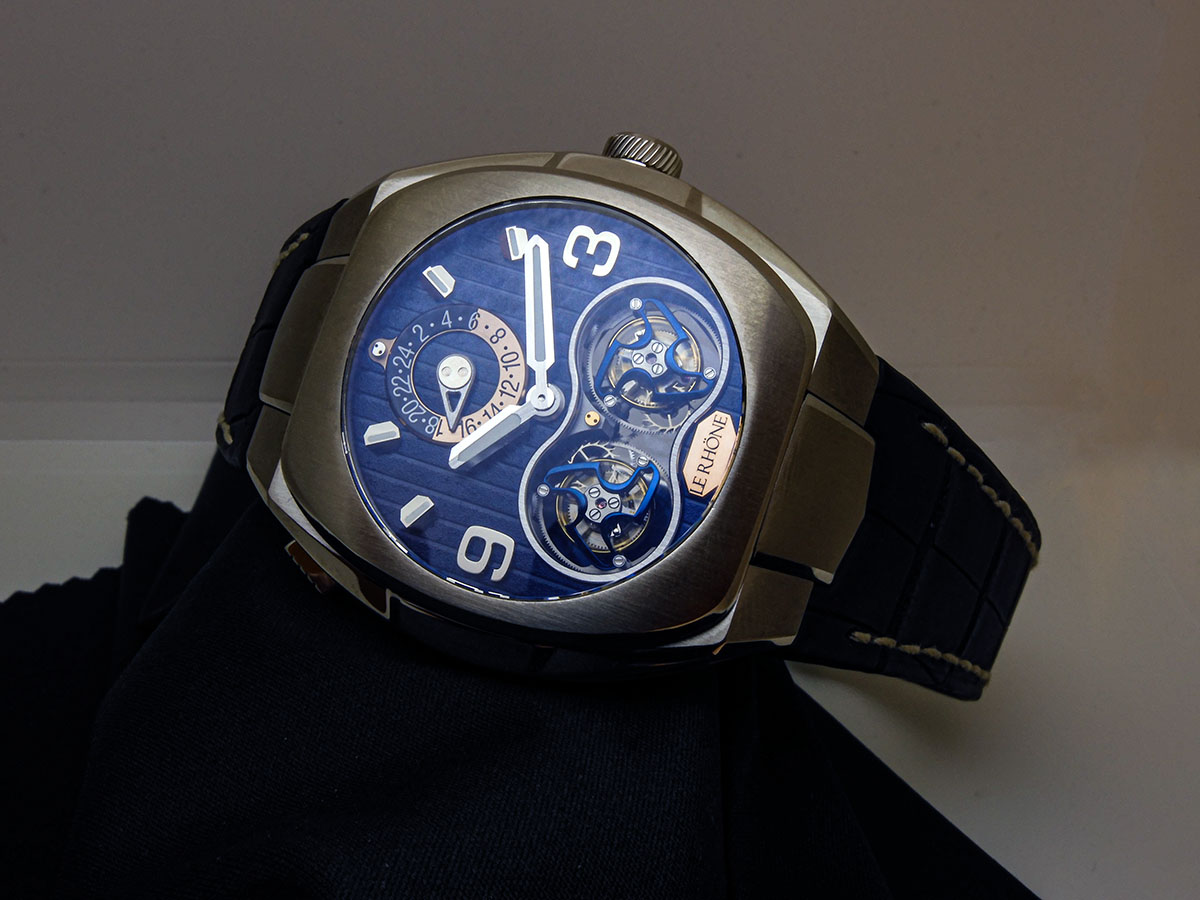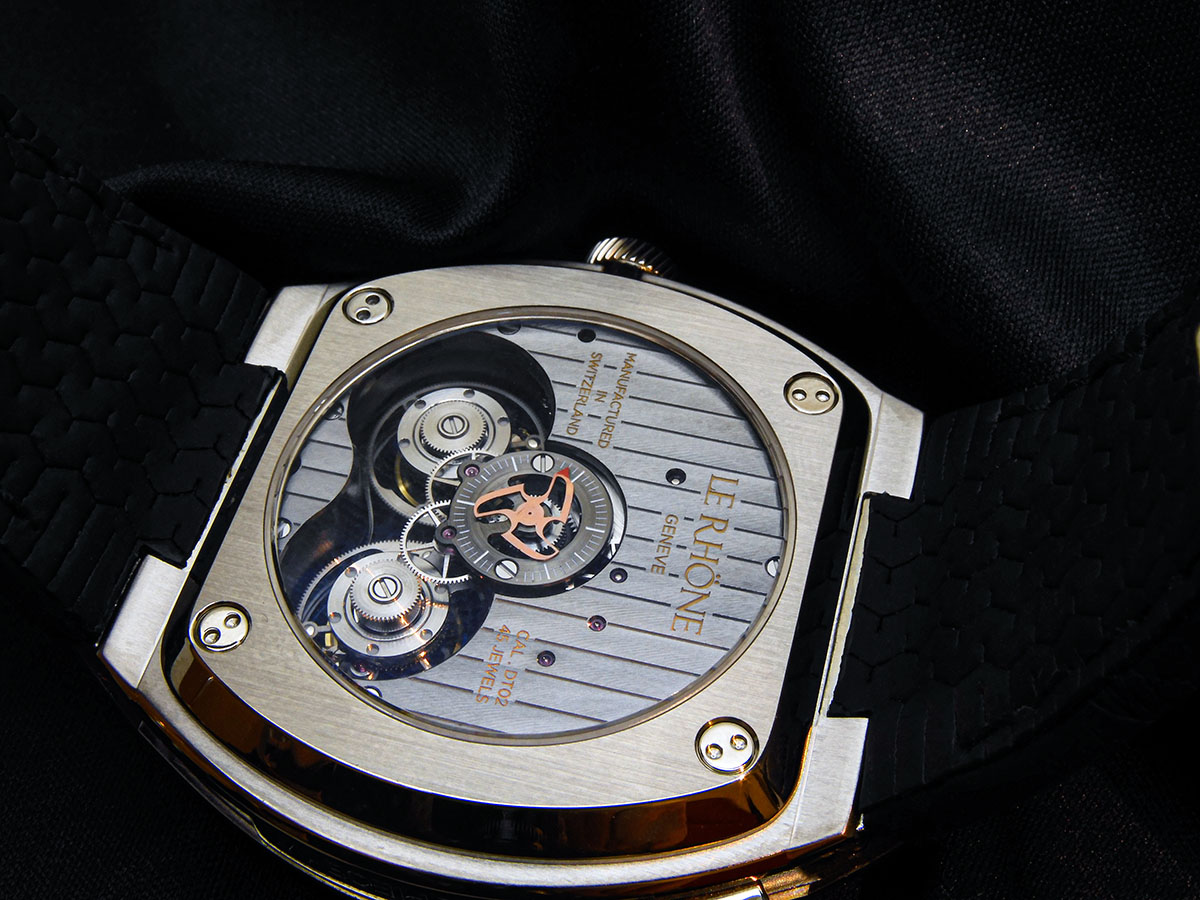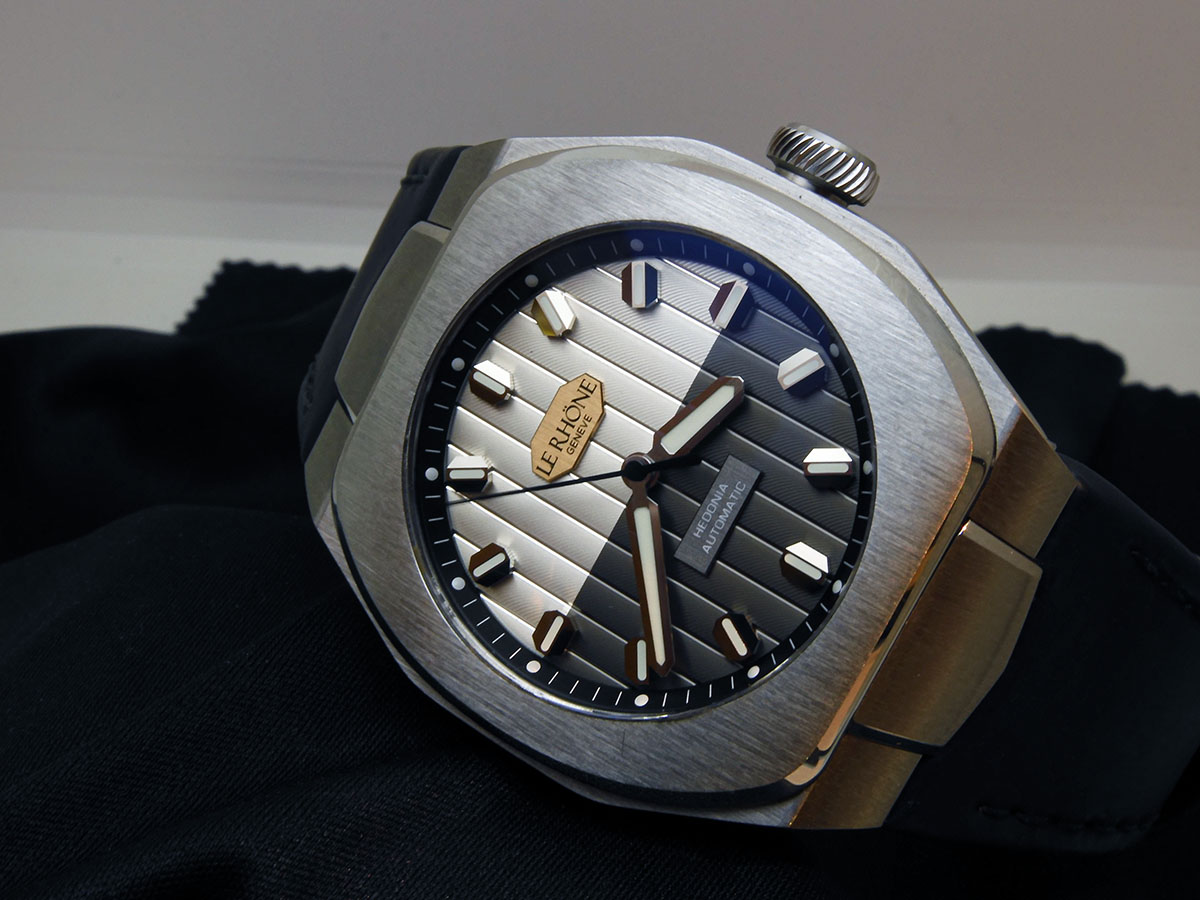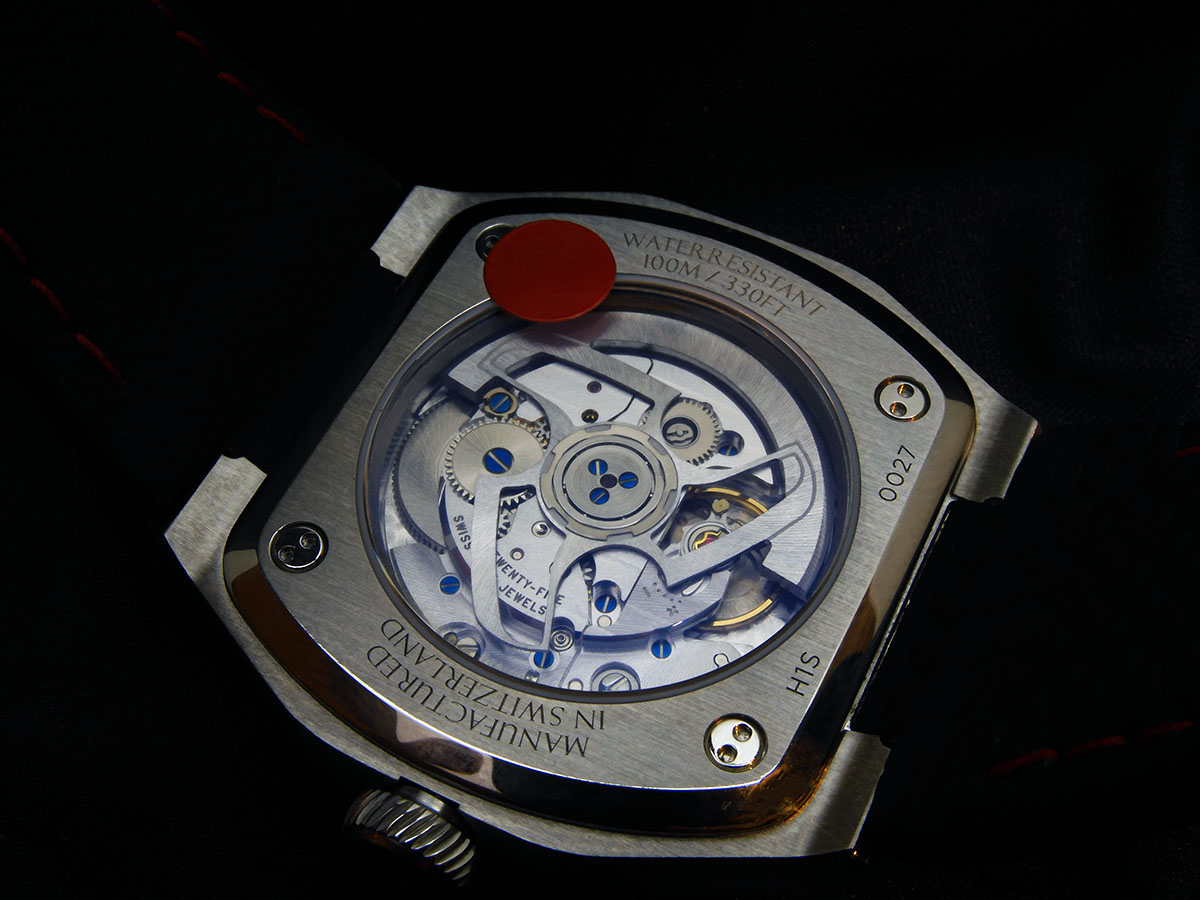 I was asked if they could use my face in the men's toilet as this was not clear enough.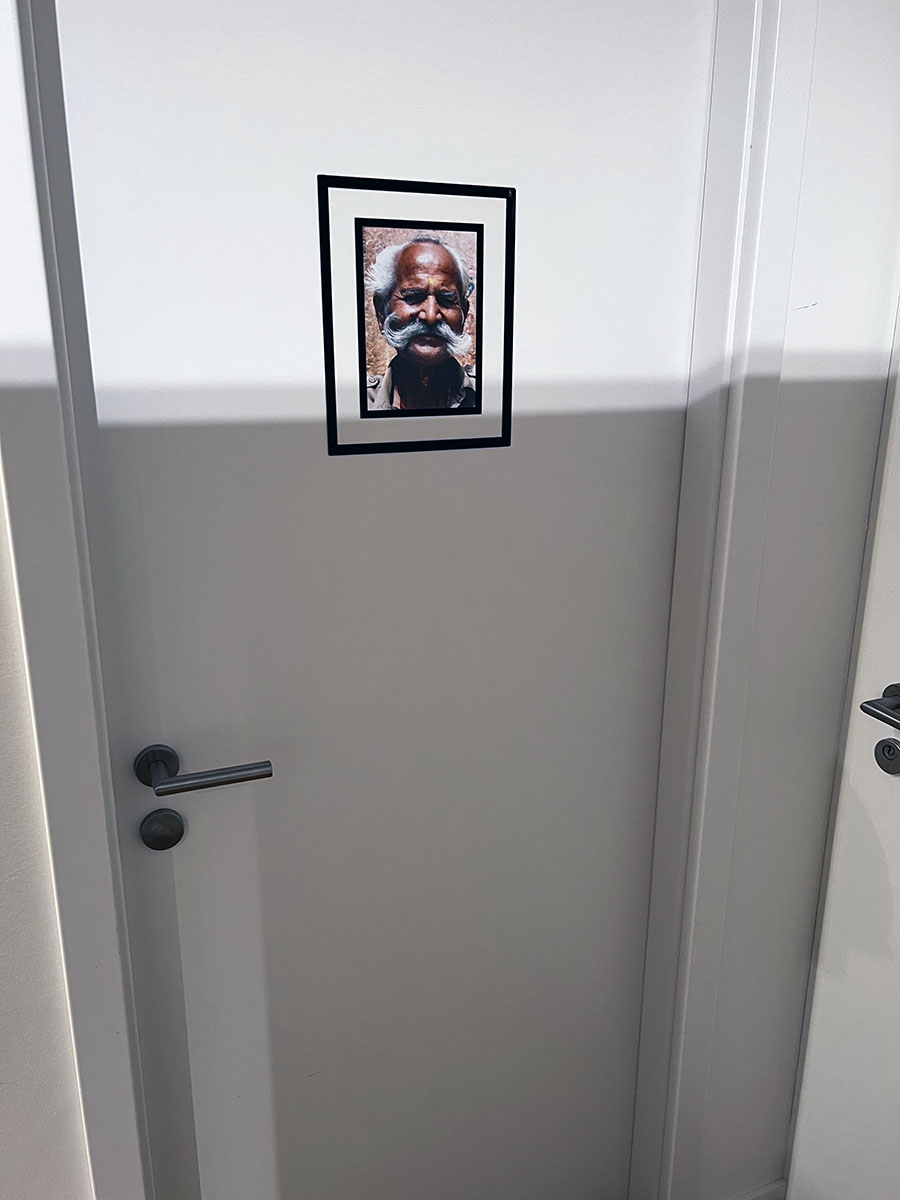 In Switzerland we sit down and pee.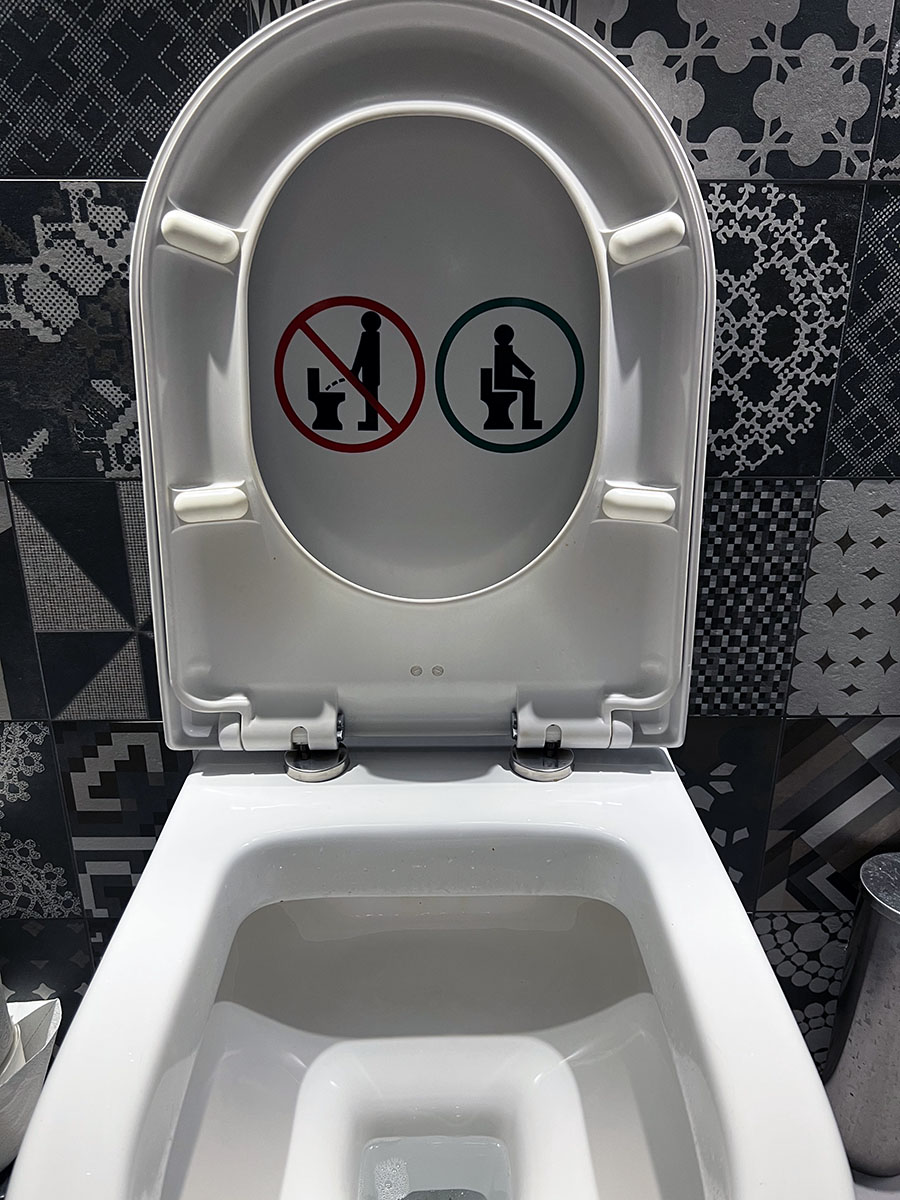 Louis Erard has a lot in his range.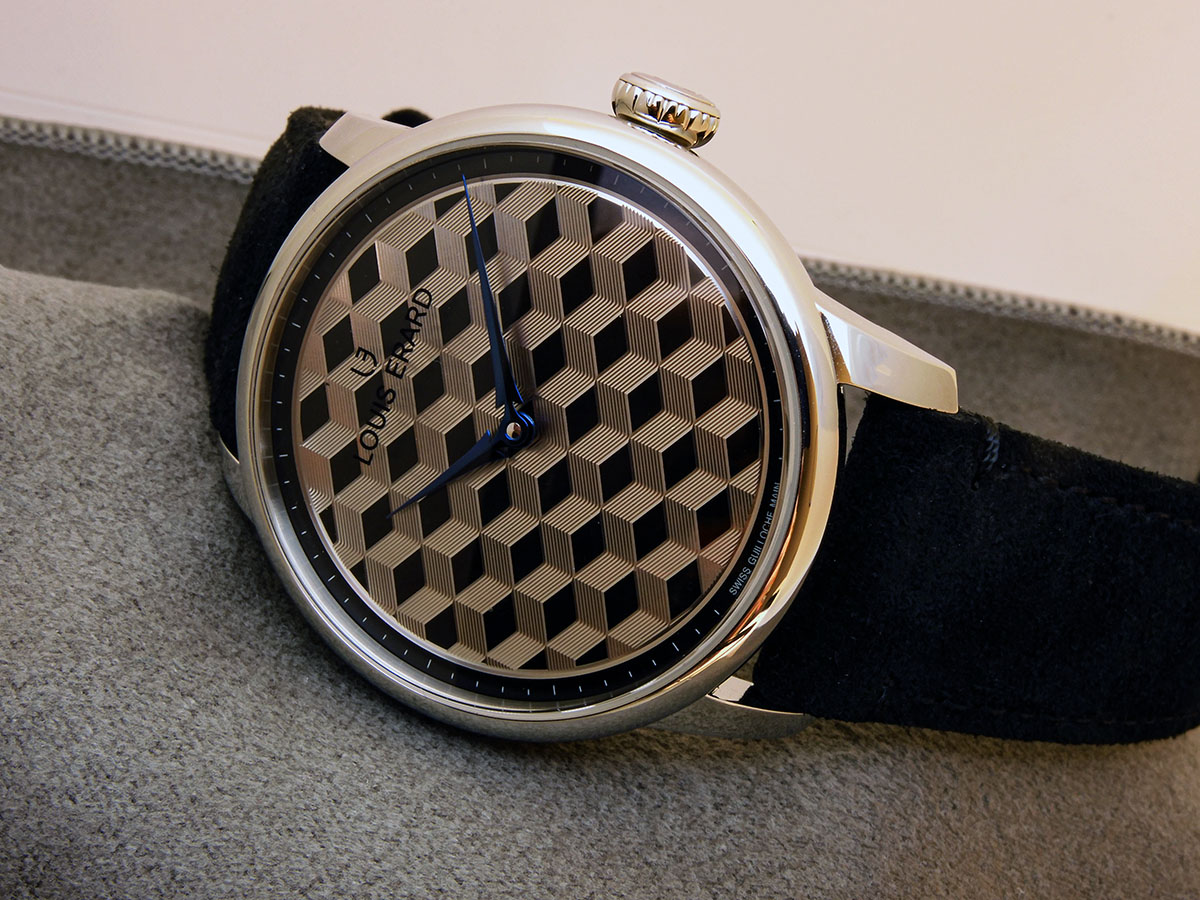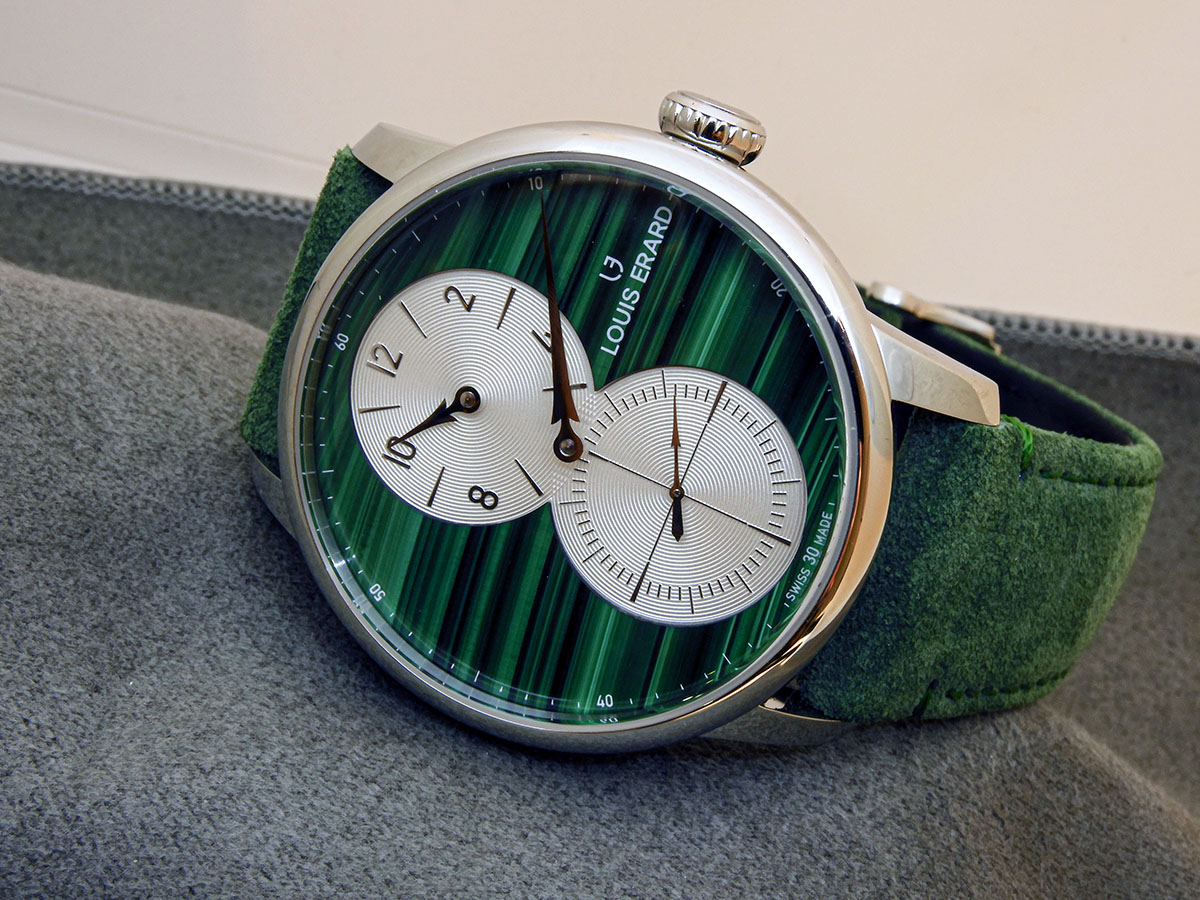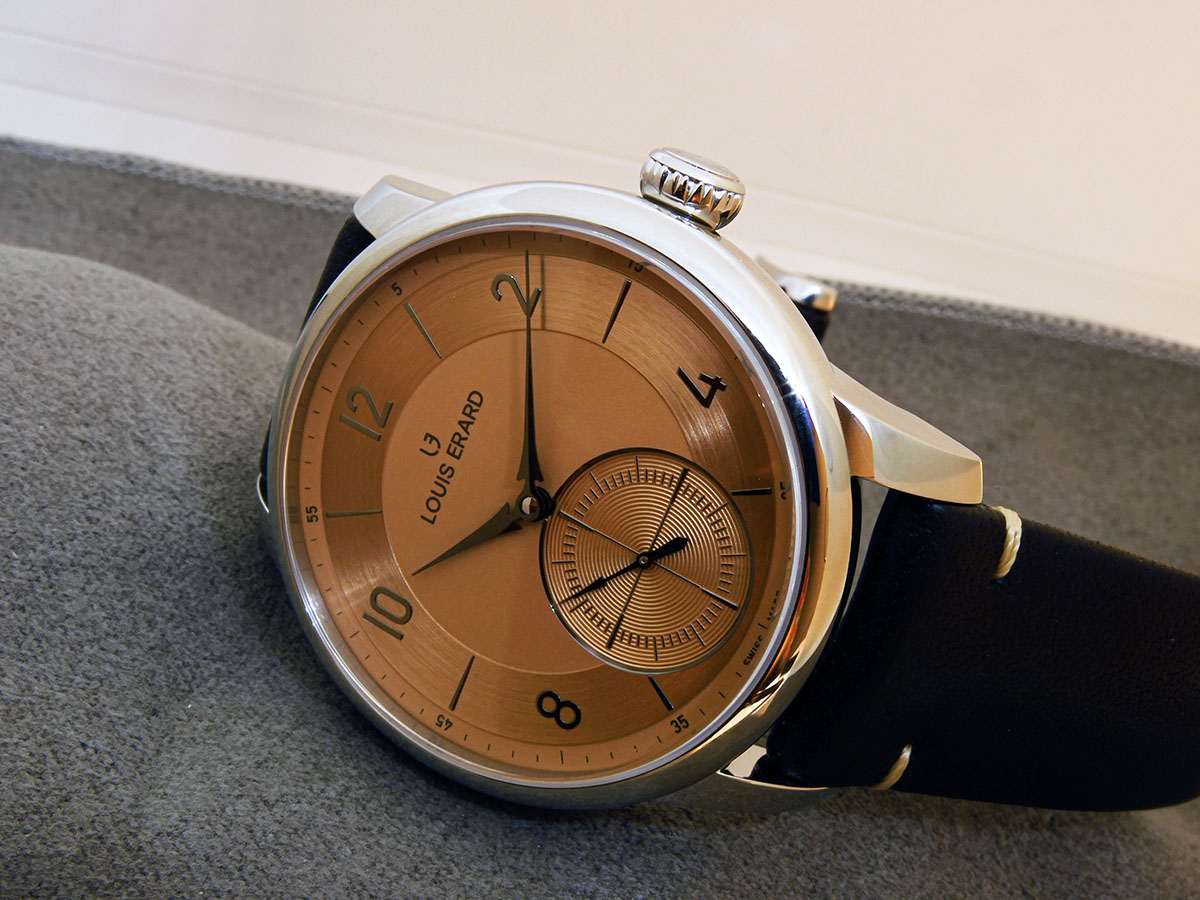 Another new brand for me is Charles Girardier.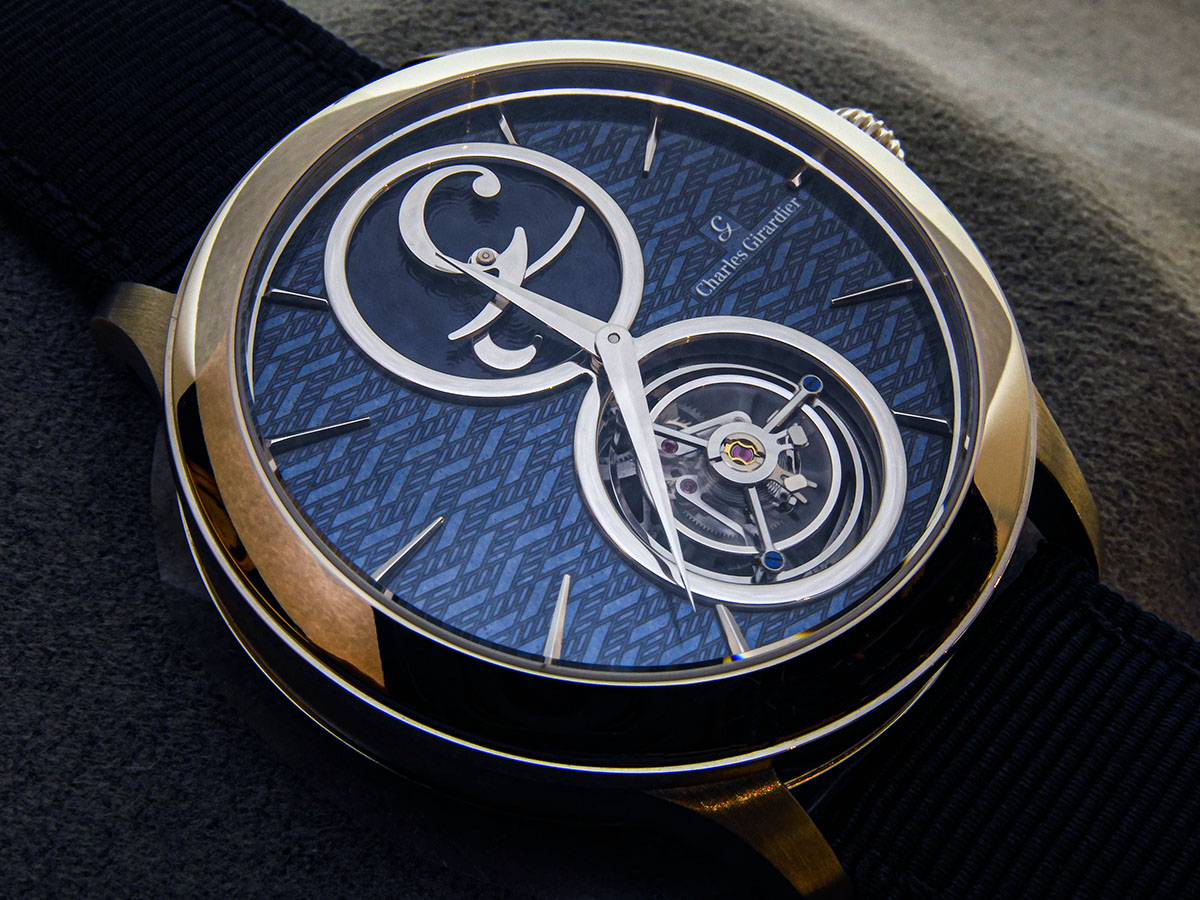 Pequignet didn't I know either.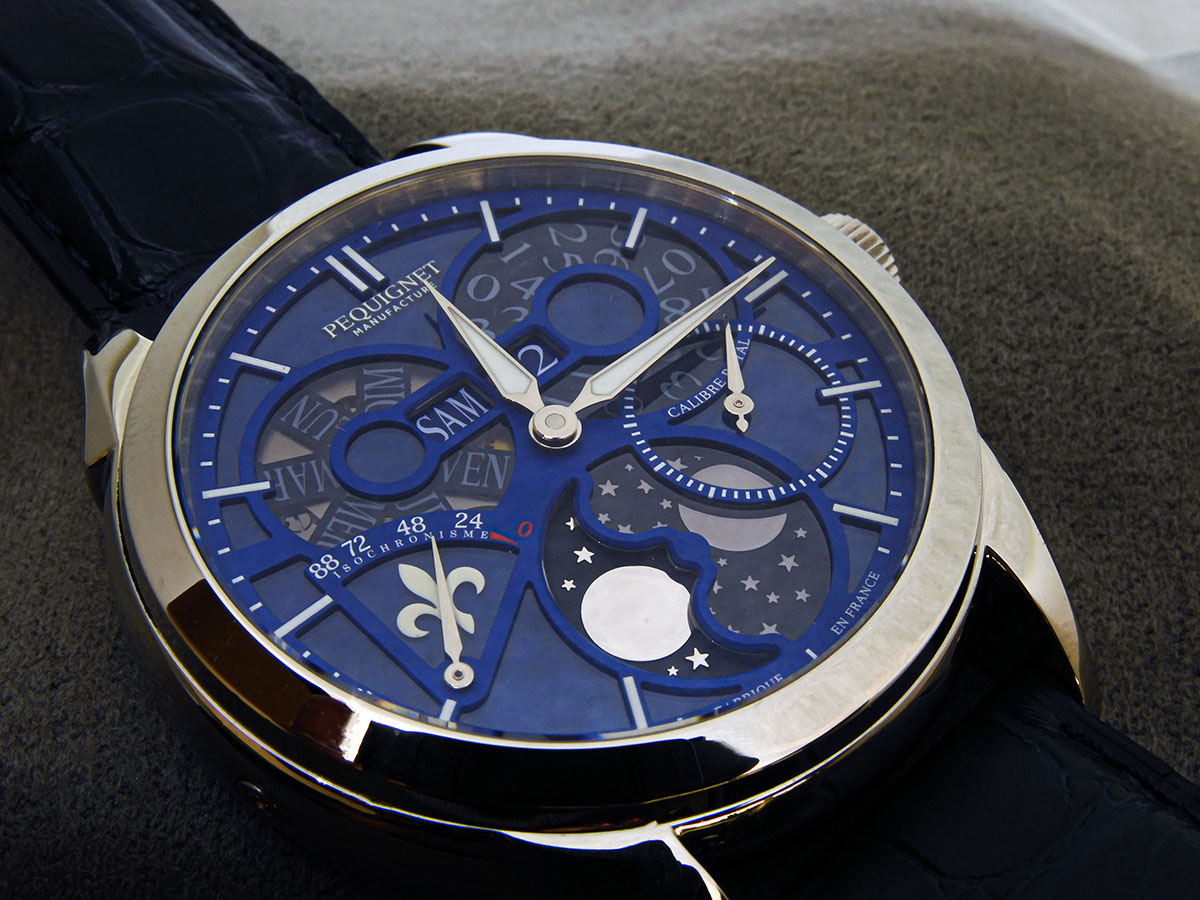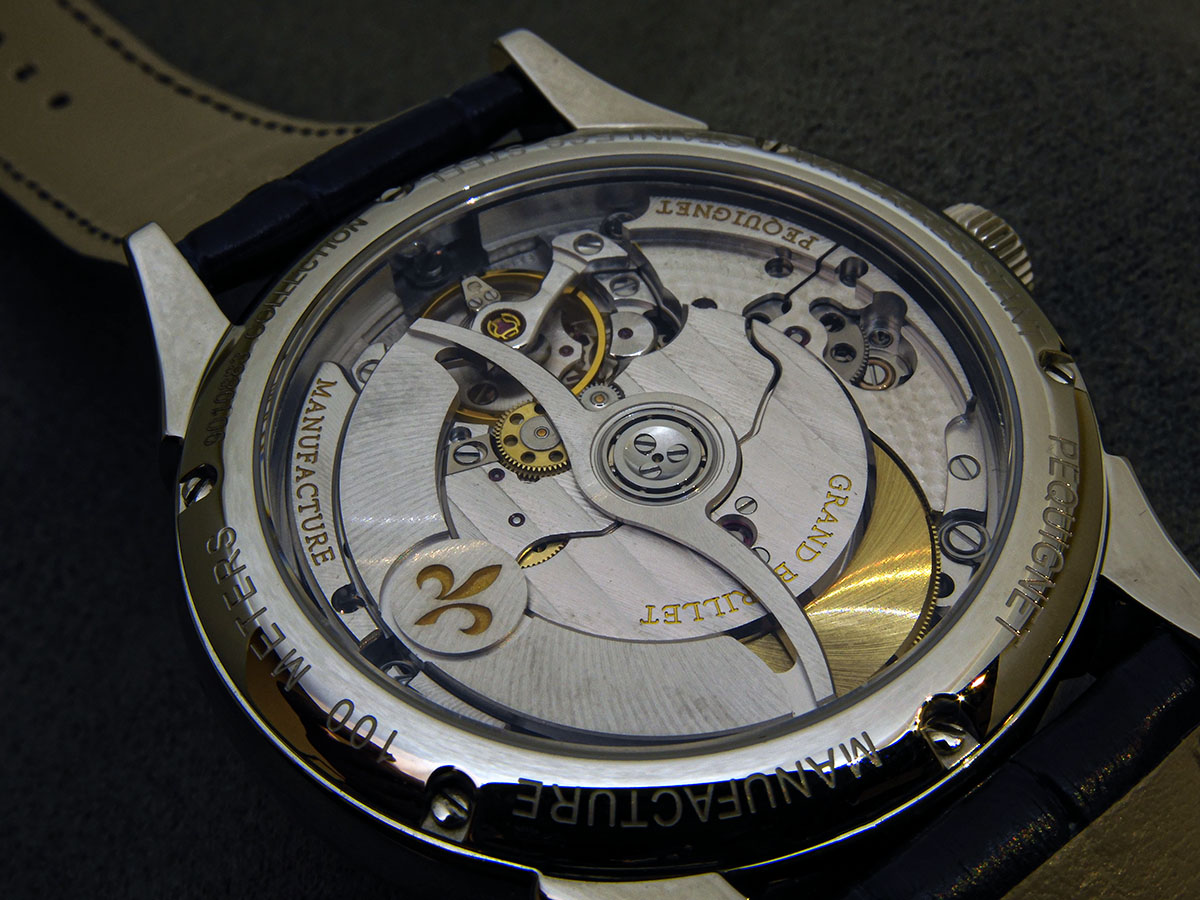 It's extra fun with some things you have not seen before.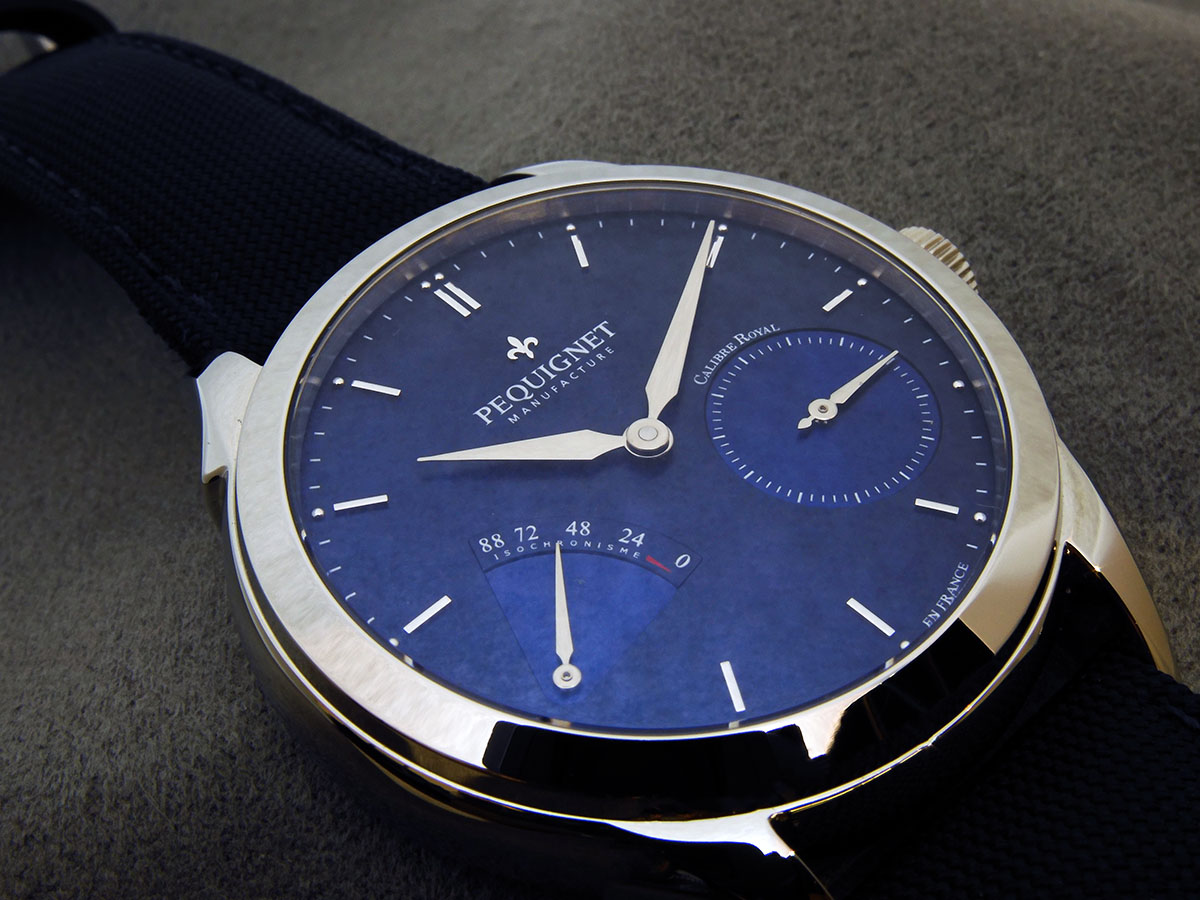 Doxa went on the white track this year with proven models.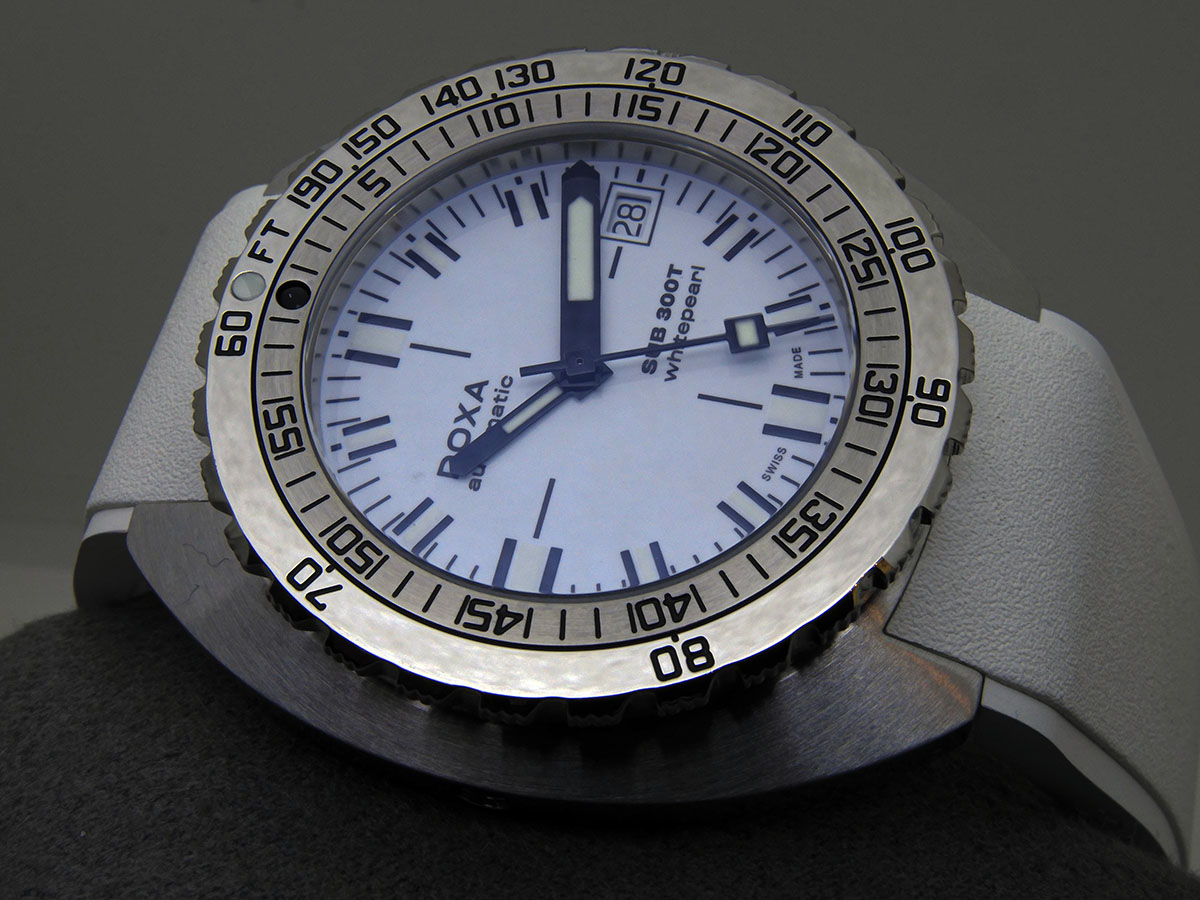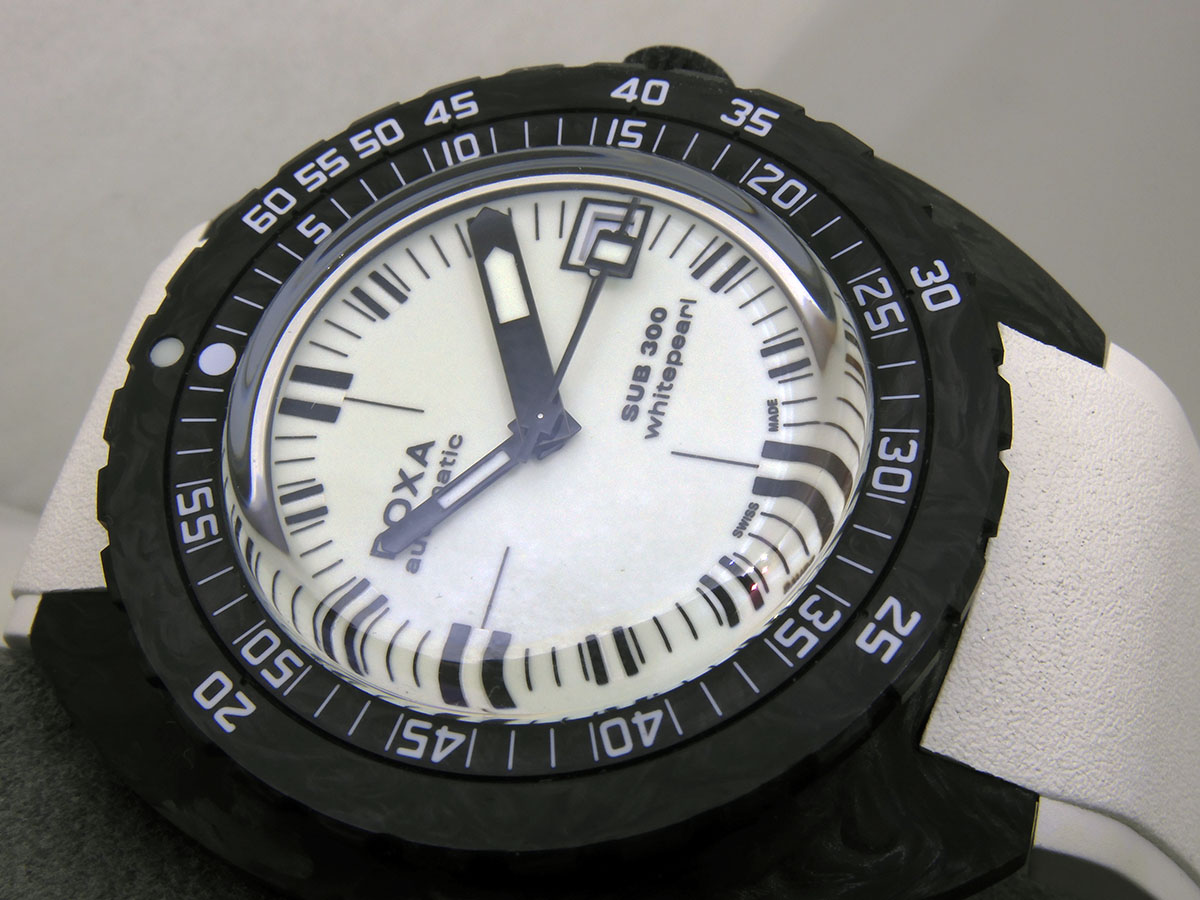 Luminova dial glowing nice.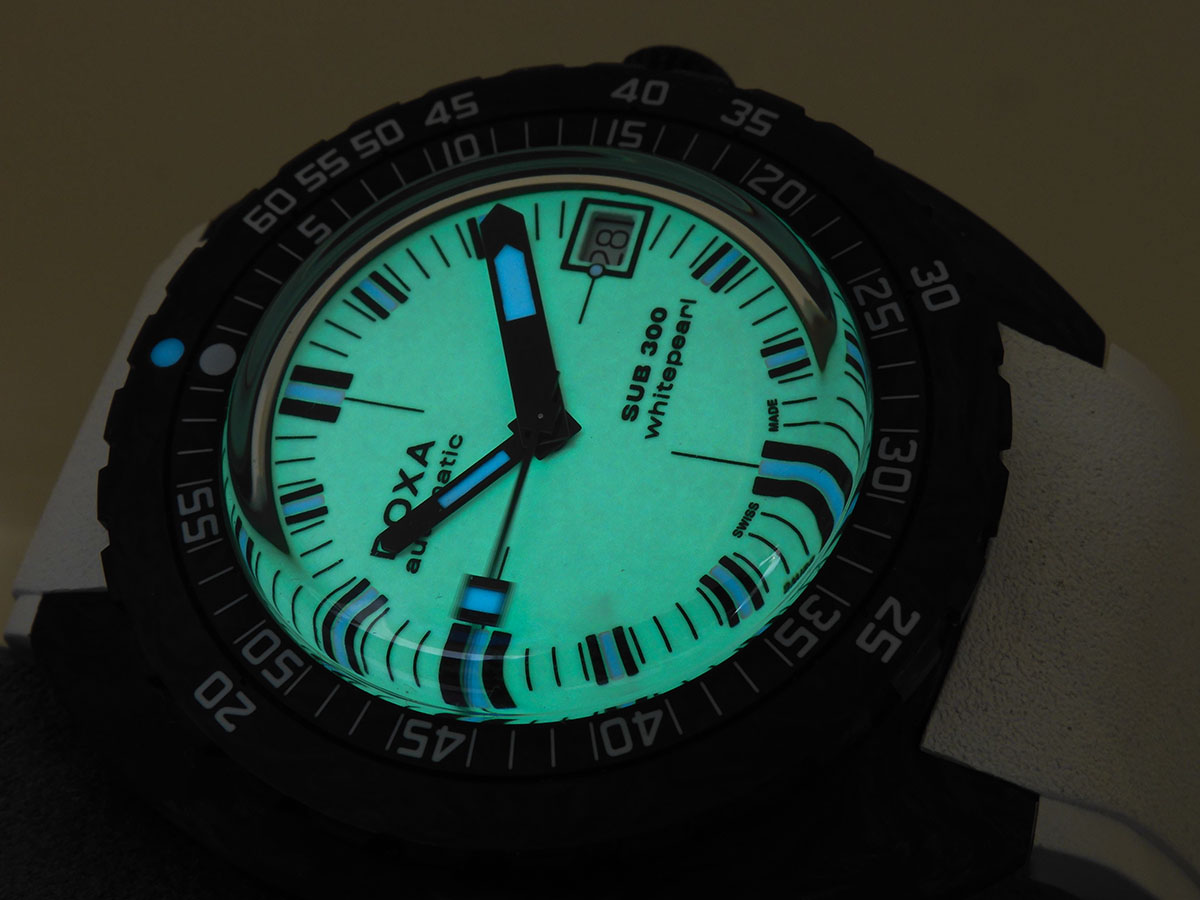 Then we found an interesting guy who with his Behrens watches has some odd solutions.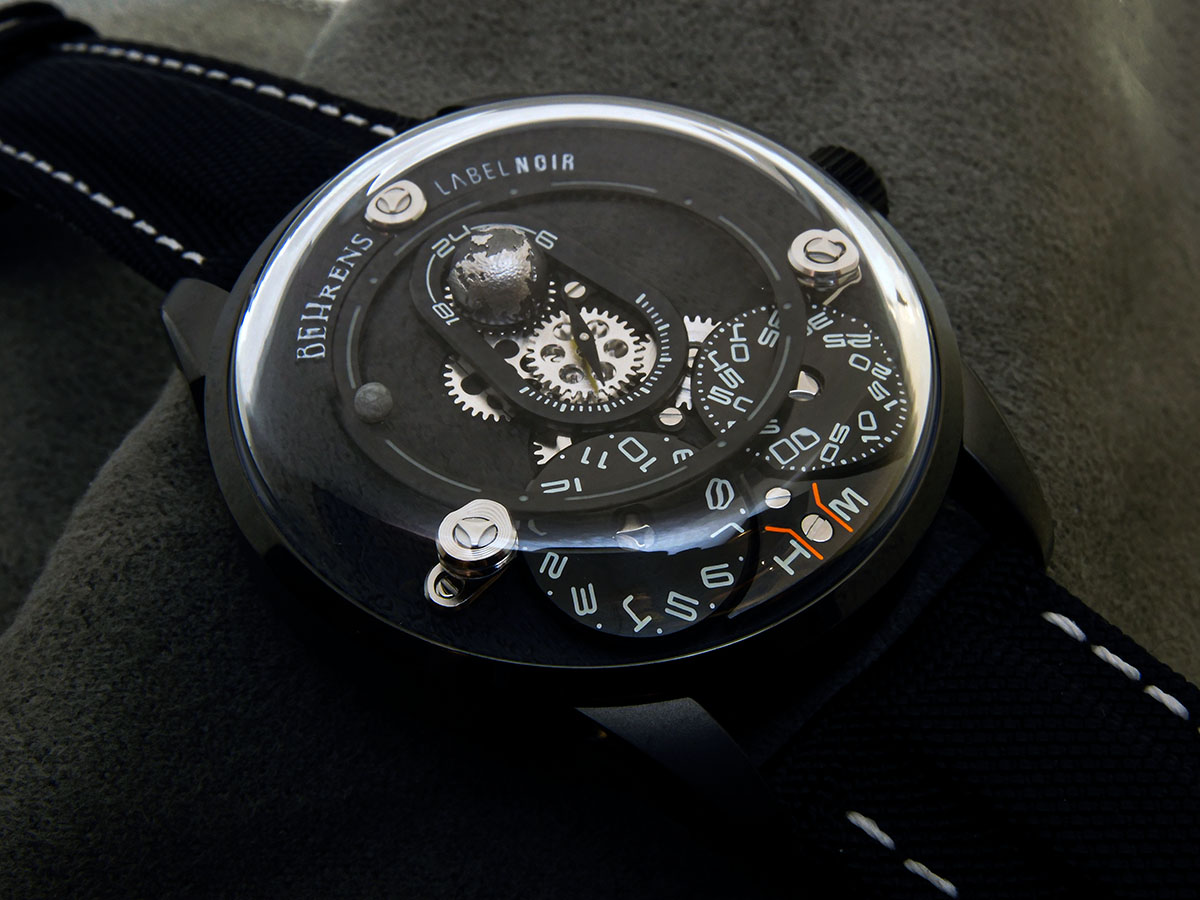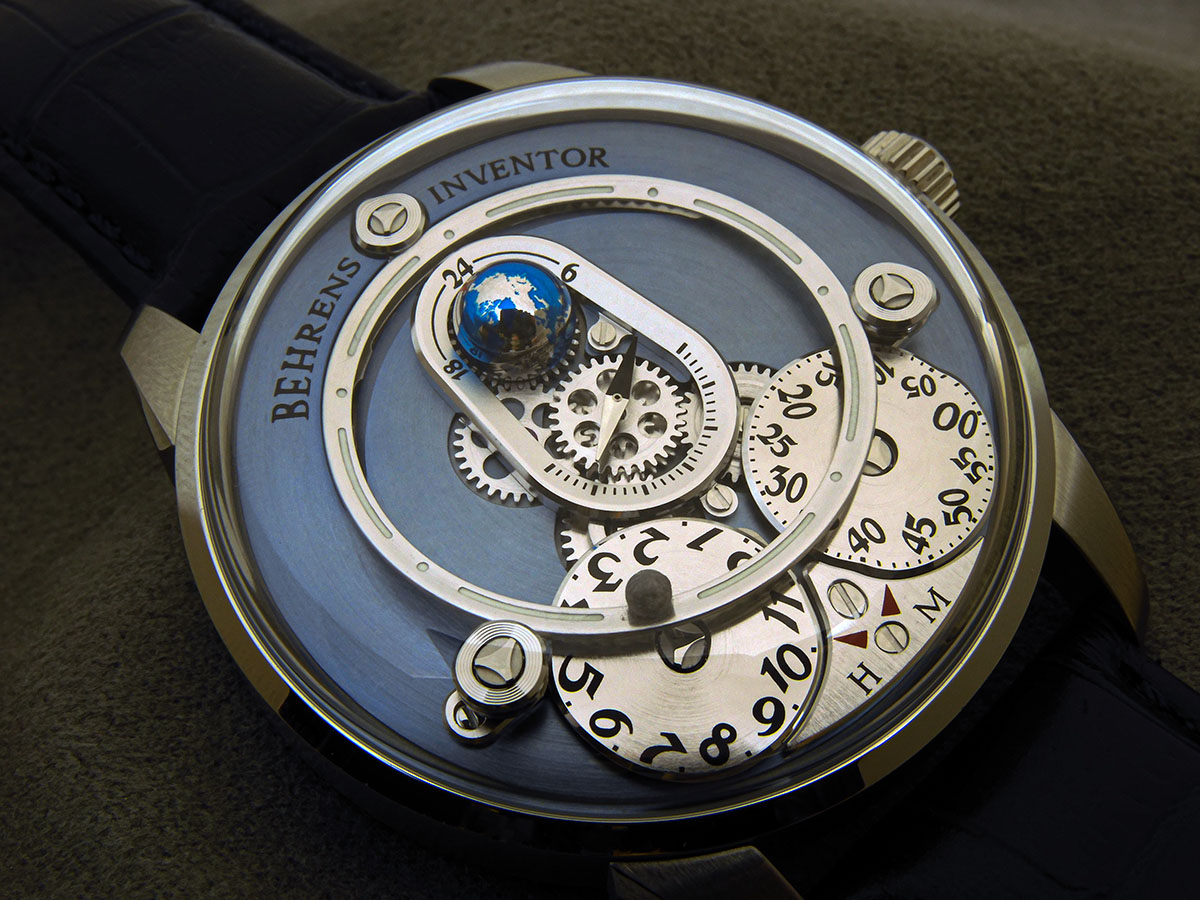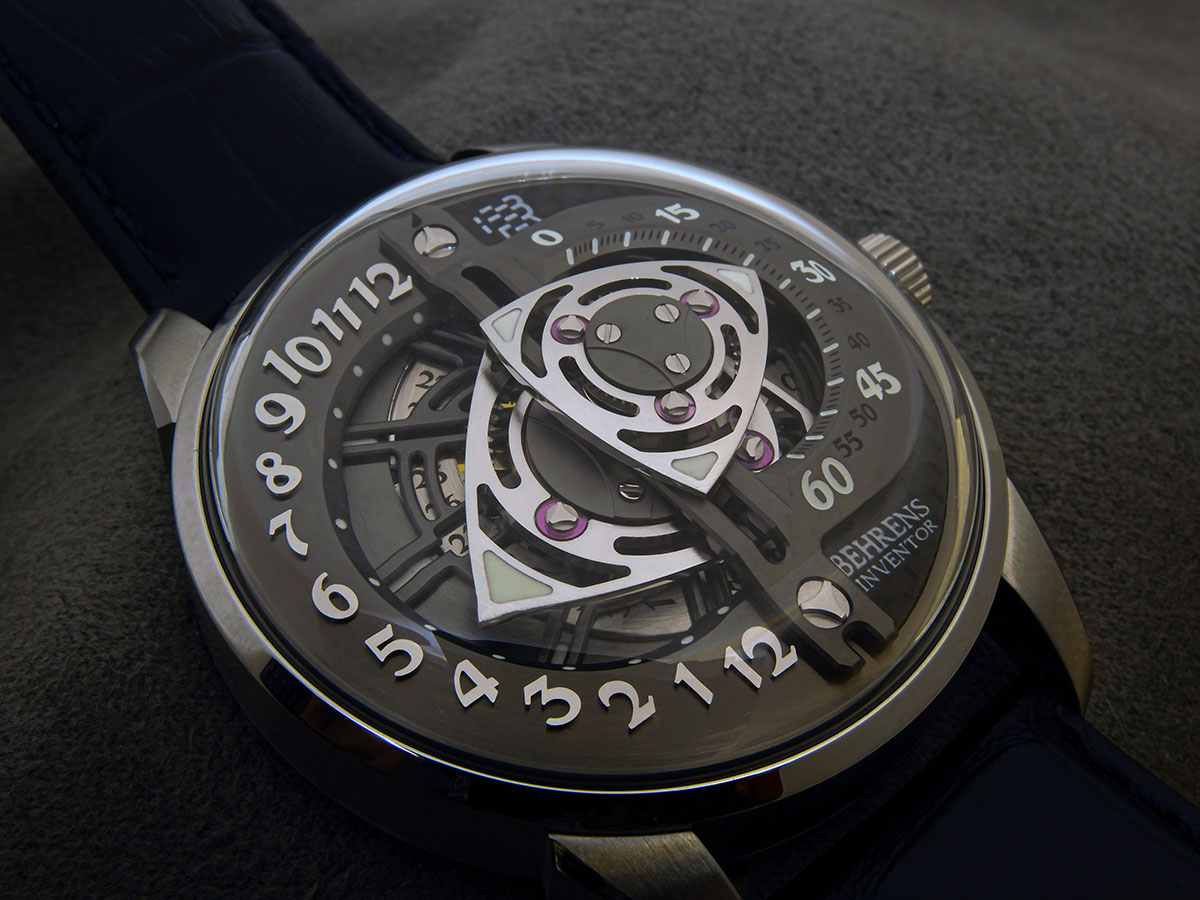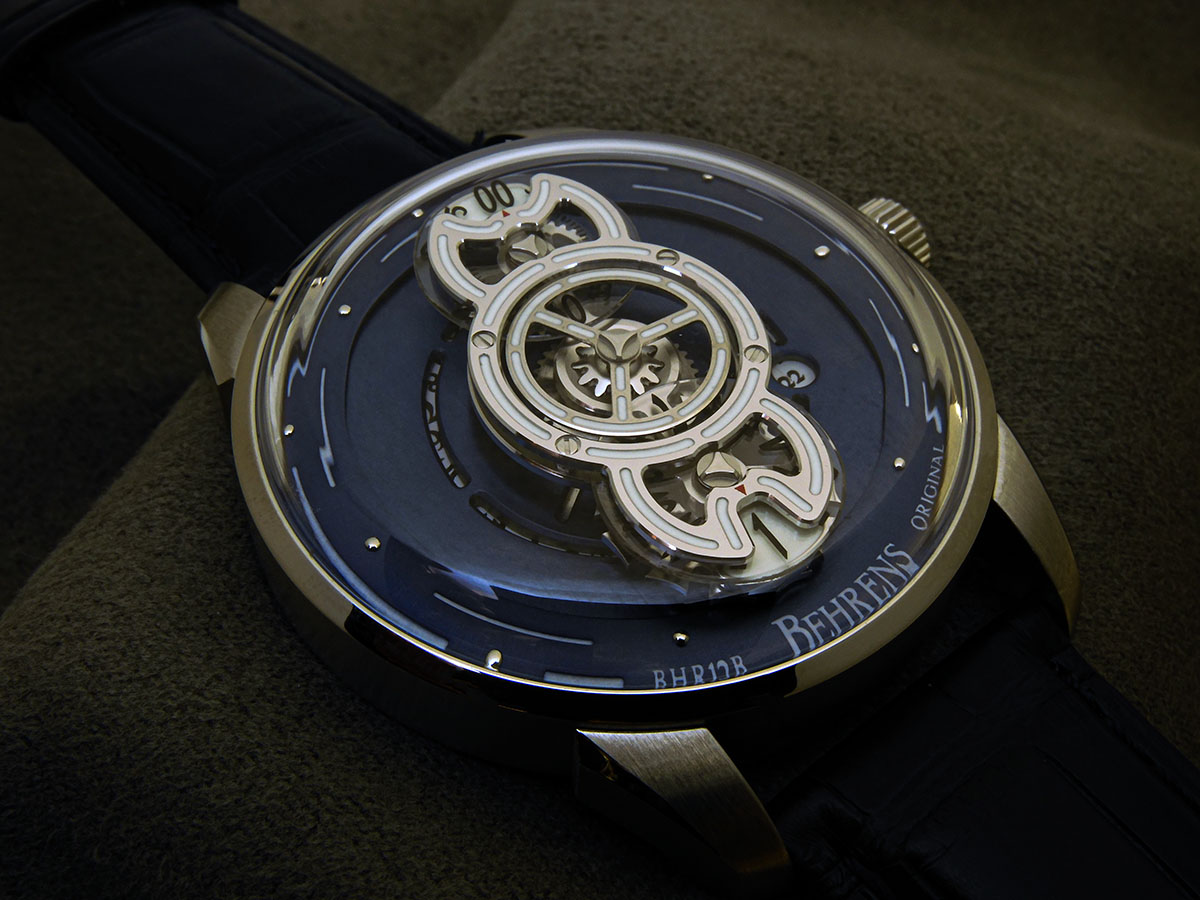 Glowing nice in the dark.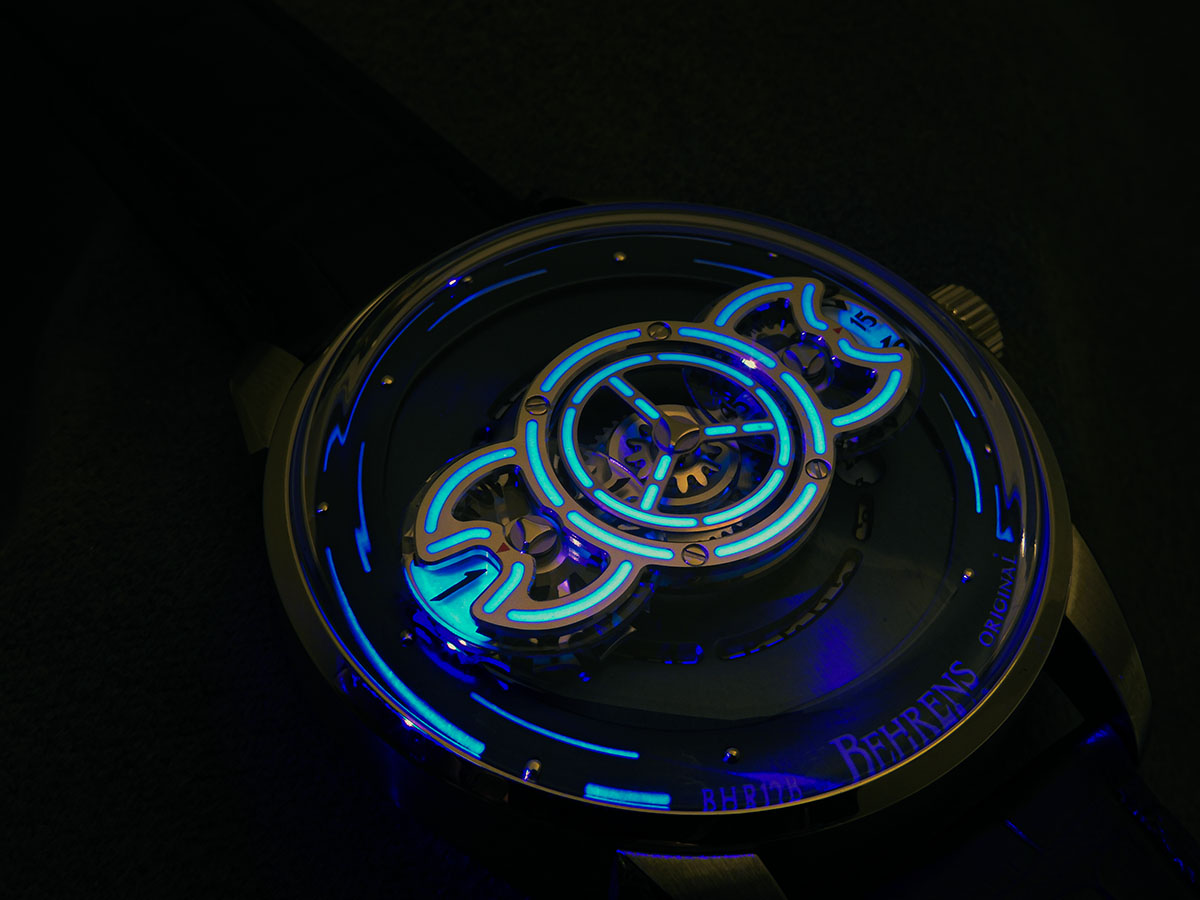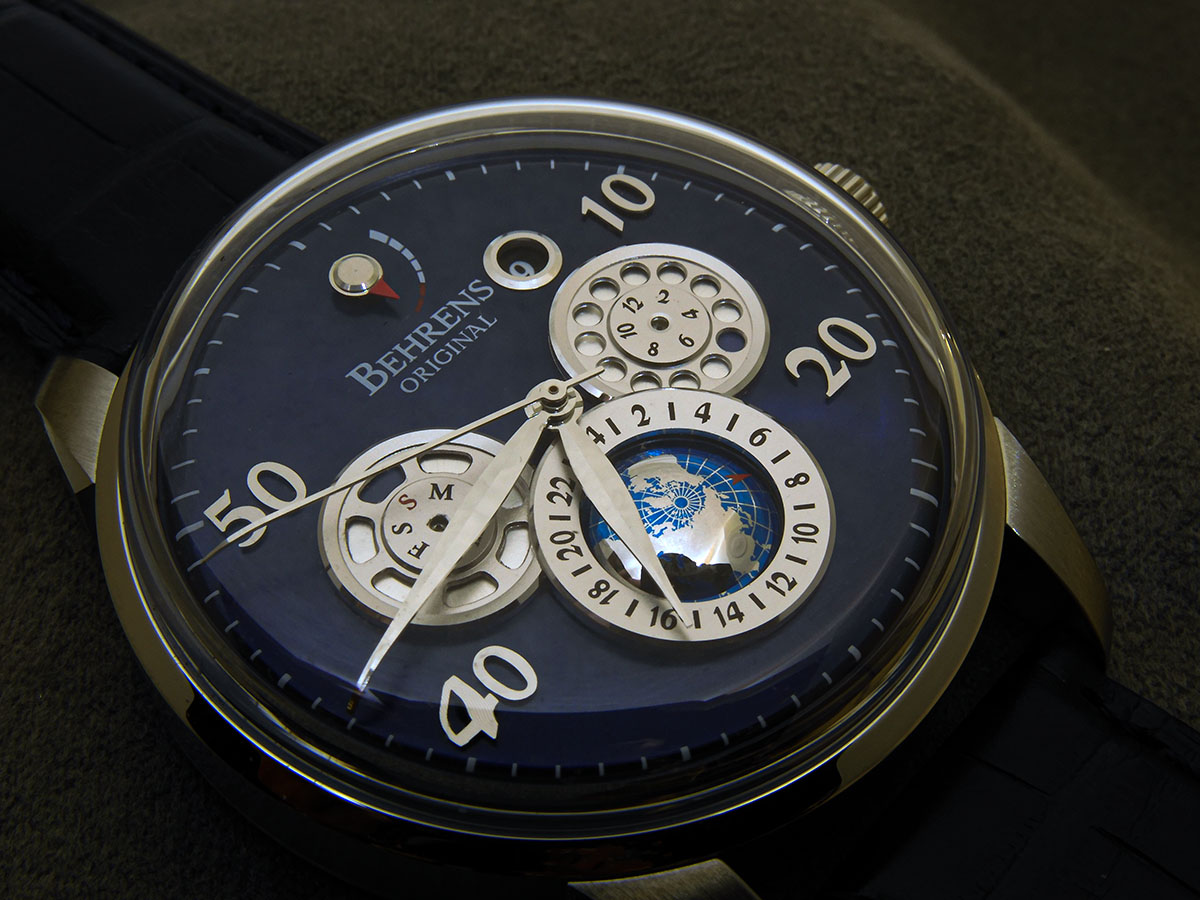 This is a watch that you have a little fun with but that has been made just because he can.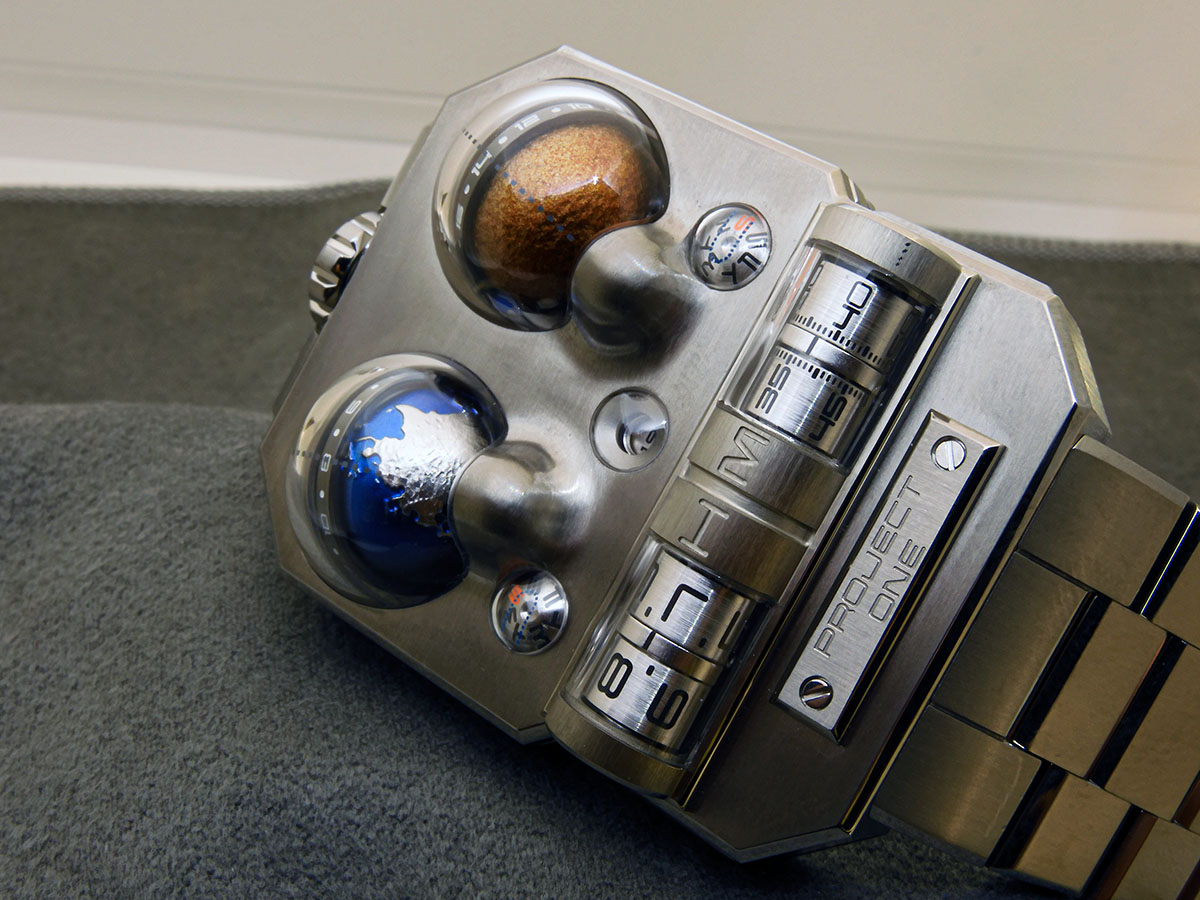 It shows the time on Earth and on Mars. The day on Mars is 37 or 39 minutes longer depending on the time count you use.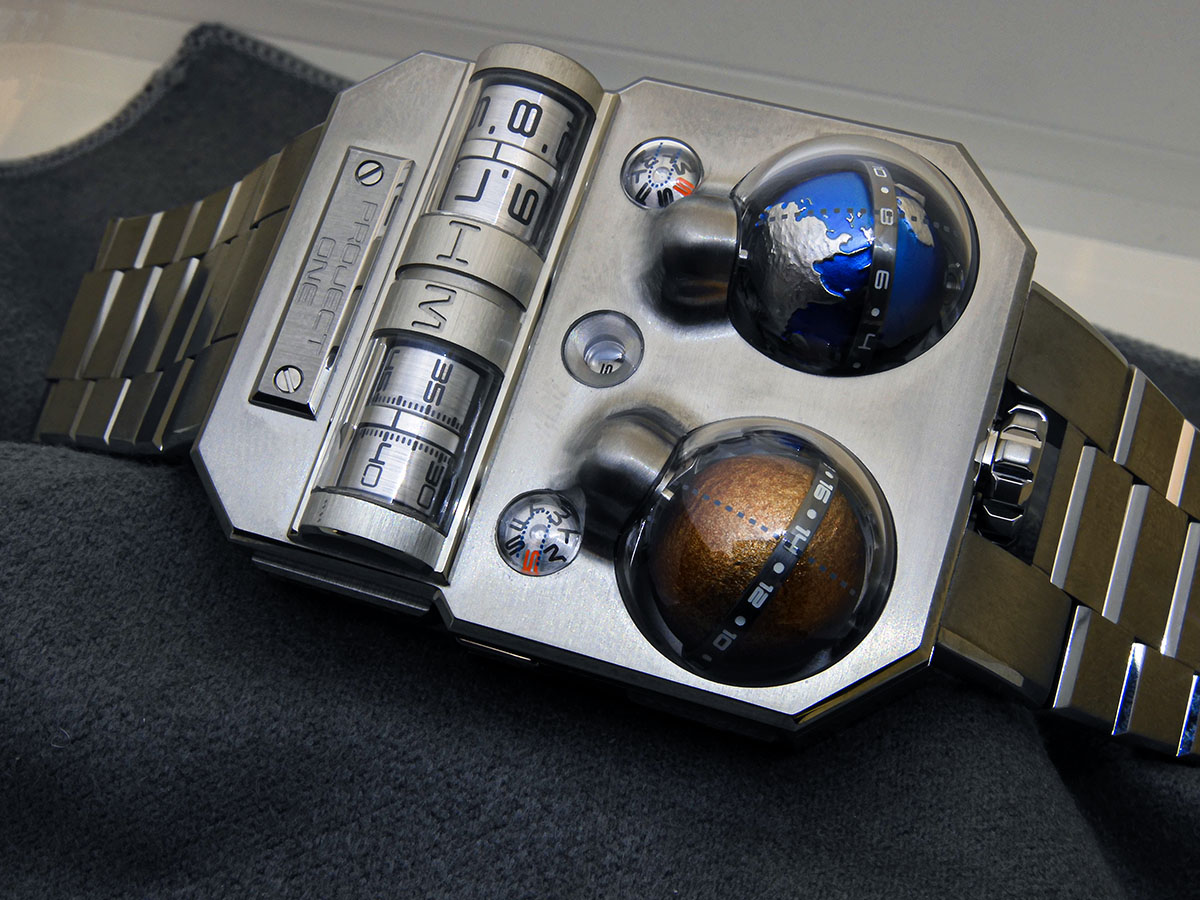 Schwarz Etienne is one of my favourites.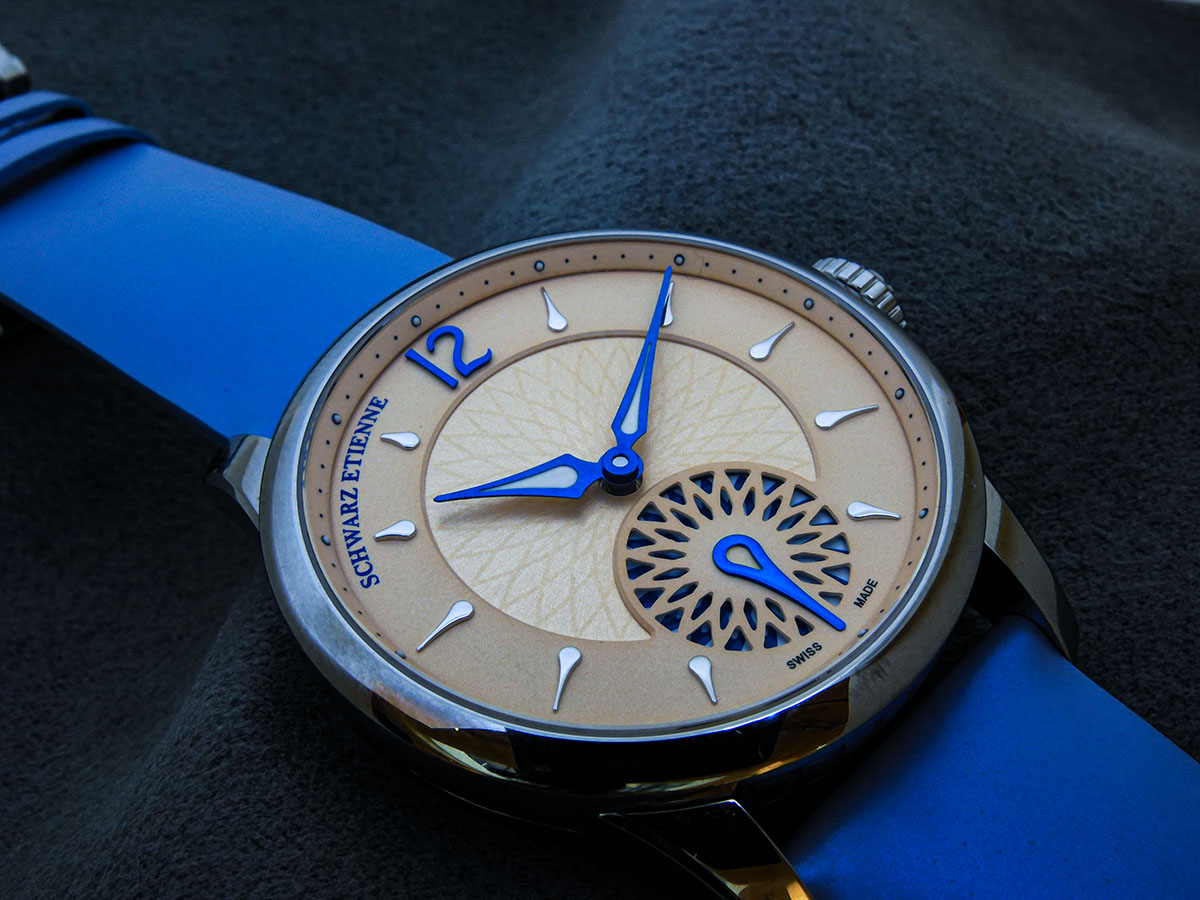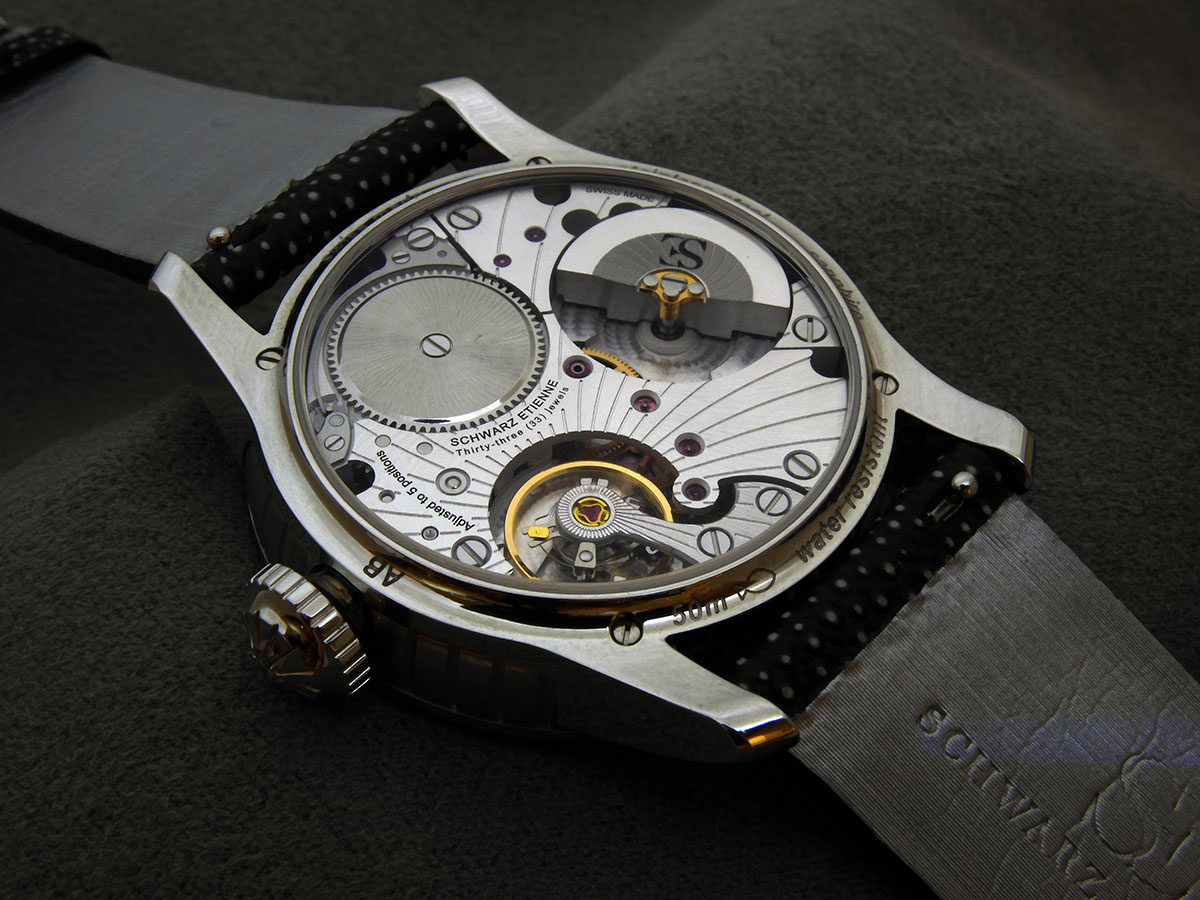 They are proud of a lot of in-house works.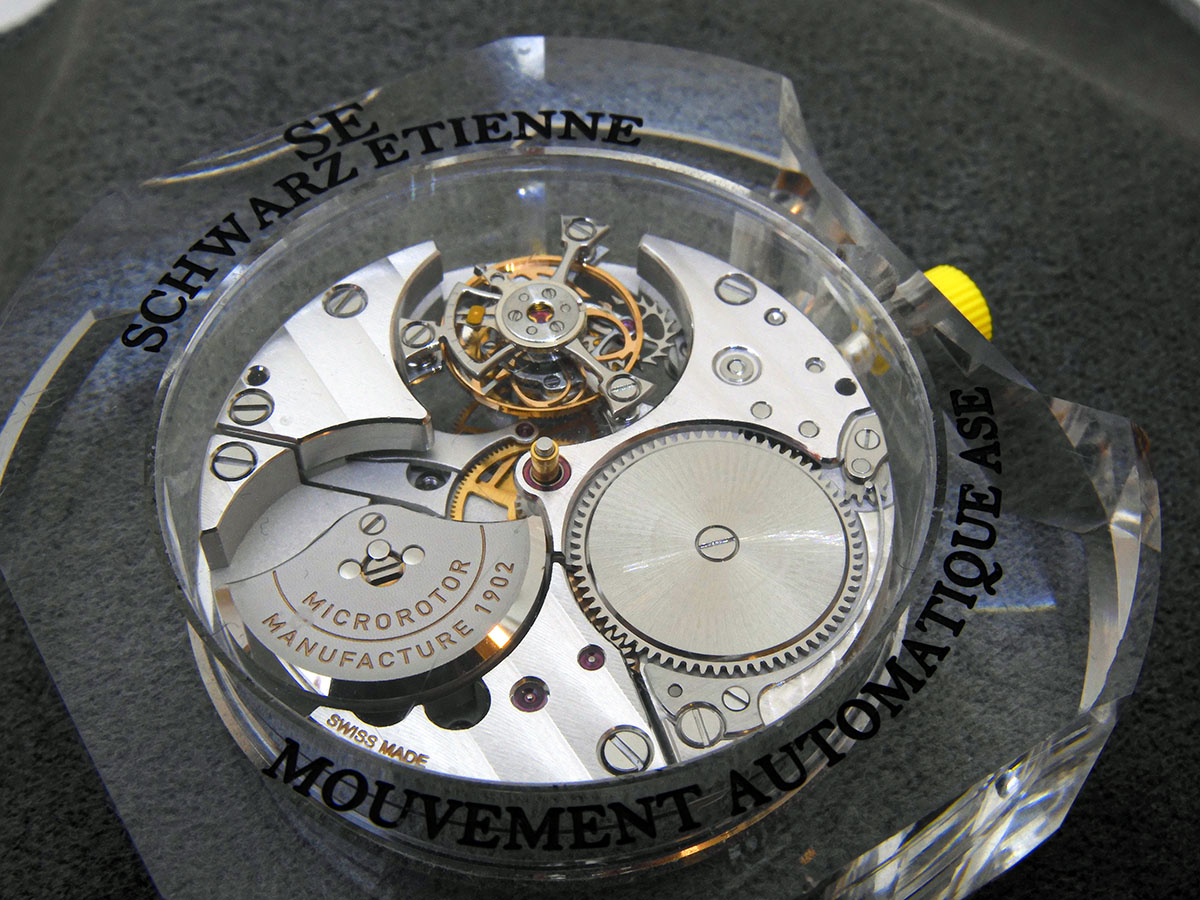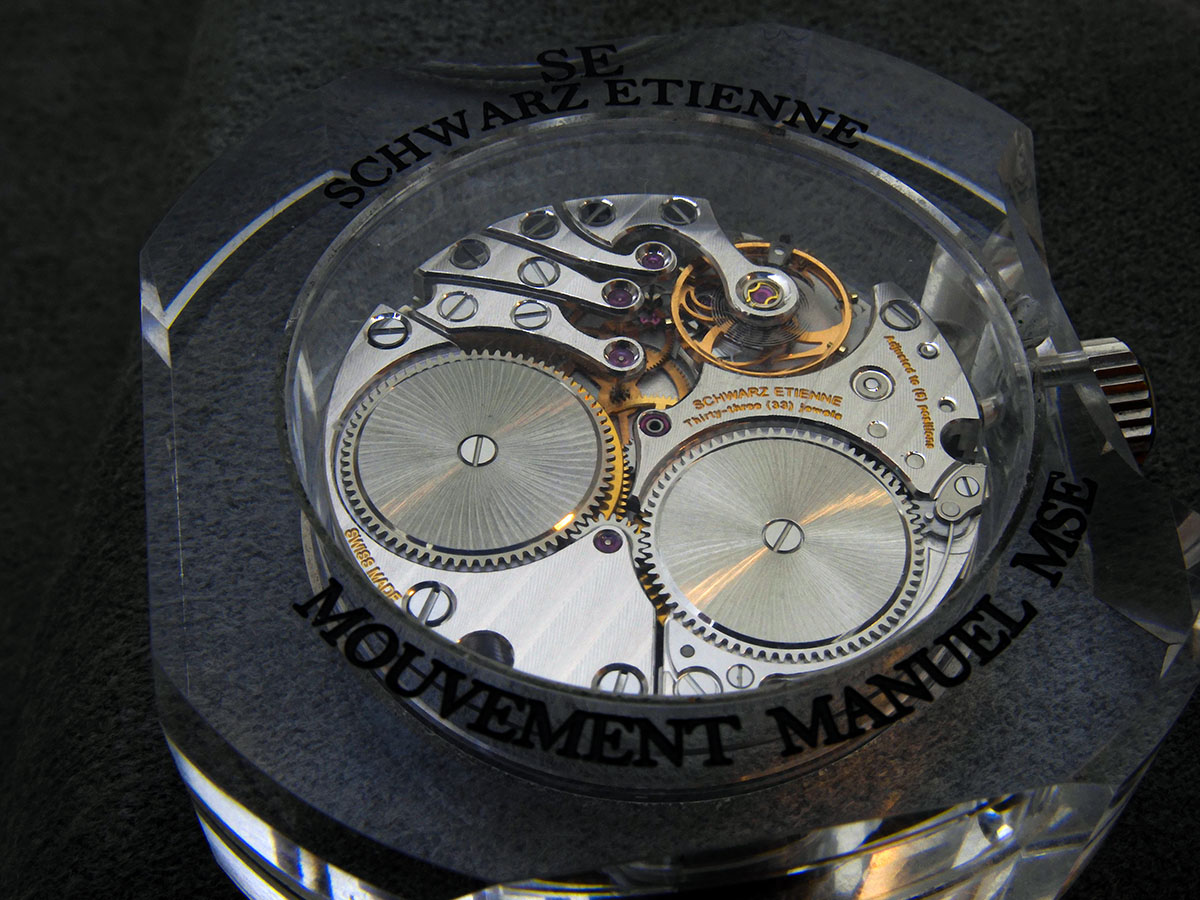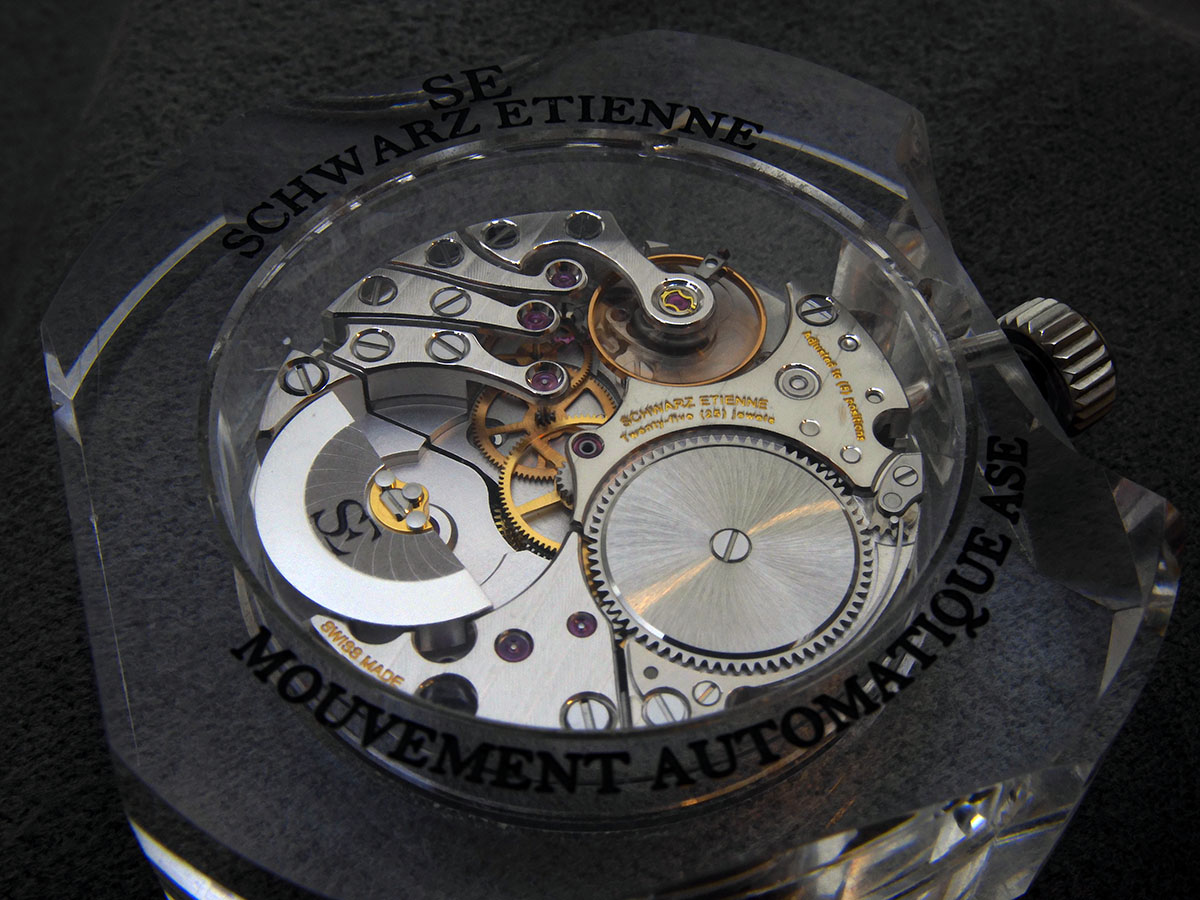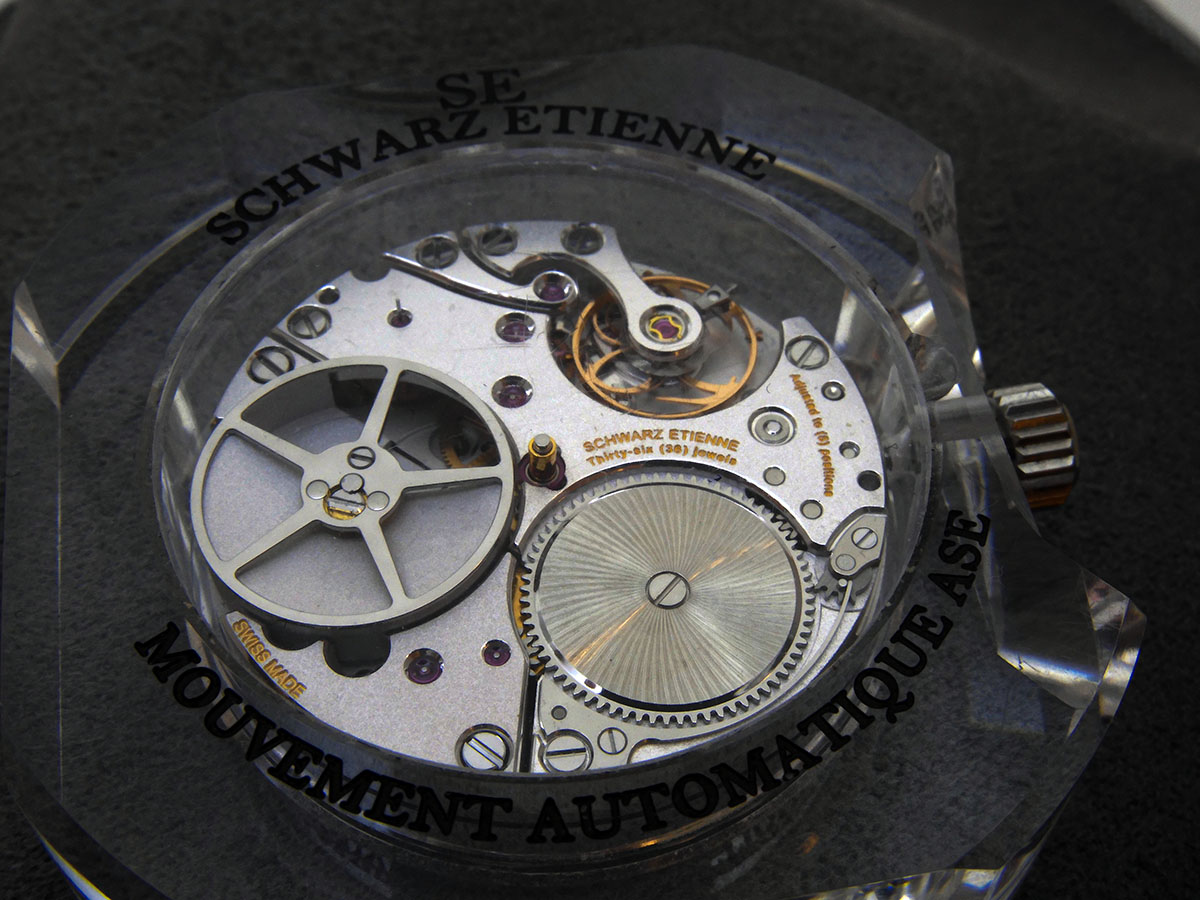 This is the favorite that was made in collaboration with Kari Voutilainen, unfortunately sold out immediately. I would really like to own one of those.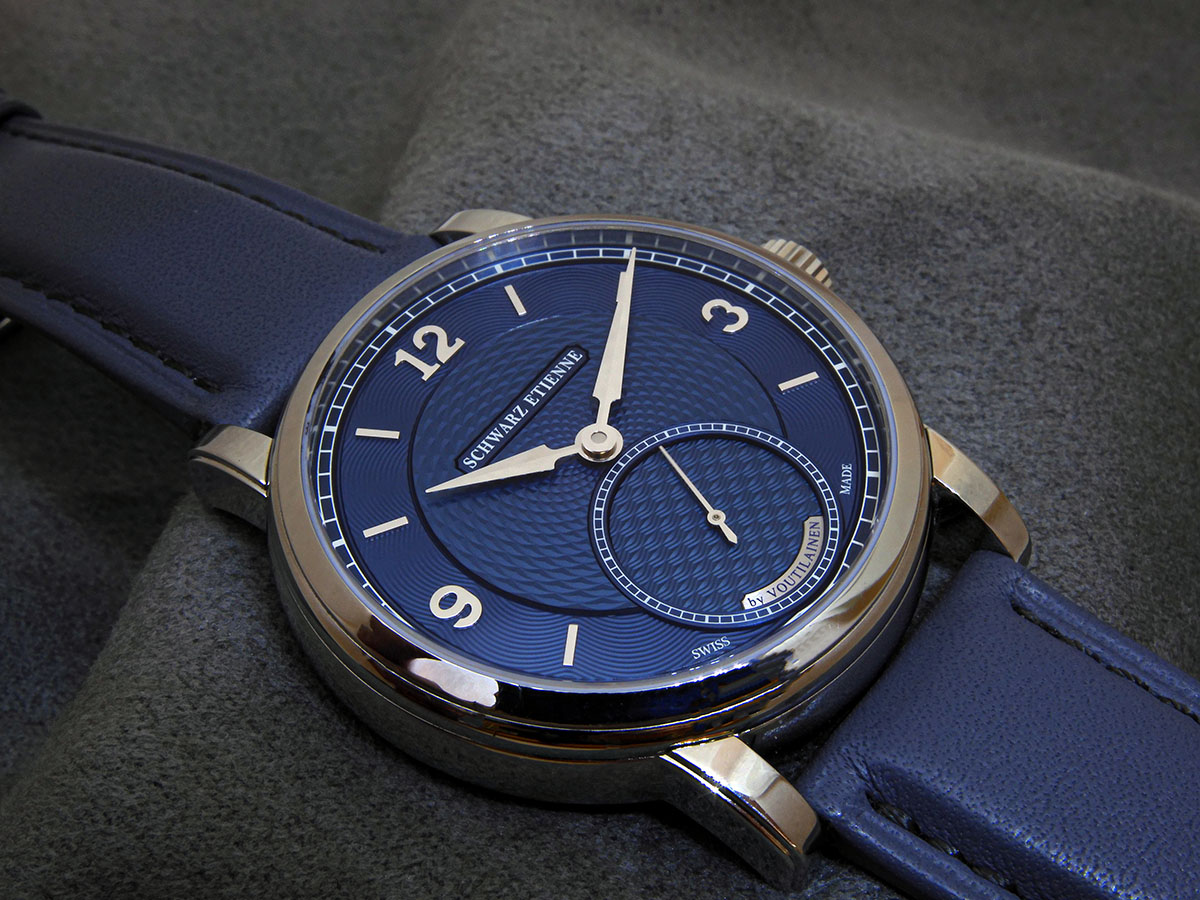 I was made even in grey.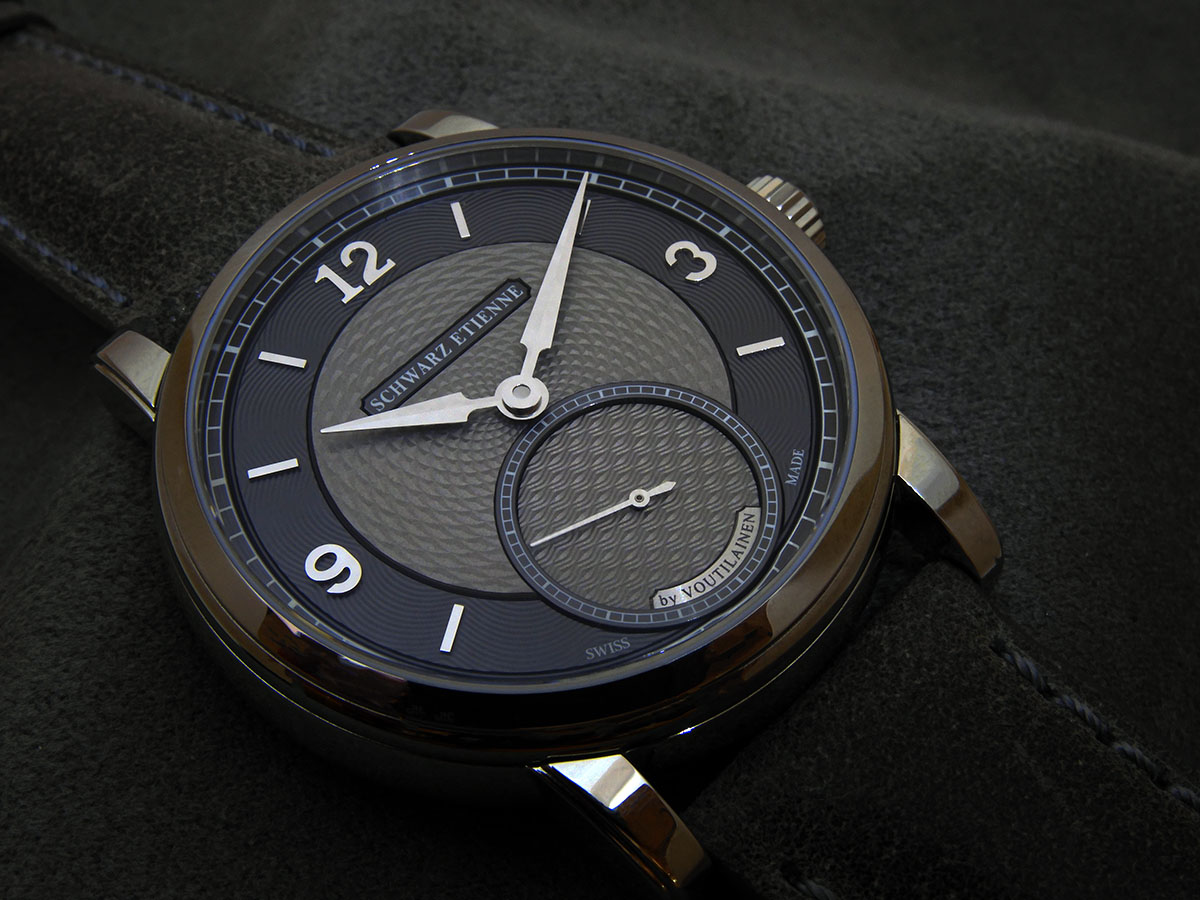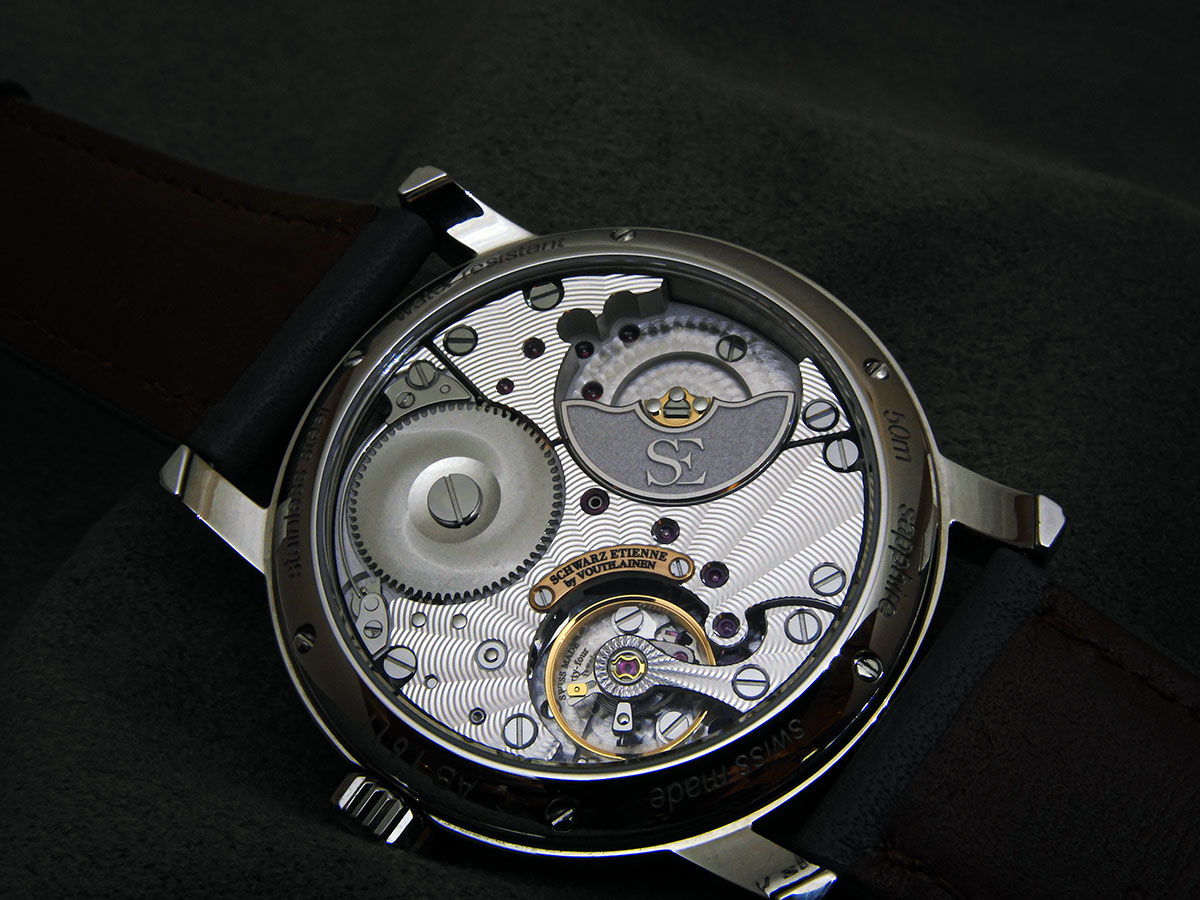 Some more nice models.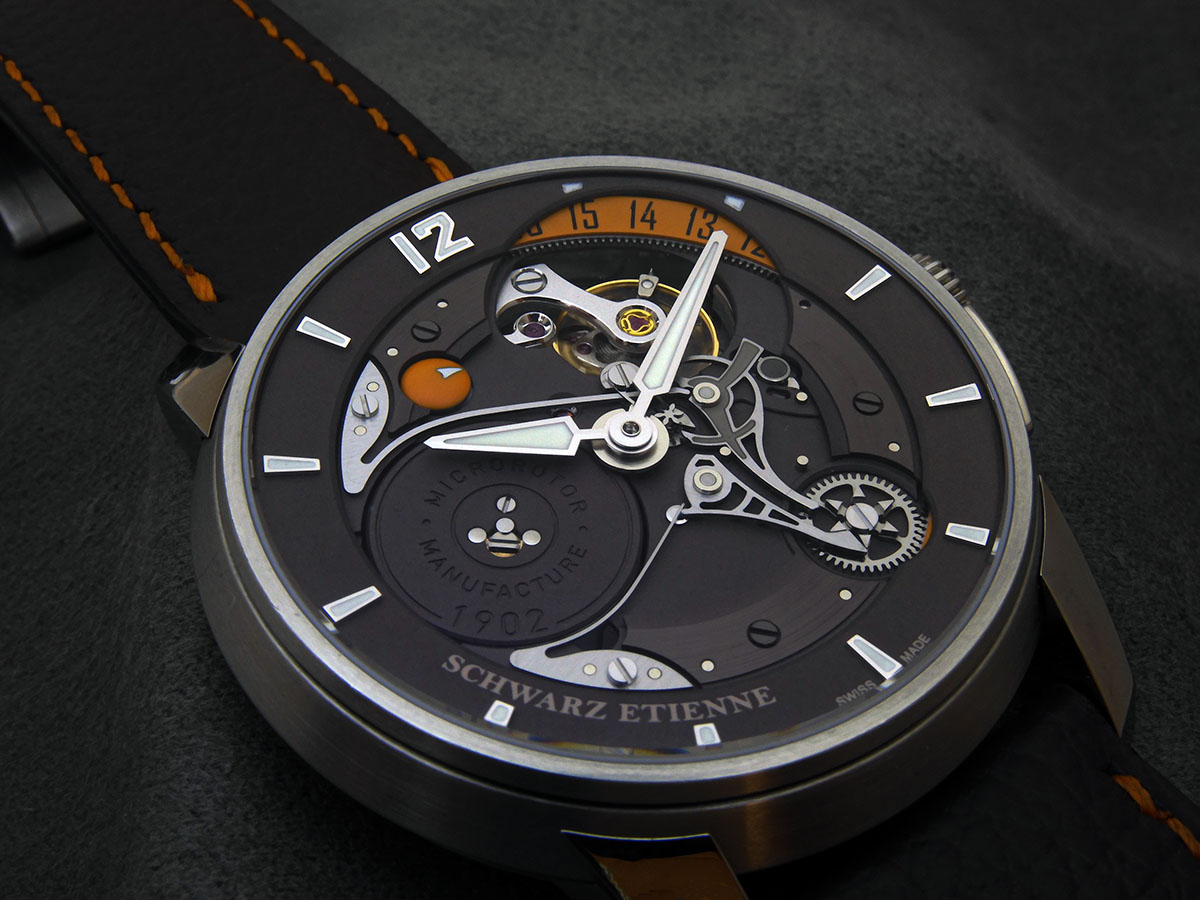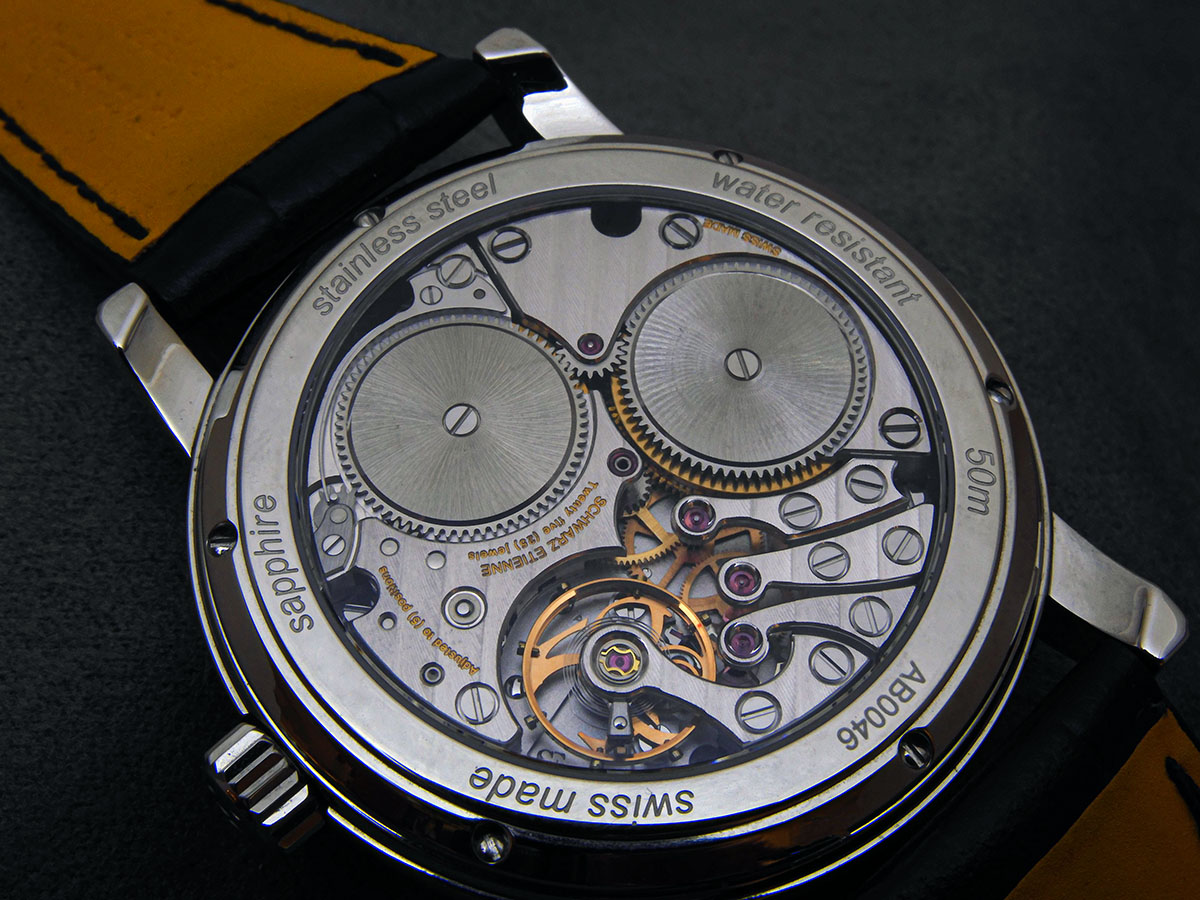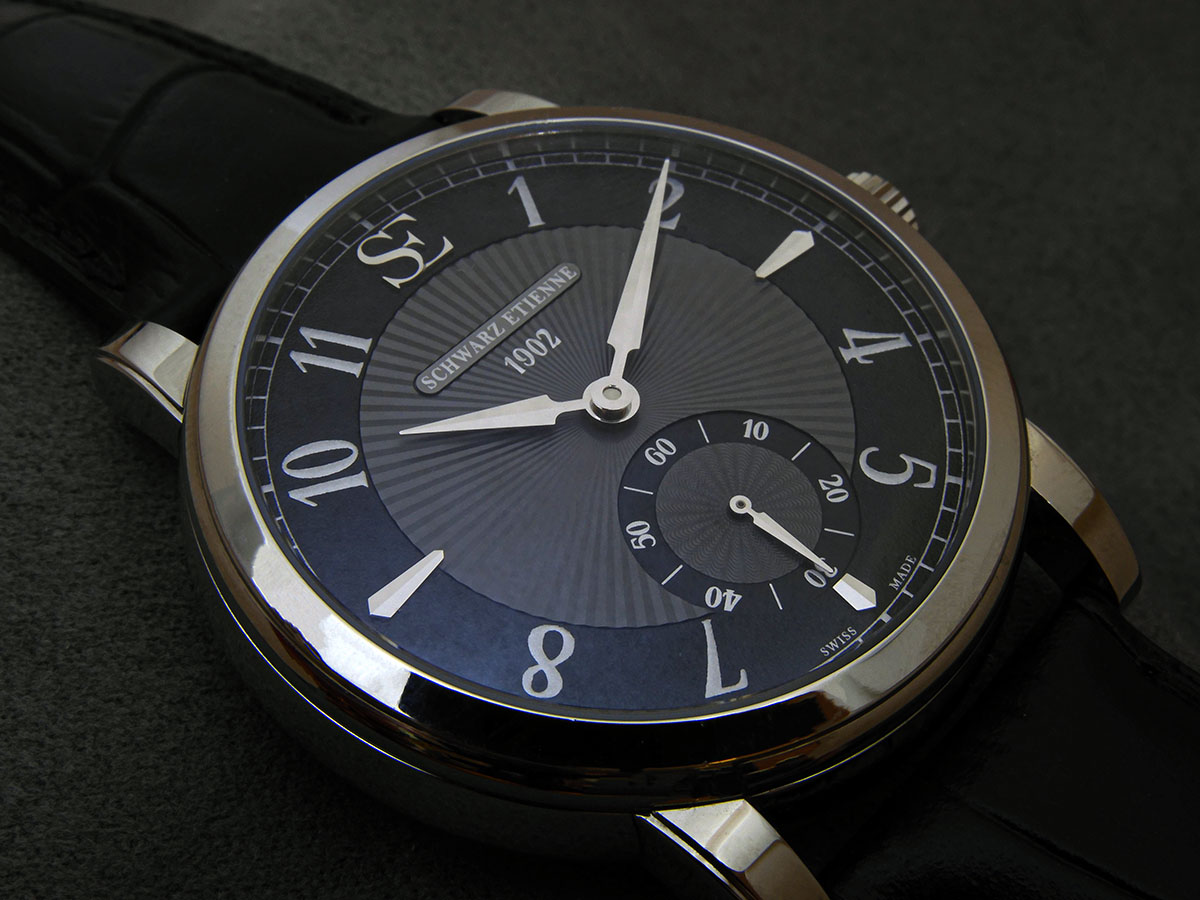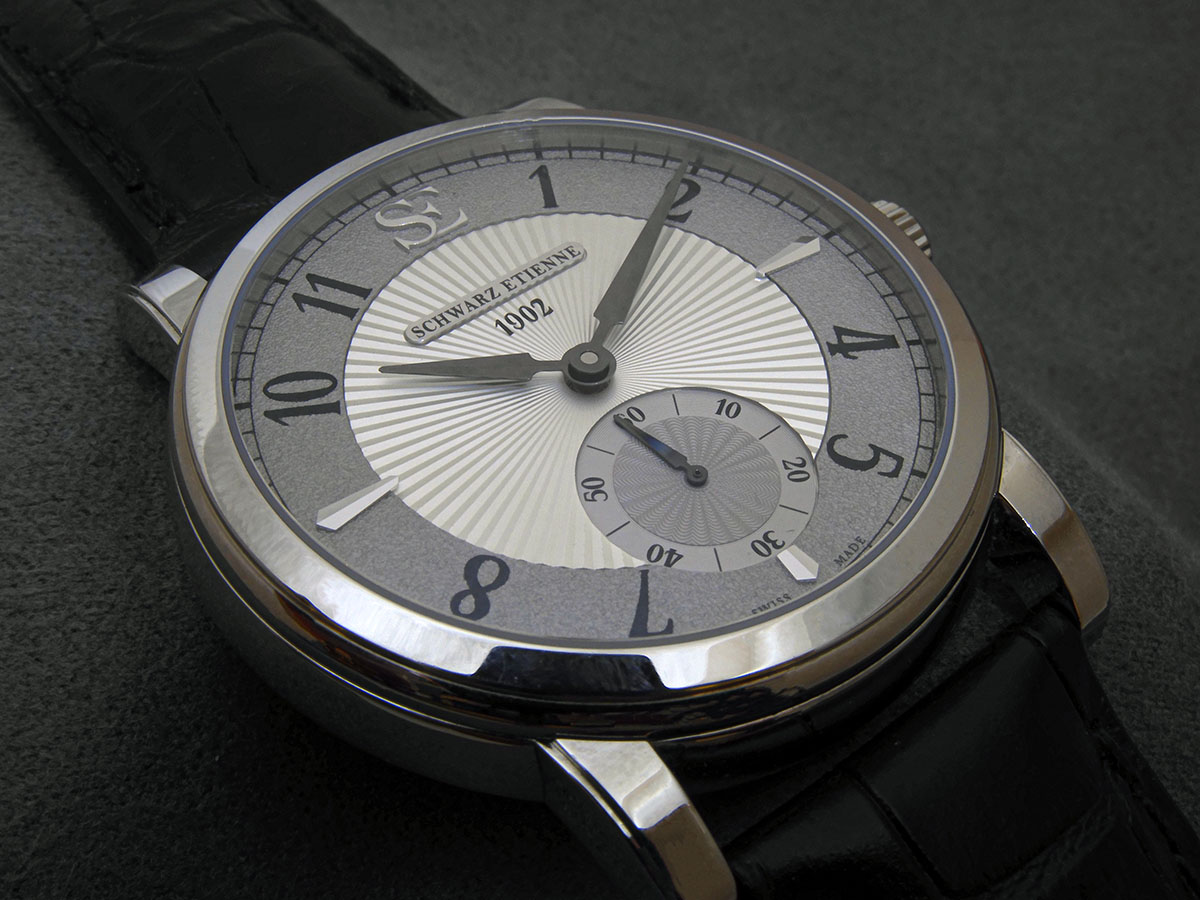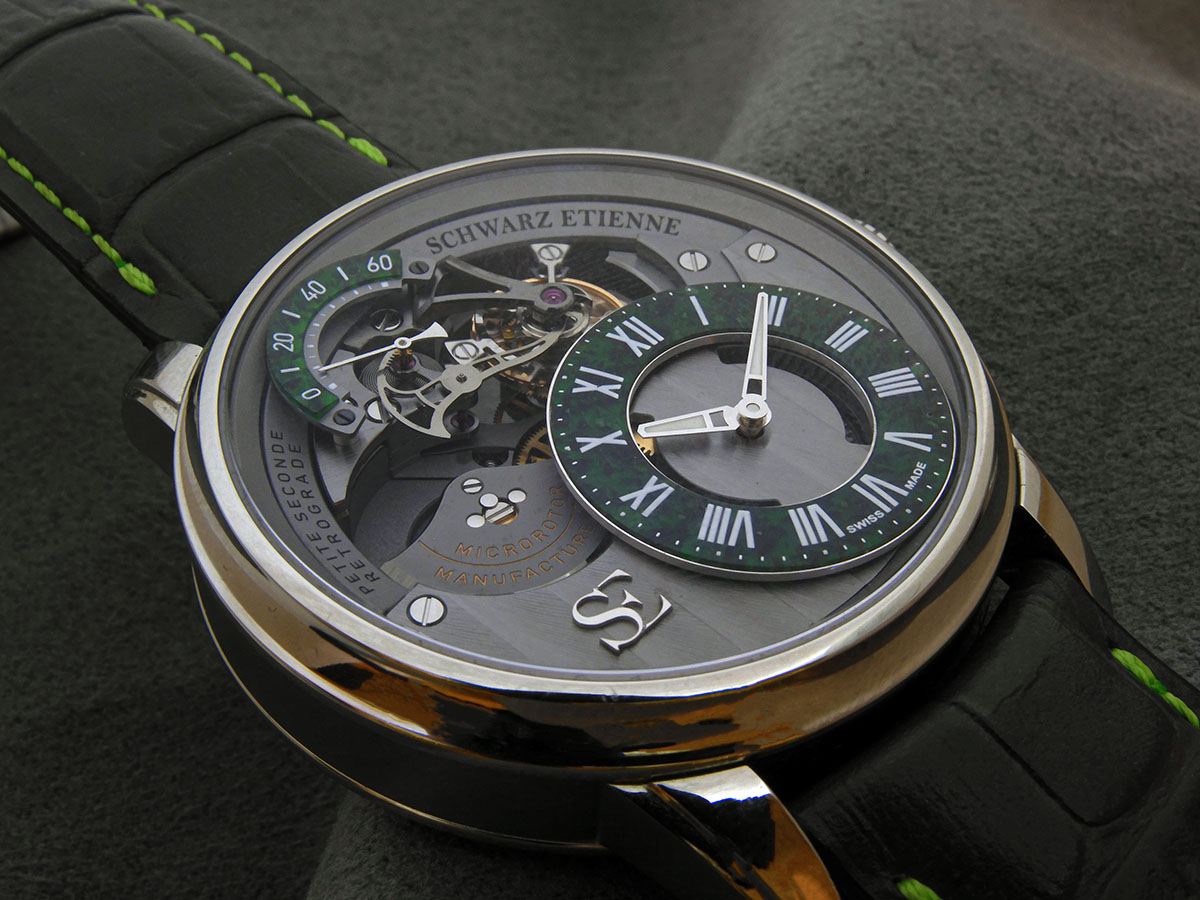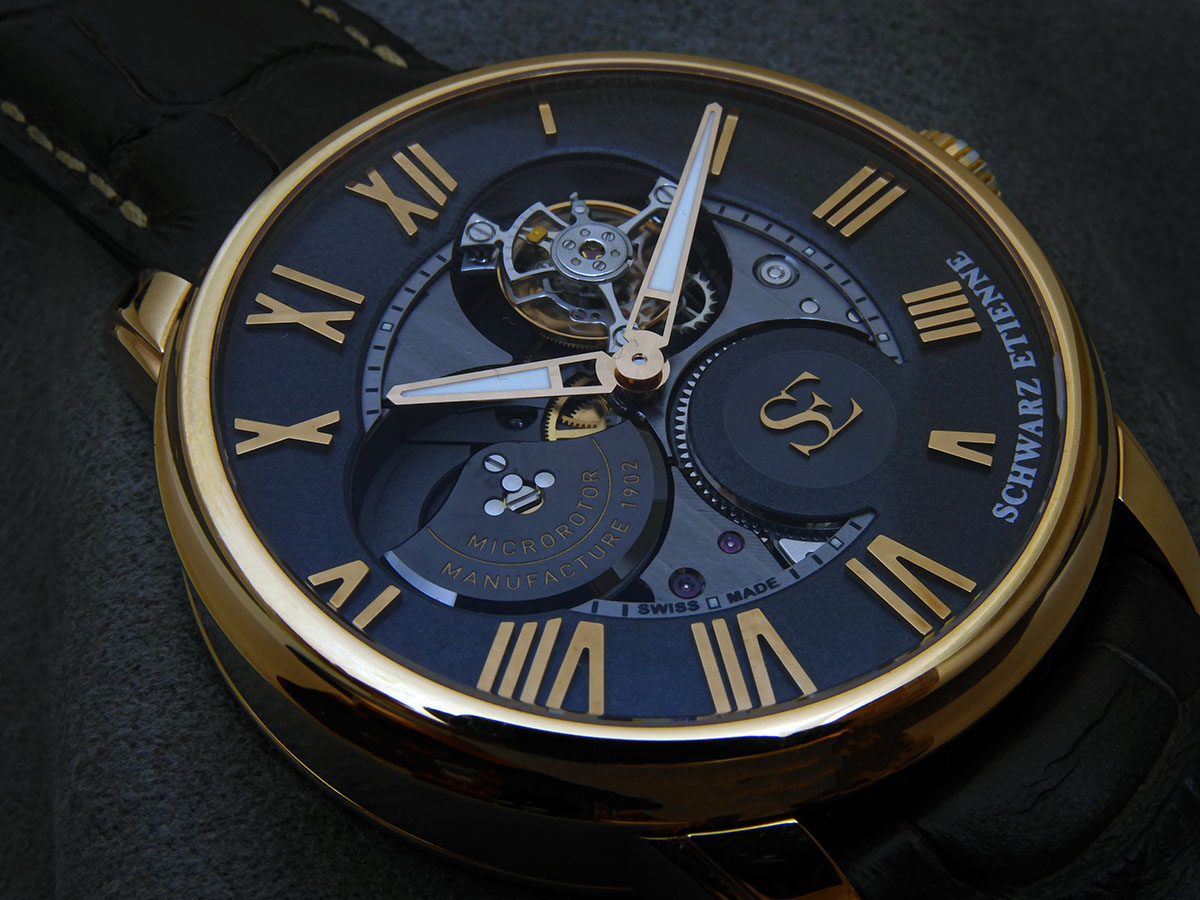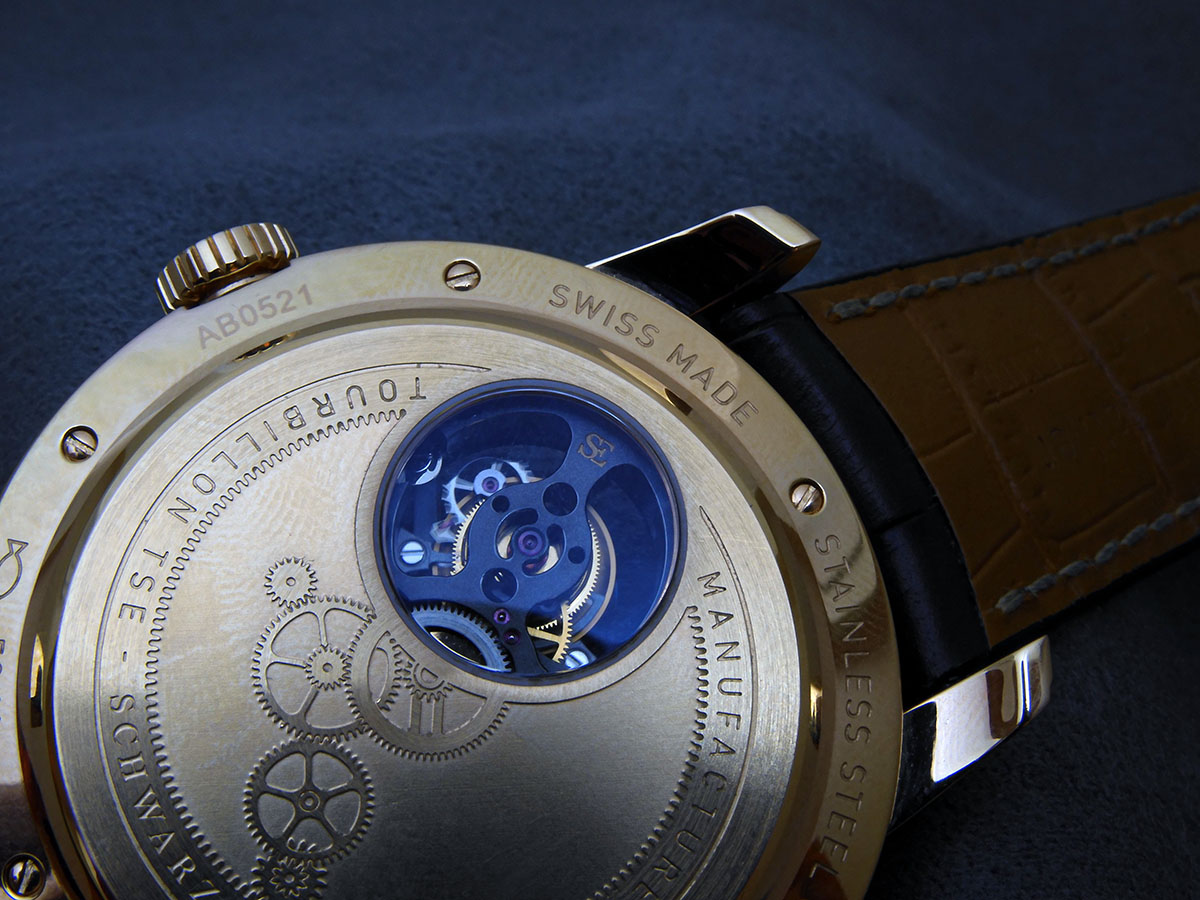 Then we found a "photo box" with a tablet for viewing on the Internet or recording.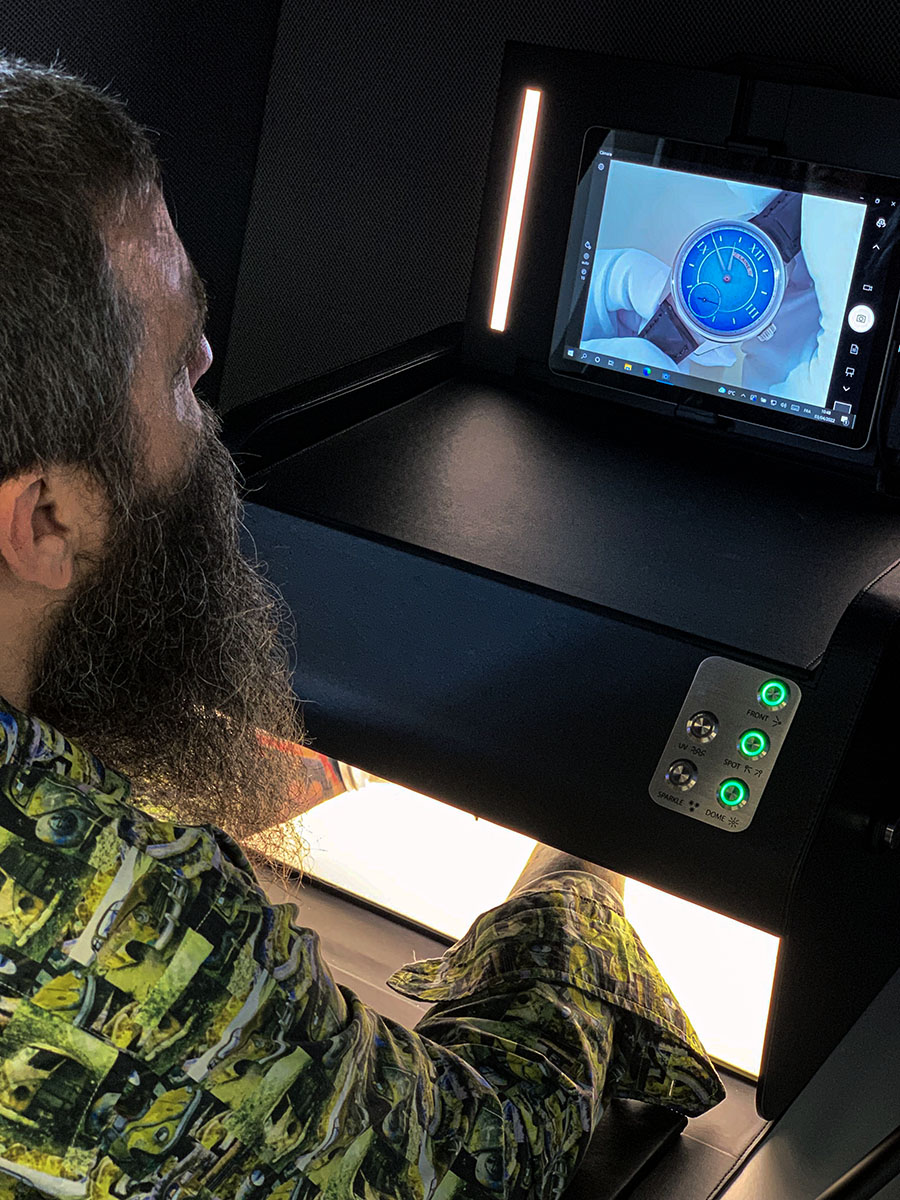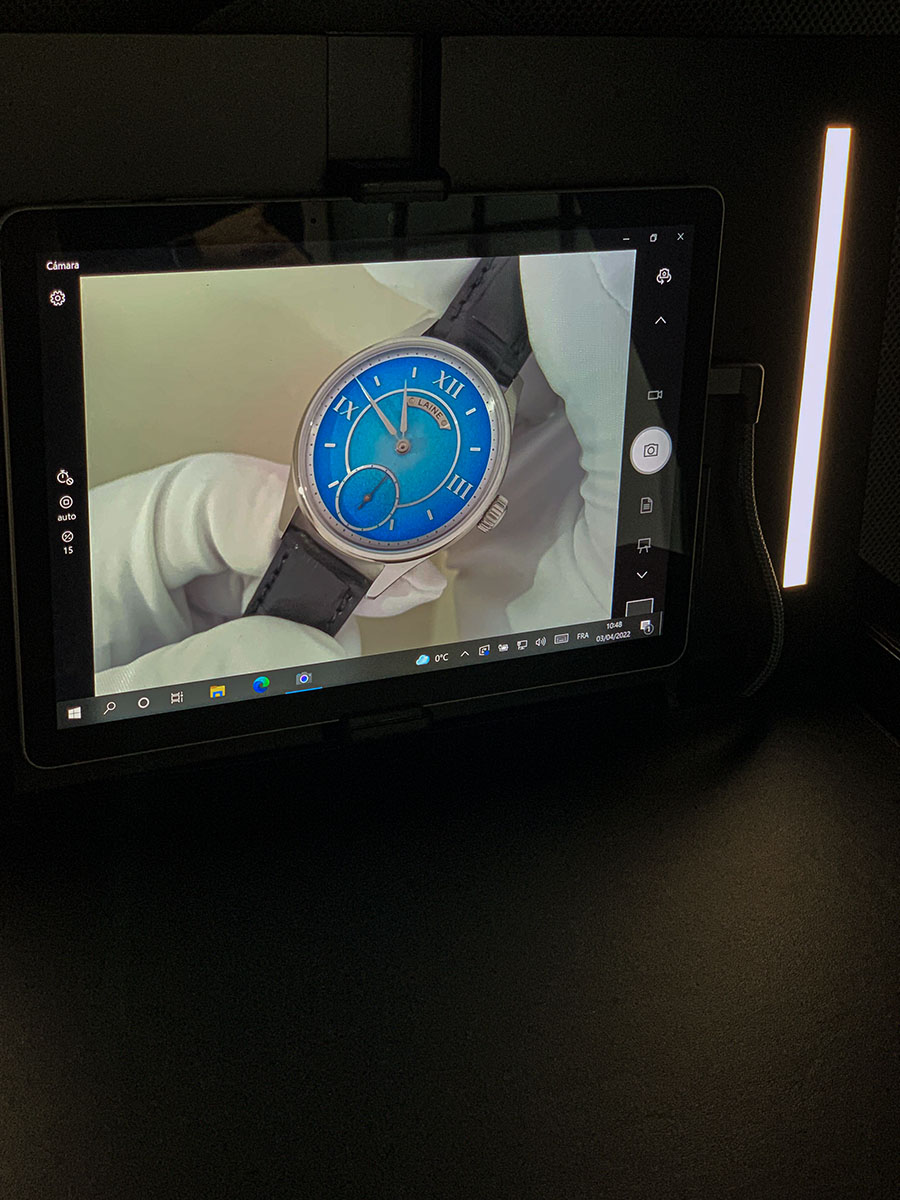 It has a great macro too.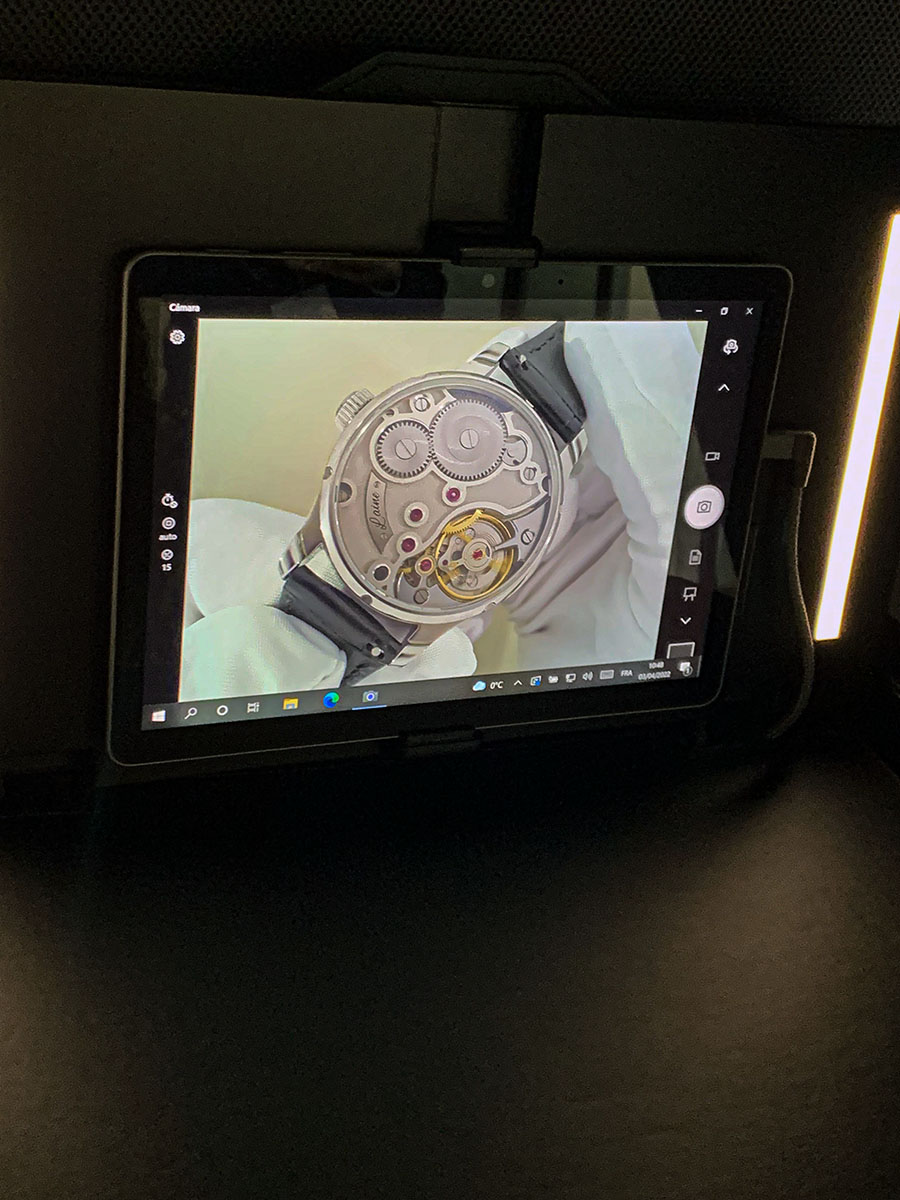 Then we went to The MAD Gallery.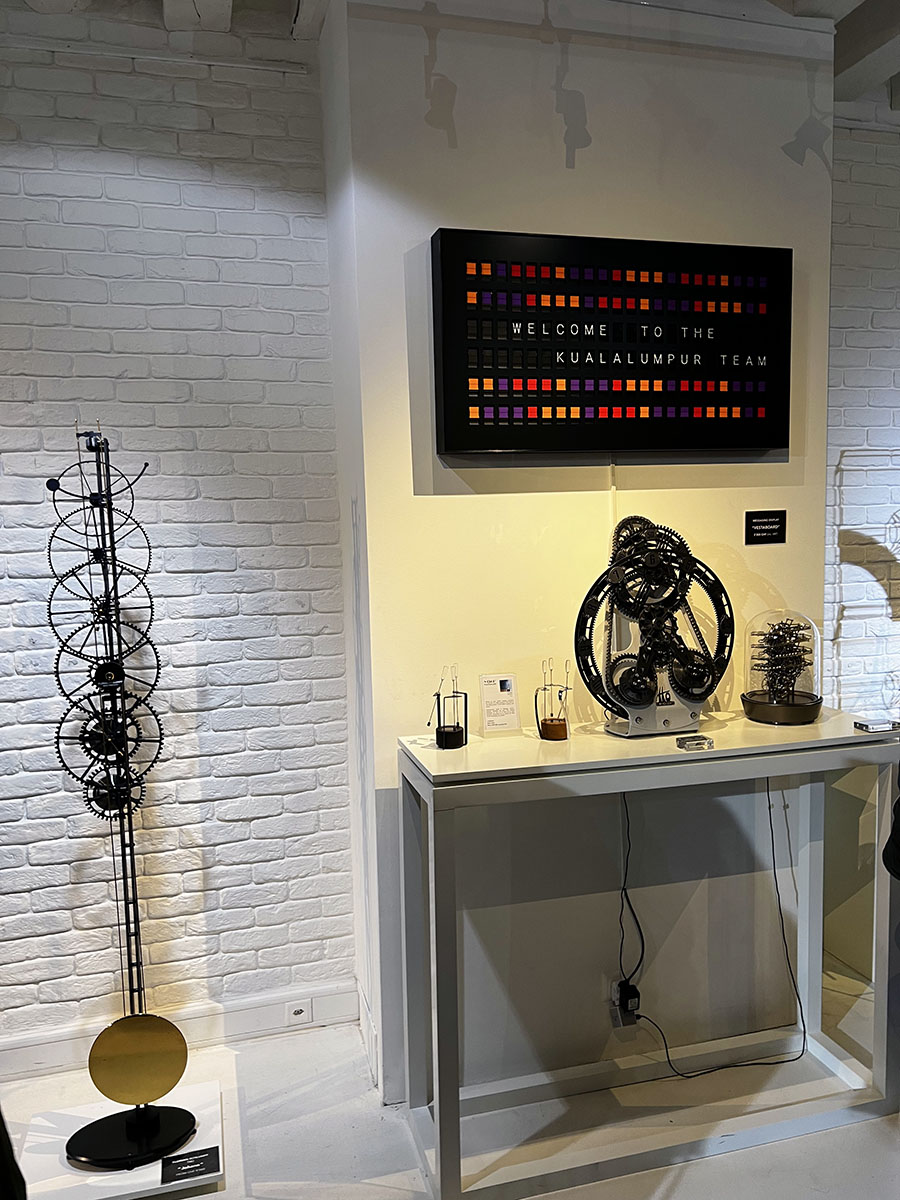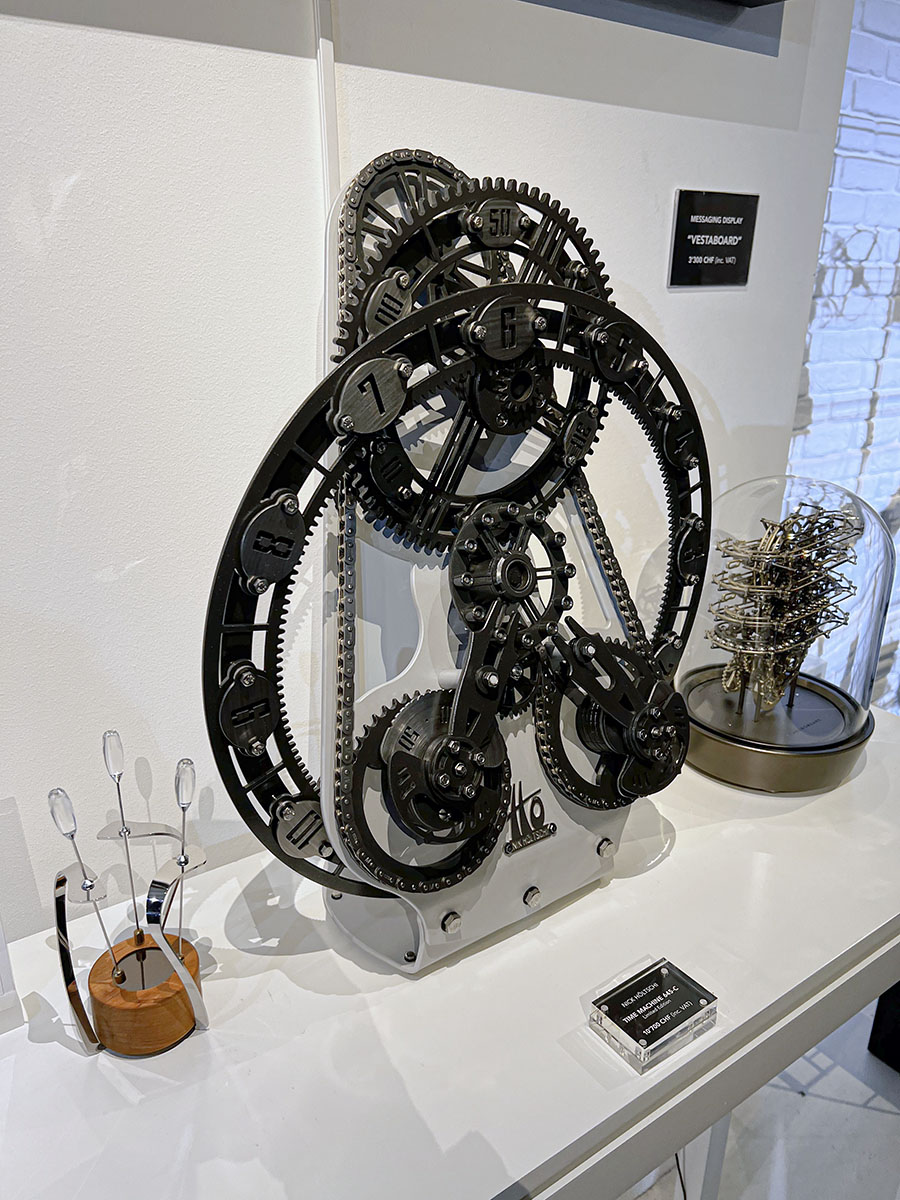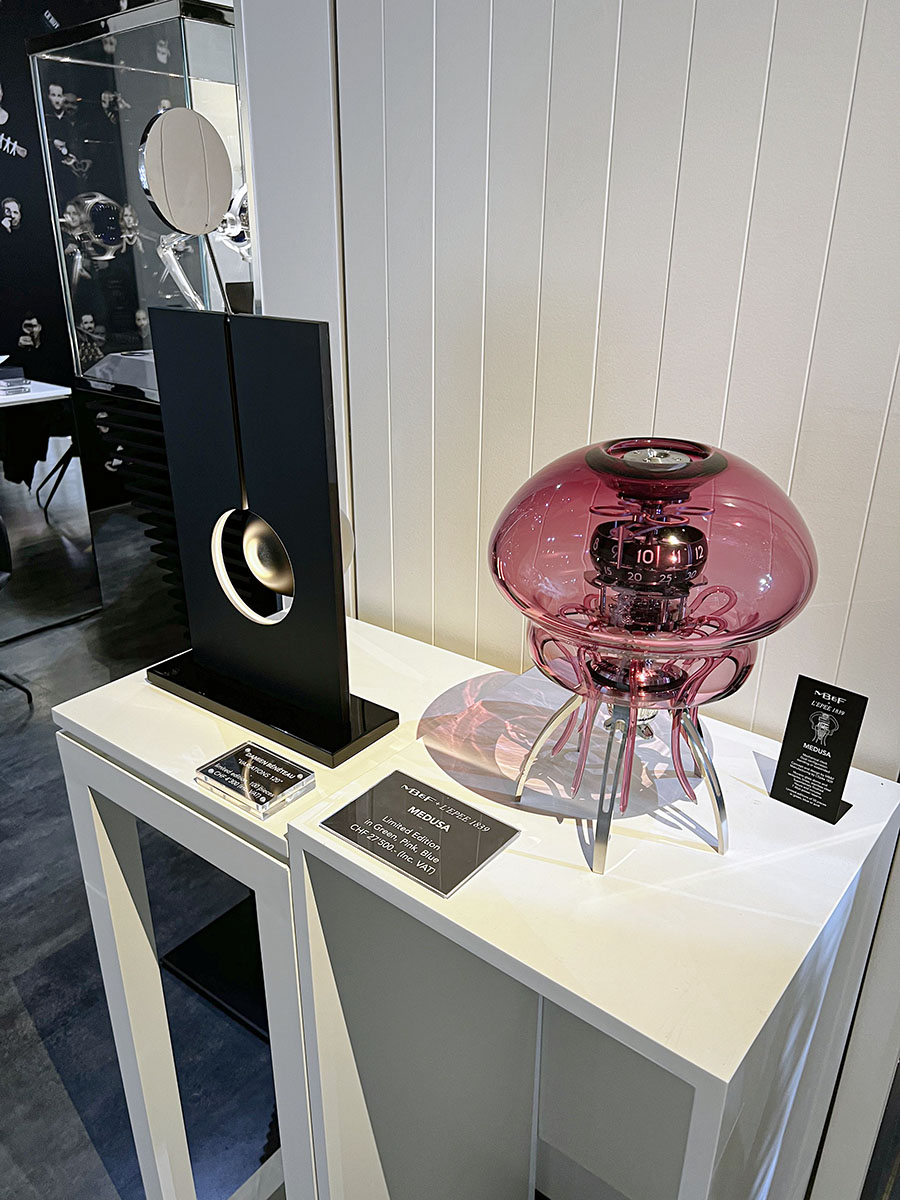 Then it was time for AHCI where you will find the real gold nuggets.
We'll take a lap upstairs first.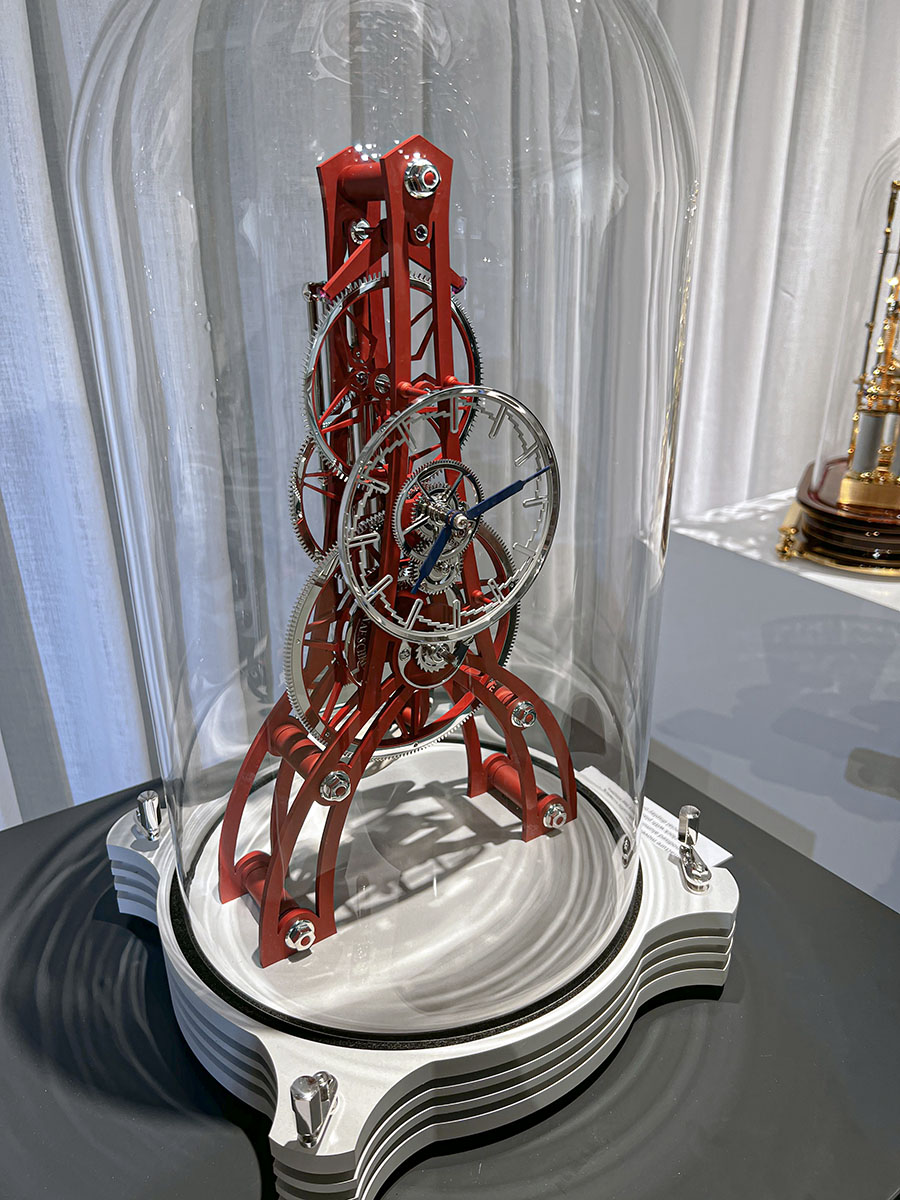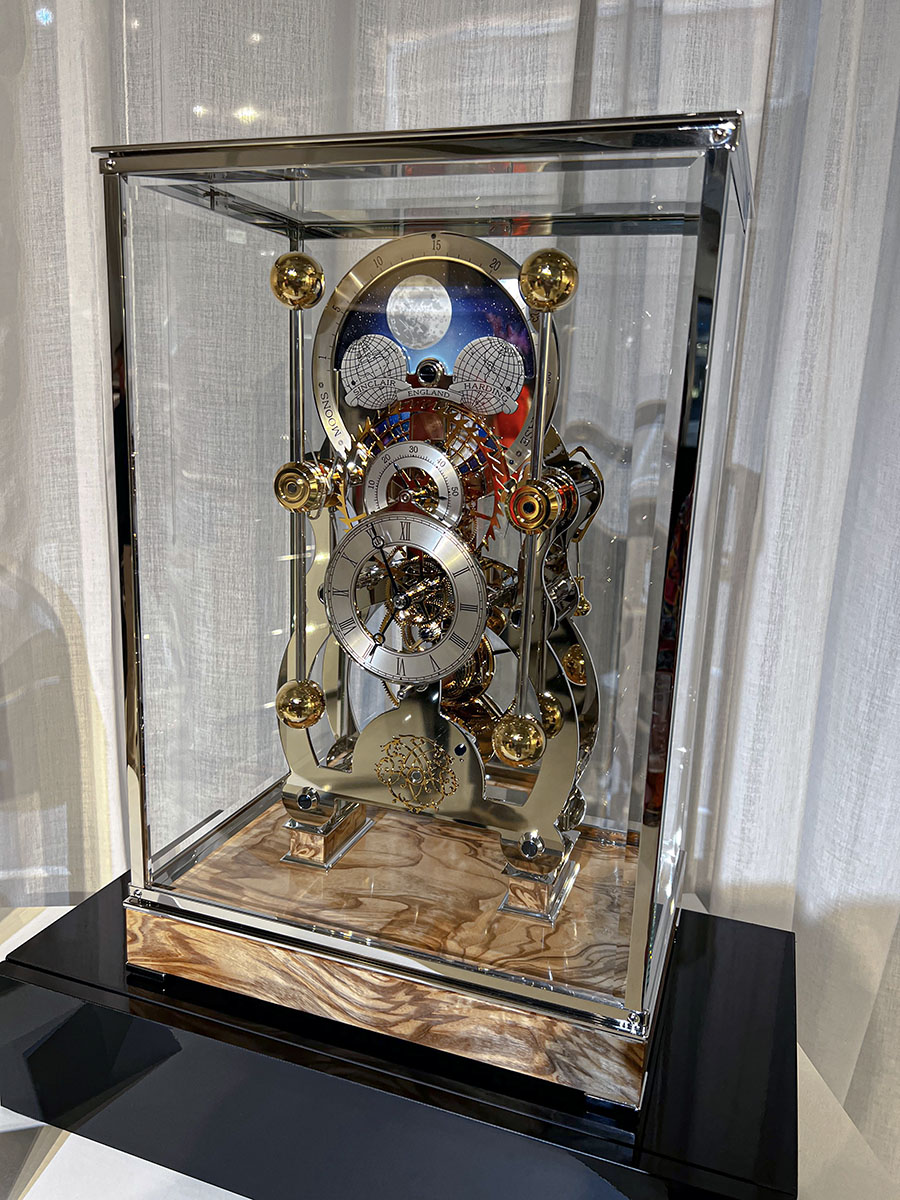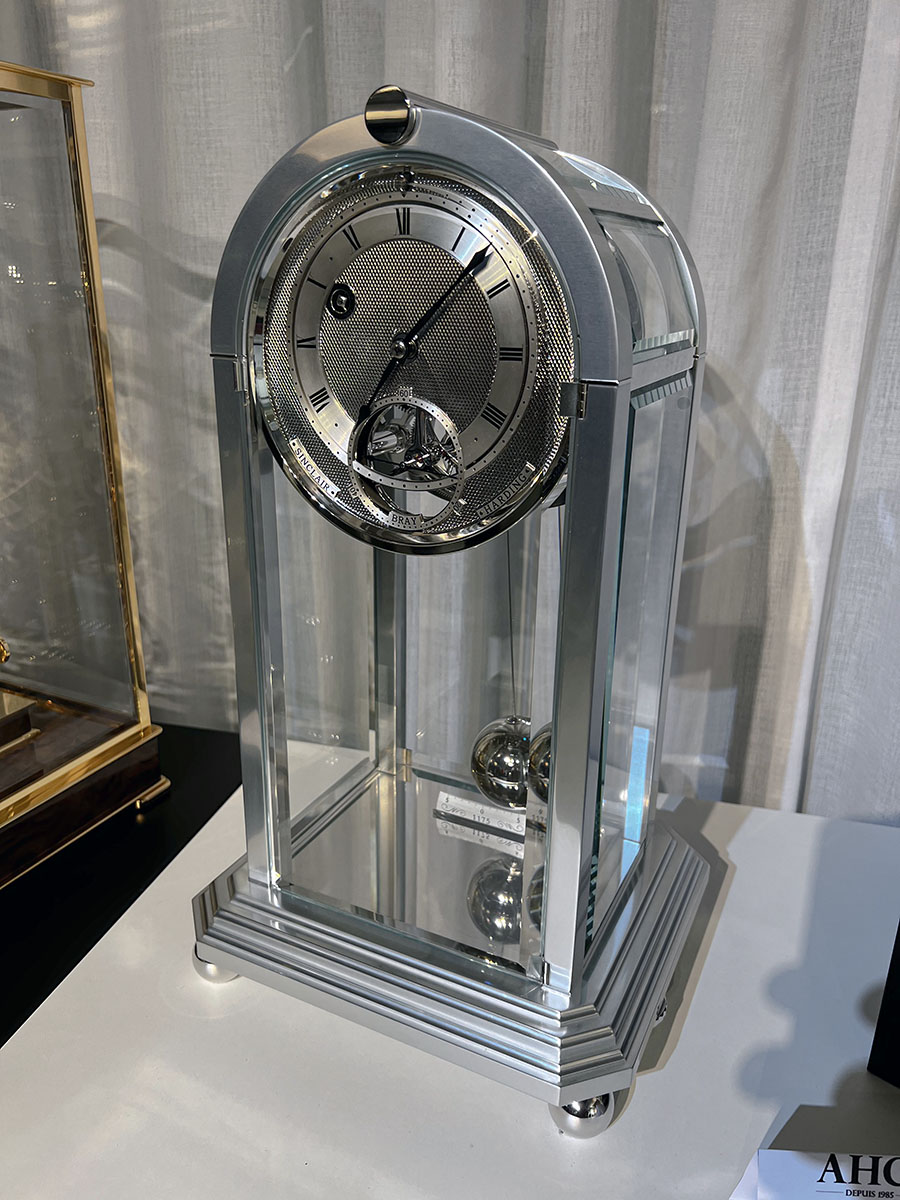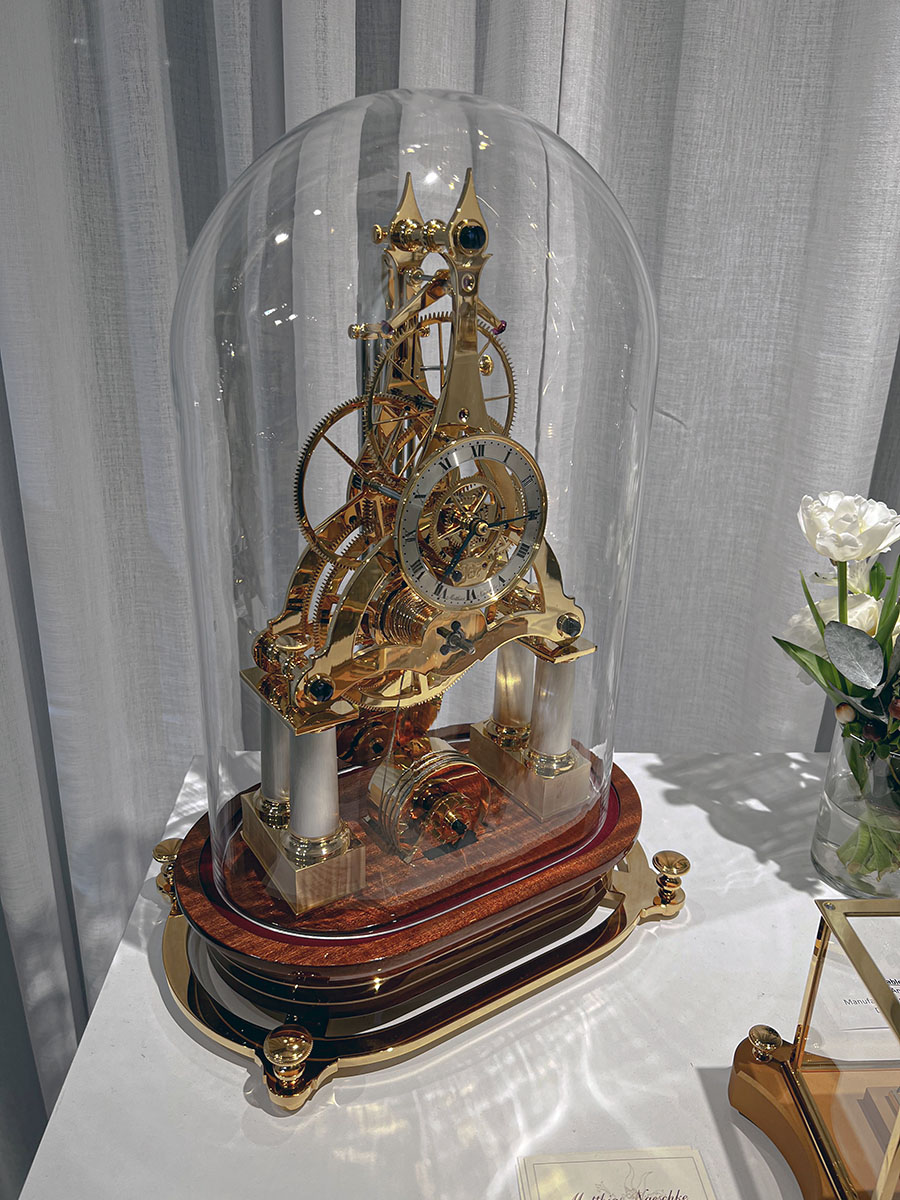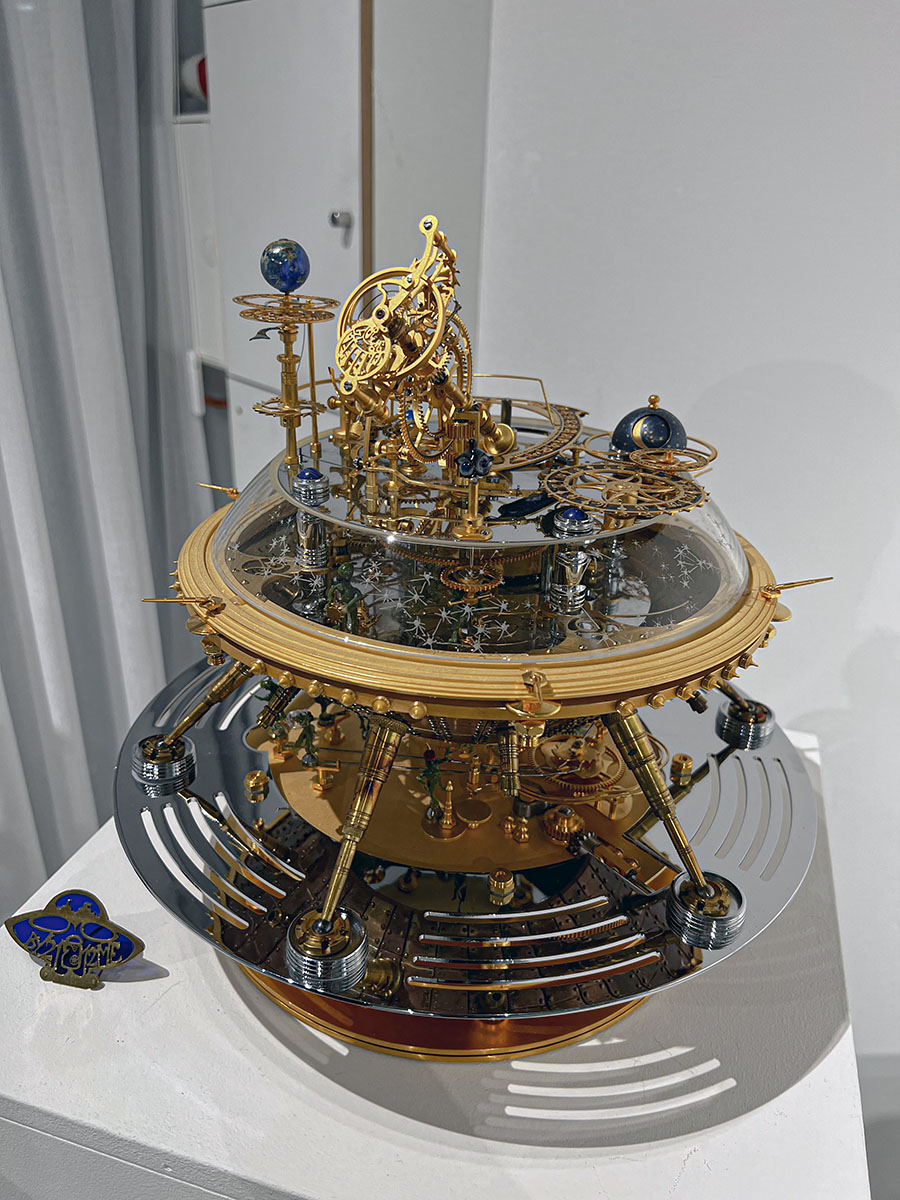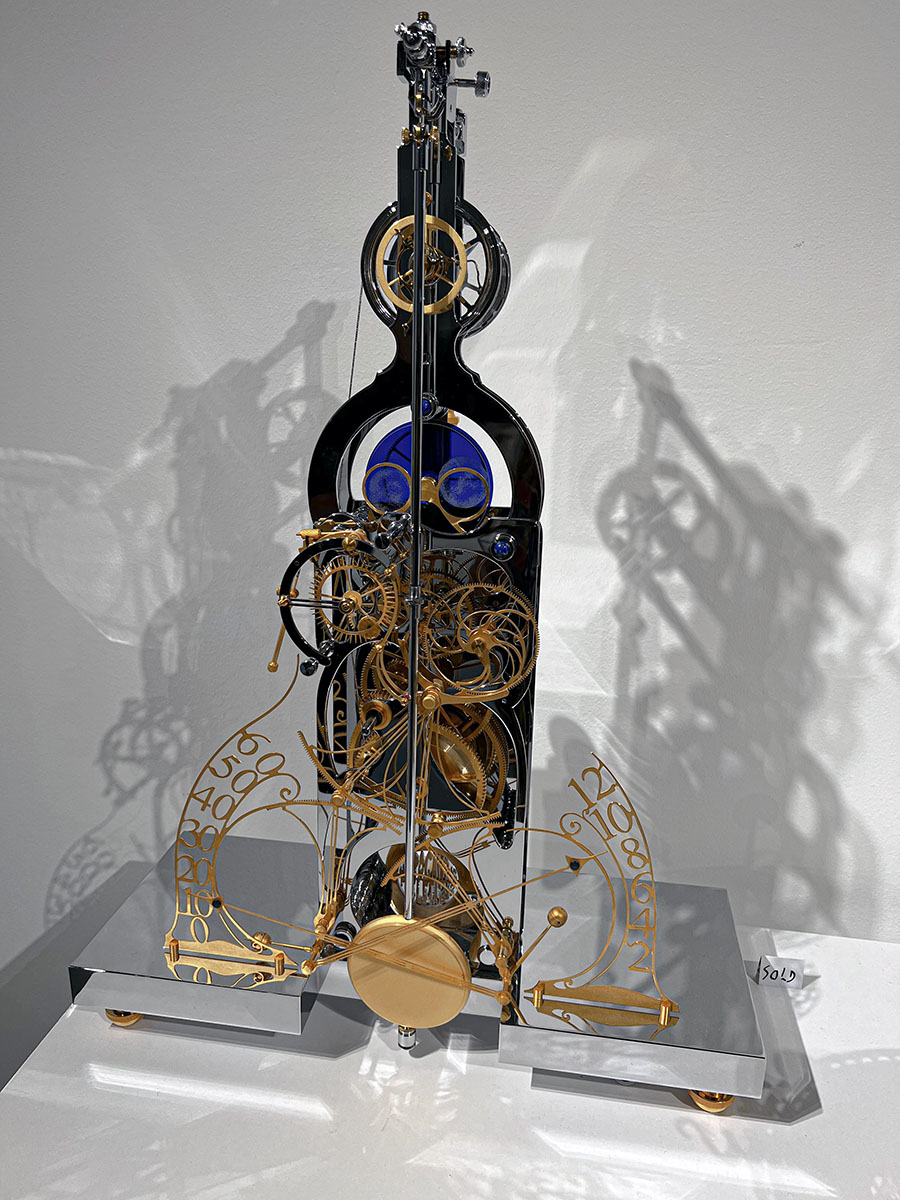 Then we go downstairs.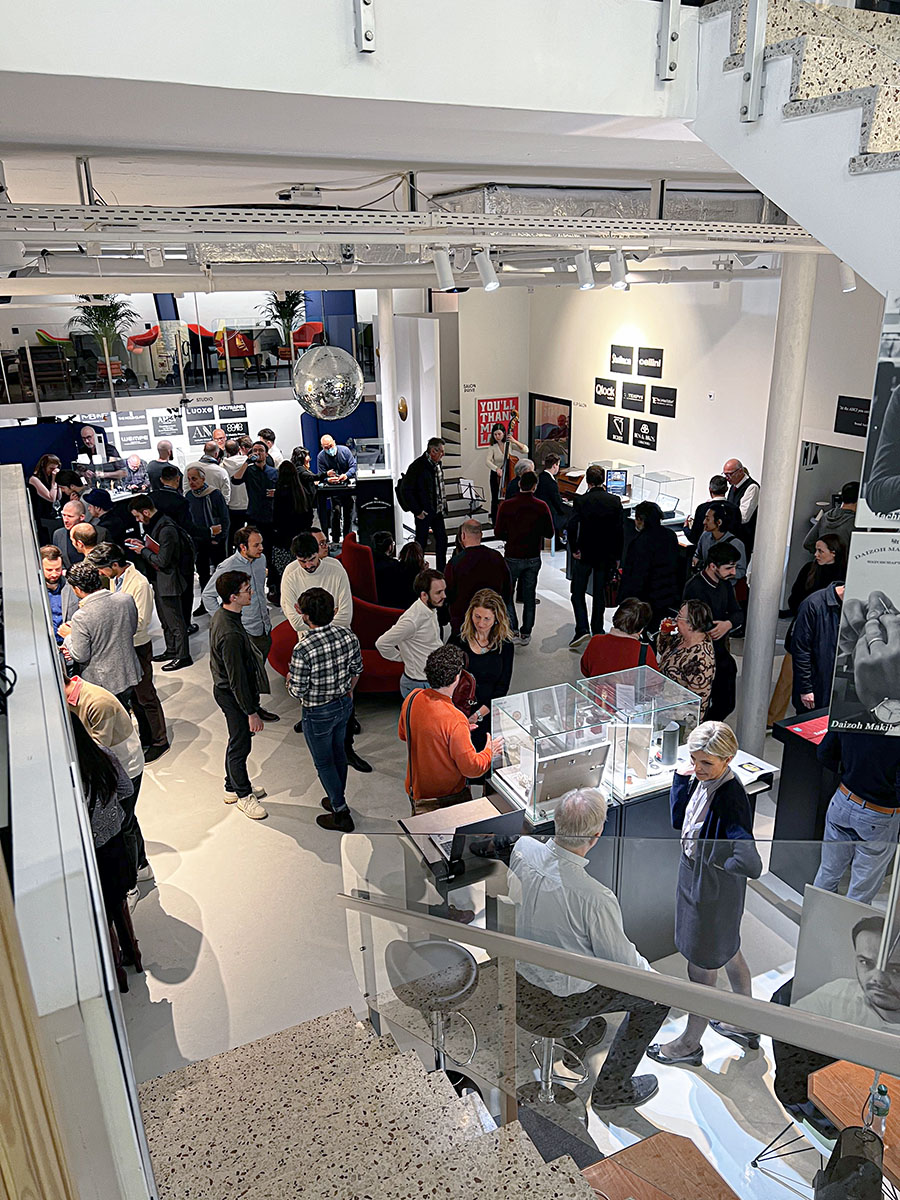 First stop at Vianney Halter.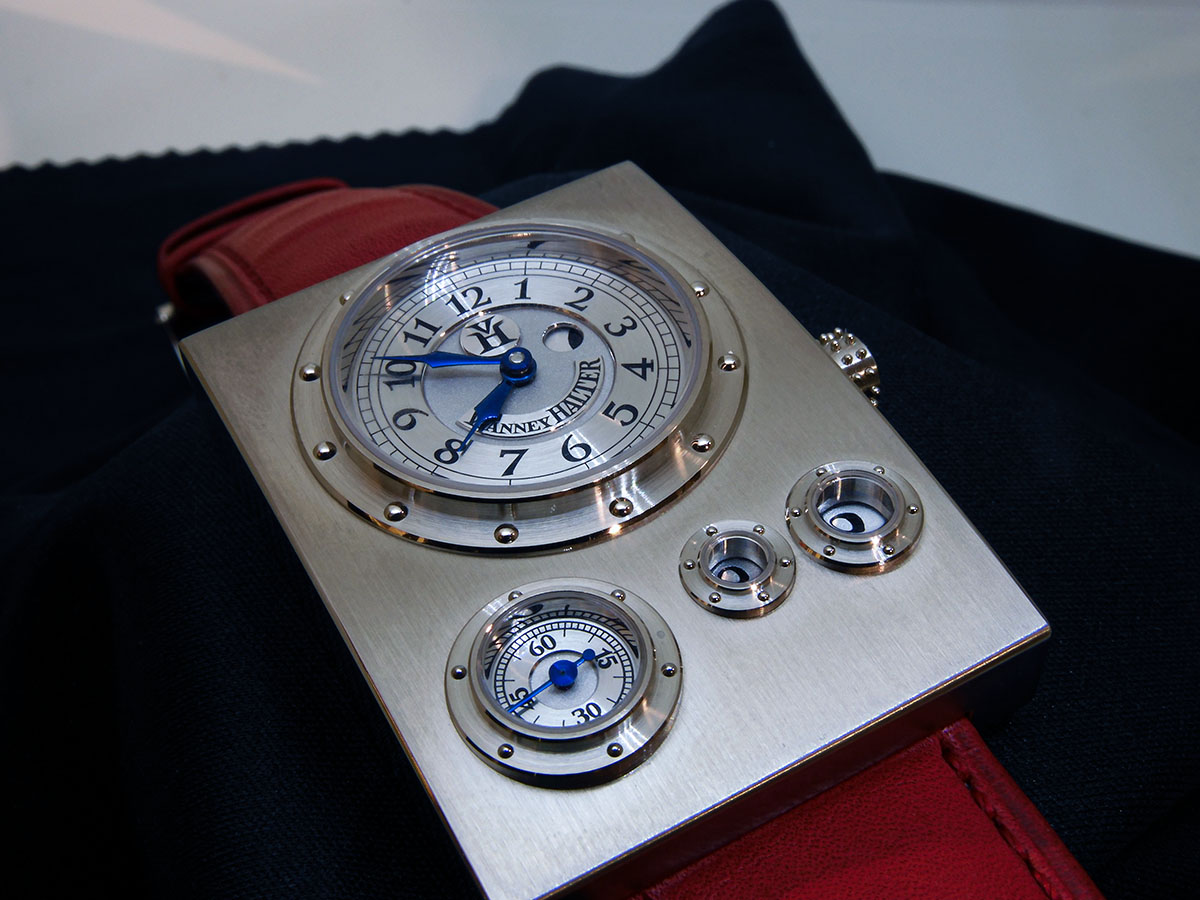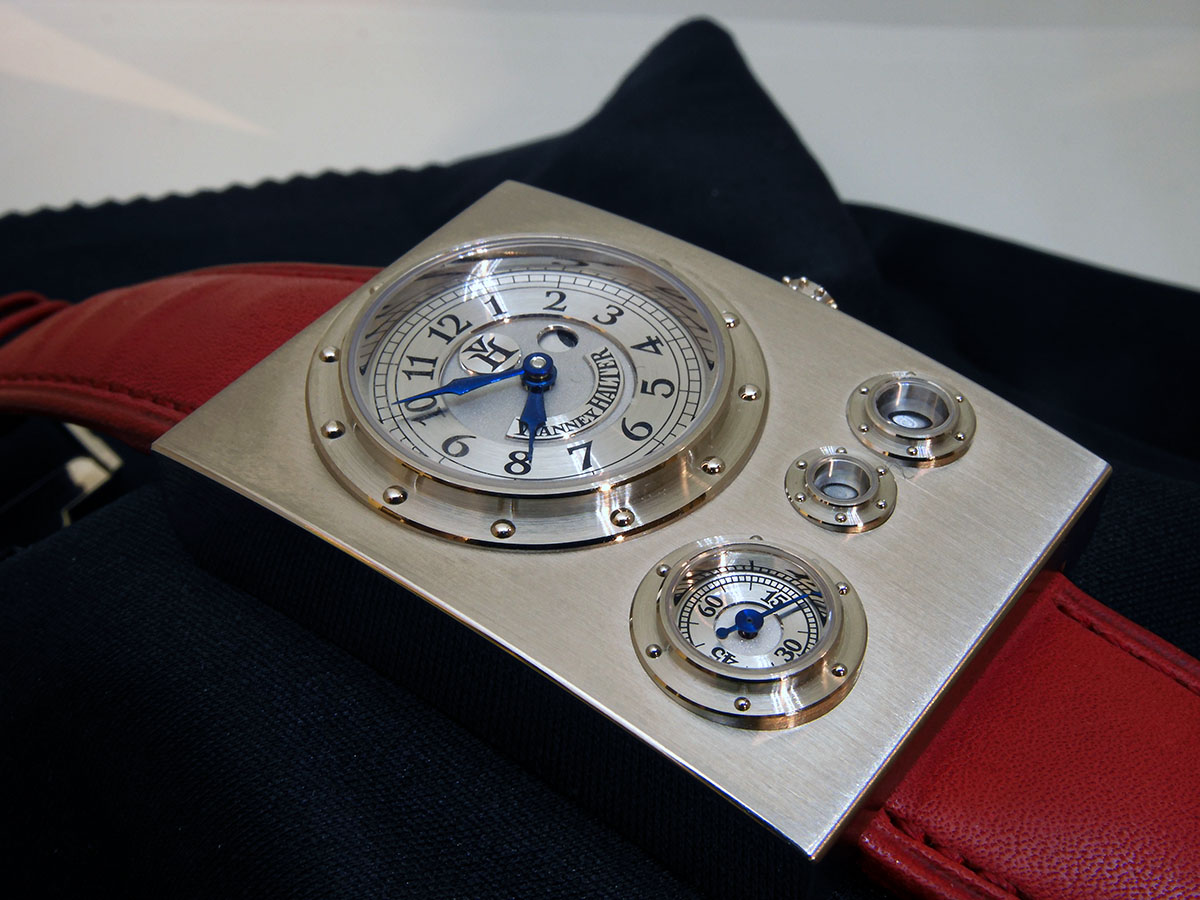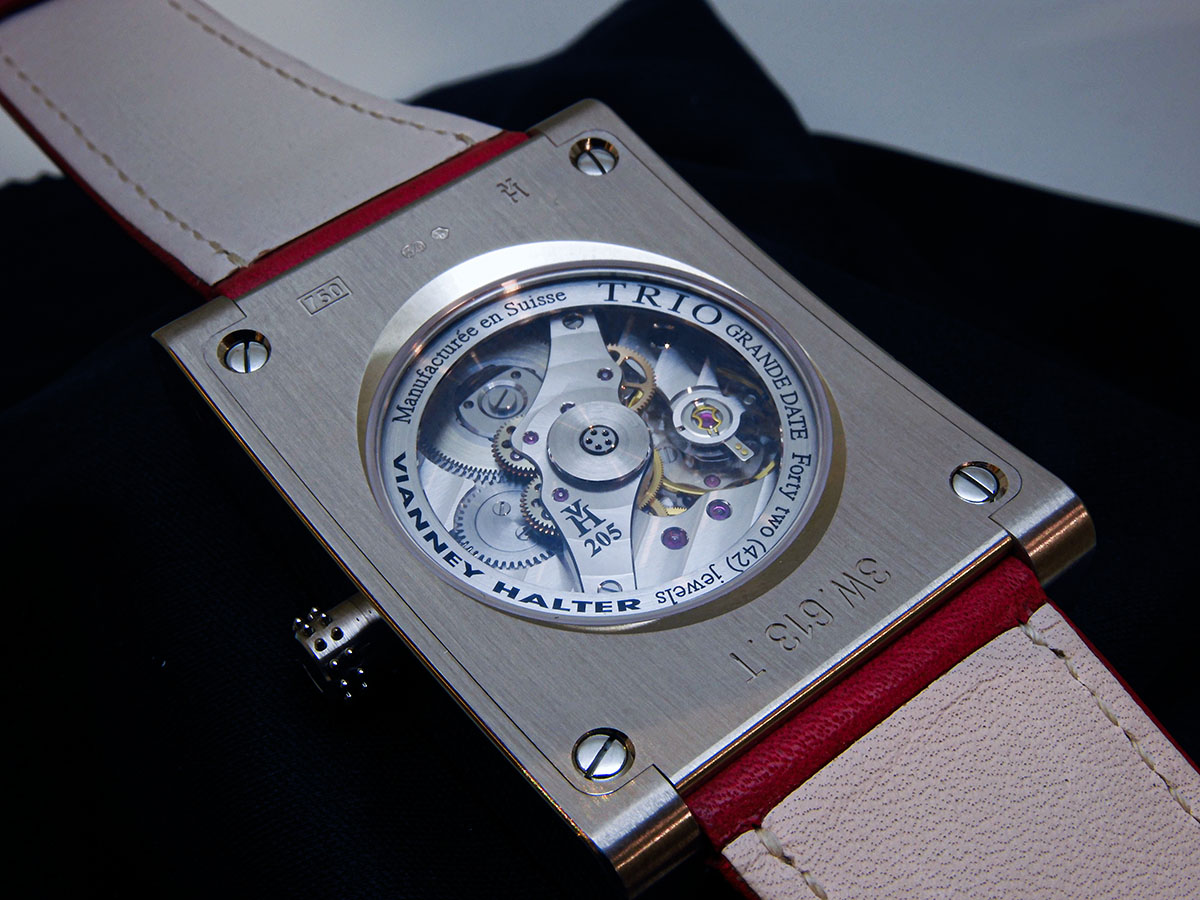 This is a delight to the eye.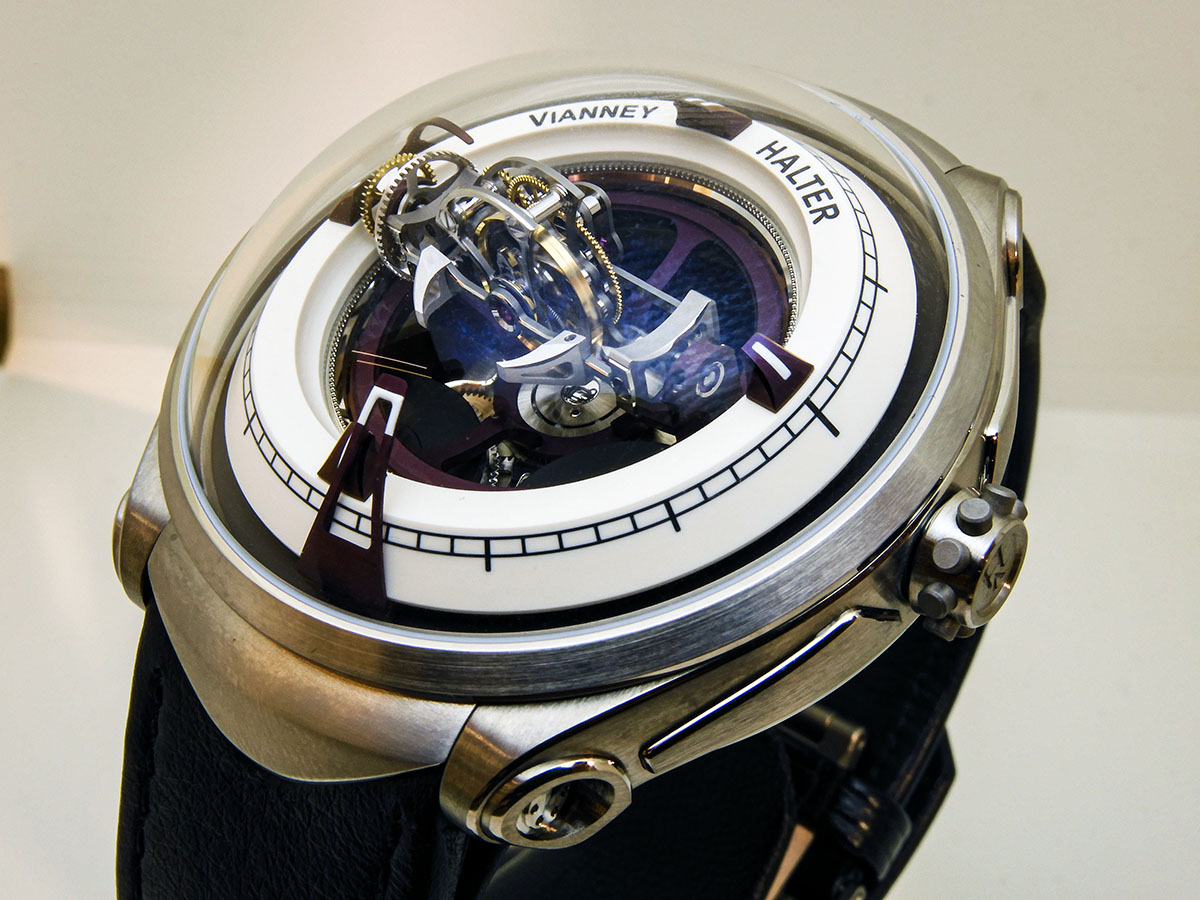 It was also a very rewarding chat with Mr Halter as well.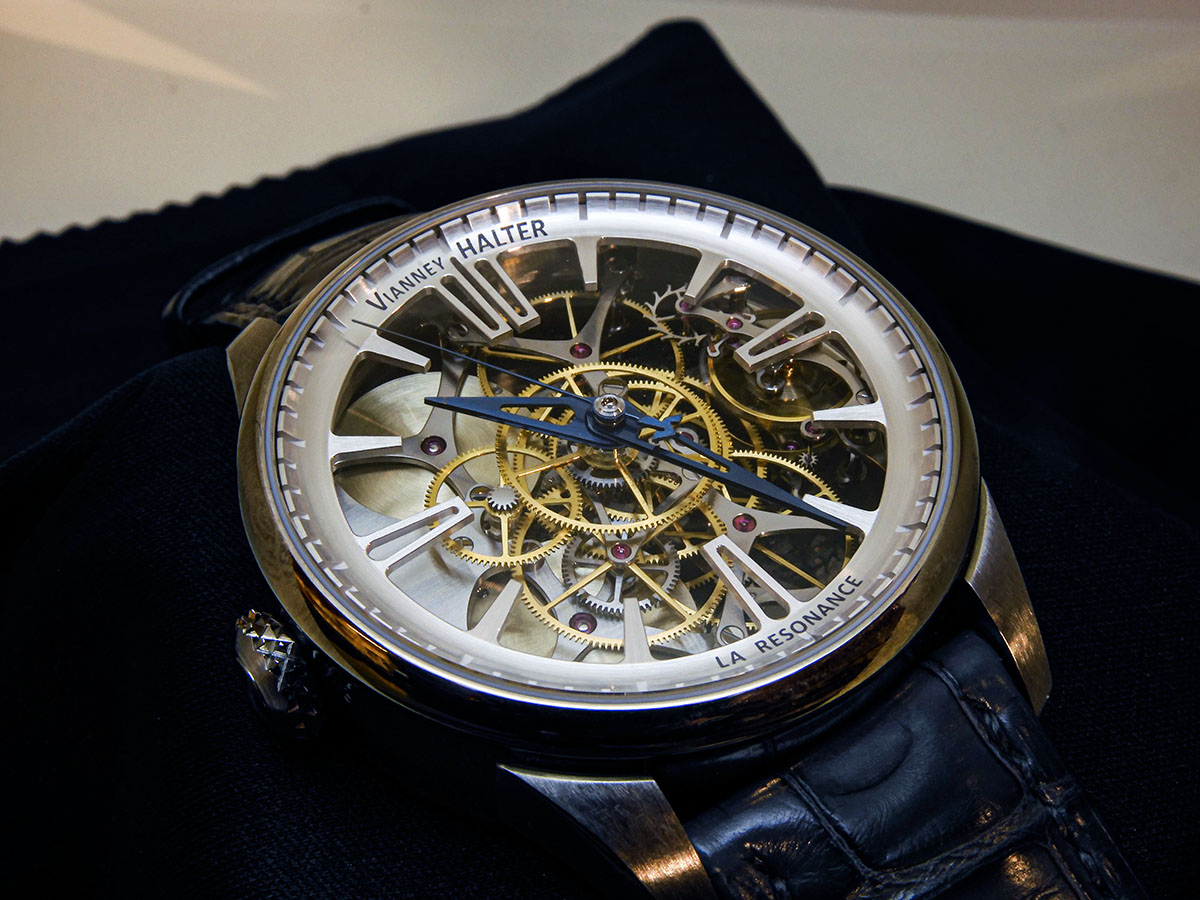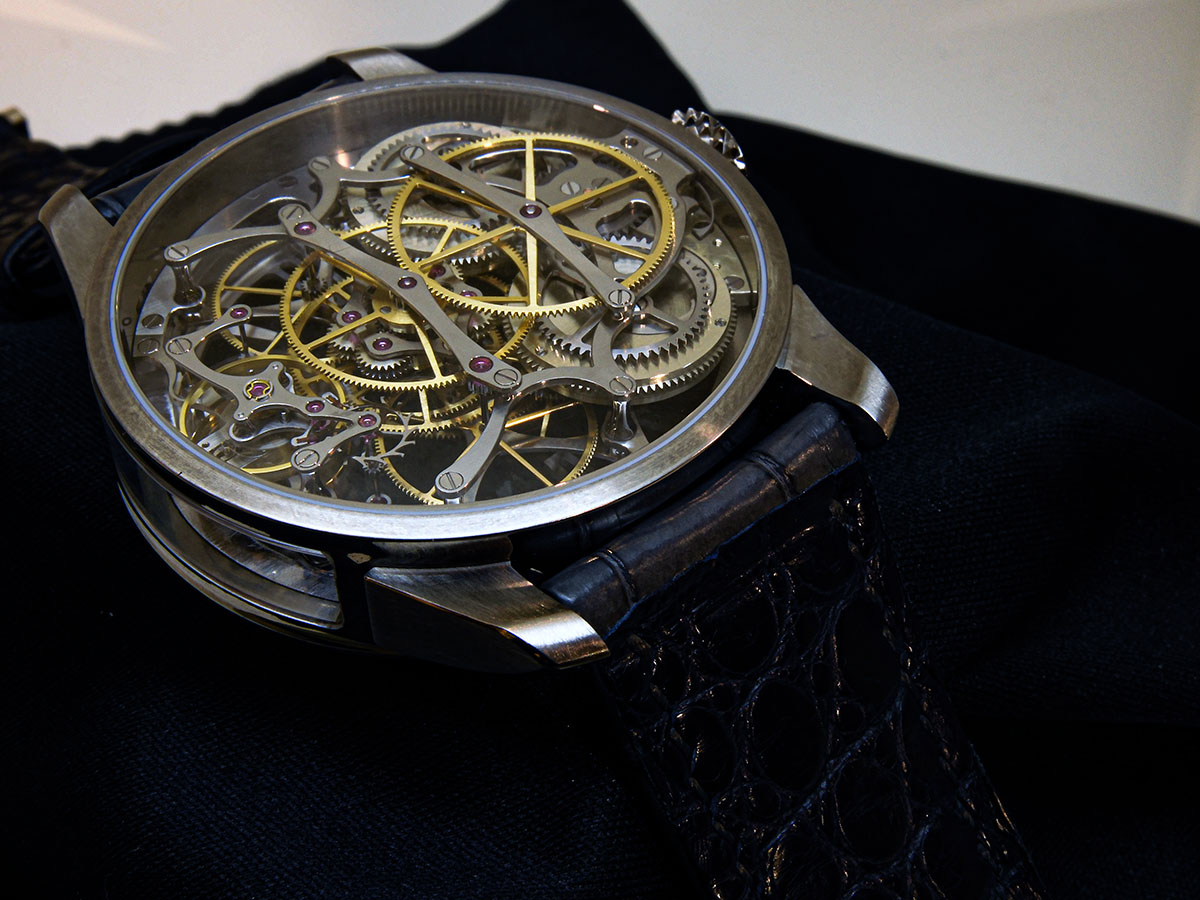 This can be watched for hours.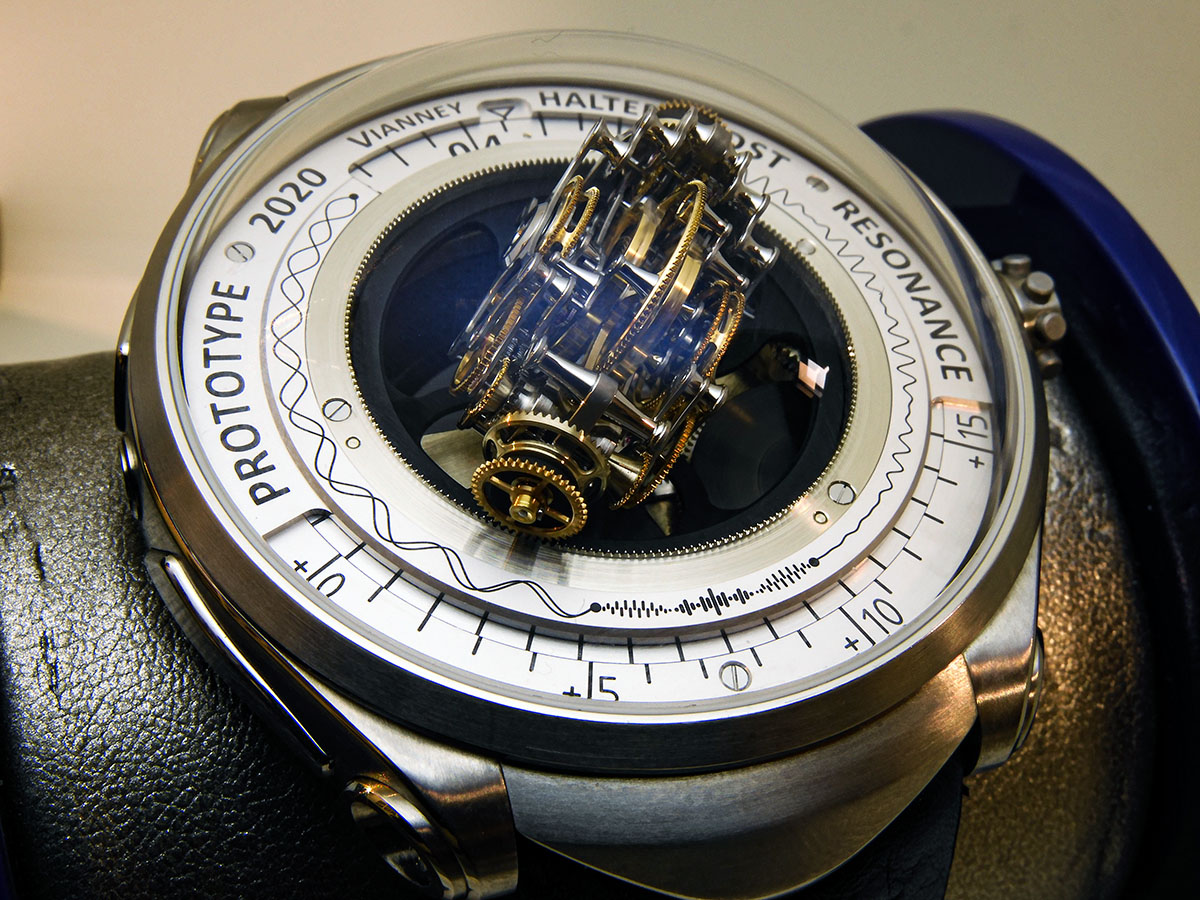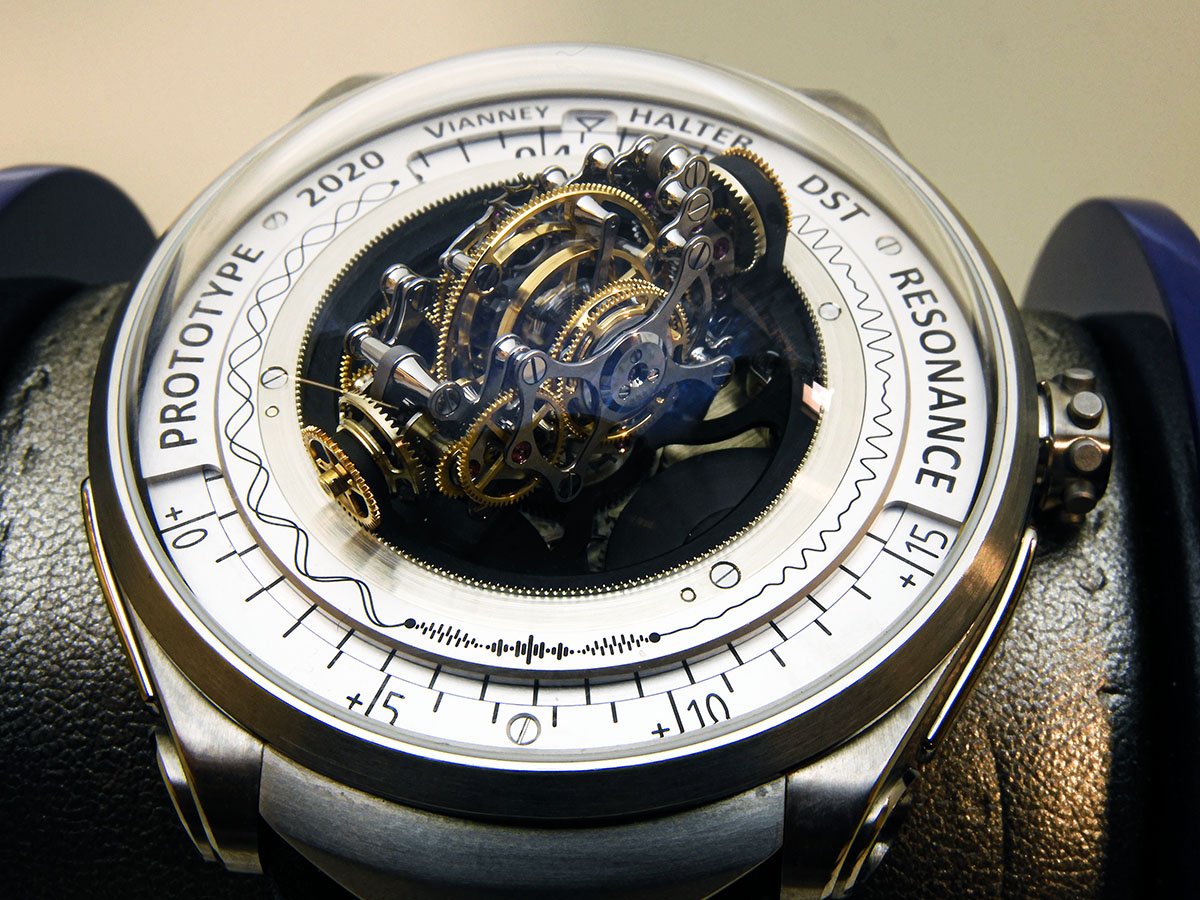 Kari Voutilainen always has something interesting in his pocket.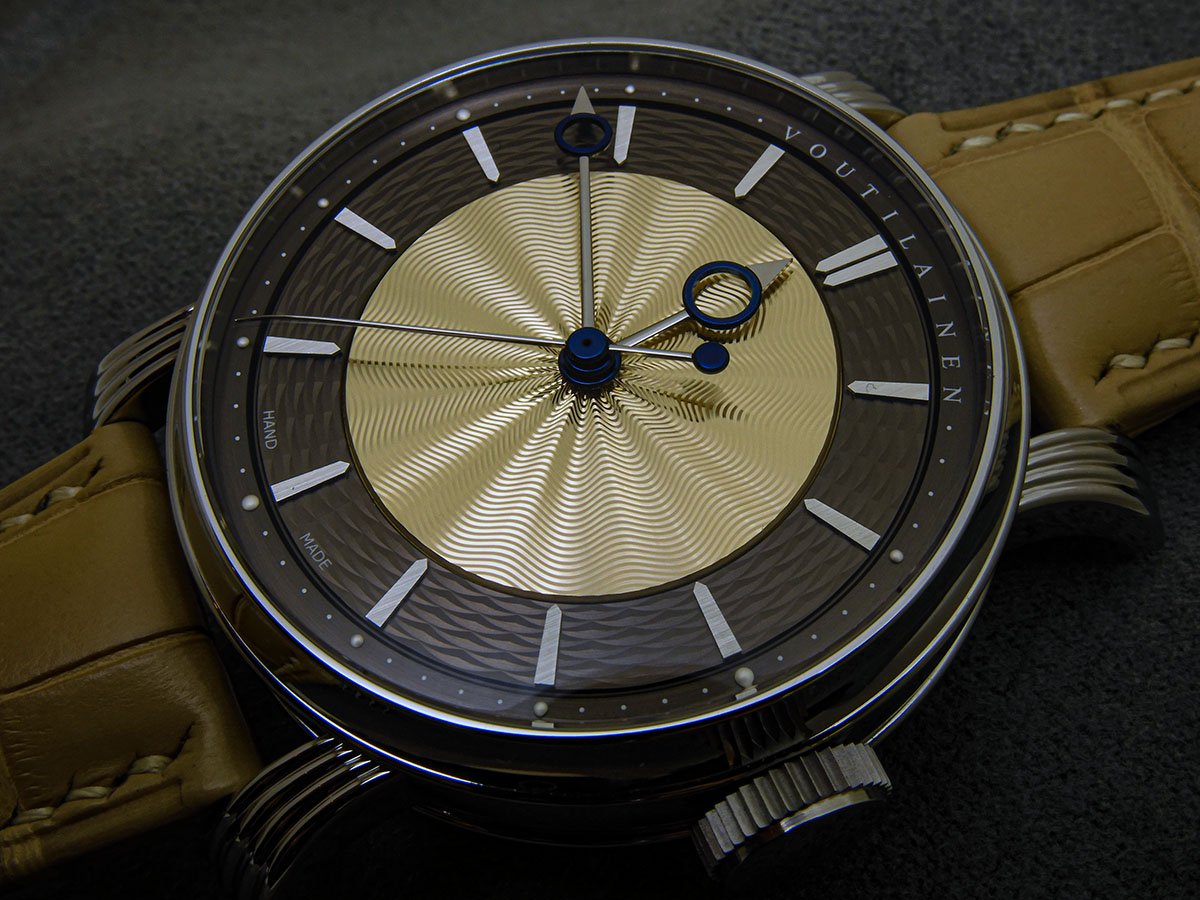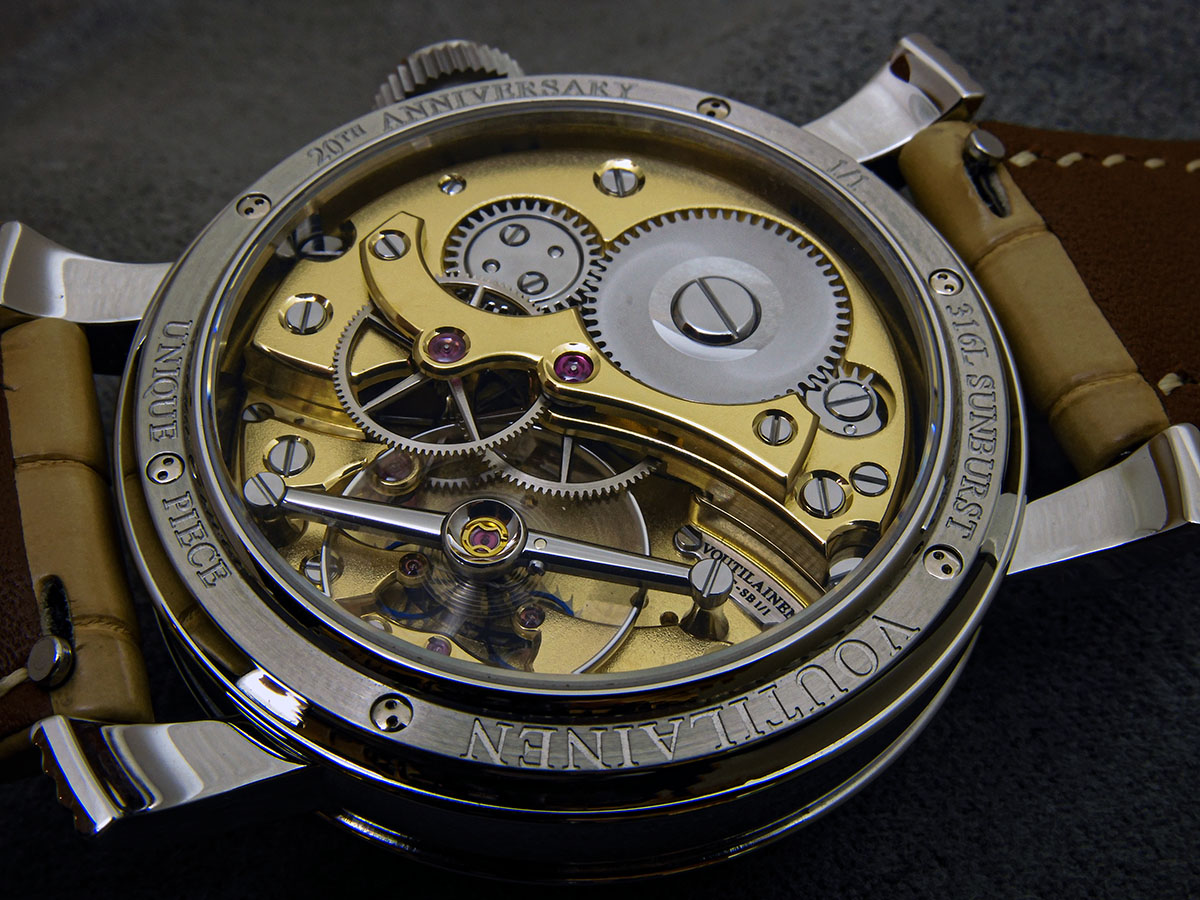 It is understandable that he often wins prizes for his works.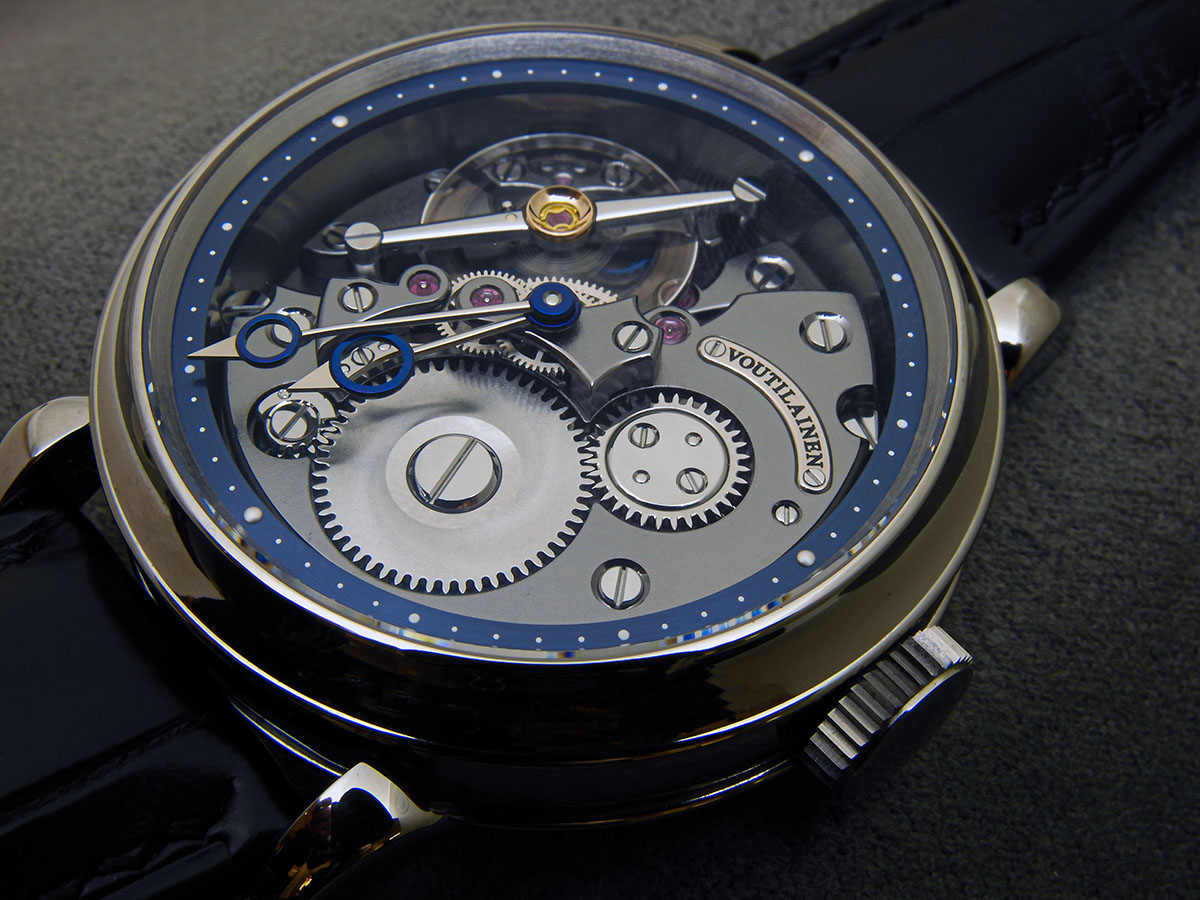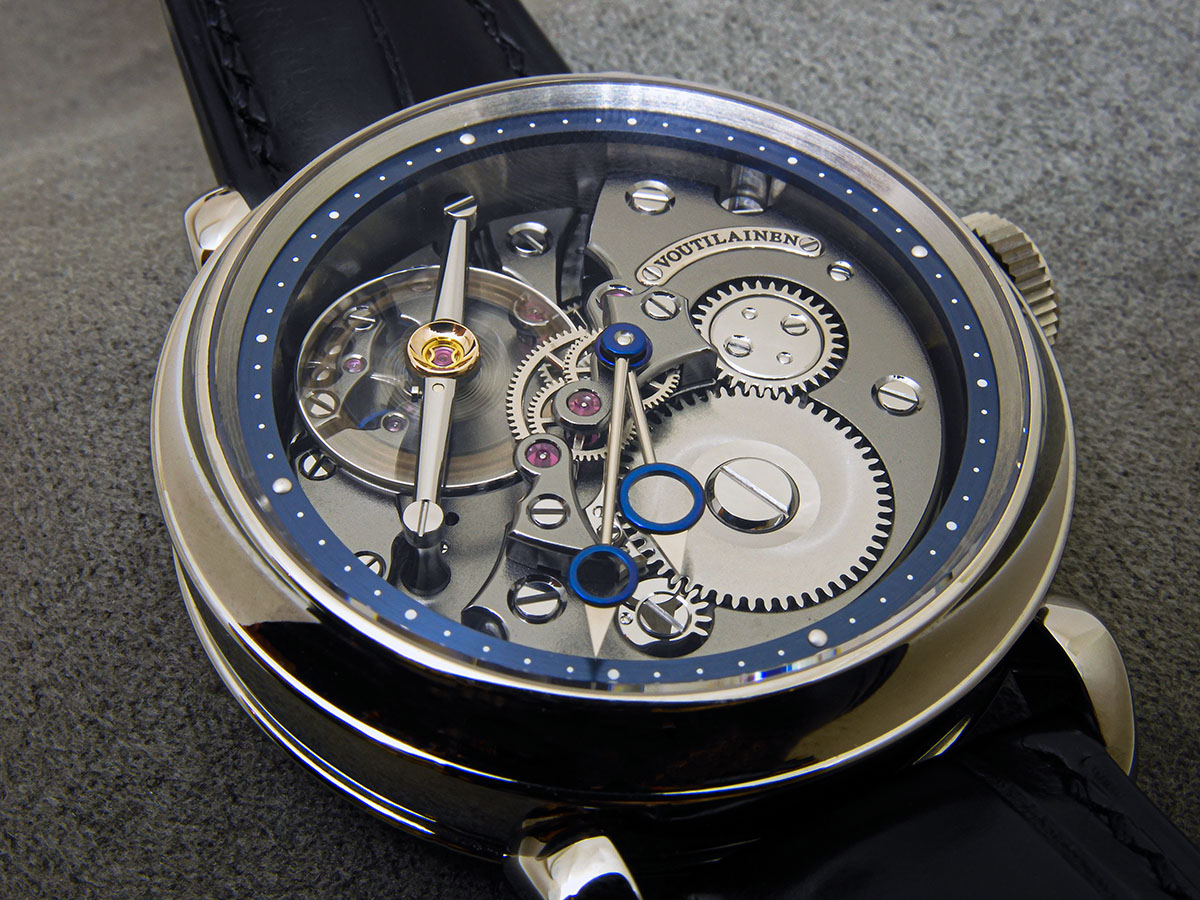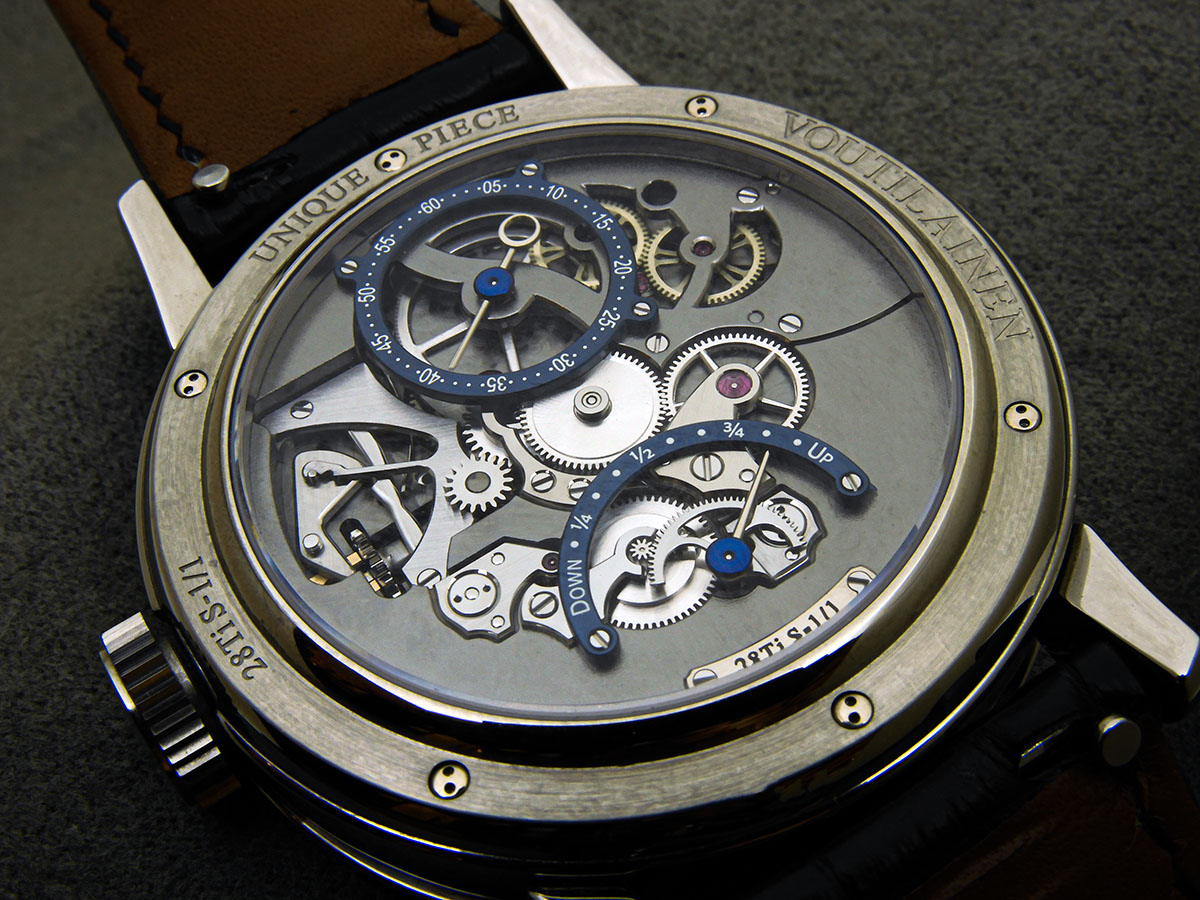 Ludovic Ballouard's uppside down is so cool.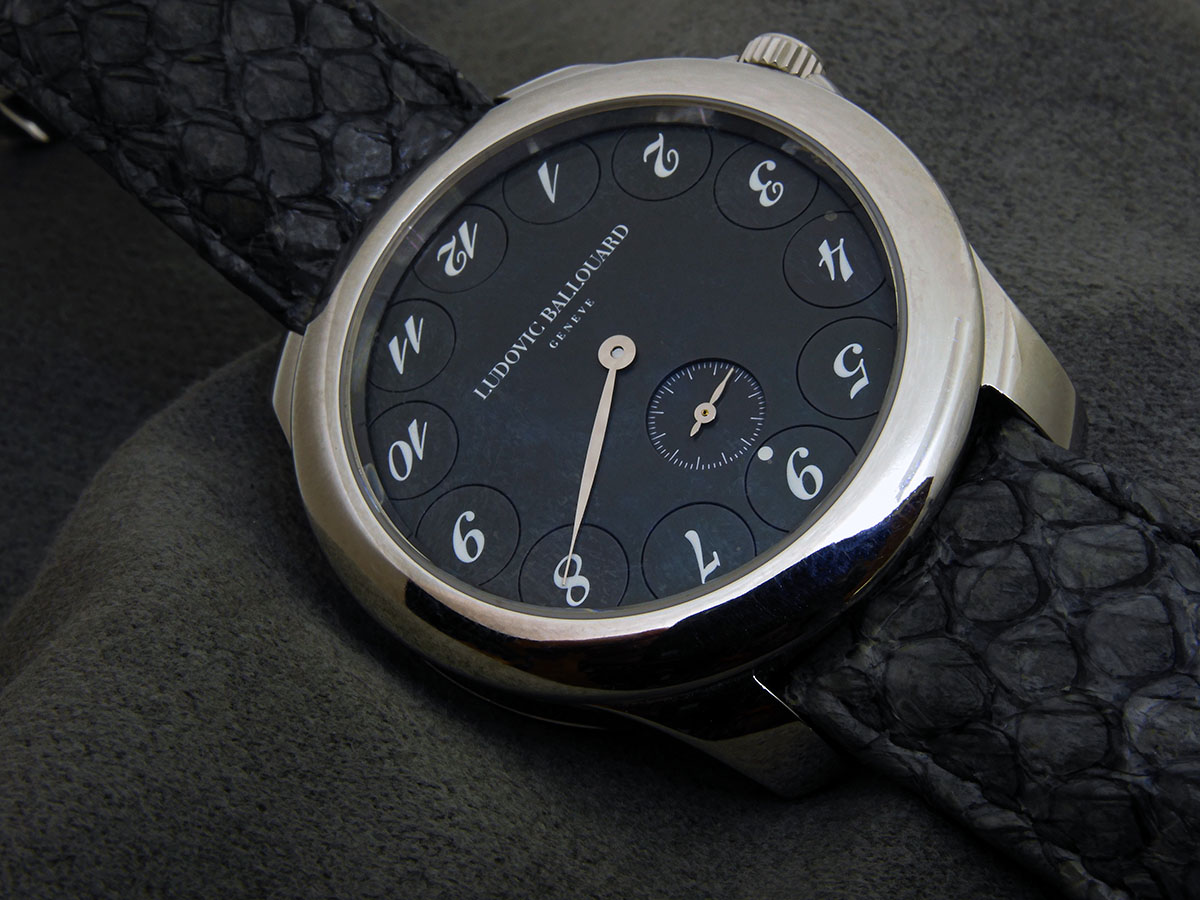 The backside don't disappoint.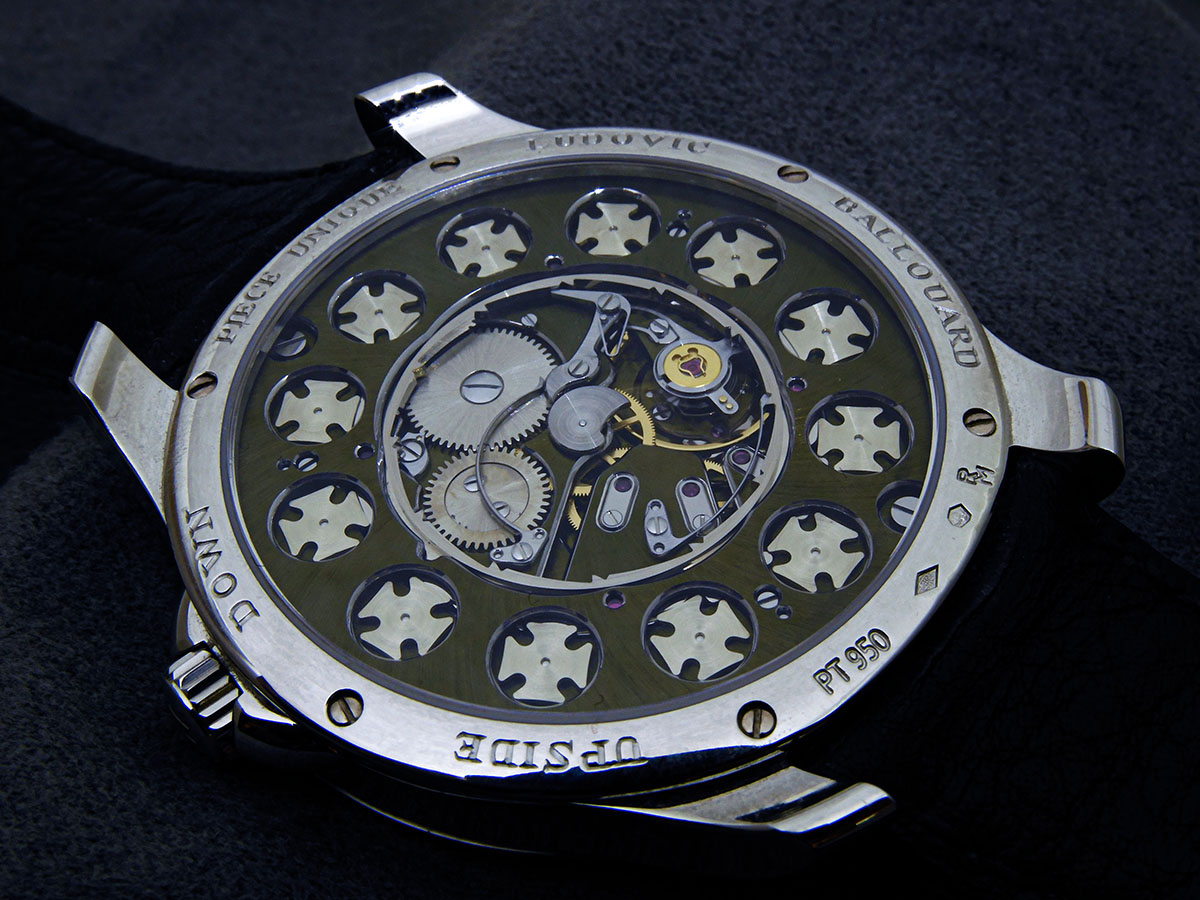 Now it is time to meet the rain and get back home.
But a piece of meat always slips down.