The Russian Project
This start one year ago with a mail from a russian guy named Mr Ruben, he told me about a project they was into.
Today I got this one in the mail.
A bunch of guys that hang out on a russian watch forum have a idea to made a special watch in only 15 pieces.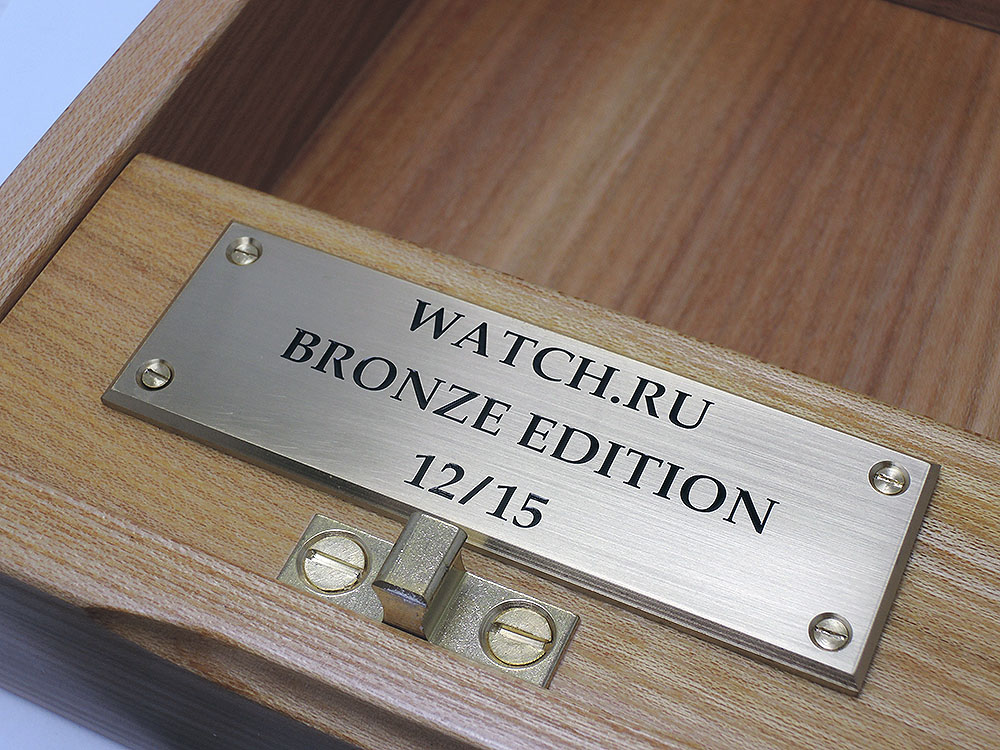 So they ask Dirk Dornblüth about a project they have talking about.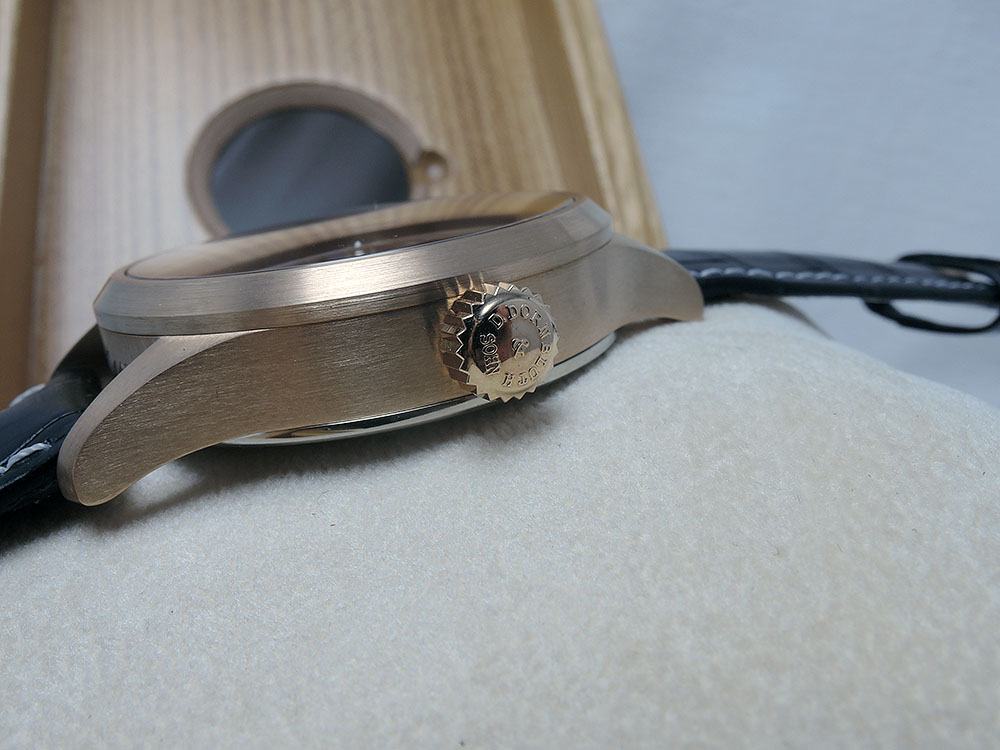 This project will be a 99.0 with a bronze case, stainless steal backcase with a sapphire crystal and a rosegold plated movement with granied finish and a montego blue dial.
The reason Mr Ruben contact me was there was one watch left of the 15 watches that will be made and I will get the chance to be a part of this project.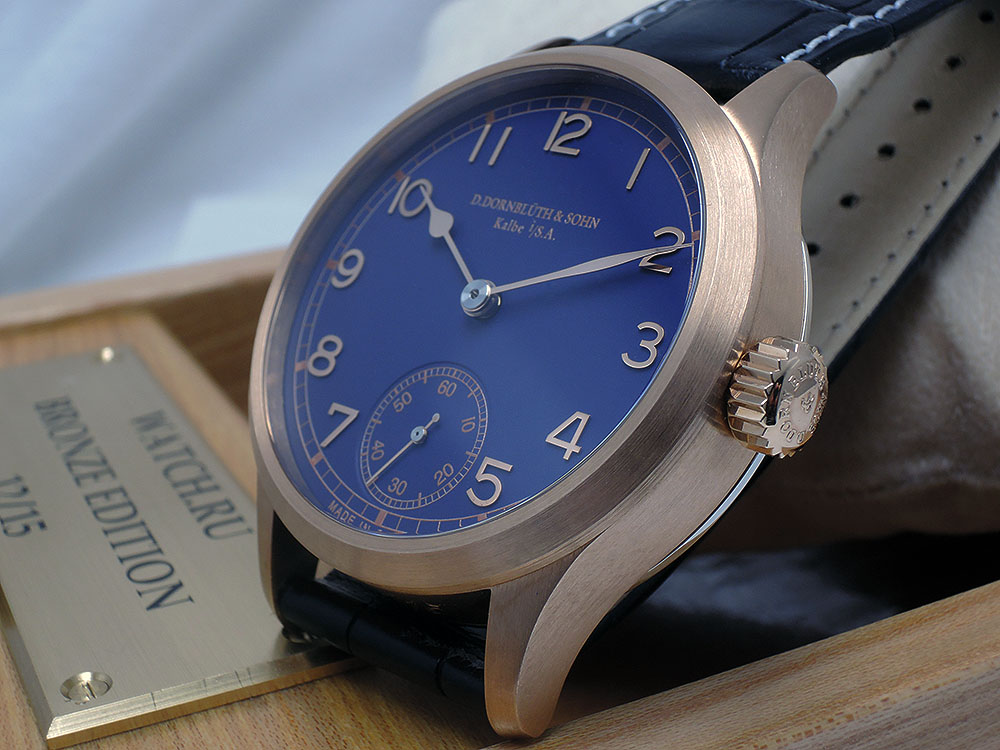 My first thought was, after all, bronze, it has never interested me when we're talking watches. The next thought was, how do I get out of this? A russian guy will never
take a no for a answer.:-))) Jokes aside, why does not it could be exciting and such a small series makes the watch will be unique as well.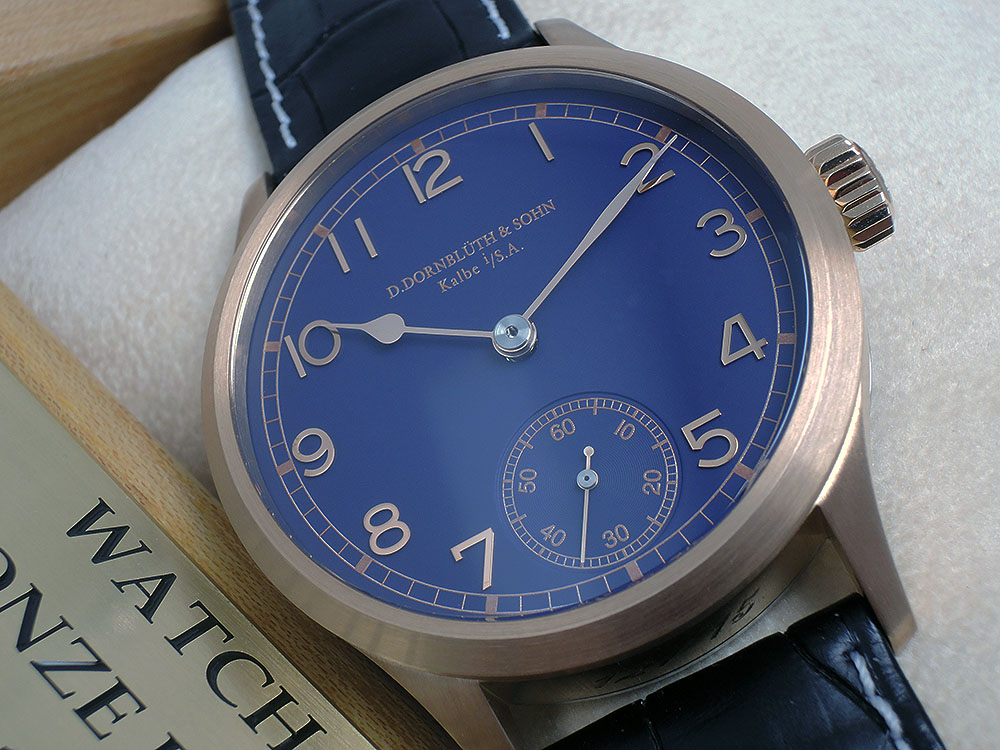 It's not the normal Dornblüth finish at the movement, this one have a more vintage look.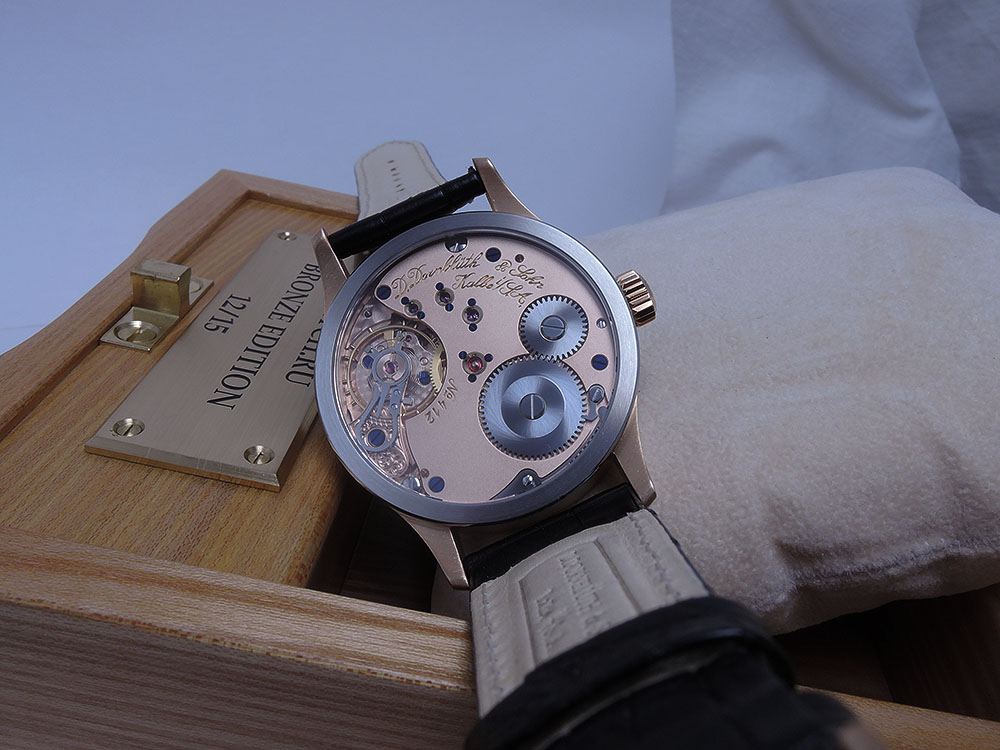 Blued screws and screwed gold chatons.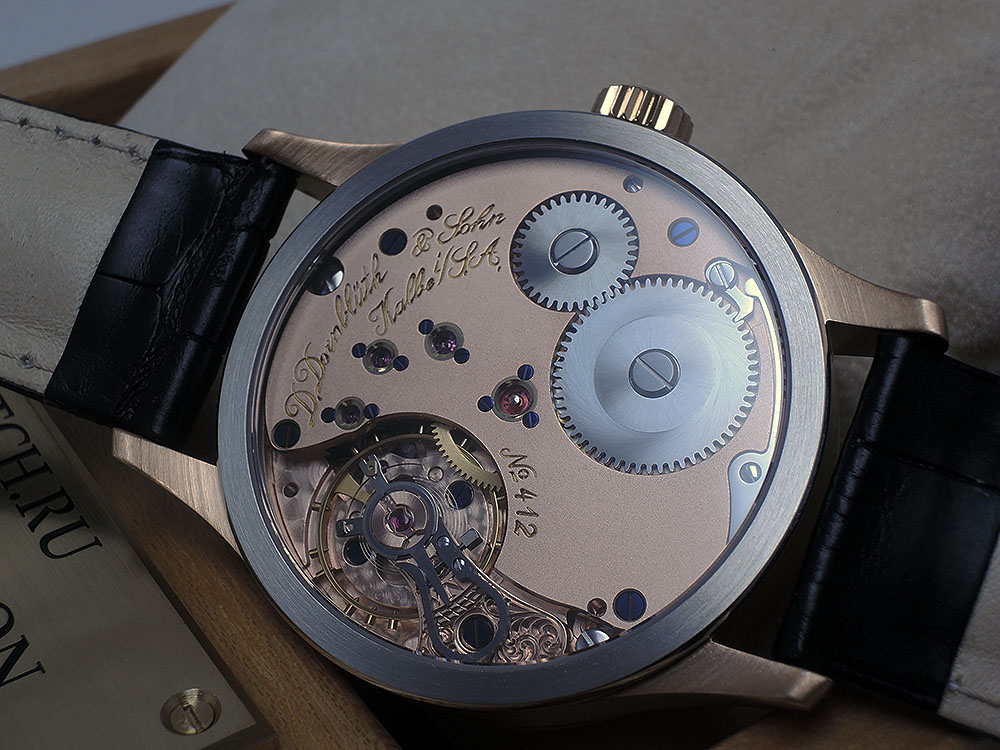 There is a bronze clasp too at the strap.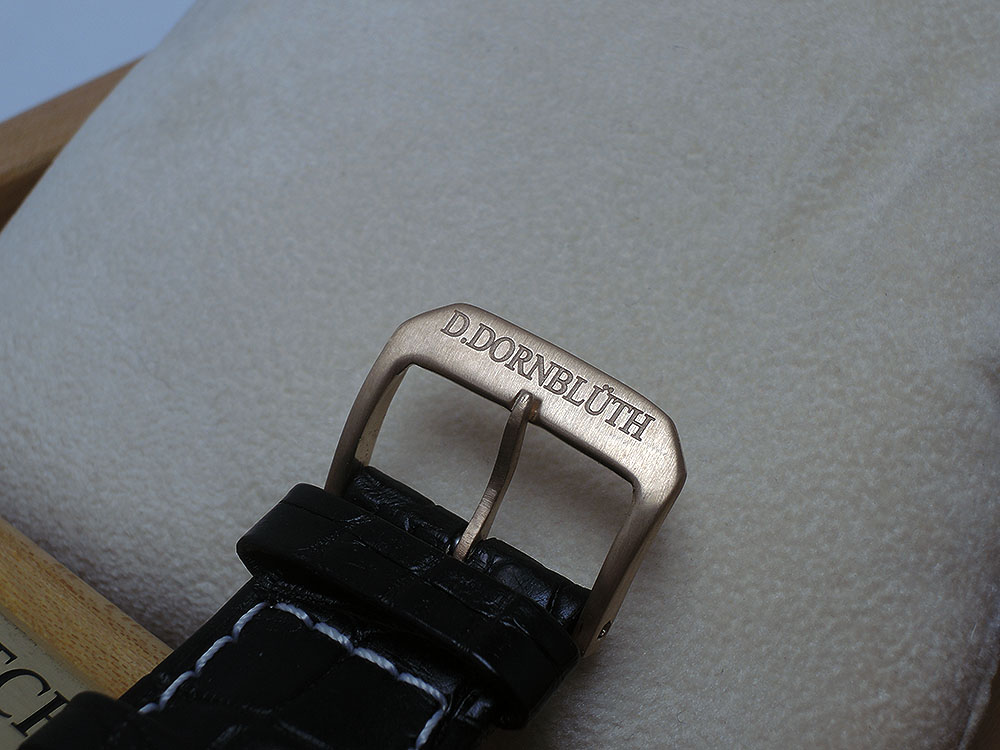 Now lets see how they where made.
The cases ready to get a movement, marked with XX/15 between the lugs.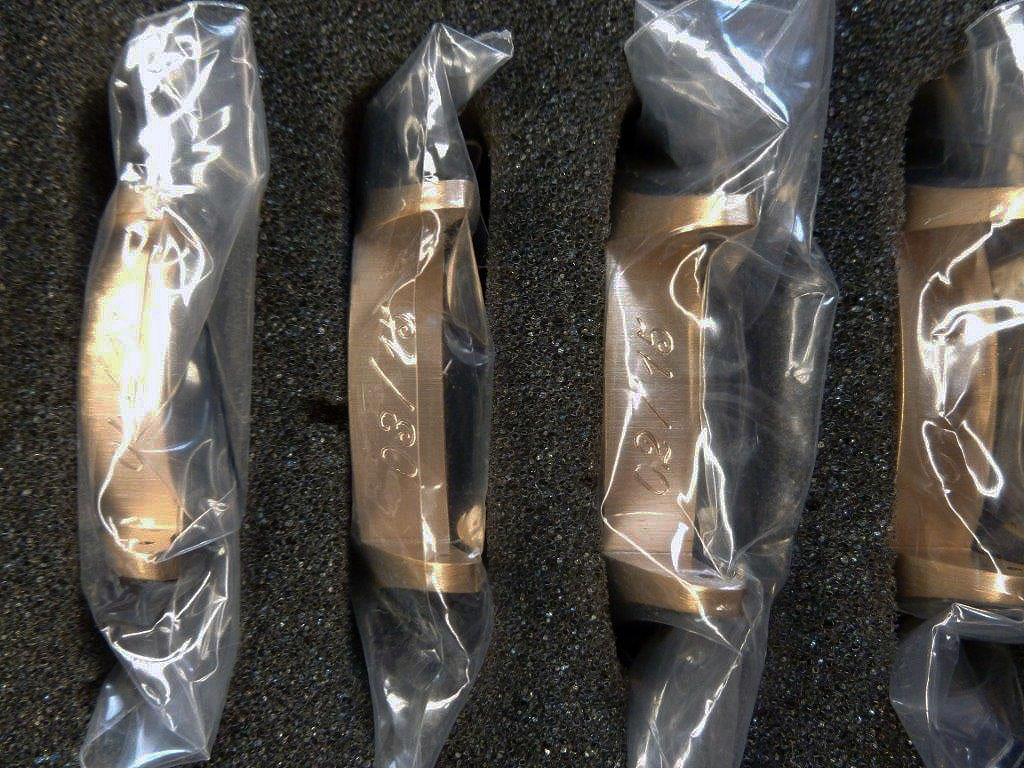 The traditional 42mm Dornblüth case for the first time made in bronze.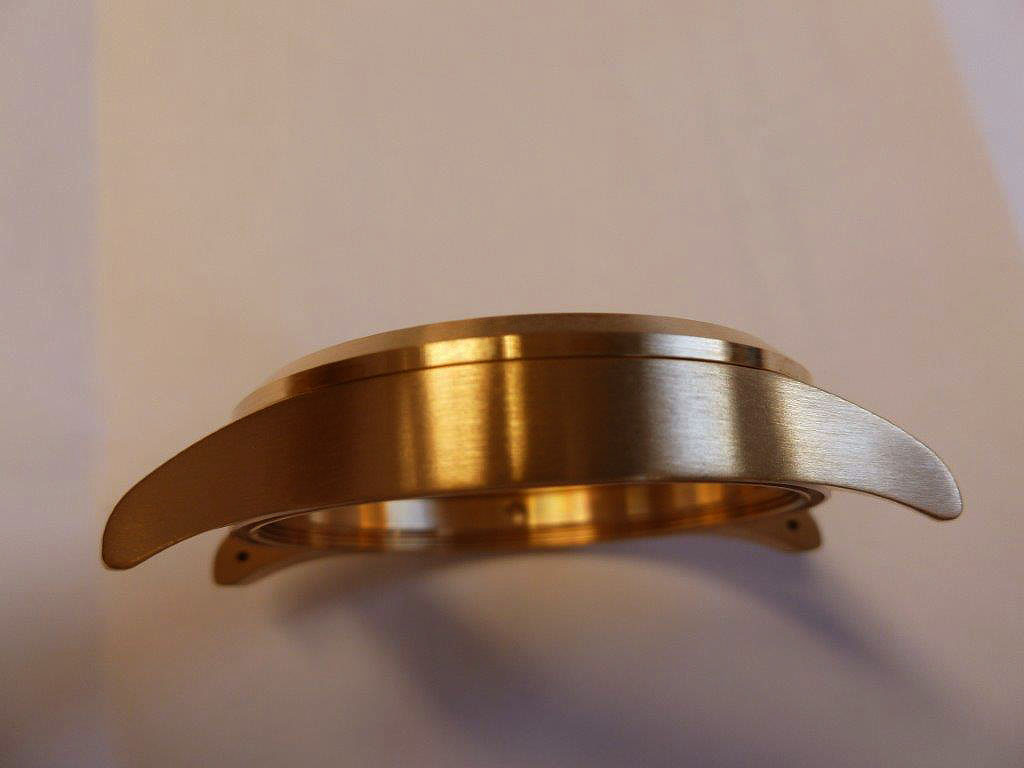 Here is some pics from the birth of these watches and how it looked during the process.
The three quarter plate.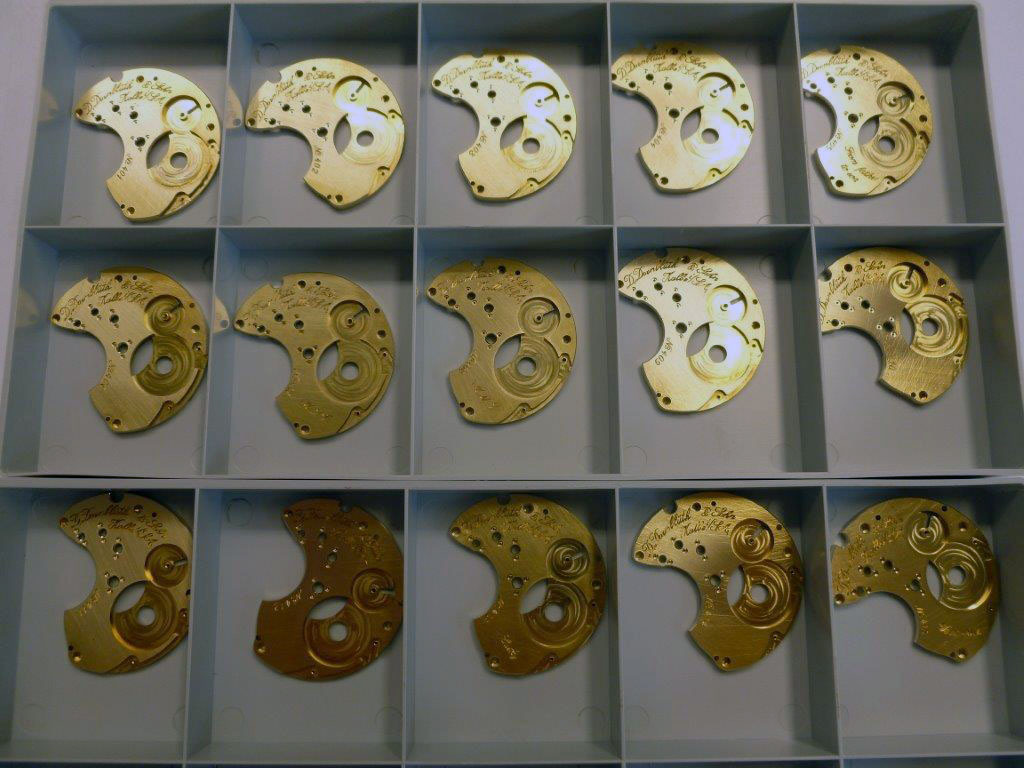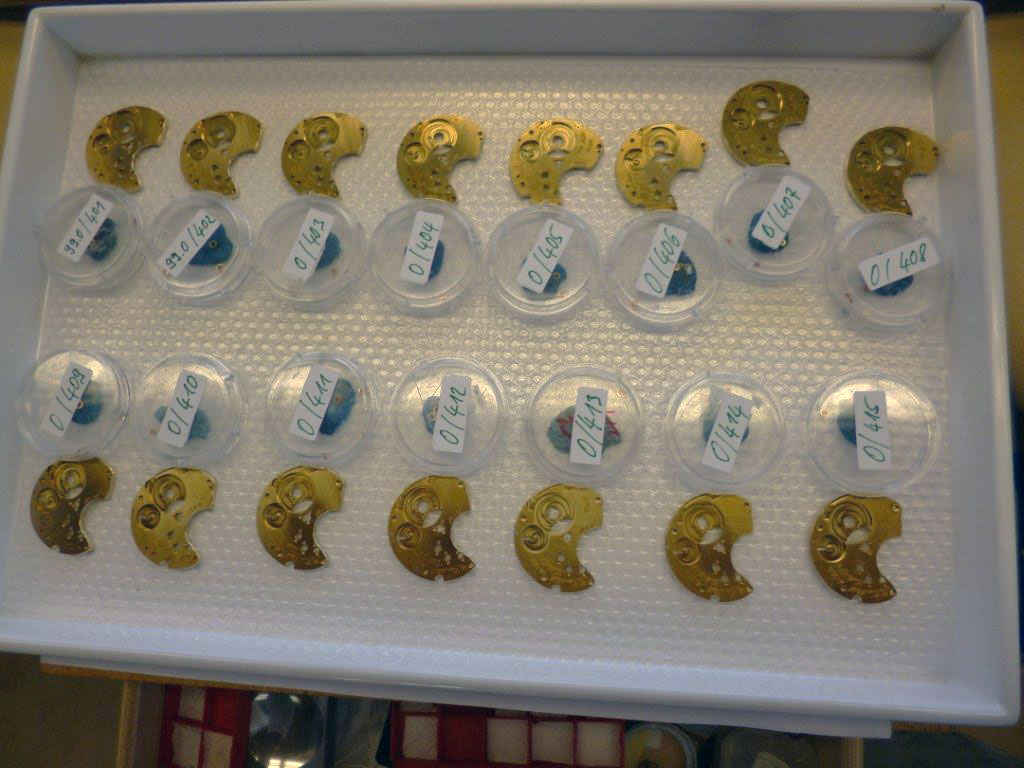 14 of the balance cock's.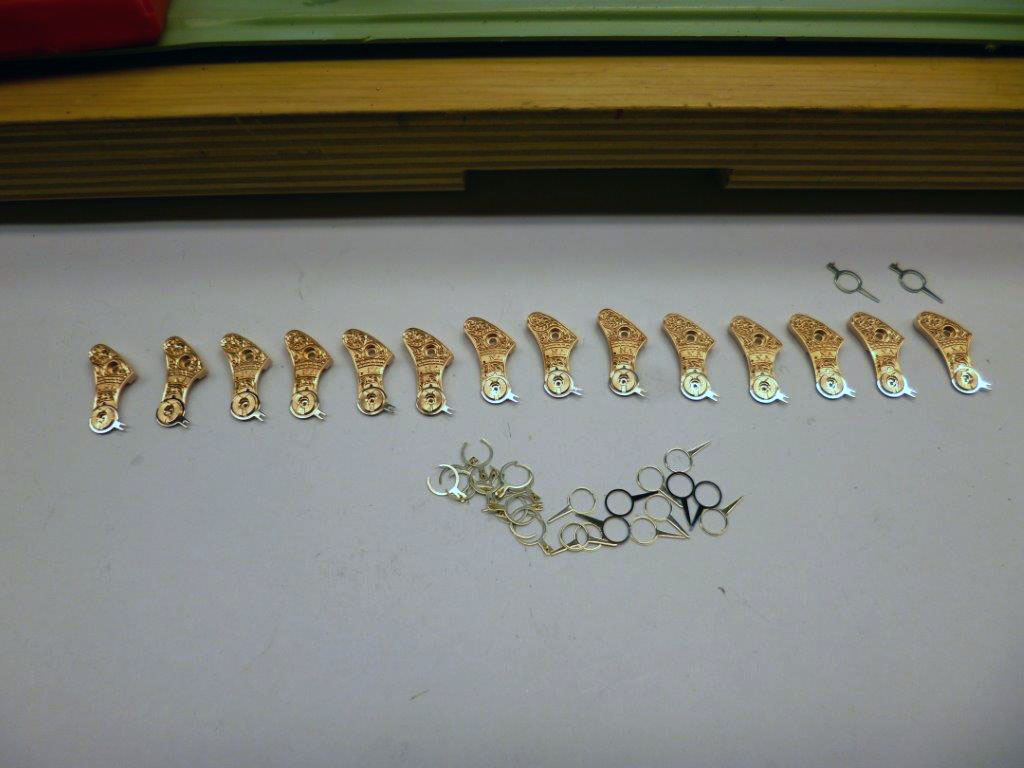 A little closer look to the nice engraving.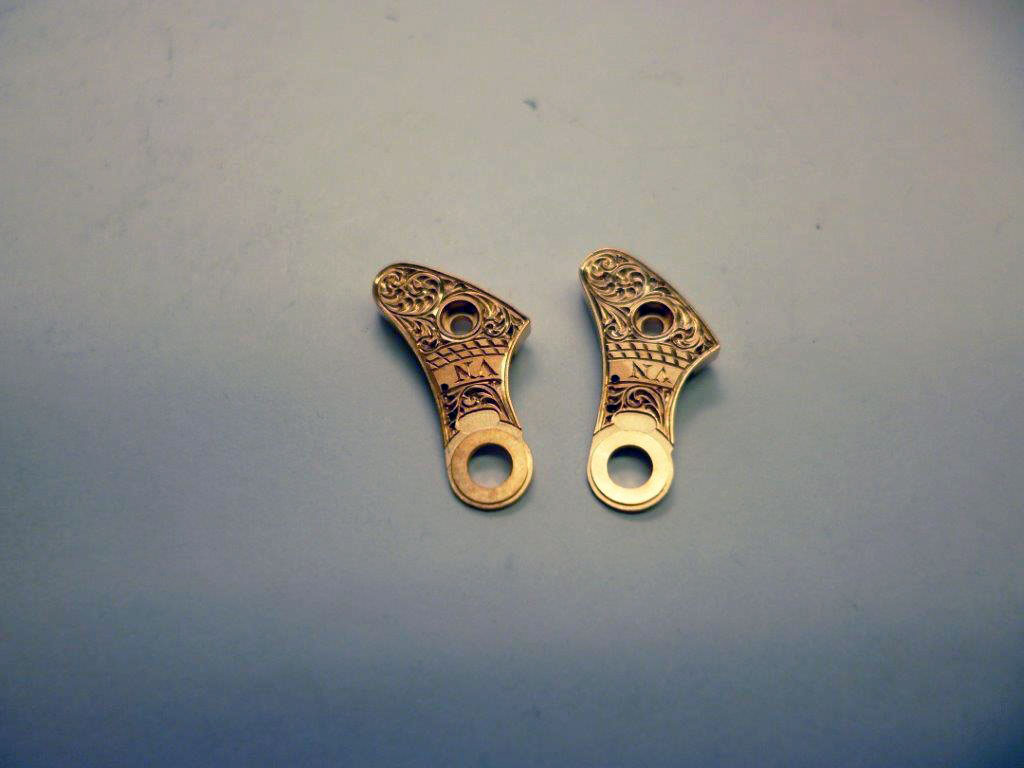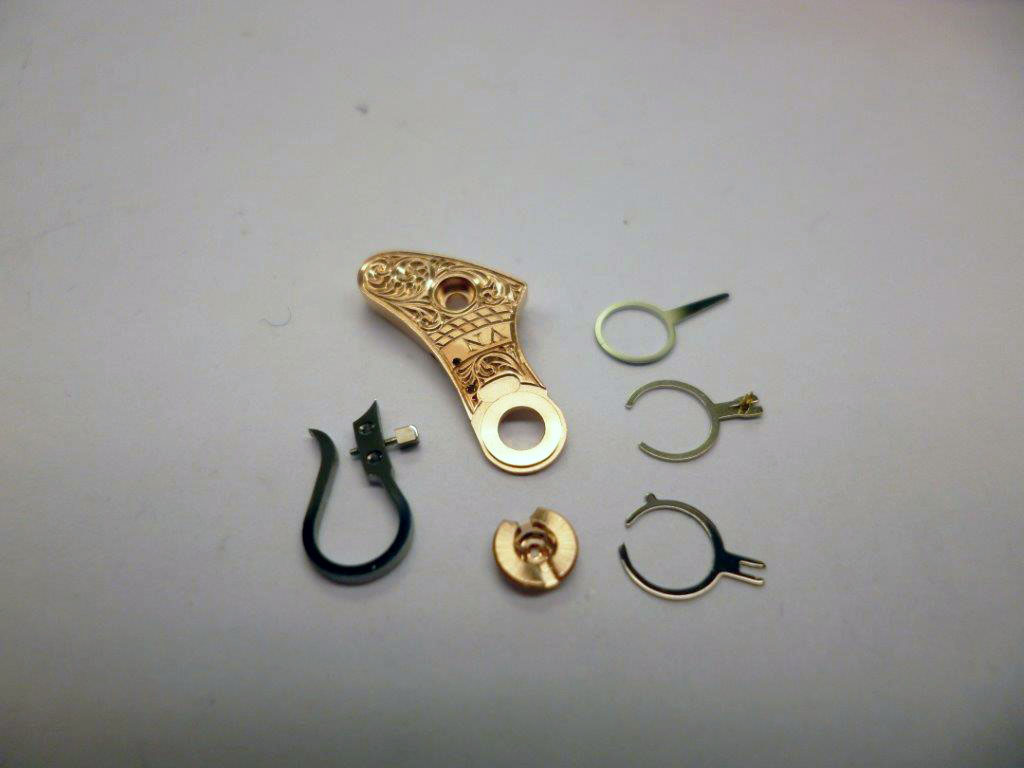 Complete with the balance wheel and the swan neck.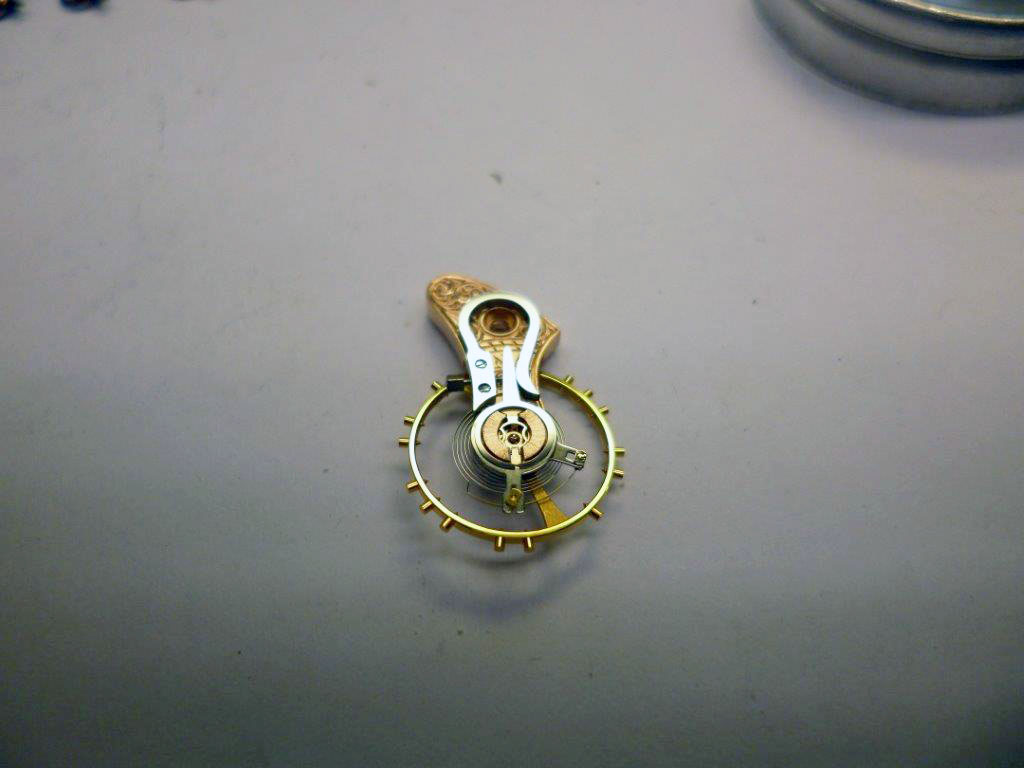 All the parts.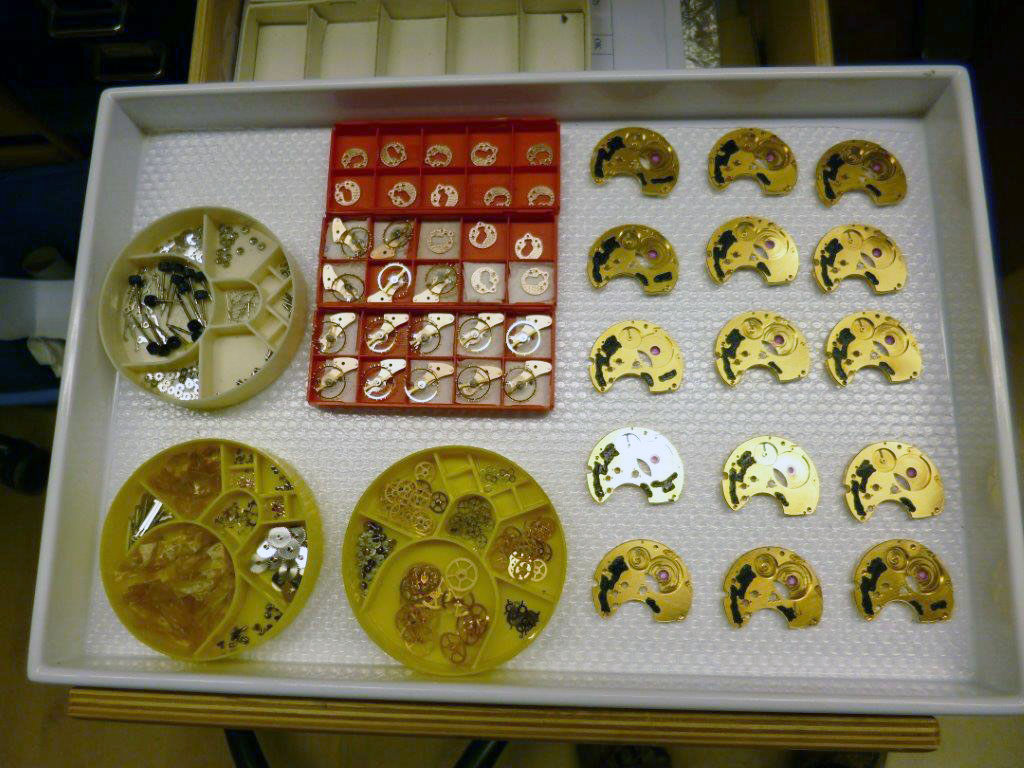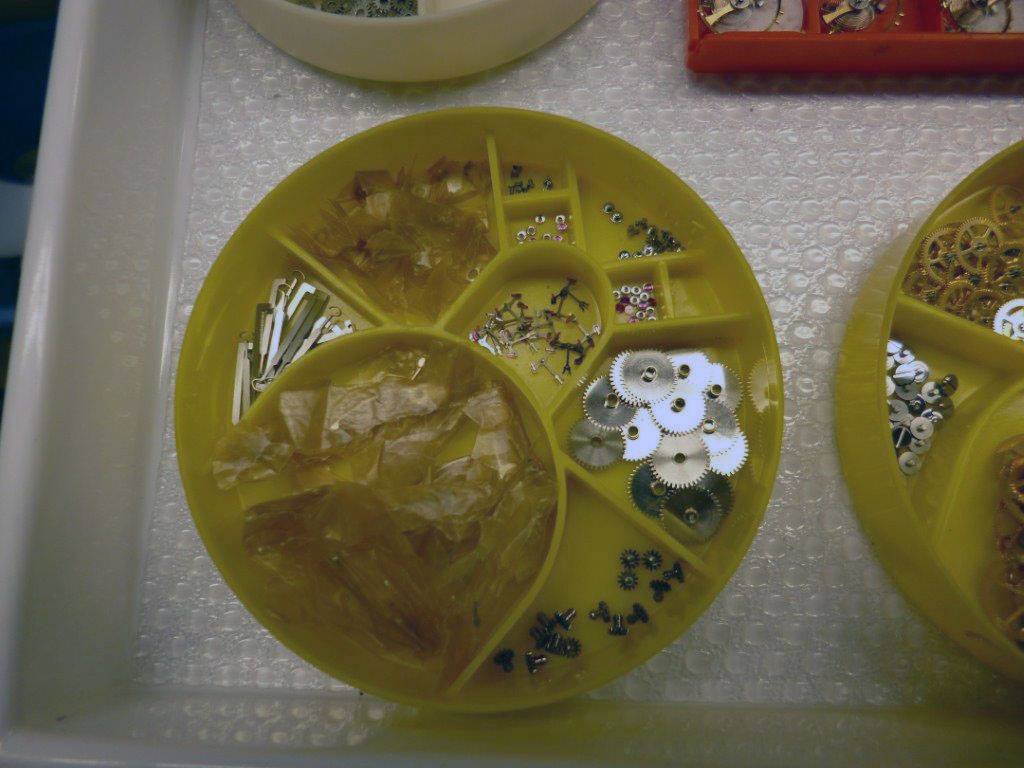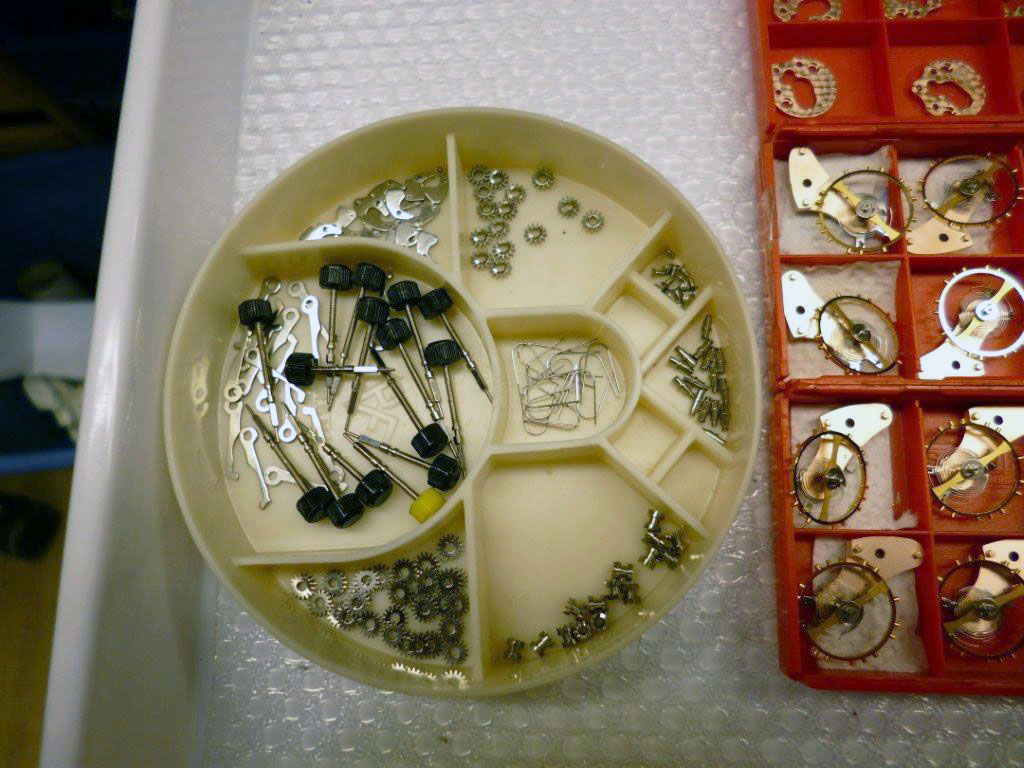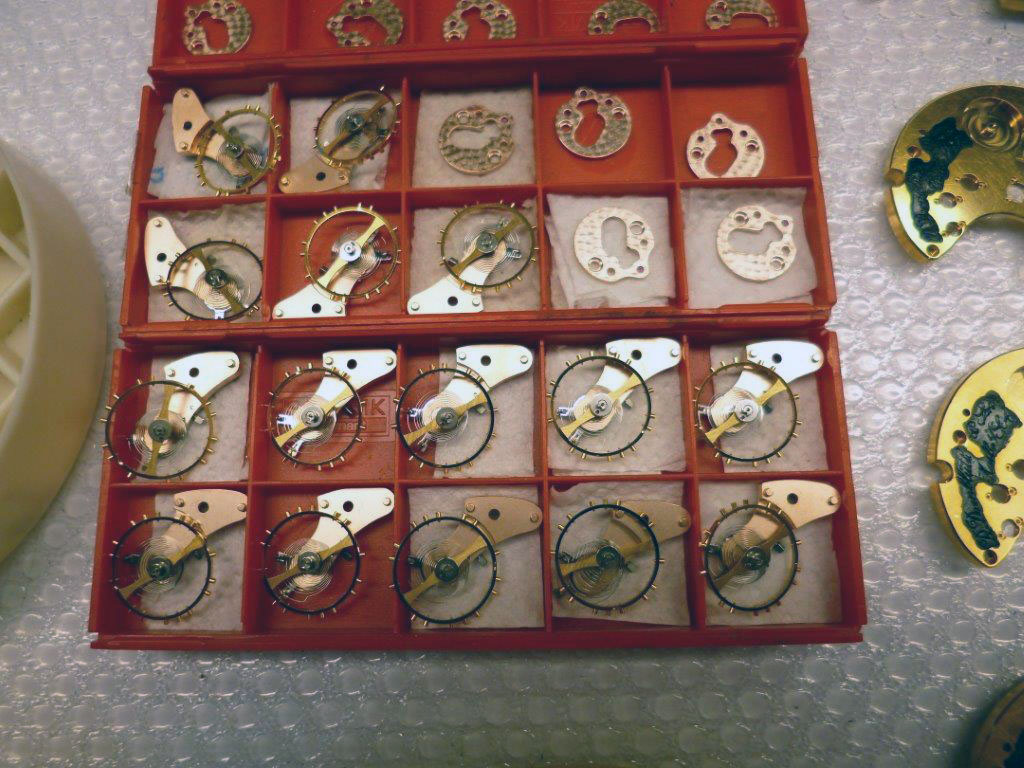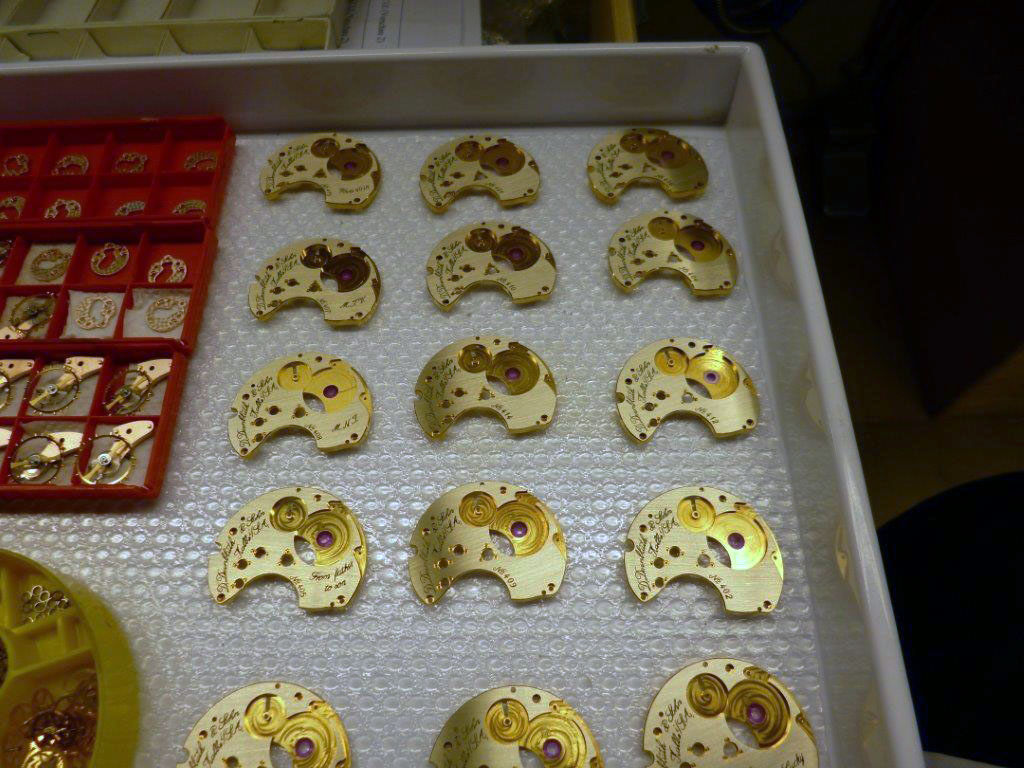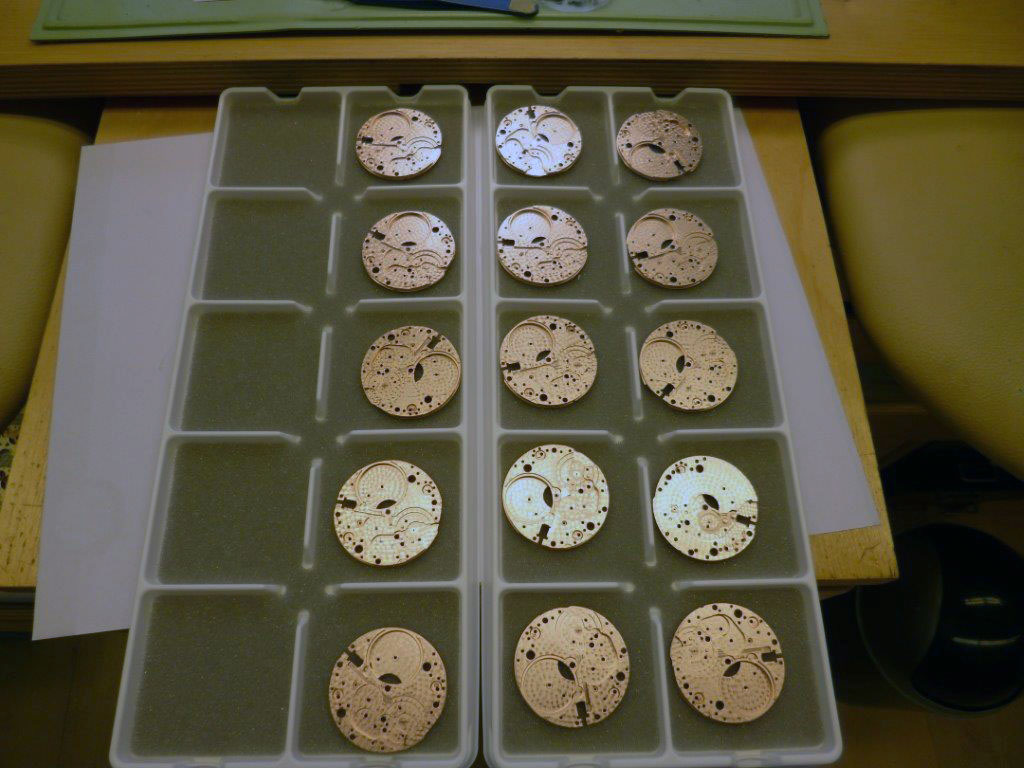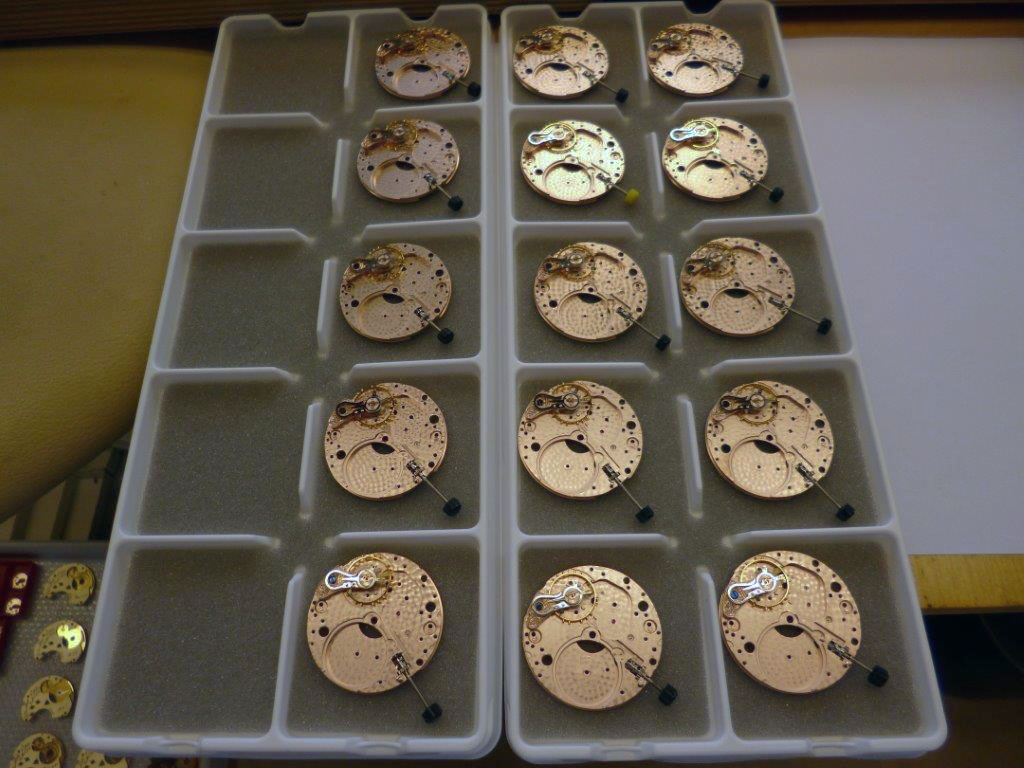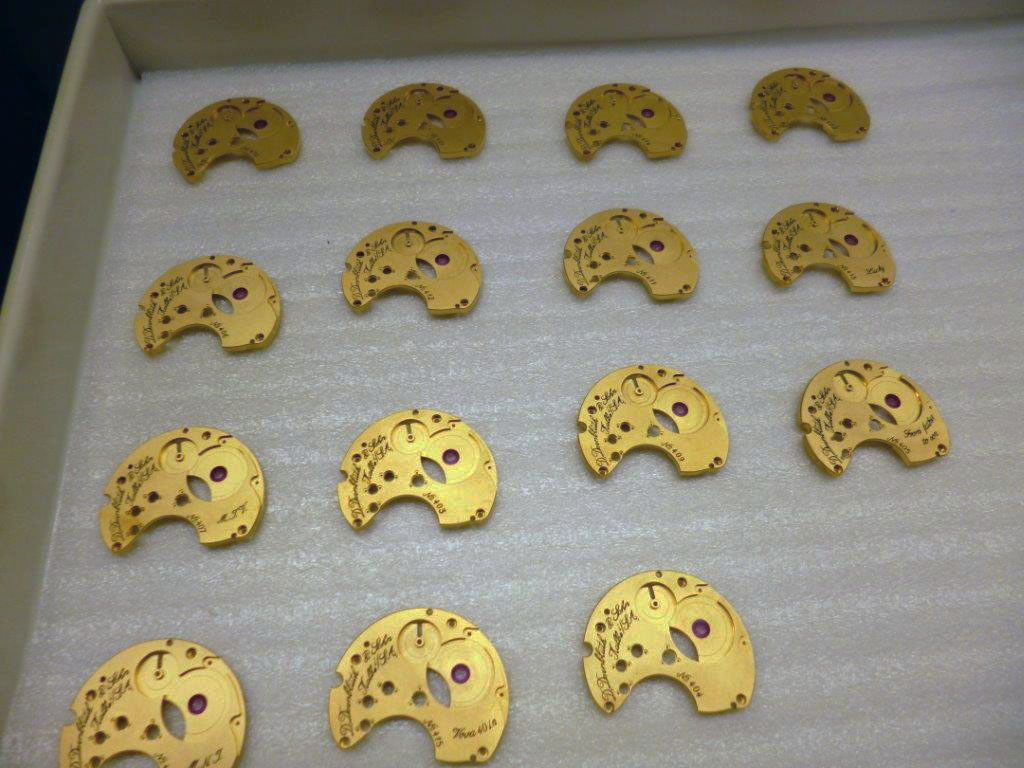 Some guys wants a personal engraving.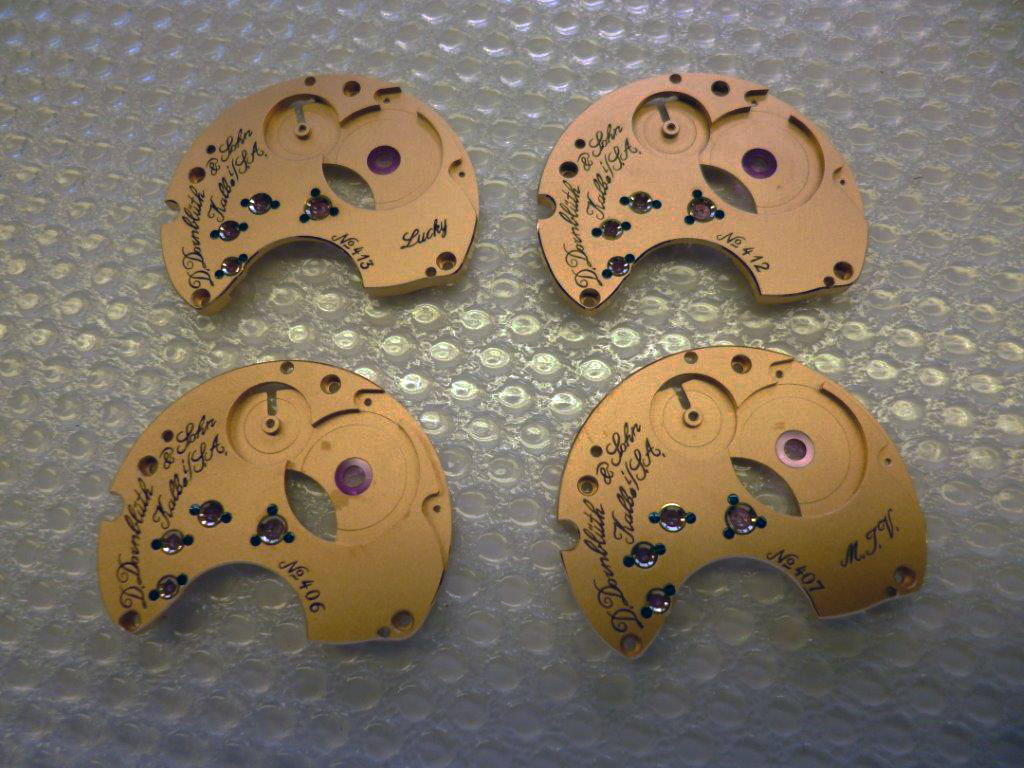 Now we are close to put the things together.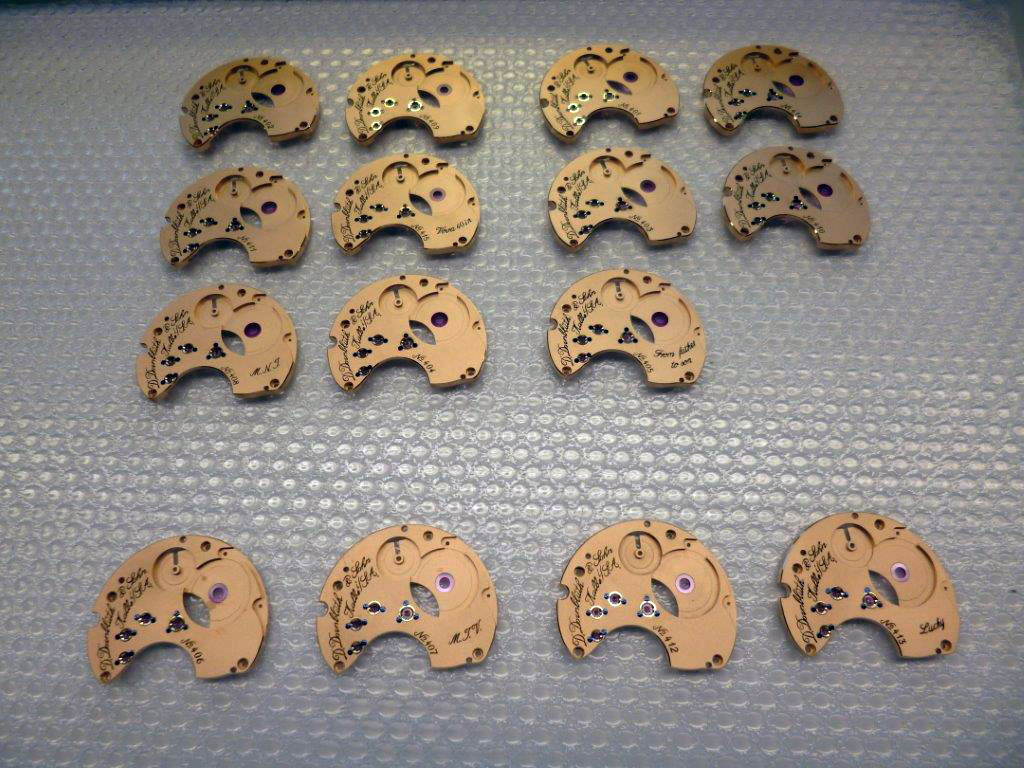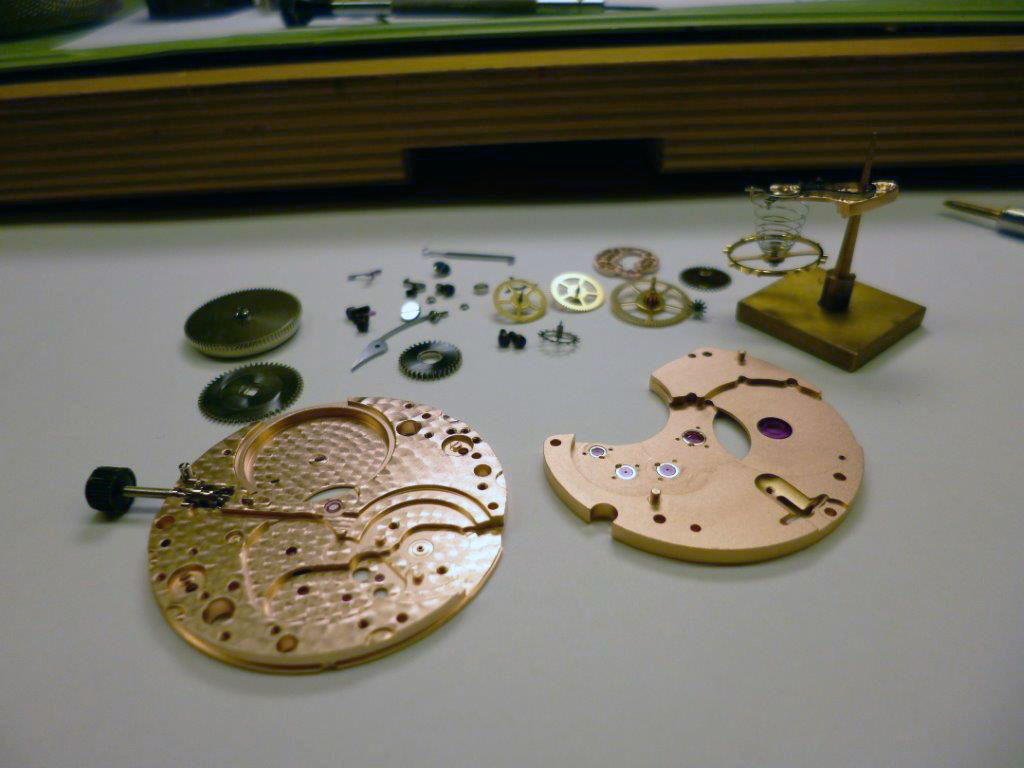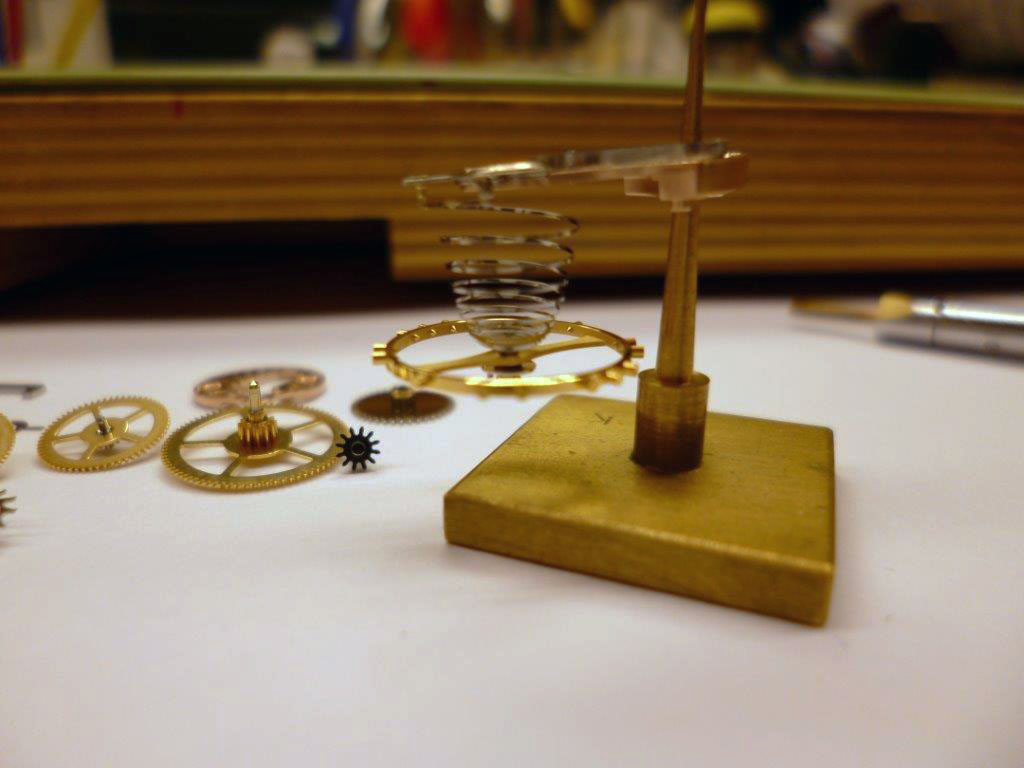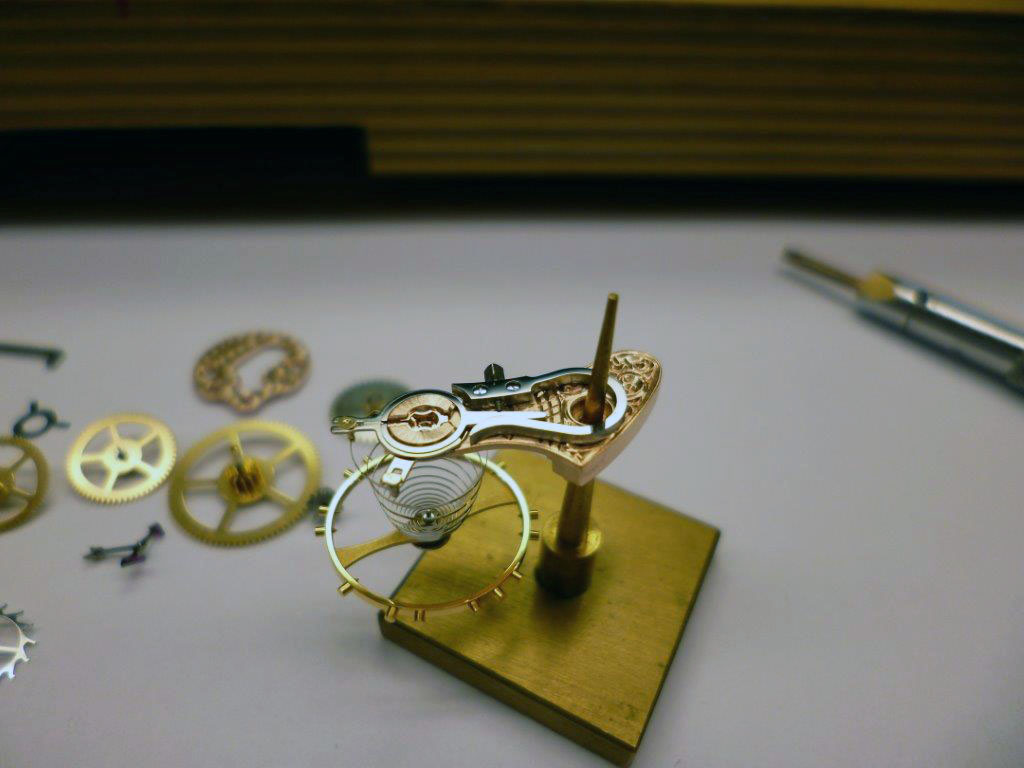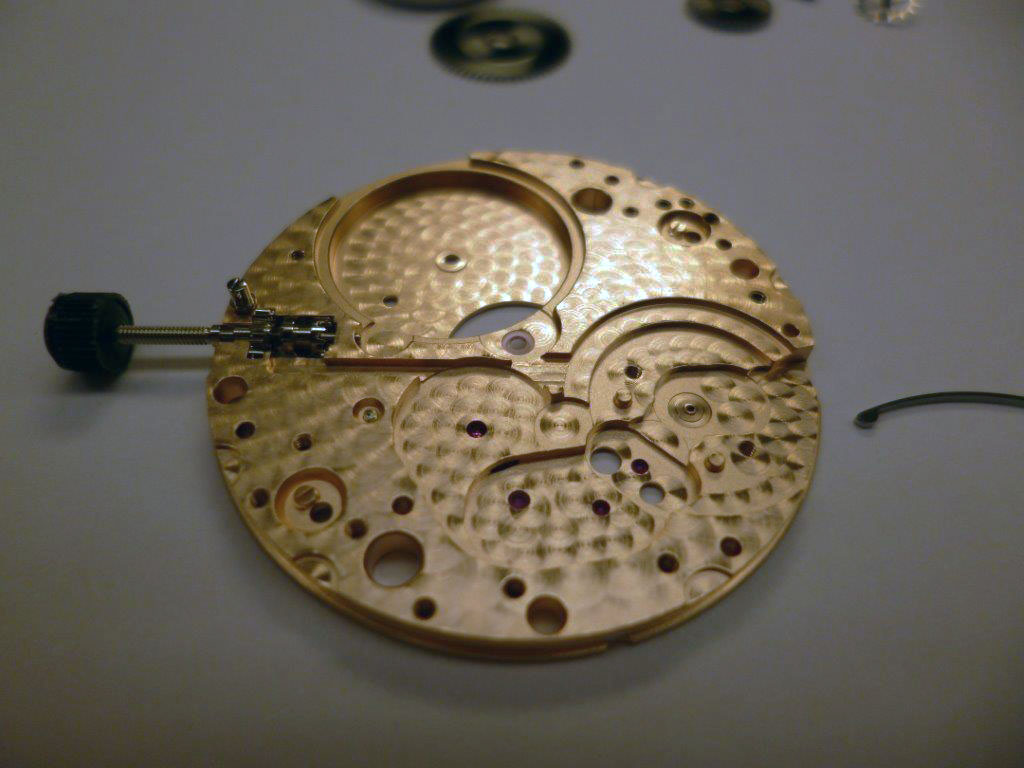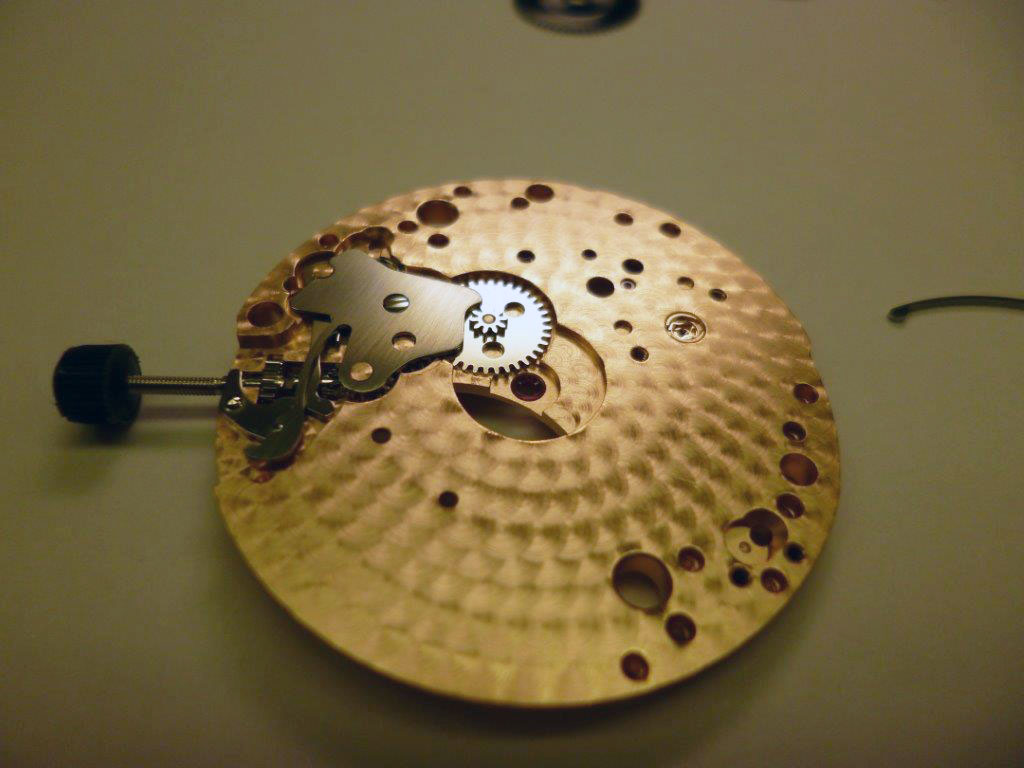 Now we getting closer to a working movement.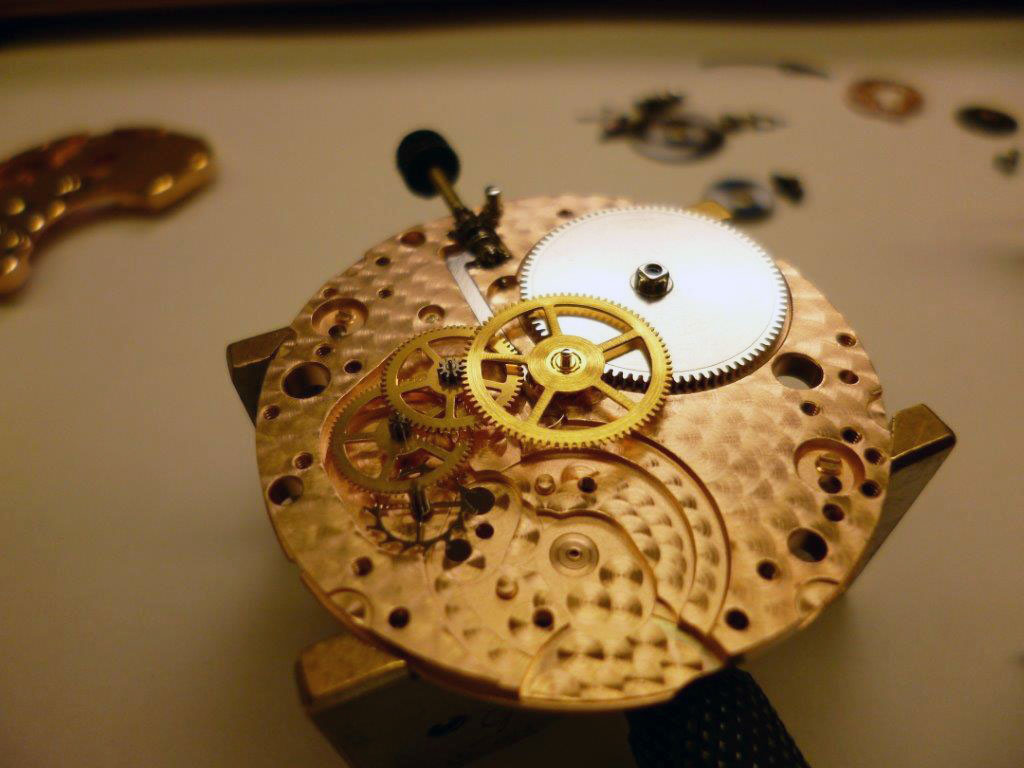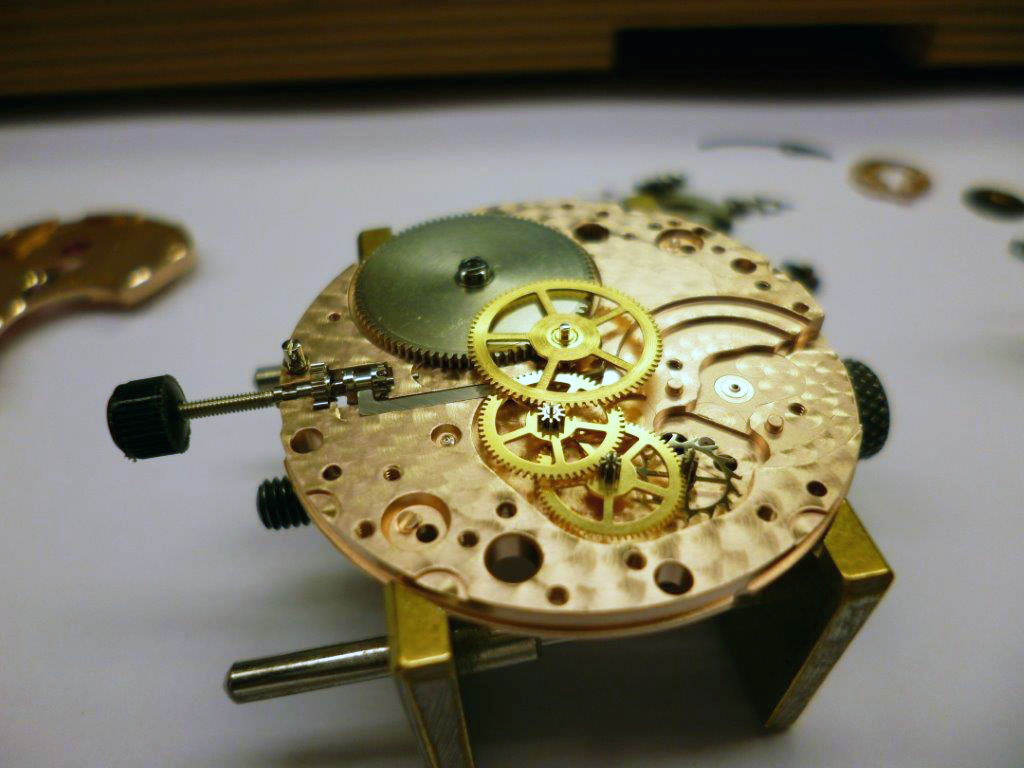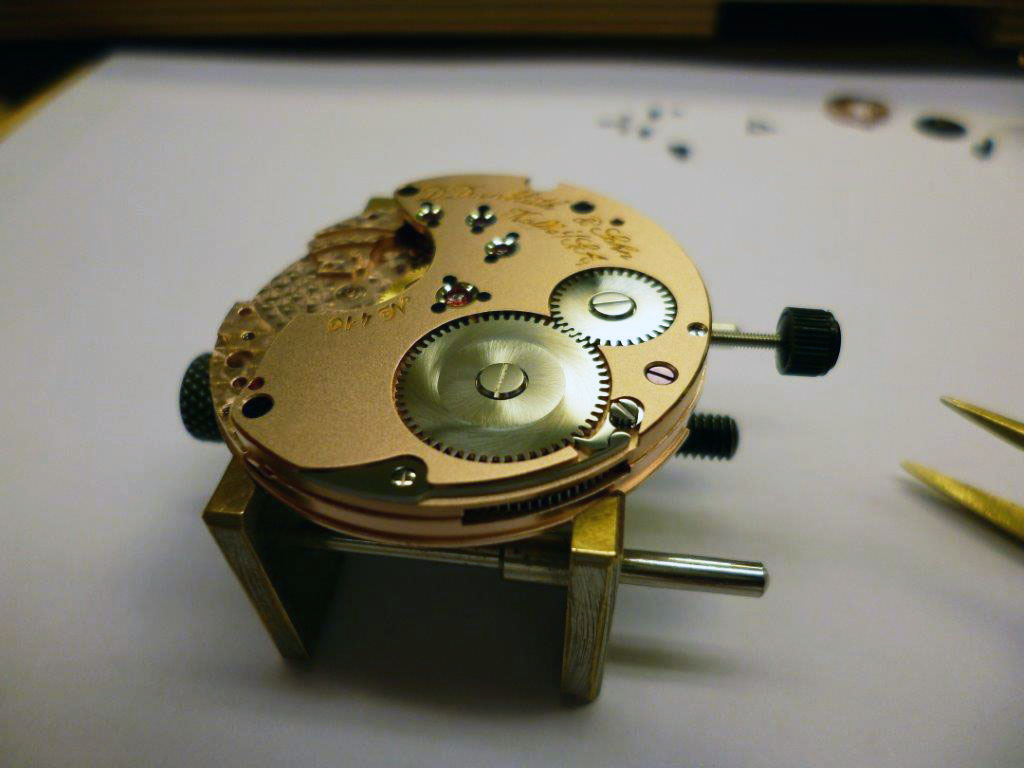 Now it's ready for the case.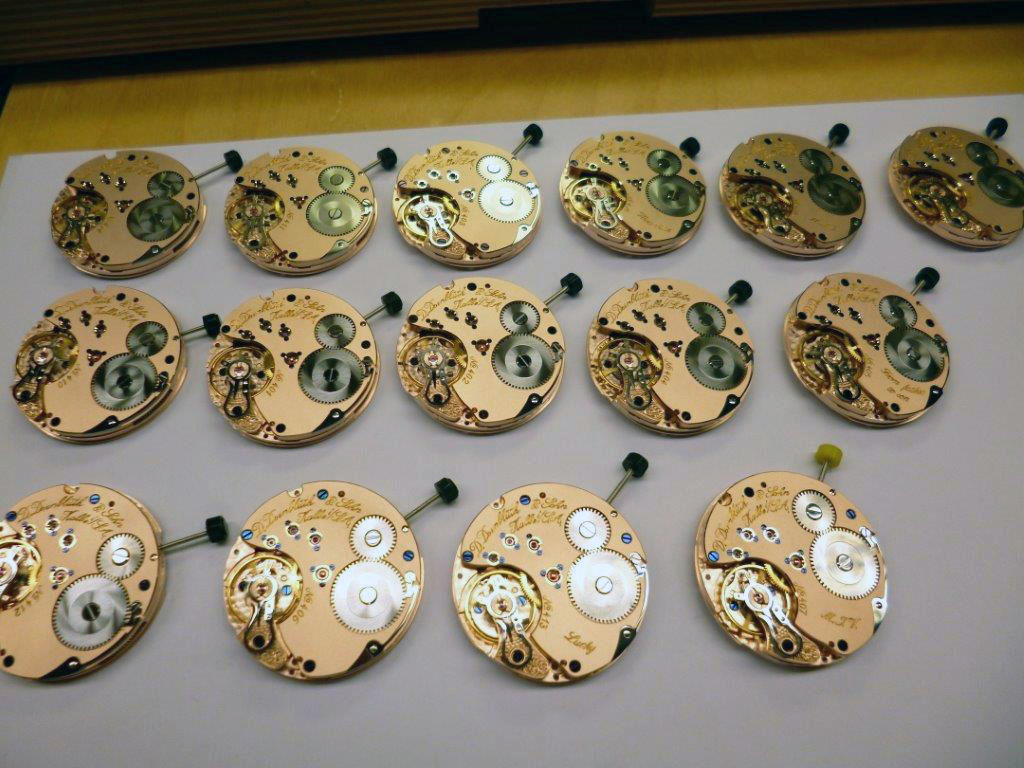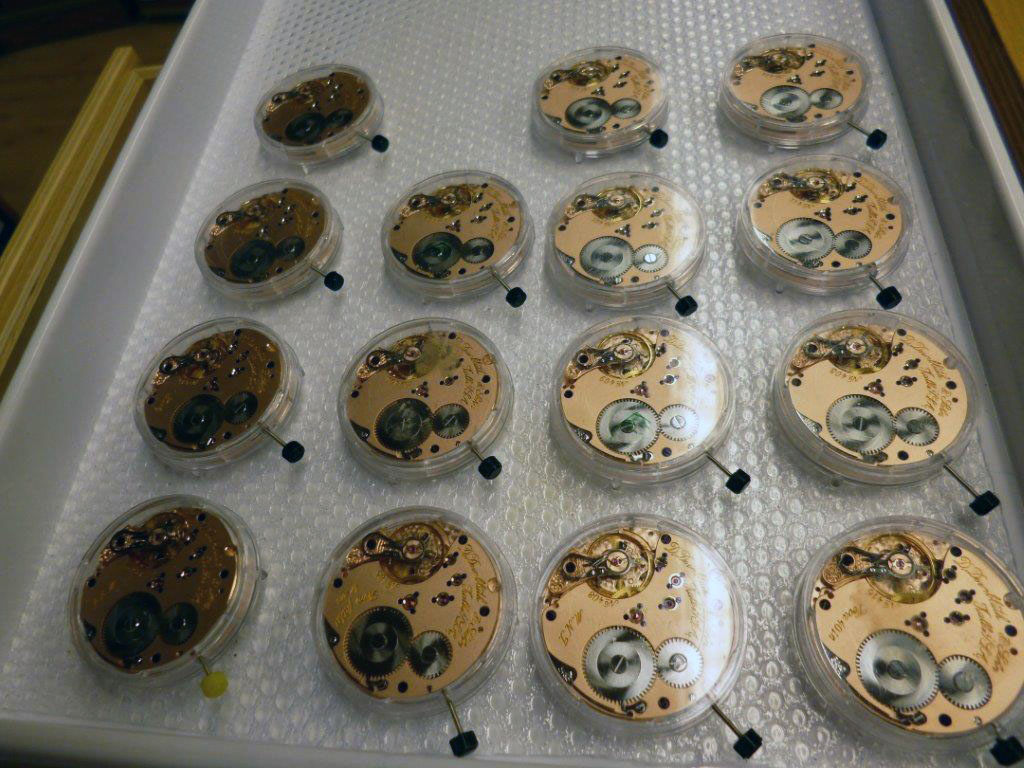 It's time to get things putted together.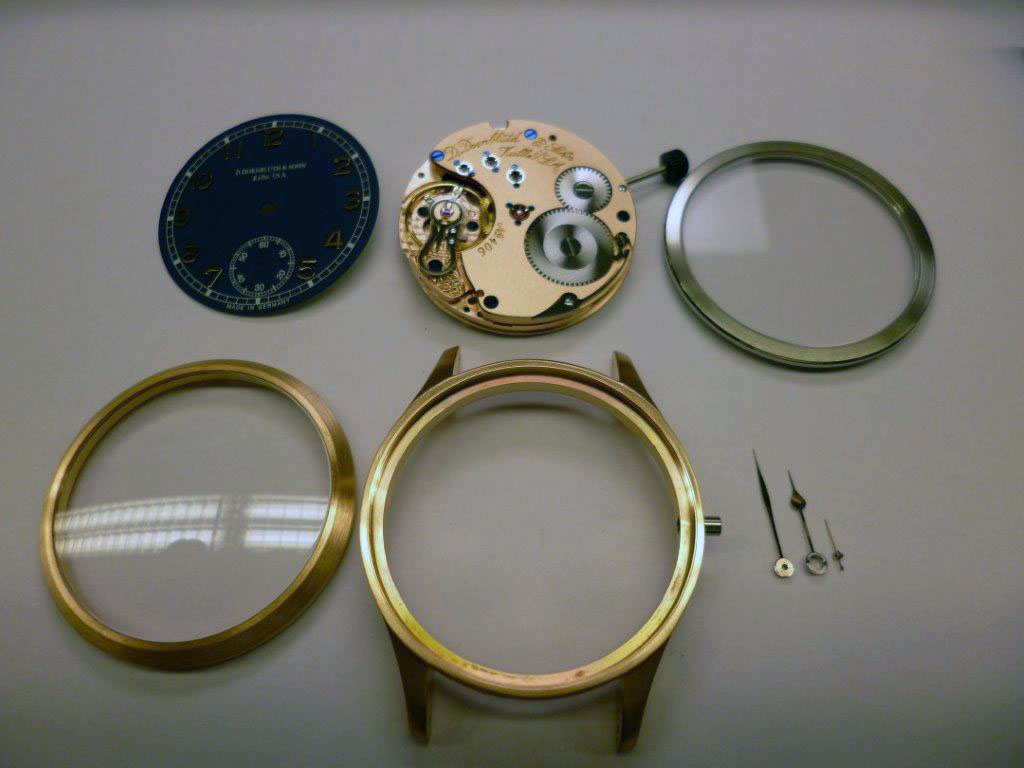 The movement in the case looks perfect, the bronze match the rosegold in a nice way.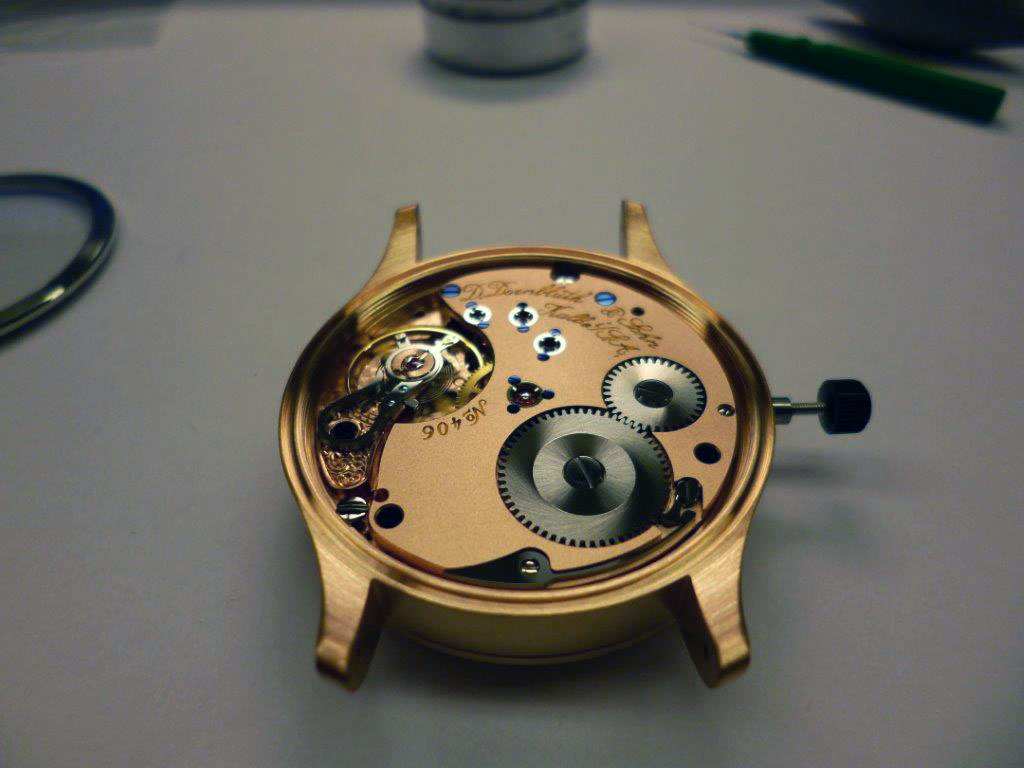 The montego blue dial with raised rosegold plated numbers.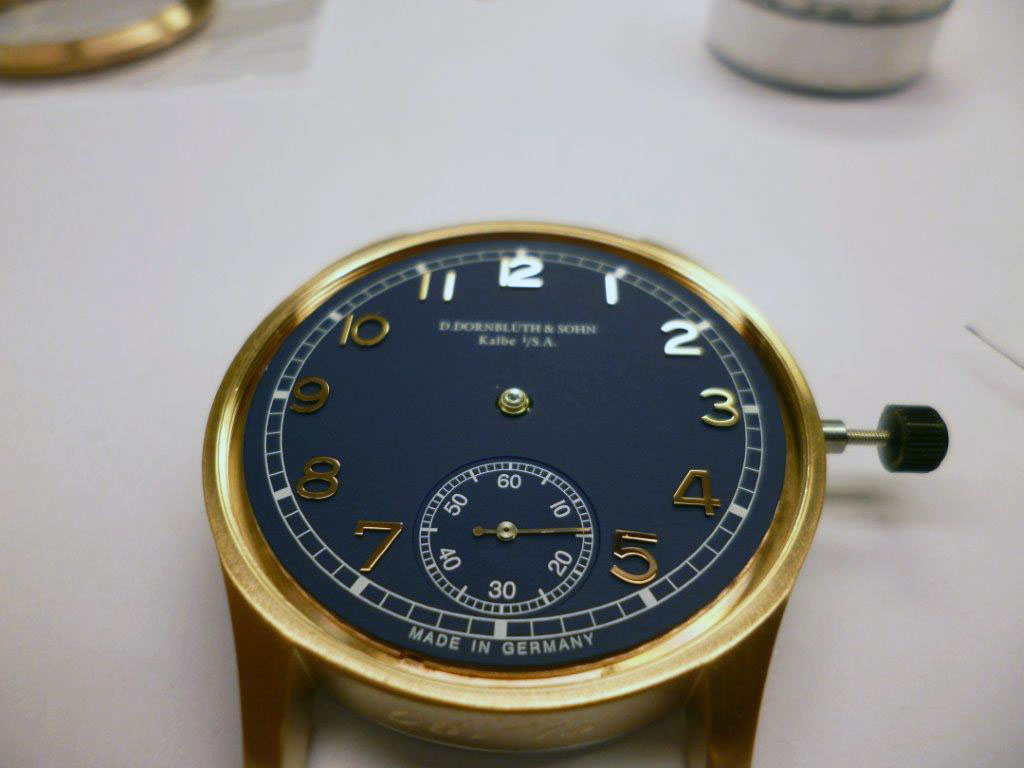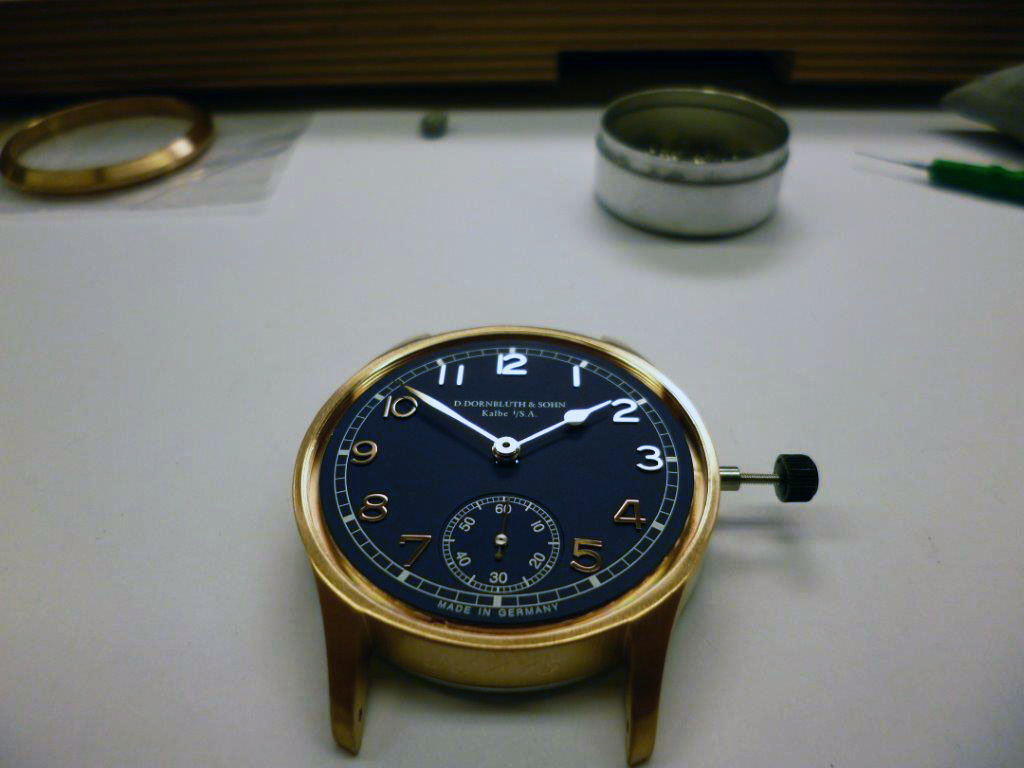 Rosegold plated hands too and the text and rails in white.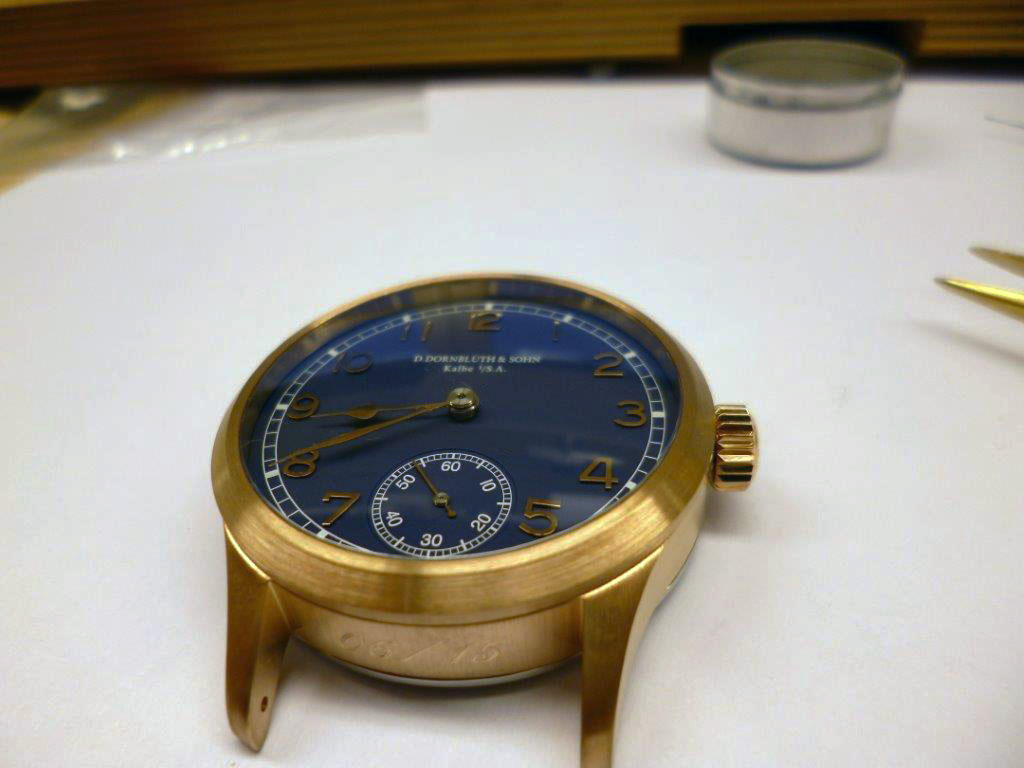 The movement 412 is the one that I got, my watch is number 12/15.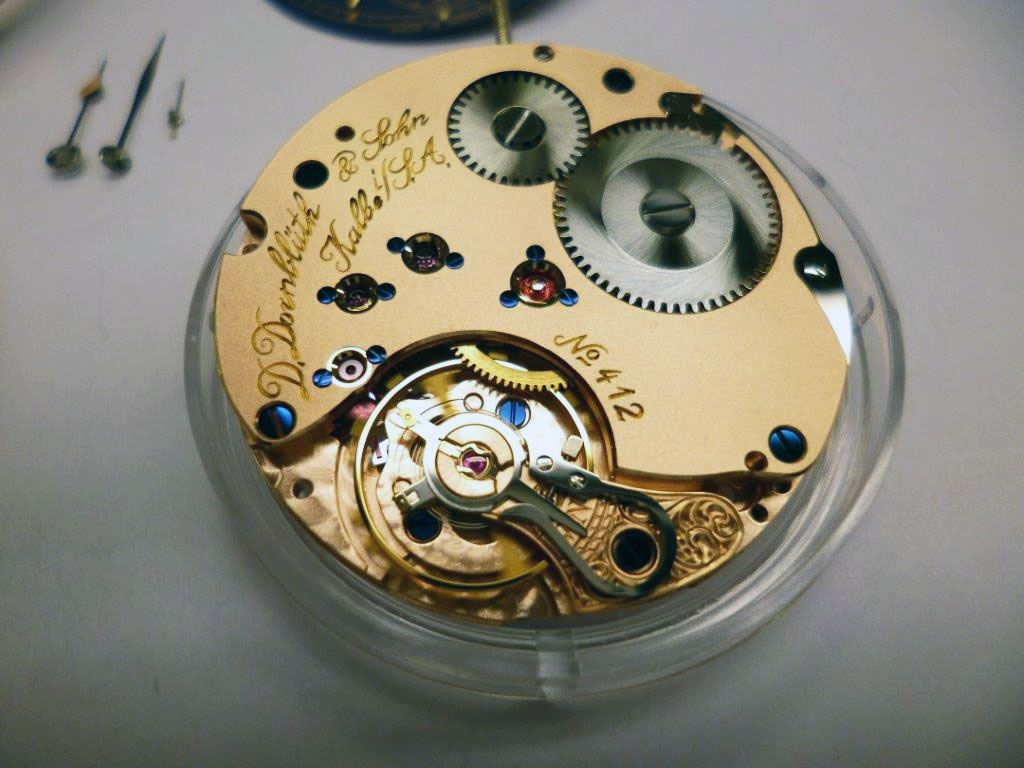 I want my dial in blue and gold with no white so I ask if that can be a option. The answer I got was: Yes it can. So me and one more guy took this option.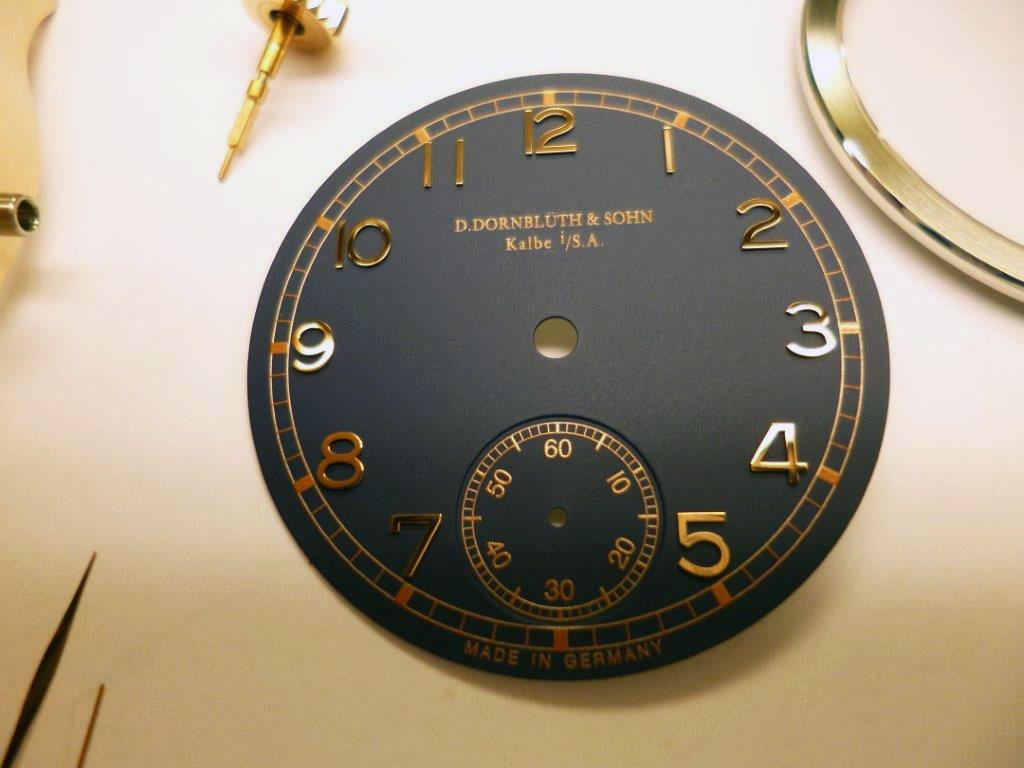 So there is 2 of those dials and 13 of the option that was planned from the start.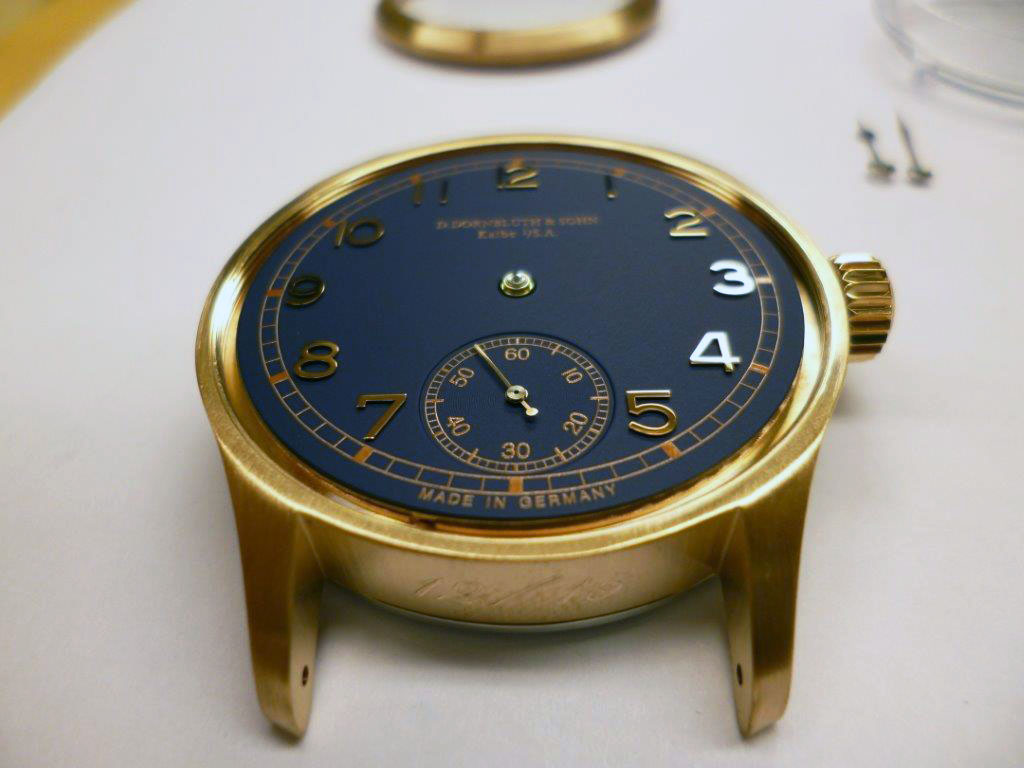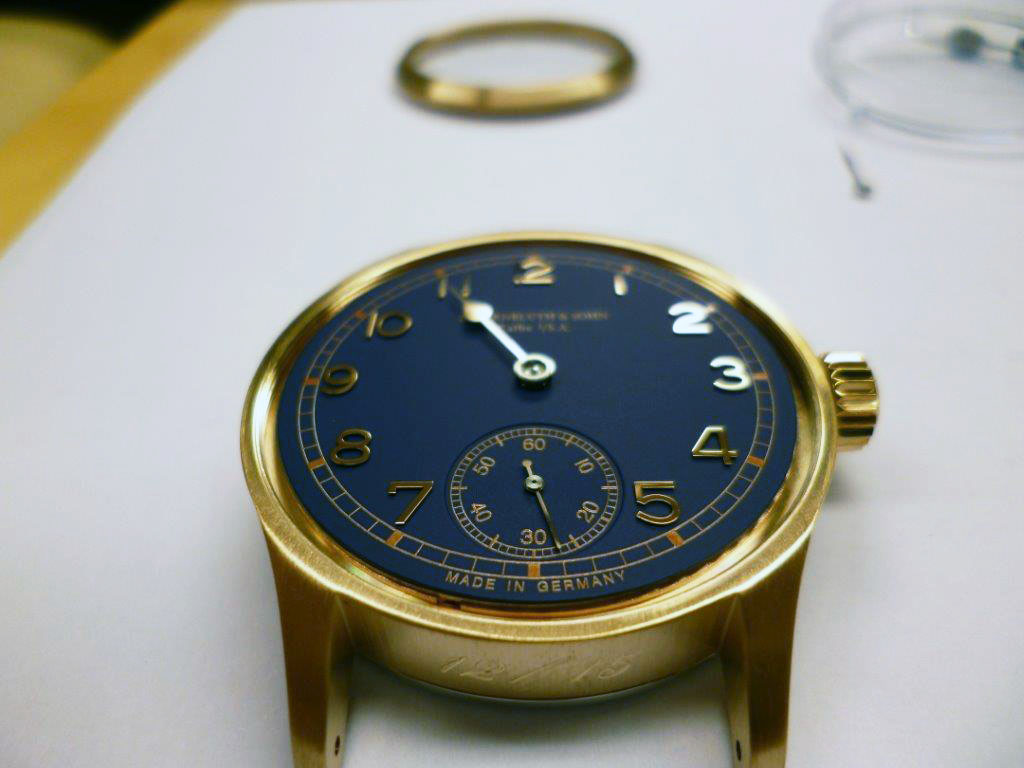 And here the watches are finished and waits for the shipping company to come and pick up them for onward delivery.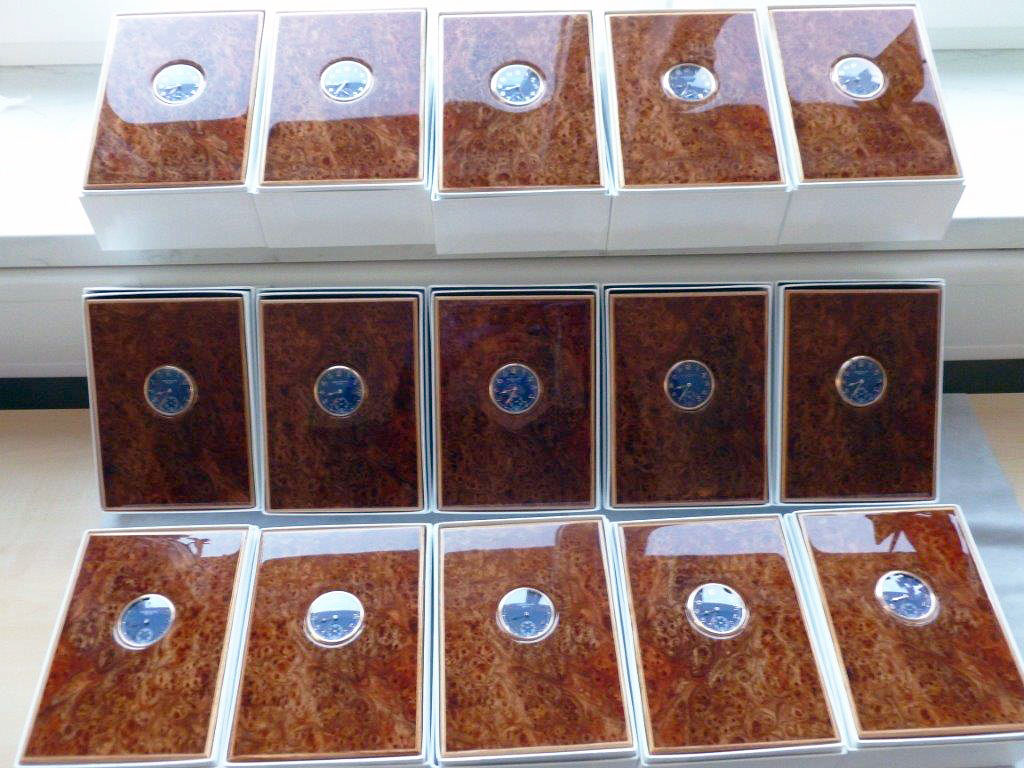 Photo credit of the assembly pics goes to the Dornblüth Crew. We are very grateful to have been informed of the progress made during the manufacturing process.
Here is a few quick and dirtys.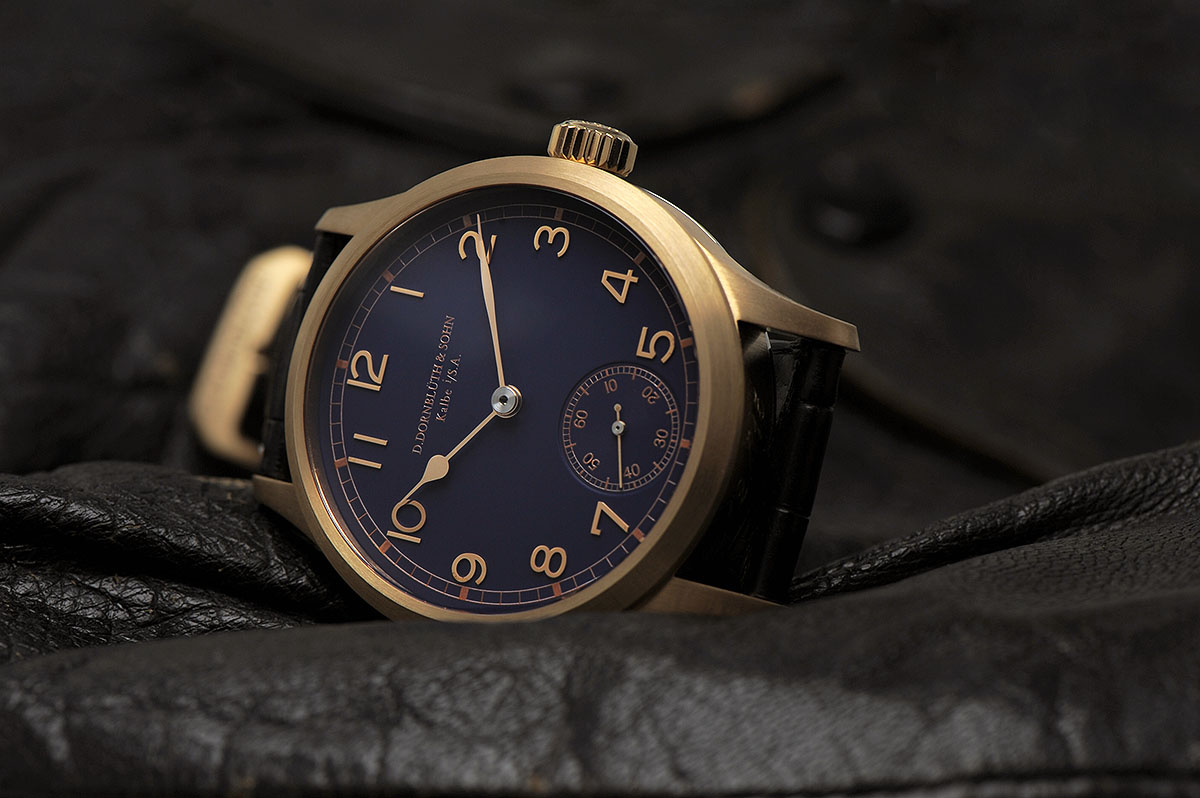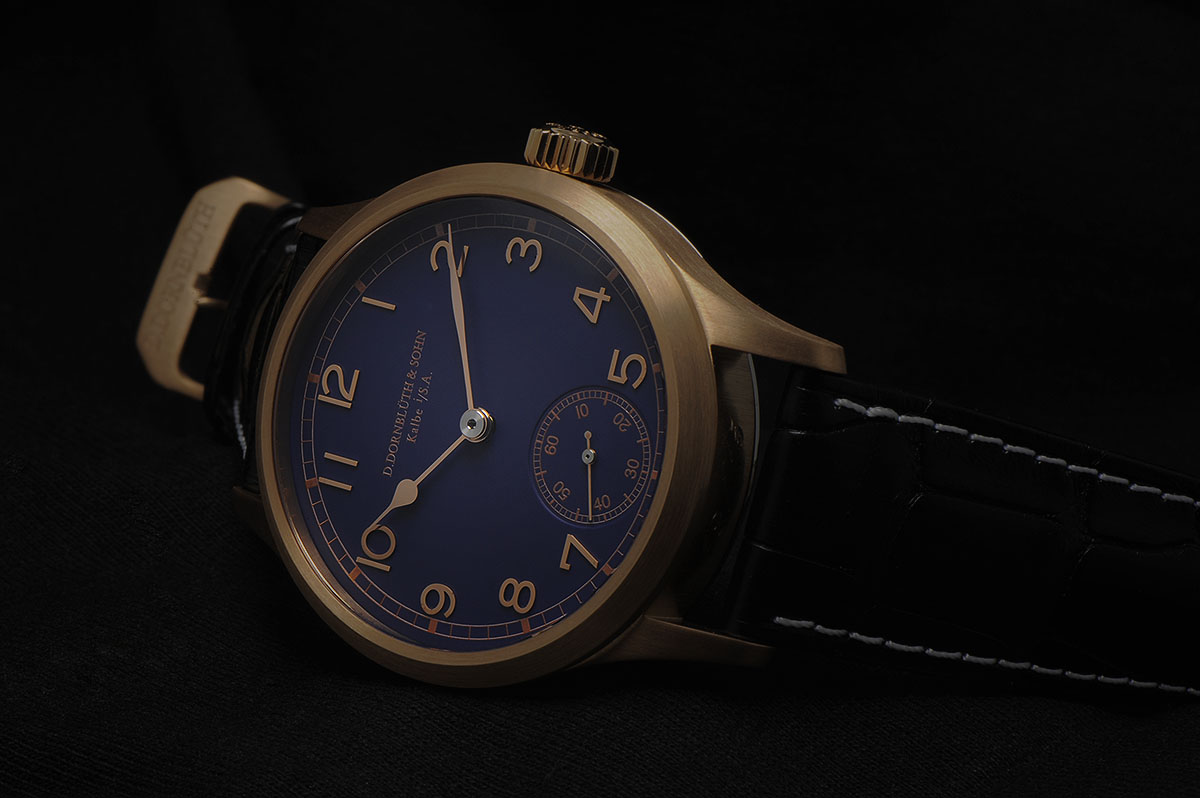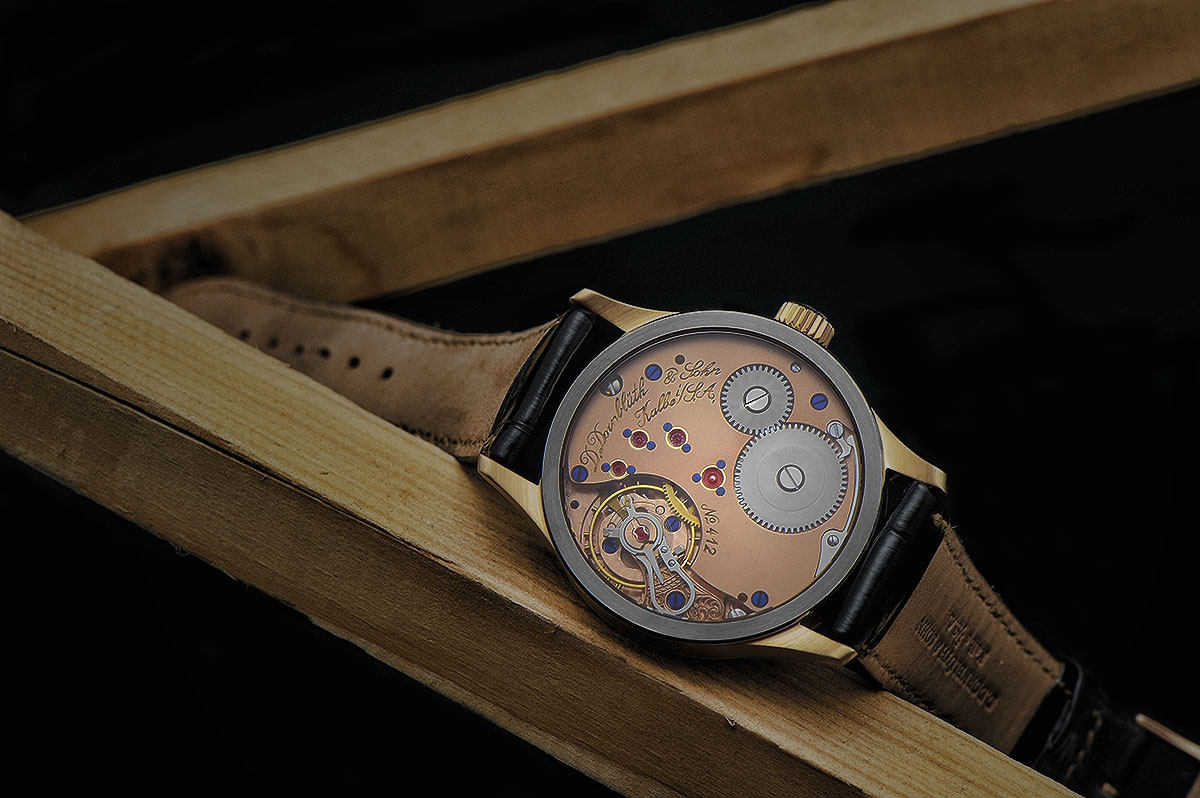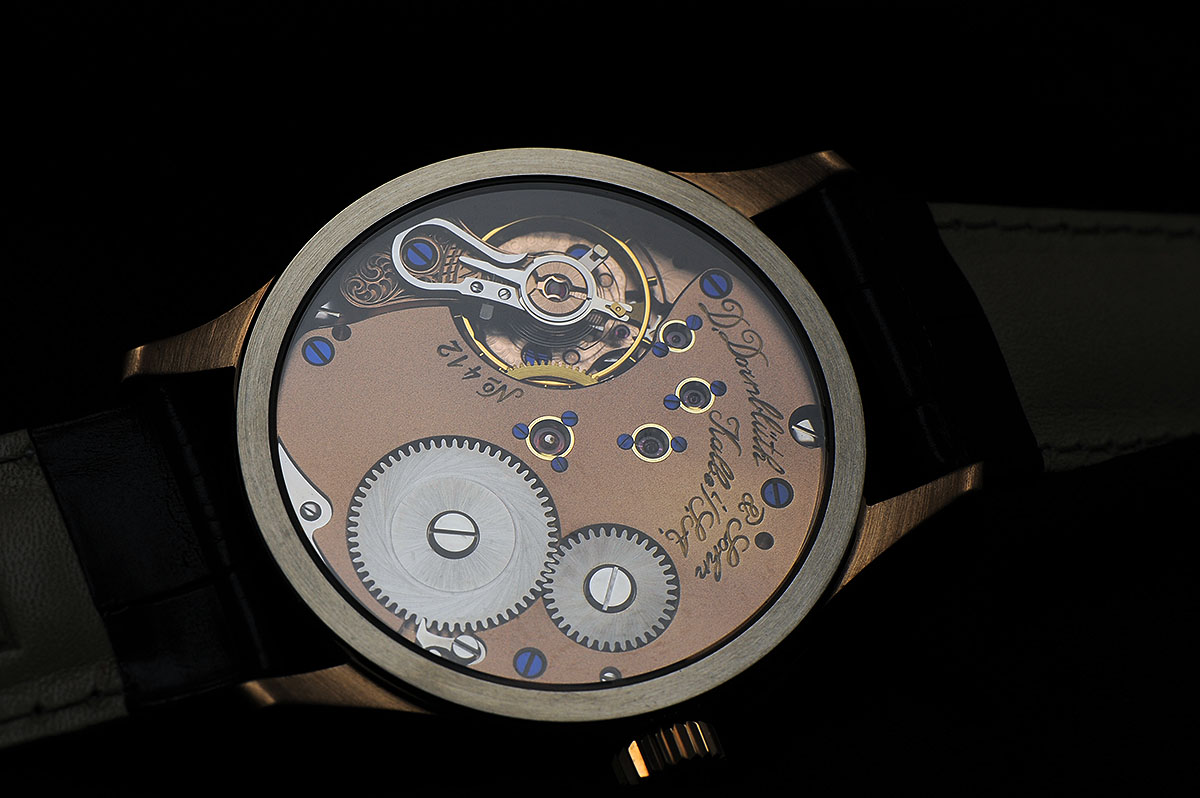 I order the watch with a black croc strap with golden stiches and I was not really happy to get it yellow like this.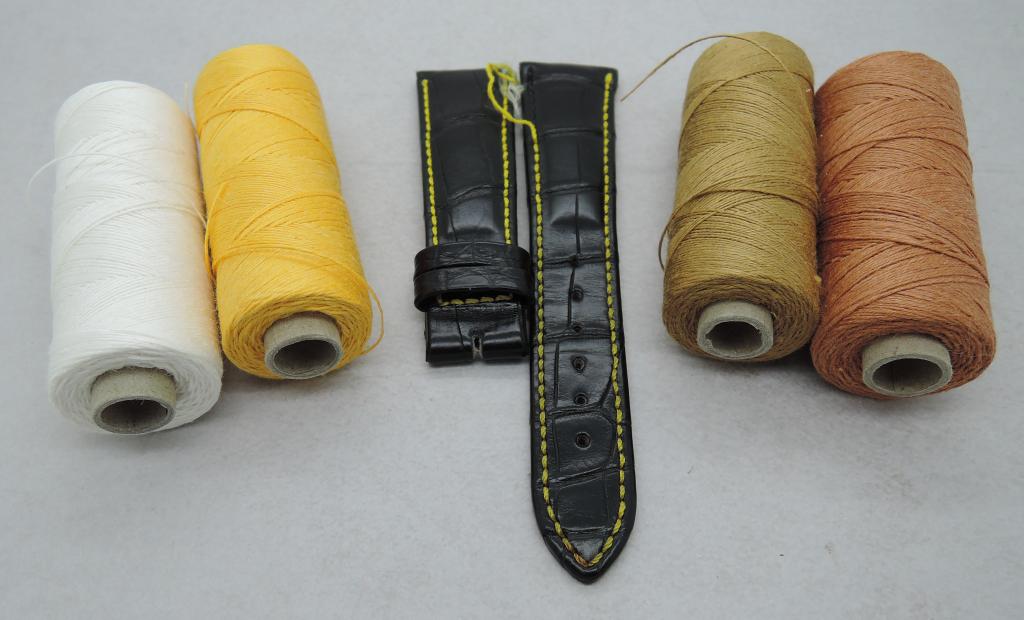 So I send it to my friend MickeJ that pull the strap apart and change the thread to something more close to what I want.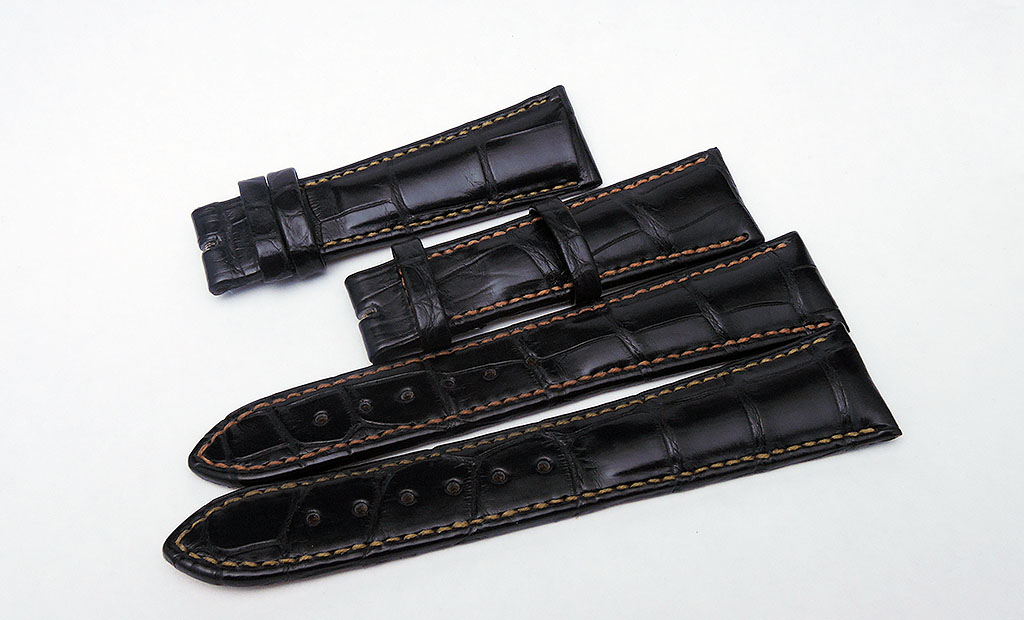 It come out perfect.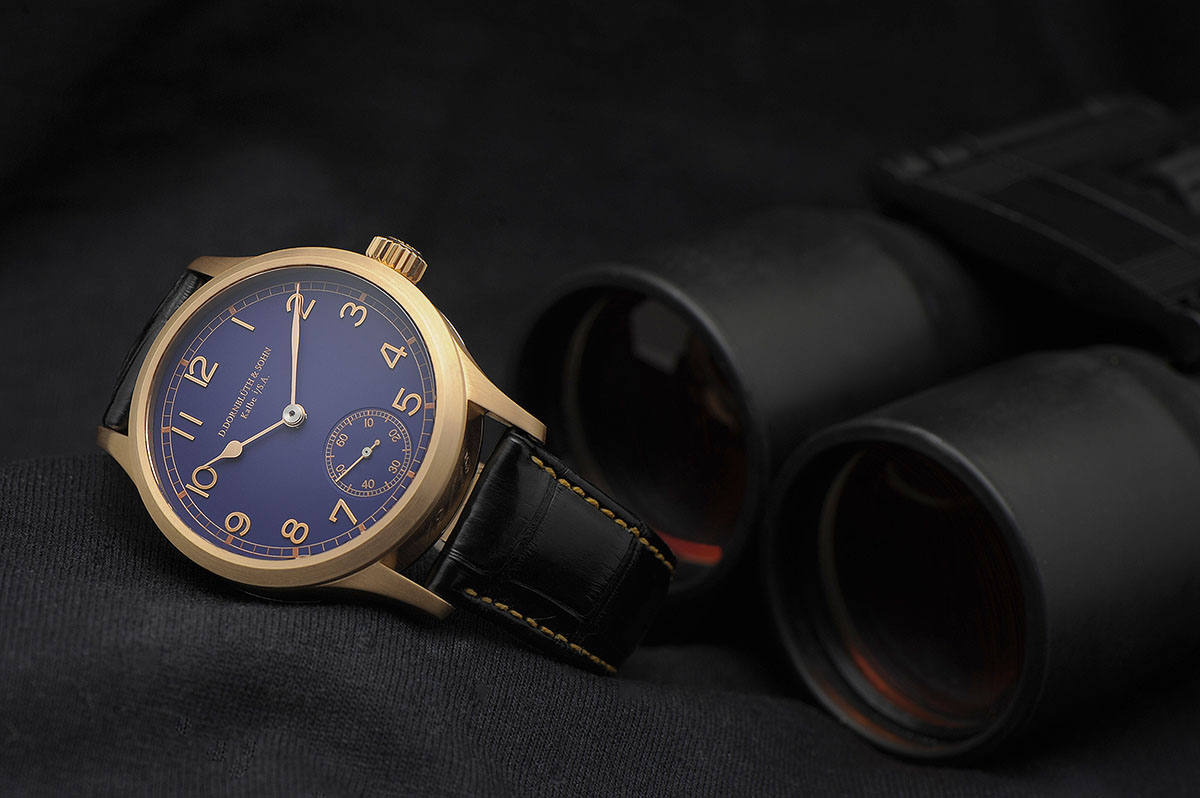 Then I take it one step further and get a Hirsch Nubuck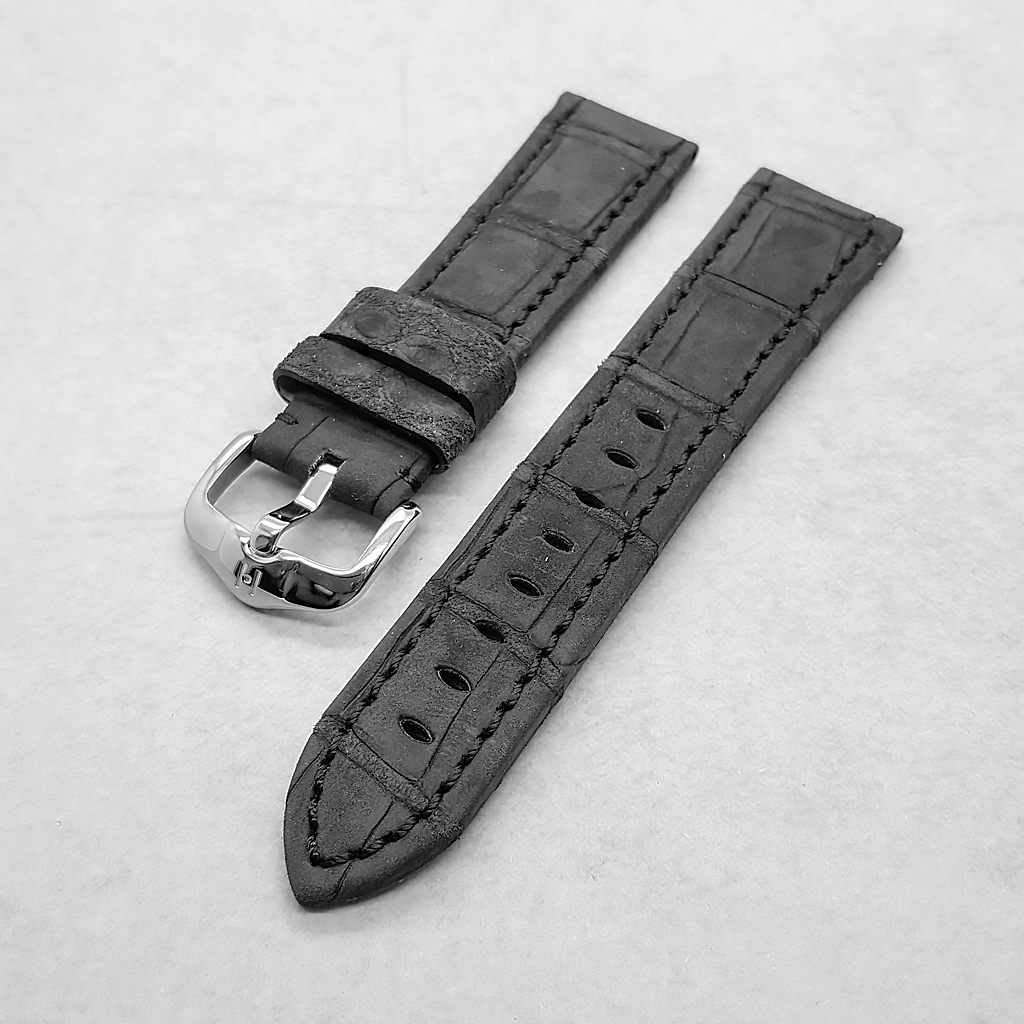 So I send it to my friend Micke J and ask if he can optimize it.
So he give it a try.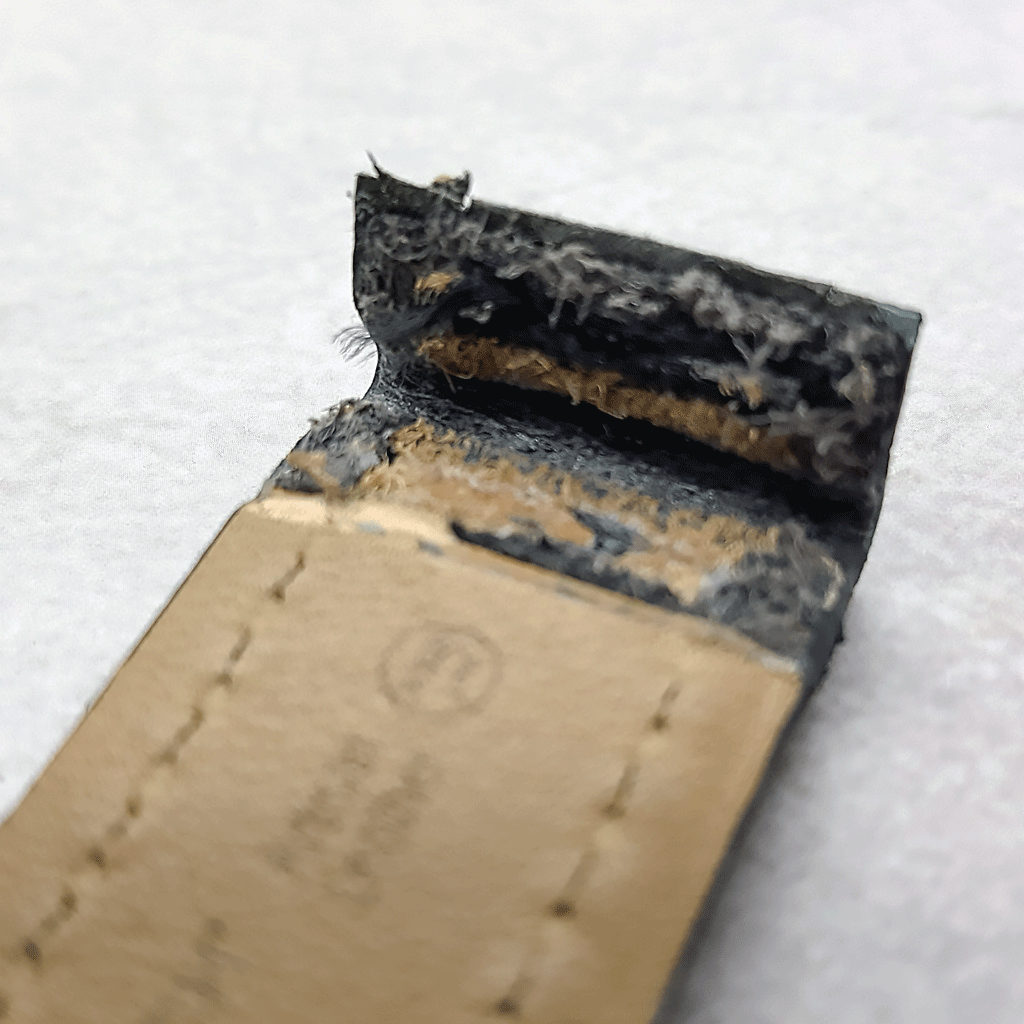 A new color of the thread.
And a new bronze clasp.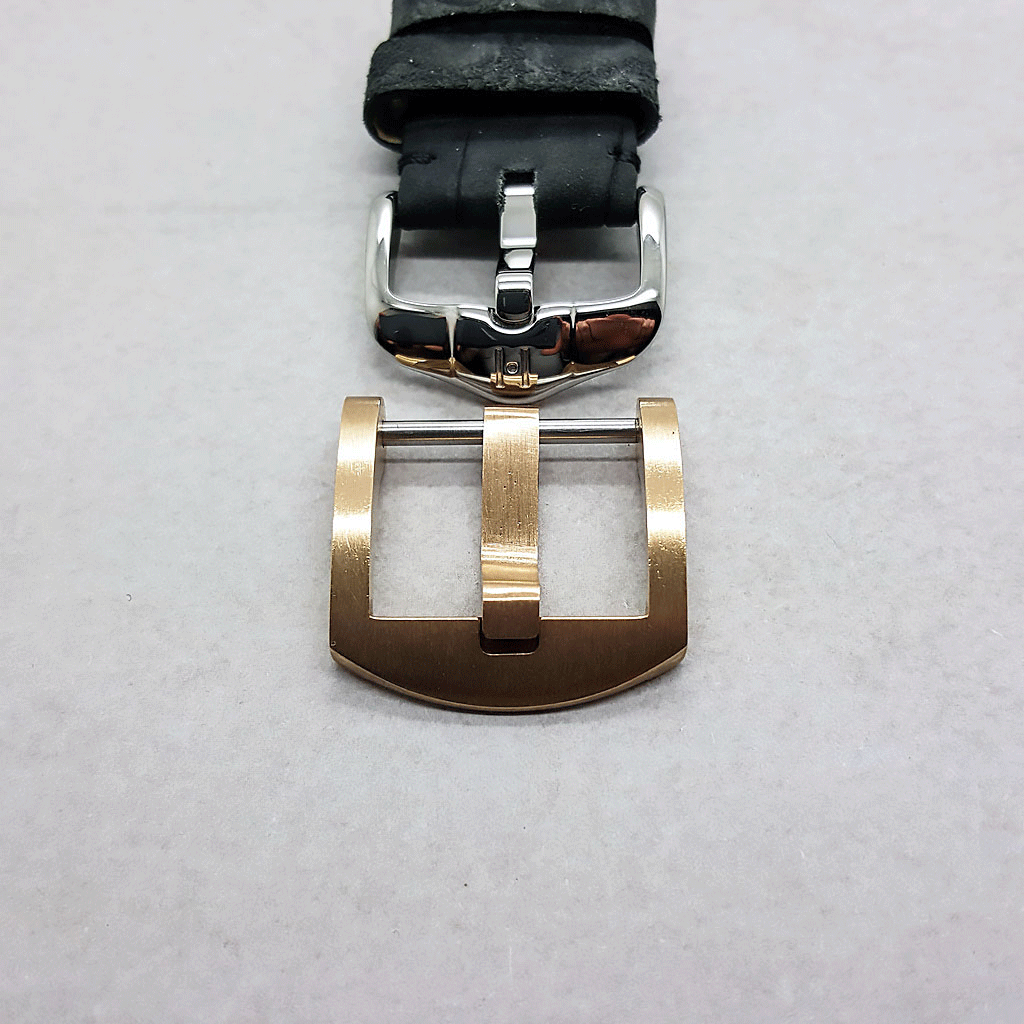 This guy made awesome work and I really love how this one come out.
So now it's back with the watch.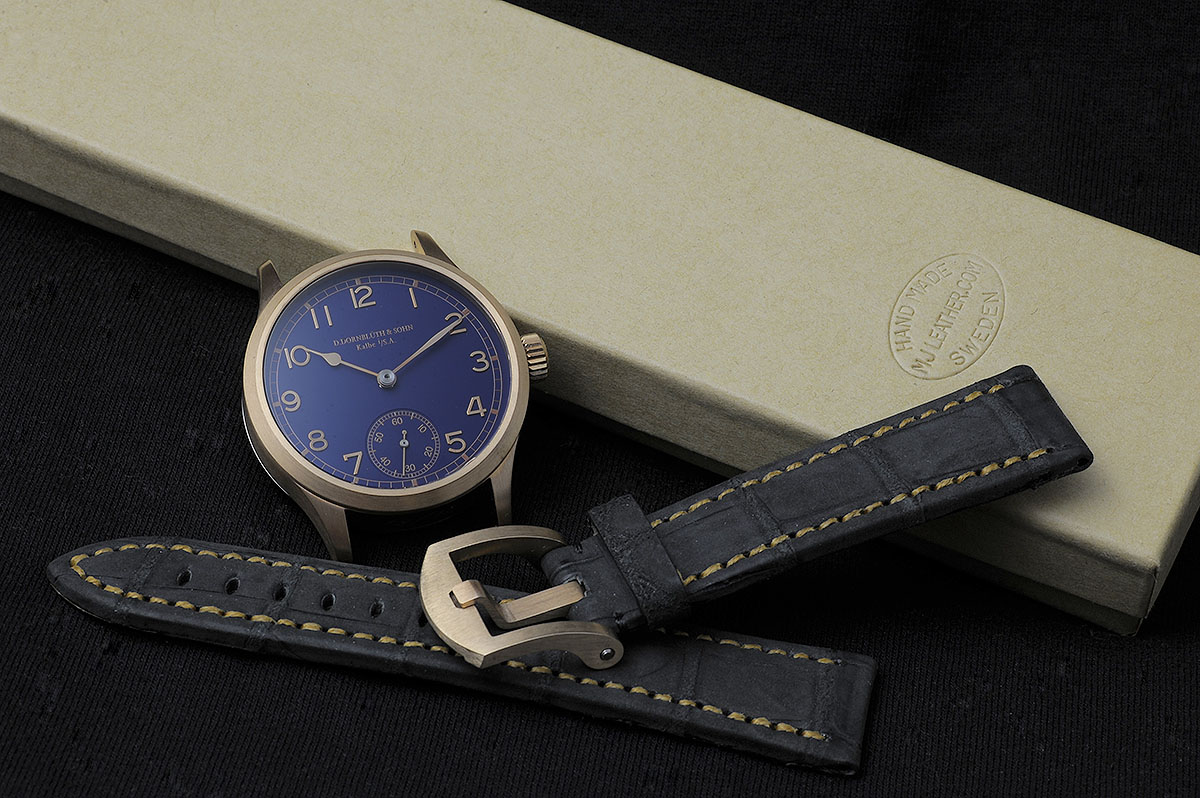 Perfect match of the bronze too.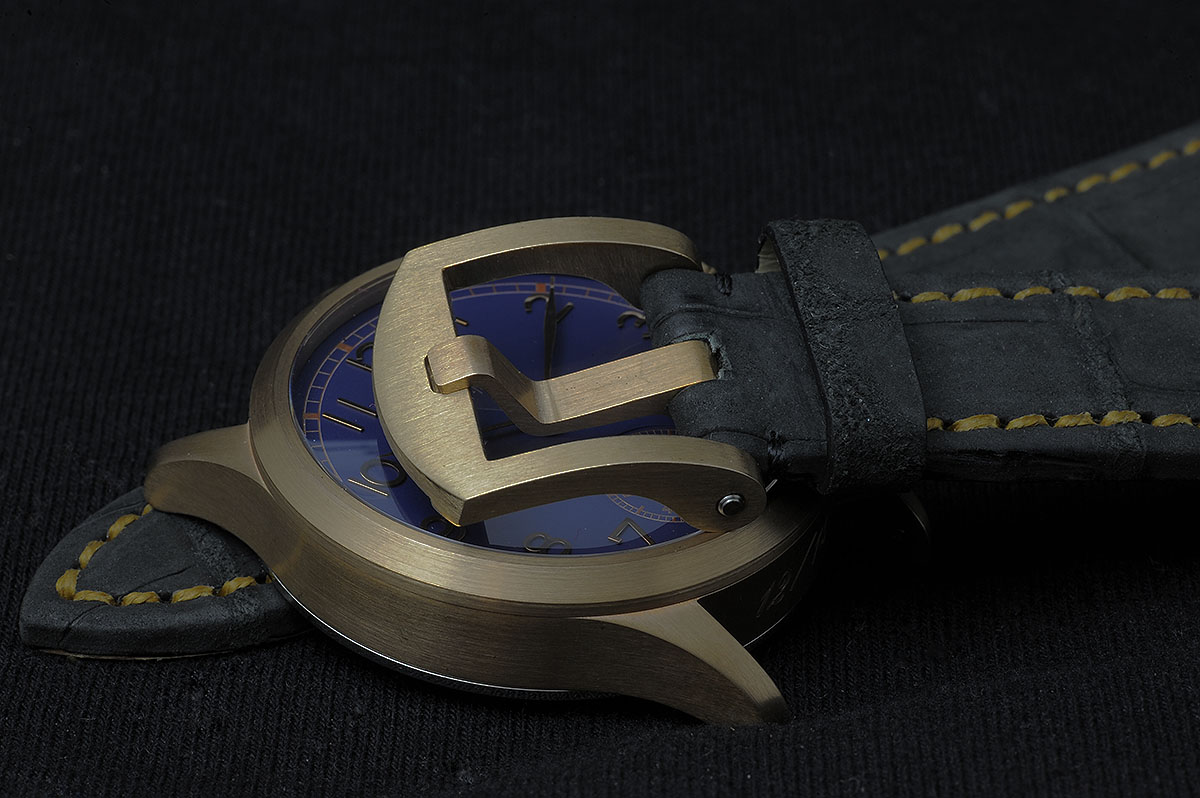 And the final result.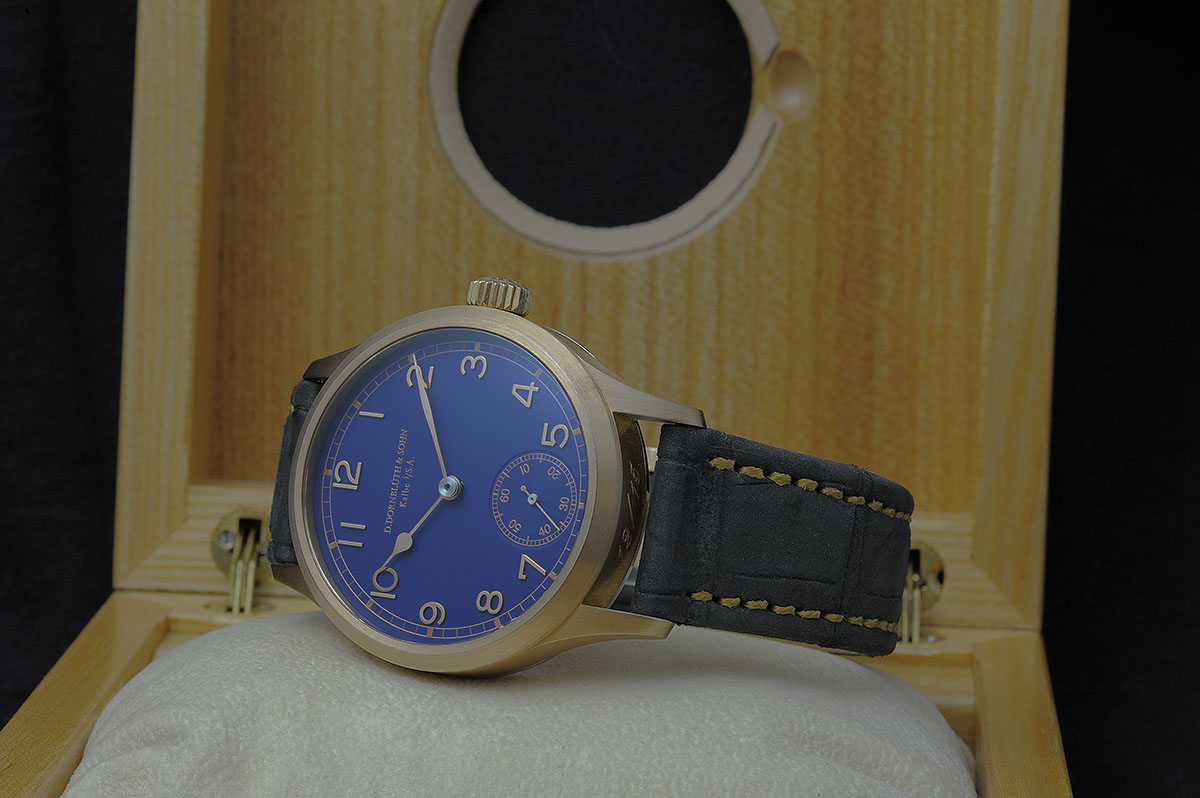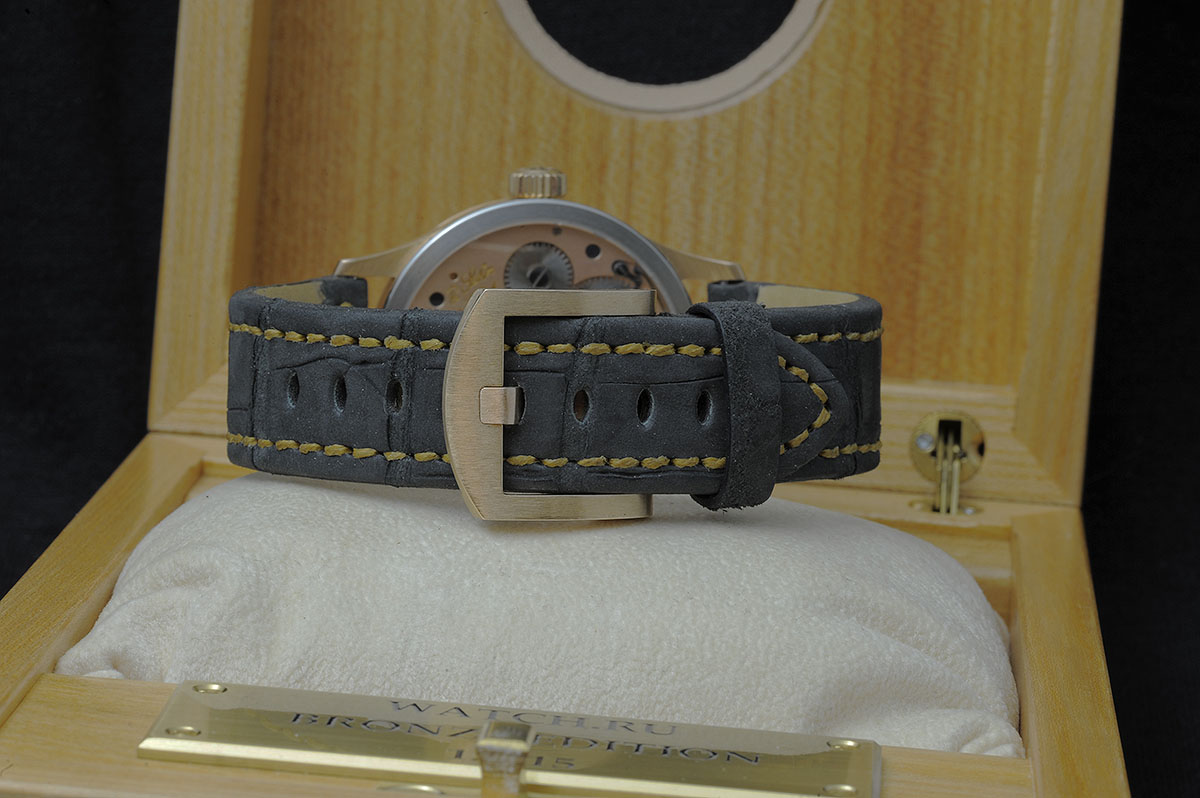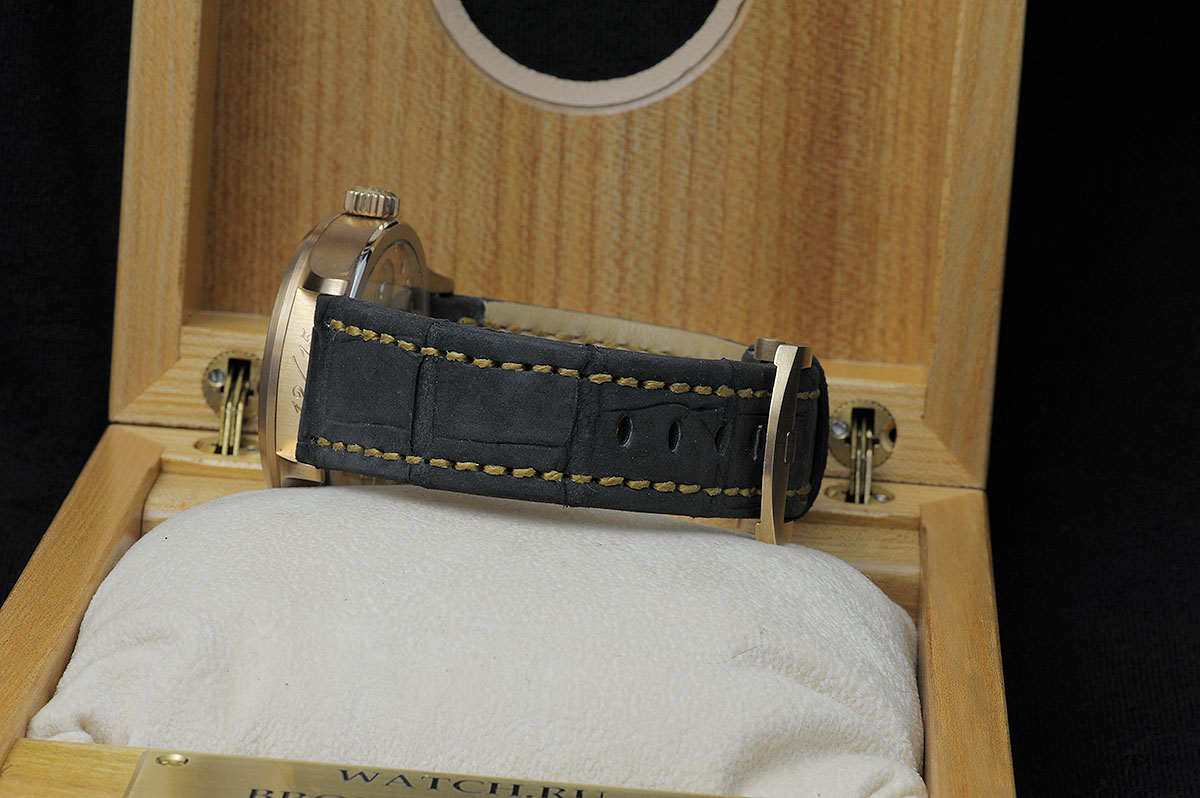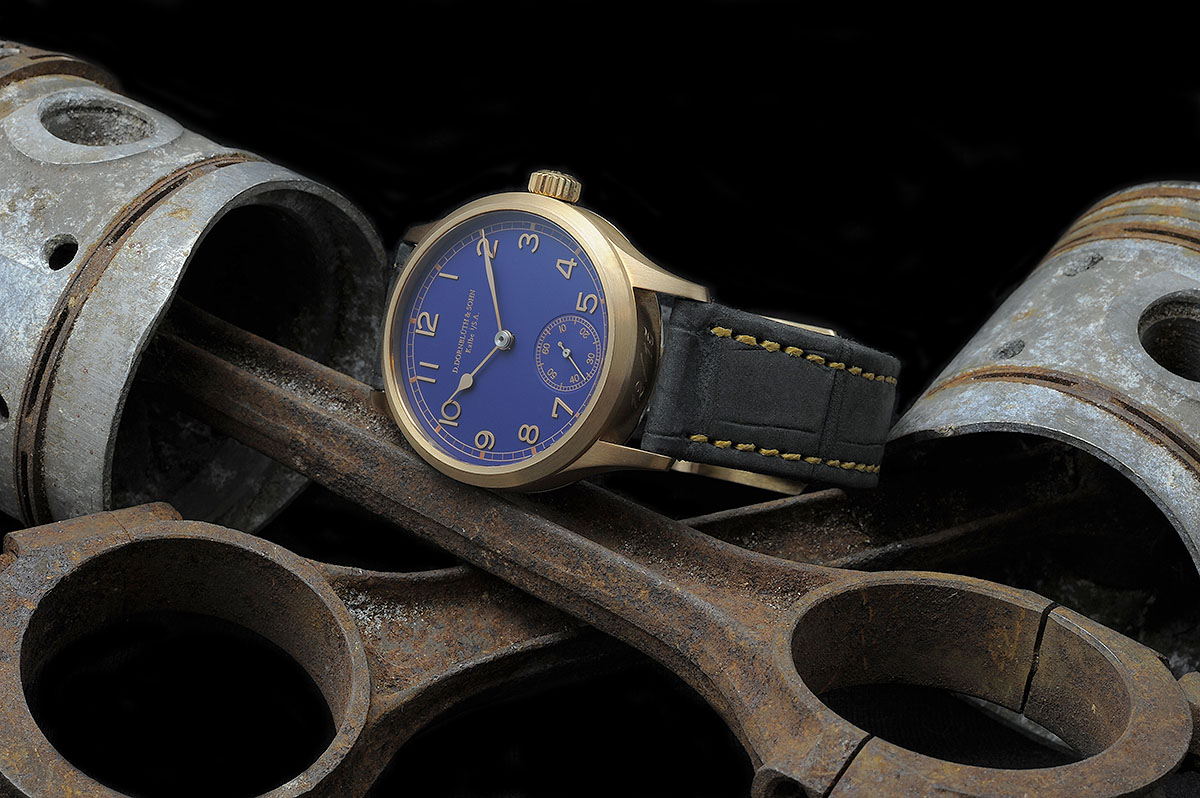 And a wrist shot.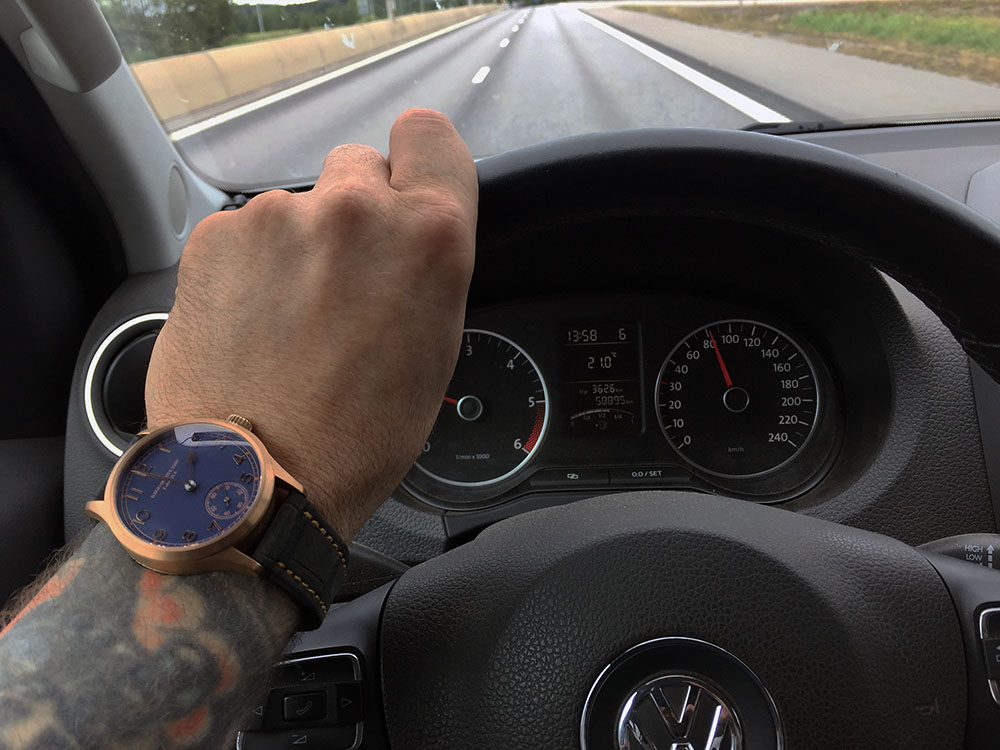 A big thanks toThe Dornblüth Team and to Mr Ruben for letting me be part of this project and that it happened.